Mathys & Squire LLP > London, England > Firm Profile
Mathys & Squire LLP
Offices

Mathys & Squire LLP
THE SHARD
32 LONDON BRIDGE STREET
LONDON
SE1 9SG
England
Mathys & Squire LLP > The Legal 500
Rankings
Mathys & Squire LLP focuses on the life sciences, chemistry, IT and engineering sectors as core areas of work, advising on drafting and prosecution of patent applications, including oppositions and appeal proceedings, as well as disputes and strategic commercial issues. For the latter, including acquisitions and commercialisation, the firm joins forces with its sister consultant firm Coller IP. Another stand-out feature is the growing design practice which has developed particularly well for UK and Israeli clients. Start-ups and emerging companies can draw on Scaleup Quarter, the firm's microsite dedicated to early-stage and growth companies. The firm's strong UK presence is complemented by teams in Shenzhen, China, and Tokyo, and offices in Germany, Luxembourg and France, indicating the group's experience in multijurisdictional patent prosecution. Jane Clark, Paul Cozens, Chris Hamer and Martin MacLean in London and Alan MacDougall in Cambridge are the heads of the practice. Biochemistry expert David Hobson, life sciences specialist Juliet Redhouse and medical device and oppositions and appeals expert Andrew White joined the partnership in September 2020. Ilya Kazi left in September 2020 to found IK-IP. Monika Rai joined EIP in April 2020.
Practice head(s):
Jane Clark; Paul Cozens; Chris Hamer; Alan MacDougall; Martin MacLean
Testimonials
'The people make the team as they say. This team is made with perfection, collaboration is smooth and with a high mind to understand our business. Their knowledge and experience is outstanding for patent drafting, prosecution and also oppositions.'
'I have always found Mathys & Squire to be the most approachable and reactive of all the patent attorneys I have worked with. There is never the feeling that you are 'on the clock' and they always go the extra mile.'
'Chris Hamer and his team have put in a very good effort to understand our business and work very well with our inventors, despite their some times difficult mindset. We go to meetings enjoying the discussions and leave the meetings with a very good energy for moving ahead. Problem-solving is a big part of their mindset, highly appreciated by us. Difficulties and issues are for solving with never-ending energy and inspiration.'
'Philippa Griffin is a pleasure to work with. She has an exceptional grasp of our company's technology and is extremely responsive and comprehensive in her analysis and communication of IP strategy.'
'Craig Titmus has been incredibly helpful and collaborative, helping us efficiently and guiding us through many scenarios to identify key risks and rewards with each strategy. It has certainly helped us define and secure our IP as well as getting it through the many hurdles international process patents require.'
'Andrew White is an exceptional patent attorney. He knows exactly the perfect way to construct a patent application, to consider an examiner's feedback and to work round it to get the patent grant with minimal deviation from the original scope. He's the best I've worked with in over 15 years.'
'Juliet Redhouse is an excellent patent attorney.  She is very knowledgeable about both the science and the law, always well prepared for meetings, and easy to work with.  I recommend her highly as a superb patent attorney.'
'David Hobson is top rate.'
Key clients
Sagentia Limited
Molecular Templates
Design Blue Limited
Wootzano Ltd
The Broad Institute
Cambridge GaN devices Ltd
Acell Industries Limited
Mr Lee's Pure Foods
Sanofi/Genzyme
Ipsen Biopharm Limited
Sierra Medical Ltd
Mixergy Ltd
Work highlights
Assisted Sagentia Limited with two Covid-19 related inventions, a new ventilator design (which responded directly to the UK Government's 'Ventilator Challenge') and a decontaminating PPE device.
Assisting Molecular Templates with securing a worldwide strategic research collaboration with Bristol Myers Squibb.
Assisting Acell Industries Limited with a new Covid-19 combatting technology which would allow for circulating air in confined spaces to be filtered to remove particles (such as those containing Covid-19), but also to kill those particles using certain metal compounds.
Mathys & Squire LLP has significantly expanded its trade mark filing practice in 2020. With major domestic and international brands on the client roster, the practice is highly experienced in high-stakes complex trade mark matters, often multijurisdictional in nature.  Practice heads Margaret Arnott (London) and Gary Johnston (Manchester) and their team also regularly assist start-ups with the protection of soft IP. In addition to assisting a number of incubators and accelerators across the UK, the firm launched Scaleup Quarter in 2020, a microsite dedicated to the IP issues affecting early-stage and growing companies. The group advises on the full range of trade mark prosecution matters, including strategic portfolio development, prosecution proceedings, invalidation actions and litigation, with the latter being increasingly in demand. In addition to seven offices in the UK, the firm is also present in Munich, Luxembourg and Paris.
Practice head(s):
Margaret Arnott; Gary Johnston
Testimonials
'Immediate response on urgent situations. Full knowledge on how to deal with minute details that would pose a risk to the trade mark.'
'Very strong in TMs and design rights both in the UK and worldwide.'
'We were very happy with the client service received, the advice given to us, and the result achieved by the lawyers at M&S.'
'Very robust in terms of their position in the market. High gravitas.'
'Always on hand to help and guides us through often complex issues in a professional way with plain English.'
'What we liked especially was having one point-person to manage our affairs, right from initial no-obligation chat, to engagement, all the way through to resolution of the trade mark issue we were facing. We were very impressed by Harry Rowe's professionalism from the start. The whole process ran very smoothly and was painless and cost-effective, and we were very happy with the advice we received and the result achieved. We wouldn't hesitate to recommend Harry Rowe personally and M&S in general in resolving a tech-related trade mark issue.'
Key clients
Spirit Energy Limited
ICAEW, ICAS and CAI
Design Blue (D3O)
Unison
Work highlights
Acted for Spirit Energy Limited in a successful appeal at the UK Intellectual Property Office.
Represented three UK chartered accountancy bodies – ICAEW, ICAS and CAI – in obtaining a High Court injunction to ban a European organisation and its directors from misleading the public by offering chartered accountancy qualifications despite not being a recognised body.
Supporting the UK's largest trade union, Unison, in bolstering its trade mark portfolio, dealing with several trade mark and copyright infringement situations, and lodging oppositions in the EU against third parties.
Mathys & Squire LLP >
Firm Profile
The firm: Full-service intellectual property (IP) firm Mathys & Squire LLP works with its clients to maximise the value of their IP assets. The firm's breadth of technical expertise and depth of professional experience are coupled with a determination to add commercial value. Mathys & Squire has a broad spread of clients, ranging from innovative startups, for which the firm's experts assist at every stage of the business cycle, through to major UK and multinational corporations (many of whom are household names) on complex, high-value matters.
The firm's commitment to professional excellence and its technical expertise are valued by all clients. Through its creative approach, Mathys & Squire has a successful record of securing the grant of key patents and settling disputes on the best possible terms. Client companies without their own in-house patent and trade mark departments value the firm's understanding of their business issues and the importance and value of their IP. Mathys & Squire enjoys excellent relationships with like-minded firms of associates from all over the world.
Assignments for clients vary widely and include: strategic management of global patent and trade mark portfolios for major corporations; advising startups in relation to the creation and ownership of IP rights and their commercial exploitation; patent and trade mark prosecution, including oppositions and appeals, for major corporations; providing specialist European (EPO and OHIM) expertise to fellow professionals; working alongside solicitors and counsel in the UK, bringing to bear the firm's complementary skills and experience; advising at CEO level on the role of IP rights in revenue generation and asset creation; finding paths through third-party patent, trade mark or other IP rights, including challenges to validity where appropriate; resolving disputes through various forms of ADR to litigation, whether as the lead firm or as part of a team; and bringing specialist IP skills to corporate finance, including due diligence.
Practice areas: Mathys & Squire offers a full range of services across patents, trade marks, designs and related IP rights, both contentious and non-contentious. Its specialist teams cover a wide spectrum of sectors including IT, electronics, telecoms, life sciences, pharmaceuticals and chemistry.
The firm's experts have specific industry experience or advanced degrees in most relevant disciplines. The trade mark practice blends highly experienced prosecution services with portfolio management and enforcement skills.
The firm's core areas of expertise include:
Identifying IP capable of protection by understanding the client's technology and business objectives.
Obtaining valuable patent, trade mark and design registrations through skilful drafting and powerful advocacy before the world's patent and trade mark offices.
Representing clients in disputes and contentious proceedings (especially those of the European Patent Office), drawing wherever necessary upon the expertise of fellow professionals.
Facilitating the commercial exploitation of a client's IP by way of sale, licence or joint venture.
Advising clients in relation to their IP strategy and management of their IP portfolios.
Mathys & Squire's 28 partners, five of counsels and 31 associates are assisted by a further 24 technical assistants at various stages of qualification and a team of 17 paralegals. This spread of expertise, operating across 10 UK and European offices, with teams based in China, Japan and Dublin, enables the firm to deploy a team with the right skills and seniority at the right cost to deliver bespoke IP solutions and business advice to meet clients' needs.
Other UK offices: Birmingham, Brighton, Cambridge, Manchester, Oxford and York
European offices: Luxembourg, Munich and Paris
Staff Figures
Number of partners : 28 Number of other fee-earners : 60 Other staff : 104
Diversity/Community
At Mathys & Squire we take diversity and corporate social responsibility very seriously.
We are proud to be an employer of choice, and our workplace is diverse, inclusive and welcoming. Our staff come from a wide range of nationalities, educational backgrounds and cultural heritages. A third of our partners are female while part time and flexible working is common across the firm. We offer enhanced maternity, paternity and shared parental leave pay.
Our recruitment process reaches out to a wide range of universities and our interview style is designed to allow individuals to relax and perform to their best ability. We maintain a best practice, supportive environment where all our staff can develop and reach their full potential. We are active members of IP Inclusive, a profession-wide initiative committed to making the IP profession more inclusive. Our Social Committee works hard to ensure our events calendar appeals to all ages and accommodates a range of different interests and tastes. We have run Unconscious Bias training for our partners and Diversity training for both staff and partners.
We are also heavily committed to giving back to our local communities. In London, we work closely with St James' Church of England Primary School in Bermondsey, working on initiatives such as National Science Week and the annual competition to design the Mathys & Squire Christmas card. Each Christmas, the London office also supports the Southwark Council Children at Risk team by providing presents for children within their care. Our 'Charity of the Year' in 2019 is Guide Dogs.
We are also committed to monitoring our environmental policies and carbon footprint. In this regard, we are proud to be ISO 14001 accredited, which focuses on environmental management and recognises that, as a firm, we are committed to improving our environmental performance through efficient use of resources, a reduction of waste and lessening our carbon footprint. In support of the environment more generally, we are partnered with Trees for Life, a UK-charity that works to protect the Caledonian Forest in Scotland.
Diversity
As a firm committed to diversity and equality, Mathys & Squire actively supports the diverse make-up of its members and staff. To this end, the firm has appropriate policies and procedures in place across recruitment; training and professional development; reward and remuneration, to foster a working environment that supports this goal. Mathys & Squire's policies, which are monitored and regularly reviewed by the management board, are free of discrimination on the grounds of race (including colour, nationality and ethnic origin), disability, gender reassignment, age, sexual orientation, sex, marriage and civil partnership, pregnancy and maternity, religion and/or belief. Mathys & Squire is proud to be an employer of choice, and promote a workplace that is diverse, inclusive and welcoming. Staff come from a wide range of nationalities, educational backgrounds and cultural heritages.
The firm's recruitment process reaches out to a wide range of universities, while the interview style adopted across all teams throughout the hiring process is designed to allow individuals to relax and perform to their best ability. Maintaining a best practice, supportive environment where all Mathys & Squire staff can develop and reach their full potential is paramount.
An active member of IP Inclusive, an organisation committed to making the IP profession more inclusive, Mathys & Squire is part of the high-level 'think tank' devoted to improving diversity and inclusion (D&I) in the industry. This project brings together senior and managing partners to share ideas and best practices across numerous IP firms. The collaboration underlines the patent and trade mark professions' commitment to create genuine, lasting changes to working practices and cultures. As part of this commitment, HR partner Alan MacDougall is proud to have signed IP Inclusive pledge.
Client Testimonials
COMPANY/FIRM: Reinhold Cohn & Partners
TESTIMONIAL: "The entire team at Mathys & Squire is very professional, welcoming and very patient. We pose some difficult issues sometimes and we always get a prompt, detailed response which enables us to take a final decision with the client. We are very pleased both professionally and administratively."
---
COMPANY/FIRM: BorgWarner
TESTIMONIAL: "I've worked with Mathys & Squire for the last 15 years. They mostly deal with our patent work and some design registration. I'm impressed with the way they deal with all our patent office issues. On a personal level, they are easy to work with and, when we write new patents, they make the process straightforward and painless."
---
COMPANY/FIRM: Moderna
TESTIMONIAL: "I have not found any scientific area of focus where [the] team aren't comfortable. The Mathys & Squire team do excellent legal work for us and are always on the lookout for information that will help further our understanding of European legal issues."
---
COMPANY/FIRM: Rotolight
TESTIMONIAL: "If intellectual property is or could be important to your business, and you want to be assured of the best possible advice, then look no further than Mathys & Squire and Dani Kramer in particular, you will be hard pressed to find any better."
Interviews
Chris Hamer and Alan MacDougall, Partners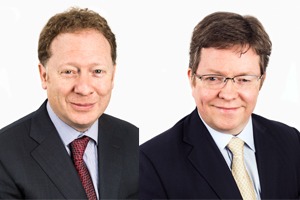 Partners Chris Hamer and Alan MacDougall explain how Mathys & Squire prioritises its client service and has adapted to clients' changing needs.
How would you describe your firm's client service ethos?
As a firm, we pride ourselves on our proactive, 'can do' attitude; when problems are presented by our clients, we strive to find a way to work around those issues to find a solution. We achieve this proactivity by becoming an extension of the client's team rather than an external advisor. Our goal is always to work closely alongside our clients – particularly at the decision-making stage – to ensure we achieve an outcome that is beneficial for their business commercially, in-keeping with their business model and strategy.
One of our standout strengths in the legal and commercial advice we provide is that we not only present the various available options in protecting a business' intellectual property (IP), but we also help to steer our clients in a recommended course of action; something that is only possible based on the trust we have built with our clients. They have confidence in making an informed decision based on our recommendations thanks to the strong relationship we have built with them over time, and the effective in-house service we provide through our 'extension of your team' ethos.
What are the key challenges you face to keep your most important clients happy?
We would argue that all clients are our 'most important clients' – whether a small startup or large international corporation, they are all valuable to the firm and we therefore tailor our service to meet their individual requirements. As much as a business is unique, so is its IP requirements, so we ensure that our service is suitably matched, with care and attention to detail to meet their commercial requirements.
It is important that all of our attorneys' work, regardless of seniority, is carried out to the very highest quality standard, but one of the challenges we face is that our clients often want this exceptional service at a competitive price – and usually to a very tight deadline! We work to overcome this challenge through balancing the work required to achieve a positive result with an investment in both time and talent (internally) to ensure our teams are up to scratch in terms of meeting our clients' demands. As a firm, we have the resilience to deal with the challenges surrounding tight and changing deadlines – we have developed our teams so that they are well-equipped to deal with whatever issues clients might 'throw' at us – even at short notice!
What would you say are the aspects of law firm service that clients value the most?
Clients who enlist a law firm's services must be able to trust the team responsible for protecting their most valuable asset – in Mathys & Squire's case, in the protection of their business' intellectual property (through patents, trade marks, designs, etc). The consequences of getting such an important thing wrong are huge, both in terms of cost and brand damage, so clients are looking to law firms to offer a safe pair of hands.
What advantages does your firm's size give you in terms of providing an effective service?
Looking at IP law firms specifically, Mathys & Squire is a relatively large firm, with around 200 staff. This size means we are able to service large portfolios consistently and have a more substantial infrastructure for processing and handling data compared to some smaller firms. It also means that we offer a greater spread of expertise and industry knowledge. How we differ in approach is our structure of fairly small teams, based on technical specialism. This enables us to offer the 'best of both worlds' service with a small, boutique firm feel but a large firm backing: we develop personal relationships between clients and individuals in our teams, but also have the benefit of being able to call on other teams from a range of varied specialisms as required by the client and their technical needs.
How do you assess whether clients are happy with the service your firm is providing?
We view all feedback from clients as a gift and use it both to improve and adapt our services as necessary. The firm is proactive in regularly seeking client feedback, both through day-to-day interactions with our contacts and through third-party formalised feedback surveys.
In the last year in particular, when face-to-face interaction has not been possible, we have worked to maintain our close relationships with clients through virtual mediums – i.e. emails and video calls. Our personal approach with our clients helps us to ensure that any issues are dealt with promptly in the moment, before they have a chance to develop into a bigger problem.
In recent years, many firms have shifted their emphasis from a practice focus to a sector focus. What impact do you see that as having had on the service law firms can provide?
In the last decade, we have seen convergence across a variety of fields, which in turn has changed the way firms' sector groups are organised. Devices and technologies have developed in recent years, which require greater synergy between groups (e.g. in our firm we are seeing much more of an overlap between our electrical/engineering teams and life sciences/chemistry teams), when compared to 20 years ago when these practices would have been completely separate. We would argue that the move from practice to sector focus is client-driven. Clients want a legal expert who specialises in the same field as they do, so law firms such as ourselves have therefore structured our teams in this way to meet this requirement. For Mathys & Squire, this shift to a focus on sectors rather than practices has been hugely positive and has brought aspects of the firm closer together. It has helped us to identify new areas to market to, to build appropriately sized multi-disciplinary teams, and then attract new clients across these sectors.
Have you changed your approach to billing in recent years, and if so, how has that enabled you to provide a better service?
Yes, we have worked to adapt our billing practices over the years to meet the demands of our clients who are themselves met with management pressures – the most significant of these changes being the move to digital billing. In our efforts to provide flexible and high-quality service, we also offer bespoke billing for a number of clients to meet the requirements of their business structures. During the exceptionally difficult recent times due to the coronavirus pandemic, we have worked with our clients with reduced cashflow to budget and create flexibility in our billing process.
How has the success of other alternative legal services providers, such as Lawyers on Demand, Elevate and Axiom, changed the client service landscape?
We recognise that alternative companies such as these might be attractive to some clients as they are more likely to offer lower, more competitive fees. However, the advantages that come with engaging a larger, more traditional legal firm – which offers a broad range of technical expertise spread across a greater number of advisors – cannot be overlooked. In relation to our particular field of IP legal services, we would argue that these alternative providers have not significantly changed the client service landscape.
Flexible working has been another big trend in recent years – what are the challenges and potential benefits of new ways of working in relation to client service?
Our flexible working approach (which was in place before the lockdown measures were imposed in response to the coronavirus pandemic) means that we are able to provide a more 'on-demand' service to our clients – our work is not restricted within 9-5. A benefit of our relatively large (in the legal IP market) firm size means that we have the appropriate resource within our teams to be able to stagger our work days without any negative impact on the client. In fact, this is often to the client's benefit depending on time zones and their own working patterns. Regardless of our working hours and location (i.e. remote working), it is vital that we maintain our high standard of work. This is only possible because of the level of trust we have both internally (within our teams in effectively carrying out client work) and externally (based on the trust we have built with our clients over the years through our strong personal relationships). Again, our flexible approach means that we can offer bespoke working structures on a client-by-client basis: we don't believe in a 'one size fits all' service.
Given the current challenges everyone is facing, what measures has your firm taken to ensure client service standards are maintained during the lockdown?
Since the first UK lockdown in March 2020, the firm has prioritised communication – both internally (through regular team and cross-team catchup meetings, as well as virtual social events) and externally (increased news alerts, the introduction of webinars, regular video conference meetings). As a flexible working firm, even before the first lockdown we had the necessary structure already in place to enable our staff to work from home, so when the lockdown was announced in March 2020, it was not a difficult task to make sure our entire workforce was able to work remotely at short notice. We have always had quality control procedures in place to ensure high standards of work for our clients, so there was no change to this offering when our workforce was relocated from our offices to their homes.