Elkington + Fife LLP > London, England > Firm Profile
Elkington + Fife LLP
Offices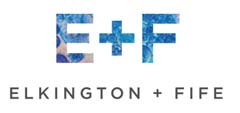 Elkington + Fife LLP
THAVIES INN HOUSE
3-4 HOLBORN CIRCUS
LONDON
EC1N 2HA
England
Elkington + Fife LLP > The Legal 500
Rankings
Elkington + Fife LLP is particularly visible in EPO oppositions and appeal proceedings where the team continues to be exceptionally successful, especially in proceedings for pharma clients. The firm enjoys a very good reputation for its life sciences and pharmaceutical patent prosecution work, in particular as advisor to major generics companies and its strong biotechnology track record, but also offers a very experienced electronics practice that distinguishes itself through its original application drafting capabilities. The firm's ability to attract complex semiconductor, consumer product, materials, and robotics work is also notable. Richard Gillard in London is the head of the chemistry and life sciences group and Nick Ertl in Sevenoaks directs the electrical and mechanical group. Physics and engineering specialist Ellie Seymour in the Sevenoaks office made partner in 2021. In July 2021 Jens Grabenstein, formerly a senior associate at Carpmaels & Ransford LLP and a biotechnology and pharma expert, joined the team.
Practice head(s):
Richard Gillard; Nick Ertl
Other key lawyers:
Mark Scott; Rob O'Callaghan; Lee Mullen; Daniel Portch; Glyn Truscott; Oliver Kingsbury; Richard Cooke; Samantha Busher; James Anderson; Ellie Seymour; Jens Grabenstein
Testimonials
'They start by asking a lot of questions, questions crafted with expert knowledge and understanding of the technology to be patented, and actively listen to the answers we as clients give. Only after carrying out their own research and thoroughly examining the whole subject area, do they then begin to offer any advice. As a result their advice is pertinent, precise and positively helpful.'
'The team at Elkington and Fife are exceptionally able. They assist life sciences clients with some of the most important and difficult projects and their track record is most impressive.'
'We have been well served by a strong team that has consulted amongst themselves to ensure that a complex technical case is robustly presented and defended.'
'Mark Scott is outstanding. He invests himself into our projects, thinks outside any conceivable box by letting his imagination join ours. Mark and his partners are clearly team players, encouraging and challenging, not frightened to call out what they feel is unhelpful.'
'Oliver Kingsbury is a gifted attorney with an eye for detail that is unsurpassed. He is also good with clients and takes a practical approach.'
'Daniel Portch has worked closely with me to ensure that a long-running complex case is supported as thoroughly as is possible.'
Key clients
AbbVie Inc.
Actavis
Alcon Laboratories Inc.
Amgen Inc.
Apeel Sciences Inc.
Astex
Balfour Beatty
Bayer
Benuvia Therapeutics, Inc.
Bial
Celleron Therapeutics
Corning Incorporated
Deka Research & Development Corp.
Fujifilm Speciality Ink Systems Limited
Graphene Composites Ltd
IBM
Imagination Technologies
Instituto de Medicina Molecular 'iMM'
Fujifilm
Kyowa
Malvern Panalytical B.V.
Merck KGaA
Microline Surgical Inc.
Mundipharma
Mylan
NantKwest, Inc.
Nestlé
NHS
Novartis
Philips
Pfizer
Polpharma
Procter & Gamble
ReNeuron
Rothwell Figg Ernst & Manbeck
Sandoz
Samsung
Serimmune Inc.
Solvay
Strategic Support Ltd
TempEasy Limited
Teva
The Coca-Cola Company
The Dow Chemical Company
Thrive Earlier Detection
Torbay and South Devon NHS Foundation Trust
u-blox AG
University of Kent
Wood Phillips
Work highlights
Acted for Procter & Gamble in EPO opposition and appeal work with commercially important brands, such as Crest, Active Fit, Pampers, Always, Oral B, Gillette and Braun.
Advised IBM UK on patent prosecution, recently with an expansion in the areas of artificial intelligence and machine learning.
Acted for Samsung on high-quality, high-volume, quick-turnaround prosecution work spanning chemistry and mechanical/electronics.
Elkington + Fife LLP's trade mark prosecution practice is led by the renowned Chris McLeod in London. 2020 was a growth year for the team, with the majority of new work coming in from prestigious clients seeking post-Brexit UK counsel and partly from new and growing relationships with large corporate and commercial firms in need of trade mark experts for their corporate and small and medium-sized enterprise clients. The structure of the team enables the firm to take on a wide range of clients, from well-known multinationals to small UK companies. Mark Scott's design practice complements the trade mark practice well and includes advisory and contentious work.
Testimonials
'The E&F team have always been very helpful and knowledgeable on any trade mark matters and they have a vast array of international connections which makes for a seamless process when filing for international trade mark protection.'
'Small, dedicated teams, led by relationship directors with individual PAs, with access to additional key specialities if and as required. Very low incidence of staff turnover makes for seamless transition and imperceptible interruption to client service.'
'I use Elkington + Fife a lot because the service is always very prompt, well thought through, commercial and professional. It's just a very reliable and faultless service, delivered at the right price. Can't fault it.'
'A very talented and knowledgeable IP team. Commercially-minded and pragmatic. Collaborate with ease with other external advisers (such as lawyers) to give a great service to clients.  Modern and easy administration. Proactive and intelligent.'
'Chris McLeod is a vastly experienced practitioner with a calm, clear and analytical approach whose advice can be relied on without question. Chris is good to work with and delivers his advice with a wit drier than a bag of roasted peanuts.'
'Chris McLeod has always been a pleasure to work with and happy to find time to respond to all forms of queries. He's highly knowledgeable on all procedural and strategic matters relating to trade marks.'
'Key attributes include excellent industry knowledge, immediate access to relationship director, clear responses and excellent communication at all times, sound and practical advice and guidance. Key contributions in particular from TMA Chris McLeod throughout and on one particular transaction from TMA Allister McManus.'
'I always work with Chris McLeod – my go to partner. He is calm and unflappable, huge brain, very assertive in a modest way. Great operator.'
Key clients
Formula One Management Limited
Independent Vetcare Limited/Evidensia
Corning Incorporated
Koninklijke Philips N.V.
Fujifilm Speciality Ink Systems Limited
Acer Incorporated
BASF SE
Evonik Industries AG
Malvern Panalytical B.V.
OSA Fine Spirits Ltd
Decon Laboratories Limited
Citation Limited
TAUR Technologies Ltd
Chaos Fashion Limited
The Juice Master Limited/Jason Vale
Junius Health Limited
Blank Rome LLP
Slaughter and May
Collyer Bristow
Corsearch
Stevens & Bolton
Knijff Trademark Attorneys
Memery Crystal LLP
Farrer & Co LLP
Nishimura & Asahi
Work highlights
Acted as sole UK advisers to Formula One Management Limited in relation to the protection of the F1, Formula 1, Grand Prix and associated trade marks, including the comparative cloned UK registrations resulting from Brexit, and filing oppositions to third-party UK trade mark applications for conflicting trade marks.
Assisted IVC/Evidensia with growing and protecting its substantial portfolio of trade marks, including strategic advice and resolution of third-party disputes.
Represented Coca-Cola European Partners plc in registering domain names and filing numerous trade mark applications, including an international application covering various territories.
Elkington + Fife LLP >
Firm Profile
Elkington + Fife LLP is a leading firm of patent and trade mark attorneys with a worldwide reputation. It regularly punches far above its weight in terms of the quality of work and clientele. The partners and fee-earners are acknowledged experts in their fields, many having worked previously in-house in large multinational corporate IP departments, law firms or at the EPO. A consistently high standard of work is achieved by having a high degree of partner involvement in most work. The firm prides itself on giving high-quality responsive advice which is also commercial in nature and geared to the needs of its clients. The needs of clients are paramount and it is happy to look at ways of fitting its service to its clients' individual requirements. It is not afraid to listen.
The firm: Elkington + Fife LLP has strong and expanding chemical, bioscience, electrical and mechanical departments. Partners Richard Gillard, James Anderson and Oliver Kingsbury have substantial patent opposition practices before the EPO. Nick Ertl has developed a significant outsourcing service for filing patents for a number of large multinational clients.
Elkington + Fife's partners and fee-earners have a wealth of experience in their respective areas. Gordon Wright, a consultant, is widely acknowledged as the pre-eminent expert on pharmaceutical patent extension (SPCs) in Europe. Both he and Oliver Kingsbury have handled numerous pan-European SPC filing programme for major pharmaceutical companies. Chris McLeod handles a large portfolio of trade mark applications and opposition cases both before the UK IPO and at OHIM. He also has substantial experience in dealing with worldwide trade mark disputes.
As a whole, Elkington + Fife handles work for an enviable list of worldwide multinational companies including many household names and a number of top US companies listed in the Fortune 500. At the same time, through the firm's offices in Sevenoaks and Sandwich, its clients have a strong regional presence in the Kent and South East area.
Elkington + Fife LLP is also active at a professional level, having members on the councils of CIPA, INTA and CITMA committees. The partners regularly speak at conferences and act as editors contributing to the CIPA 'black book' or as senior editor to the CITMA and CIPA Trade mark Handbook, the leading authority on UK trade mark practice.
Types of work undertaken: The firm provides the expected full range of prosecution services including the preparation, filing and prosecution of UK, European and international patent applications, the clearance and searching of trade marks in the UK, Europe and worldwide and the filing of UK, community trade marks, international and foreign trade mark applications and registered design applications. On the patents side, advice includes IP due diligence investigations and practical assistance on patent portfolio strategies.
Work is divided between three strategic departments:
Chemicals/biosciences: The department has a large opposition practice before the EPO and has acted for a number of the top 15 international pharma companies . The firm also acts for a number of British and US universities and UK-based hi-tech and engineering firms. Particular areas of expertise include nanotechnology, SPCs and life cycle management.
Electrical and mechanical: Elkington + Fife LLP has both a strong EPO opposition and patent filing practice. It is particularly experienced in helping electronics firms with their outsourcing and overflow drafting of applications, particularly in complex technologies.
Trade marks: The firm has substantial expertise in trade mark clearance both in the UK and worldwide and the handling of all aspects of UK, CTM, foreign and international applications. It also has substantial experience in relation to handling UK and CTM oppositions and Europe and worldwide trade mark disputes, with experience of handling cases up to the Boards of Appeal and the General Court. The firm handles work for a wide spectrum of clients including blue-chip companies in the chemical, pharmaceutical, telecommunications, IT, toy retail, automobile and engineering, medical and entertainment industries.
Other offices: London, Sandwich
Main Contacts
| Department | Name | Email | Telephone |
| --- | --- | --- | --- |
| Pharmaceutical chemistry, polymer/inorganic chemistry | Richard Gillard | | |
| Pharmaceutical chemistry | Oliver Kingsbury | | |
| Pharmaceutical chemistry | Richard Cooke | | |
| Pharmaceutical chemistry, polymer/inorganic chemistry | Lee Mullen | | |
| Pharmaceutical chemistry, polymer/inorganic chemistry | Samantha Busher | | |
| Polymer/inorganic chemistry, semiconductor technology | Erik Scheuermann | | |
| Biology, biotechnology | Glyn Truscott | | |
| Physics, general engineering | James Anderson | | |
| Software, business methods | Nick Ertl | | |
| Software, business methods | Daniel Portch | | |
| Electronics, Software, & IT | Rob O'Callaghan | | |
| Trade marks, copyright, designs | Chris McLeod | | |
| Biology, biotechnology | Jens Grabenstein | | |
| Pharmaceutical chemistry, polymer/inorganic chemistry | Mark Scott | | |
| Physics, general engineering | Ellie Seymour | | |
Staff Figures
Number of UK partners : 15 Number of other UK fee-earners : 35 Total number of staff : 100