Firm Profile > Boult Wade Tennant LLP > London, England
Boult Wade Tennant LLP
Offices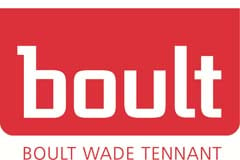 Boult Wade Tennant LLP
Salisbury Square House
8 Salisbury Square
LONDON
Middlesex
EC4Y 8AP
England
Profiles
Boult Wade Tennant LLP > The Legal 500
Rankings
Boult Wade Tennant LLP is particularly visible in EPO opposition and appeal proceedings, both regarding patents originally drafted by the team and in matters taken over from other firms. With its four UK offices, its German offices in Berlin and Frankfurt and an office in Madrid, the firm is well set up for multi-jurisdictional matters and a popular choice for multinational companies, but also for European and UK small and medium-sized enterprises, start-ups (including university spin-outs) and charities. The group also provides strategic portfolio management services, due diligence, including for acquisitions and IPOs, and litigation support. Senior partner Nick McLeish in London directs the sizeable hi-tech and electrical group; Adrian Hayes in the Oxford office is in charge of the chemical and materials team in which the London-based Marcus Sims made partner in May 2020; Tessa Bucks, also in London, heads up the engineering and designs practice, which saw an increase in AI and augmented reality work; and fellow London-based practitioner Nina White leads the biotechnology and life sciences practice. The firm also utilises its IP management portal BoultView and dedicated in-house renewal team. Biotechnology and life sciences specialist Jennifer O'Farrell joined D Young & Co LLP in November 2020.
Practice head(s):
Adrian Hayes; Nick McLeish; Tessa Bucks; Nina White
Other key lawyers:
Marcus Sims; Daryl Penny; Barbara Rigby; Neil Thomson; Edward Ronan; Daniel Weston; Simon Kahn; Michelle Pratt; Rohan Setna; Joanna Peak; Martyn Draper; Matthew Spencer
Testimonials
'The team make sure they are very familiar with the required technology area and the commercial importance of it to the client. They are very proactive, especially when drafting new ideas. They excel at European oppositions from advice at the early stage through to strong representation at the hearing. Overall they form a very strong relationship with our IP team.'
'Absolutely exceptional team, from managing partners to junior associates. BWT provides enormous skill and dedication for each and every engagement, as well as sophisticated, long-term and relationship-based counsel.'
'The people working within the TMT practice group have deep knowledge of their subject area, and quickly understand the legal as well as technical and commercial issues involved in a mandate. They involve the client in charting out an approach for the work product that offers a practical and efficient way forward. They provide regular status updates throughout the mandate and deliver clear and concise work product.'
'Daniel Weston has outstanding knowledge and gives clear and pragmatic advice. He can be relied upon to give well-thought out advice and is very responsive when we need to act quickly.'
'All of the individuals we work with at BWT are very focused at delivering results. Tessa Bucks excels in oppositions proceeding and we have had a number of recent successes at both first hearing and appeal level.'
'Ed Ronan is a creative thinker.'
'Their partnership approach is what truly makes them standout. Rather than simply taking an adviser role, they truly attempt to understand the business, the persons involved and essentially become a member of the operating team. They take the time to understand the nuances of their client and to raise awareness as necessary when an issue arises.'
'For me the stand-out team members are Matthew Spencer and Barbara Rigby.  I am impressed by their attention to detail, diligence and willingness to rise to challenges, such as tight deadlines or less than ideal information provided by the client.'
Key clients
Abbott
Koninklijke Douwe Egberts B.V
Abcam plc
The Almac Group
CREE
Adaptive Spectrum and Signal Alignment, Inc
Caterpillar Inc
Alpha Assembly Solutions, Inc
Irdeto B.V
argenx BVBA
Gravity Industries
Boult Wade Tennant LLP's European platform with offices in the UK, Germany (Frankfurt, Berlin) and Madrid has attracted a number of prestigious new clients. The firm excels in domestic UK and international trade mark, design and domain name matters, with its growing trade mark caseload for Indian and Chinese clients illustrating the team's good reputation in these markets. In addition to its comprehensive trade mark offering the practice also provides assistance with domain name, copyright and design matters. The dedicated renewals department illustrates the firm's commitment to efficient and cost-effective solutions. London-based practice head John Wallace and his team act for a very diverse list of clients, including multinationals and start-ups, family businesses, government entities, charities and individuals. Anusha Arunasalam in London made partner in November 2020.
Other key lawyers:
Emma Pitcher; Catherine Wolfe; Tony Pluckrose; Anusha Arunasalam; Rachel Conroy; Felicity Hide
Testimonials
'Very intelligent, attentive client relationship managers who make the world of trade marks fascinating and deliver advice promptly and always in good spirits!'
'They really are the best of the best. Pragmatic, knowledgeable and helpful. Always there when you need them.'
'They are the top of the tree.  Knowledgeable, skilled and thoughtful, team players and great with clients.'
'Catherine Wolfe and Tony Pluckrose are brilliant. Both have a great sense of humour alongside extremely detailed and extensive knowledge on all things trade marks. They are always available at the other end of the phone or email. It is always a pleasure to speak to them and I always come away with the facts needed to progress the matter at hand.'
'Emma Pitcher is extremely bright and thoughtful. A joy to work with. Tony Pluckrose: I am not sure there is anything Tony doesn't know in the world of IP.'
'Tony Pluckrose has enormous experience, a wonderful way with clients and a mind that is both ingenious and pragmatic. He is a problem-solver. Catherine Wolfe is super brainy and knowledgeable. Emma Pitcher has great commercial flair as well as being very bright.'
Key clients
Essity Hygiene & Health AB
Sony Interactive Entertainment Europe Ltd (SIEE)
Lloyd's of London
Tyco Fire & Security GmbH
PUIG FRANCE, Société par Actions Simplifiée.
Bauer
Vodafone
John Guest/Reliance
Eicher Motors
Viacom
Les Roches Blanches SA
Boult Wade Tennant LLP >
Firm Profile
Boult Wade Tennant LLP is a specialist patent and trade mark firm. It exists to help individuals and businesses protect, manage and enforce their intellectual property rights on a global scale. The firm continues to be internationally recognised as one of the leading UK firms of chartered patent attorneys, chartered trade mark attorneys and European patent and trade mark attorneys. Boult Wade Tennant achieves top rankings in The Legal 500, Managing Intellectual Property, Chambers and Partners, World Trade Mark Review 1000 and Intellectual Asset Management 1000 consistently.
The firm: Boult Wade Tennant is a forward-thinking, dynamic and innovative firm that is considered by its peers and clients as being at the forefront of its practice areas. The firm looks after the multi-jurisdictional IP issues of major industrial and commercial companies worldwide, as well as portfolio management for a wide range of small and medium-sized enterprises, academic institutions, and independent research and development organisations. The firm is known internationally for its quality of communication, proactivity, creativity and high standards in all matters. The attorneys have broad-based technical knowledge and well-developed commercial acumen, and are creative in their approach.
Established in 1894, Boult Wade Tennant has a long track record of helping to protect and commercialise innovations and brands, and is dedicated to providing excellent client service. The world-renowned patent and trade mark teams comprise attorneys who are recognised leaders of their fields and who employ ambitious and innovative strategies to maximise the value of IP.
The firm has four patent groups which are divided by technologies: biotechnology and life sciences; chemical and materials; engineering and designs; and hi-tech and electrical. The fifth group is the trade mark and domain names group. The firm also has a range of professional in-house support functions, including a sizeable renewals department and a search department.
Additionally, the attorneys play an important role in shaping UK, European and international IP law through their active participation in bodies such as: The Chartered Institute of Patent Attorneys (CIPA); The Chartered Institute of Trade Mark Attorneys (CITMA); Institute of Professional Representatives; International Association for the Protection of Intellectual Property (AIPPI); International Trade Mark Association (INTA); UNION of European Patent Practitioners; and many others. It is membership and participation in these bodies that demonstrates the firm's thought leadership credentials.
Boult Wade Tennant offers a voluntary vacation scheme and provides a structured internal training programme for trainees. The firm has an excellent track record in the qualification rates among its trainees in the CIPA, EPO and CITMA professional exams.
Types of work undertaken: The firm's quality provision of services to clients is at the core of its working culture. Boult Wade Tennant prides itself on the strong relationships it develops with long-term clients and much of its work comes through recommendation.
Boult Wade Tennant's market-leading patent groups provide expert industry advice, technical expertise and subject knowledge, to help protect and enforce IP rights in markets across the world. The firm has handled several hundred European Patent Office oppositions and appeals with a high success rate. All technical groups have extensive experience in drafting original patent specifications, evaluations of rights, IP portfolio management, handling oppositions, advising on infringement and enforcement matters. Boult Wade Tennant also offers a range of additional services, including providing freedom to operate opinions, carrying out IP due diligence exercises, recording assignments and licences worldwide, managing the transfer of large incoming portfolios, patent searching services, competitor watching services, in-house renewals and translation services.
The highly regarded trade mark group assists in the selection, protection, management and enforcement of trade marks and in domain name disputes, and advises on copyright and other IP issues for high-profile brands, most notably in the retail, food and drinks, events, finance, travel, telecommunication, sports merchandising, media, heritage and theatre sectors. The group is among those filing the most community trade marks in Europe and has amassed much experience before the UK Registry and internationally at the European Union Trade Marks Office (EUIPO) in overcoming objections, successfully prosecuting and defending oppositions, and prosecuting appeals. It also continually handles opposition, invalidity and revocation proceedings before the UKIPO, and has expertise in rebranding programmes and in providing litigation support in High Court and EU-level litigation to long-term clients of the firm.
Other offices: Berlin, Madrid, Frankfurt, Cambridge, Reading, Oxford and meeting facilities in Munich.
Main Contacts
| Department | Name | Email | Telephone |
| --- | --- | --- | --- |
| Senior partner | Nick McLeish | | |
| Managing partner | Alex Frost | | |
| Hi-tech and electrical | Nick McLeish | | |
| Engineering and designs | Tessa Bucks | | |
| Biotechnology and life sciences | Dr Nina White | | |
| Chemical and materials | Dr Rohan Setna | | |
| Trade mark and domain name | John Wallace | | |
Staff Figures
Number of partners : 38 Number of other fee-earners : 52 Total staff : 182
Memberships
INTA - International Trademark Association Chartered Institute of Trade Mark Attorneys (CITMA) Chartered Institute of Patent Attorneys (CIPA) ABA (American Bar Association) AIPPI (Association for the Protection of Intellectual Property) ECTA (European Communities Trade Mark Association)
Boult Wade Tennant LLP >
Firm Profile
Press Releases
18th March 2019
Boult Wade Tennant LLP's London team has moved to a new office location.
Salisbury Square House is a bright and flexible space offering clients and staff alike an improved working environment and new facilities. 
21st February 2019
Managing Partner and Head of the Trade Mark and Domain Names practice group John Wallace commented "This is a tremendous result for the firm. It demonstrates the calibre of our team here at Boult Wade Tennant. We have great people across the practice groups and support teams who make it possible for us to continue to be a leading firm. It is very rewarding for us to be recognised by an independent source such as MIP - what a great way to start this year especially as we are celebrating . This year the firm celebrates our 125th anniversary".
6th February 2019
Boult Wade Tenant is delighted to announce the opening of the Berlin office.
8th January 2019
This year, 2019, we are delighted to be celebrating the 125th anniversary of Boult Wade Tennant.
8th November 2017
Boult Wade Tennant are delighted to announce the promotion of Susi Fish to Partner, effective as of 1 November 2017.
21st June 2017
We are pleased to announce that Boult Wade Tennant has again been listed as 'highly recommended' in IAM Patent 1000's 'The world's leading patent professionals 2017' annual review. As well as this, two senior team members have been listed as 'highly recommended individuals: prosecution', which is both a personal achievement and one that reflects the hard work and dedication of the teams with which they work.
The IAM guide aims to identify the leading patent professionals in key jurisdictions across the globe. The list is the result of five months of detailed research involving interviews and surveys with thousands of private practice lawyers and attorneys. The named practitioners have received high praise and recommendations from both peers and clients alike.
On the inclusion, Senior Partner Nick Mcleish commented "I am delighted to see
Boult Wade Tennant ranked so highly by this prestigious directory. We are extremely proud to read that our clients praise our work and comment that 'everything you see from Boult Wade Tennant screams high quality'. To also have so many of our individuals recognised further demonstrates the firm's continued approach to offering innovative and practical advice to the widest range of clients and is evidence of the exceptional client service we strive to provide."
Click here to view the full list.
6th June 2017
Boult Wade Tennant Partner, Catherine Wolfe, has been listed within the 2017 edition of Managing Intellectual Property (MIP) STARS Top 250 Women in IP for a second year running. She is one of only 20 selected from the UK.
Top Tier Firm Rankings
Firm Rankings