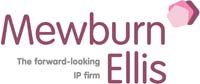 Mewburn Ellis LLP has been recommended as a TOP-TIER FIRM in 2 practice areas and has been recommended in 1 practice areas in The Legal 500 United Kingdom Solicitors 2023 edition
FIRM RANKINGS SUMMARY
TOP TIER FIRM Practice Areas
RANKED Practice Areas
---
LAWYER RANKINGS SUMMARY
Legal 500 commentary: A total of 7 lawyers are mentioned by name in Legal 500 UK commentary for their standout contribution to respective practices.
Please note that in the extensive listings available at legal500.com, comprehensive staffing details, including practice heads, other key lawyers, and specific client comment on individuals connected to each practice are set out in full.
Full list of ranked lawyers
---
FIRM & LAWYER RANKING DETAILS: IN DEPTH
Law firms with access to Legal 500 Historical Data Services will be able to view and download rankings data in spreadsheet form.