Acuity Law > Swansea, Wales > Firm Profile
Acuity Law
Offices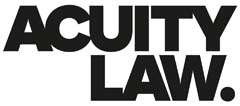 Acuity Law
EXCHANGE BUILDING
CAMBRIAN PLACE
SWANSEA
SA1 1SH
Wales
Acuity Law > The Legal 500
Rankings
Blending transactional strength with governance and commercial contracts prowess,
Acuity Law
provides an all-encompassing service to clients from a range of sectors, including healthcare and life sciences, technology, retail and education.
Christian Farrow
 is well-versed at advising on domestic and cross-border transactions, including M&A and joint venture (JV) structuring in the financial services and renewables sectors. In addition, he has been pivotal to the firm's pioneering use of technology to assist clients, including the firm's long-standing Acuity Counsel subscription service and the nascent Document Assist product which enables companies to easily produce high-quality legal documents themselves.
Beverley Jones
 co-heads the corporate side of the practice alongside Farrow, and as well as her M&A work in the healthcare sector, is also gaining traction among fund clients, including Warwick Capital for their investment activity.
Jon Lawley
has also developed a strong reputation within the healthcare space, most specifically as a result of his ongoing work for Portman Dental Care, the largest active acquirer of dental practices in the UK. As well as his work for university spin-out clients,
Phil Pugh
also handles commercial and transactional matters for technology and IT clients, an area of the practice which was strengthened at the beginning of 2022 by the arrival of
Declan Goodwin
 from Vistra Corporate Law (he  now heads up the commercial and technology sub-group). Senior associate
Tom Saunderson
continues to impress as a result of his private equity and early stage venture capital expertise, while at a more senior level, both
Paul Lowe

and firm chairman
Stephen Berry
 are key resources for clients as a result of their vast knowledgebase which has been developed over their many years in practice.
Praised for its ability to
'go the extra mile and remain calm under pressure
',
Acuity Law
is popular among financial services and healthcare clients, in particular, in relation to high-stakes regional and UK-wide commercial litigation.
Hugh Hitchcock
has an '
understands the respective parties' pressure points',
ensuring that he is well-positioned to secure favourable outcomes for his clients, including in complex director and shareholder disputes. The '
exceptional'
Aisha Wardell
co-heads the team alongside Hitchcock and has been a driving force behind its increased visibility in the arbitration space.
Now headed by Declan Goodwin , following his arrival in January 2022,  Acuity Law's commercial and technology team has deep and broad experience advising on standalone contractual tech matters, as well as on M&A in the sector. Goodwin is well-versed at advising both well-established IT/tech-based corporates, and fast-growing start-ups, across a range of contractual agreements and on data protection concerns. Rachelle Sellek is also recommended, particularly as it relates to the drafting of outsourcing and software agreements. In addition to traditional fee-earning work, clients can choose to access several membership services, with the firm's recently launched Acuity Data Assist a particularly compelling product, offering as it does a tailored audit to highlight any gaps in clients' data compliance processes and to identify the key risks faced.
Under the very effective leadership of the 'exceptional' Claire Knowles, the 'responsive, proactive and supportive' team at Acuity Law continues to gain traction in the market and 'has a good balance of experience and developing lawyers'. The arrival in February 2022 of the 'very likeable, professional and sensible' Juliette Franklin from Slater and Gordon has provided the firm with added gravitas on the contentious front, as a result of her claimant-side prowess in relation to discrimination claims. The recruitment in January 2023 of senior associate Rubel Bashir , also formerly of Slater and Gordon, enhances the associate ranks that also includes the 'proactive and commercially focused' Adam McGlynn . As well as his fee-earning work, McGlynn has also been very effective at developing technology-based products (alongside the firm's existing longstanding Acuity Counsel subscription offering) including the Redundancy Costs Calculator and the IR35 Assist assessment tool.
Acuity Law
 provides '
proactive and solutions-focused'
advice to public and private sector borrowers, as well as traditional and non-bank lenders on the financing requirements associated with corporate activity, as well as on projects in the housing, energy and healthcare sectors. Team head
Beverley Jones
provides '
excellent
advice and support' 
to many of the firm's corporate clients on their funding requirements to facilitate M&A transactions and for working capital purposes. In addition, Jones is one of many in the team, including
Christopher Agius
 and
Sam Clarke
that excels in property finance matters.
Acuity Law
provides '
flexible and commercially driven' 
advice to a range of stakeholders, both out of its Cardiff headquarters as well as its increasingly well-established London office and its nascent Bristol location. Developer work remains a core driver for the team, with longstanding client, Rightacres, continuing to provide a slew of instructions in relation to major development projects in Cardiff.
Gareth Baker
is pivotal to this work and has been the lead lawyer for Rightacres on its flagship Central Square regeneration scheme since 2014.
Damien Cann
has also been at the core of this work, particularly as it pertains to the developer's funding arrangements – work which he combines with significant expertise within the healthcare sector. 
Steve Morris
, who is '
always supportive and knowledgeable',
co-heads the team alongside Baker, while at a more junior level
Ben Honour
, who was promoted to partner in June 2022, provides '
client-focused'
advice on the acquisition and disposal of commercial property and development projects.
Drawing upon 'a great mix of experienced and young lawyers', including former construction head at Douglas-Jones Mercer Philip Graham , who joined in April 2022, Acuity Law displays 'a can-do attitude' on behalf of developers and contractors throughout a project life cycle, on matters ranging from complex infrastructure projects to city centre regeneration schemes. Historically better known for its transactional and advisory expertise, Graham's arrival adds more balance to the team, in light of his 'very pragmatic approach to the resolution of construction disputes'. James Williams takes the lead on the non-contentious front and continues to spearhead the firm's efforts for leading developer Rightacres on construction issues arising in relation to its ongoing work in Cardiff city centre.
At Acuity Law, team head Steve Morris  regularly advises the firm's impressive roster of developer and investor clients on the planning concerns associated with their large-scale commercial property mandates. A number of consultant partners at the firm, including James Ryan, also handle standalone contentious and non-contentious planning matters in a self-employed capacity.
Now forming its own discrete practice group and no longer subsumed within the broader commercial litigation offering - an indication of its growing stature in the market - Acuity Law's property litigation team provides a 'range of experience and client-focused service' to private sector clients (including developers), as well as housing associations. Team head Jennifer Butcher provides 'commercial and sensible advice' on conventional landlord and tenant disputes, as well as in litigation for management companies against developers and insurers regarding high-value latent defect claims. Butcher also handles a considerable amount of social housing-related work, as does Neil Morgan, whose expertise includes bringing claims relating to anti-social behaviour, as well as defending RSLs in disrepair actions.
Leveraging its market-leading commercial property reputation,
Acuity Law
has effectively broadened the scope of its work to include a growing number of mandates in the social housing sector. Team head
Liz Gibbons
takes the lead on the transactional property aspects of the practice, including work on site acquisitions. Swansea-based consultant partner
Neil Morgan
is the main contact for housing management work and has deep experience handling anti-social behaviour issues and property litigation work in the sector.
Led by Cordelia Payne, who divides her time between the firm's Cardiff and London offices, the 'very knowledgeable and responsive' team at Acuity Law provides 'proactive and solutions-driven advice' to a private sector- focused client base on the protection, commercialisation and enforcement of their IPR. Much of Payne's workload relates to contentious matters for retail clients, including on trade mark and passing off infringements, an area that, as well as UK-based work she also has expertise handling matters before the EUIPO. The arrival in January 2022 from Vistra Corporate Law of the 'very knowledgeable and hardworking' Declan Goodwin  strengthens the team's ability to advise clients on the effective commercialisation of their IPR.
Led from Cardiff by consultant Angharad Evans and also able to draw upon the expertise of a number of practitioners based out of the firm's London office, Acuity Law has a strong reputation advising clients in the creative industries across a range of contractual matters. Leveraging her previous role as head of legal and business affairs at S4C, Evans is particularly effective at advising film and tv clients across a variety of content, commercial and business management issues, including on co-production, financing and commissioning agreements.
Acuity Law
predominantly services specialist and alternative lenders in the real estate space, as well as developers and investors. Team lead
Sam Clarke
, praised by clients for his '
commercial understanding',
specialises in investment and development financings across hotel, student accommodation, office, retail, and residential asset classes.
Counting SMEs, fashion industry entities and blockchain-based businesses, to name a few, among its key roster of clients, 
Acuity Law
handles trade mark infringement and design right disputes, with demonstrable growth in international brand protection portfolio management. Practice head
Cordelia Payne
is well-versed in both contentious and non-contentious matters, routinely bringing and defending actions at the UK and EU IP registries.
Acuity Law >
Firm Profile
We are Acuity Law – entrepreneurial lawyers with an instinct for business.
Acuity Law is a top-tier national law firm offering award-winning legal services to businesses across the UK and internationally.
We like to do things a little differently. We are passionate about delivering better legal services, which is why we pride ourselves on innovation – whether that's through our ever-expanding team of trusted and dynamic experts based up and down the country, or through our suite of custom-built products, directly inspired by our clients' needs.
People are at the heart of everything we do. Our clients are not just at the vanguard of the corporate and commercial world, they are people who value our straight-talking, pragmatic approach. That is why our substantial portfolio of major clients is founded on longstanding relationships.
We are a team of lawyers dedicated to delivering first-class legal advice through a sharp commercial lens, seamlessly partnering with businesses. We are not just responsive, but pre-emptive, spotting problems early.
Above all, we listen. That's why we continually strive to enrich the client experience with a range of technology, tools and channels designed to make our specialist legal knowhow as accessible as possible. Our free, intuitive Acuity Client Portal connects clients and potential clients to the Acuity environment, allowing instant access to matters, invoices and a comprehensive knowledge bank. Acuity Counsel Service, Acuity Reputation Management and Data Assist are also among some of the pioneering products and services we have devised and tailored to our clients' needs.
Acuity Law – Making Business Happen.
Staff Figures
Number of UK partners : 47 Number of other UK fee-earners : 65
Client Testimonials
CLIENT: Gavin Peters, CEO UK Operations
COMPANY/FIRM: Tri-Wall
TESTIMONIAL: "The Acuity team is a great fit as legal partners for Tri-Wall and their emphasis on entrepreneurship and commerciality fits well with our ethos. We look forward to working with them further in the coming months."
---
CLIENT: Matt Phillips, Director People and Governance
COMPANY/FIRM: Monmouthshire Council
TESTIMONIAL: "I fundamentally trust the team is because they are moulded in the image of their exceptional leader. Claire has that magical combination of a law library in her head, availability that suggests she has more hours in the day than other people, and a success rate to be envied."
---
CLIENT: Andy Sloan, Business Development Director
COMPANY/FIRM: Portman Dental Care
TESTIMONIAL: "As a company we set ourselves extremely ambitious targets and we never doubted that Acuity, with its strength in depth, would rise to meet the challenge we set them."
---
CLIENT: Ian Bond, CEO
COMPANY/FIRM: Bond Digital Health Limited
TESTIMONIAL: "As any entrepreneur knows, a funding raise is much like fighting a fire breathing dragon. Lots of heat, lots of tension and it never seems to lie down. We've been through that twice this year, successfully I have to say, and the one thing that was a given was that the team from Acuity were there. Responsive, involved, up to speed on all issues and most of all on our side all the way. It was, and remains, a valuable partnership."
---
CLIENT: Gerwyn Williams, Managing Director
COMPANY/FIRM: U.K. Methane Limited
TESTIMONIAL: "Acuity Energy were very proactive and their prompt response to problems helped to identify main issues at an early stage. The team has a concentration of expertise that matches any City player but still appreciates that speed and cost is critical to its clients."