Firm Profile > Crane & Staples LLP > Welwyn Garden City, England
Crane & Staples LLP
Offices
Crane & Staples LLP
LONGCROFT HOUSE
FRETHERNE ROAD
WELWYN GARDEN CITY
HERTFORDSHIRE
AL8 6TU
England
Crane & Staples LLP > The Legal 500
Rankings
Operating out of Hertfordshire, Crane & Staples LLP advises both private and public clients on a broad range of family law cases, from high-net-worth divorces and child arrangements to complex care cases involving non-accidental injury to children. Practice head Danielle Peters specialises in complex divorce and financial remedy matters. Sharon Montgomery handles cases such as child arrangements and inheritance act claims. Senior associate Attia Hussain deals with highly controversial child care cases. The practice has expanded with the hiring of two new care lawyers: Janet Martland joined from GN Law and Sian Churchill joined from ARKrights.
Practice head(s):
Other key lawyers:
Testimonials
'Sharon Montgomery and her team worked beyond the call of duty on many occasions and for this I am truly thankful. The team always presented themselves in a kind and approachable manner. During my many meetings with them I struggled mentally because of trauma and stress. I felt they picked up on this and used language that I could understand and didn't overload me. They were always friendly and sympathetic which was greatly appreciated.'
'A redoubtable performer in the Hertfordshire area, Crane & Staples are well-established with a reputation for cost-effective and accurate legal advice.'
'Janet Martland and Attia Hussain both go above and beyond for their clients. They each also look after junior members and assist them with their development.'
'The family team at Crane and Staples are very good with vulnerable clients, in making sure they are able to participate in the court process and in representing them rigorously. They are a standout firm for children/family work, they have a strong dedicated team who cover a wide range of proceedings.'
'Danielle Peters is an exceptional lawyer with great instincts and a wealth of experience in the most difficult cases. She is someone who I would call when I have a difficult issue I want to discuss. Strong grounding in public law, which she is able to utilise in her private law work.'
'Sharon Montgomery was tenacious but sensitive in her representation of me in my divorce and in my pre-nup, to the extent that my second husband now uses the firm as his own lawyers.'
'Sharon Montgomery is a terrific family solicitor.  Keenly supportive of her clients, she is perfectly prepared to deliver bad news when it is needed and has the respect of her clients and opponents for doing so.'
'Danielle Peters is a formidable lawyer with a quiet determination.  She focuses on resolving complex matrimonial disputes with the least acrimony and always looks for solutions and avoiding unnecessary conflict.  A real star.'
'Attia Hussain handles children's cases with dedication and passion.  She is well known for her preparation and attention to detail and clients are always very well served.'
A 'dynamic and effective team' based in central Hertfordshire, Crane & Staples LLP advises longstanding local clients on a range of issues, such as technical and complex tax and estate issues, Court of Protection matters, and the establishment and management of trusts. It has also expanded its online-accessible work involving lasting powers of attorney and wills. Practice leader David Bird deals with complicated matters relating to high-value estates and tax matters. Samantha Webb is a 'stand-out solicitor', specialising in matters such as declarations of trust, inheritance tax, and administrating complex and high-value estates.
Practice head(s):
Other key lawyers:
Testimonials
'Crane & Staples have established an effective collaborative environment, demonstrating strong and effective communications, service and support tailored to client requirements, high standards of output, and total professionalism. Additionally, a notable aspect to the way Crane & Staples conduct business is the effectiveness of the client support, the support team and receptionists, who all work together to ensure the effective and efficient running of the practice.'
'A stand-out strength of Crane & Staples is an ability to work as a dynamic and effective team.'
'Samantha Webb is a stand-out solicitor. She is an extremely bright and effective lawyer, with an ability to quickly assimilate large quantities of information and make sound, concise, pertinent, and reasoned judgements when advising clients. Samantha has an exceptional knowledge and clear understanding of a wide range of legal matters, which can only be gained by experience, study and professionalism. She has shown exceptional leadership, professional qualities and original thought. A great ambassador for Crane & Staples.'
'With Crane & Staples it is a natural process, and very easy, to establish a personal relationship with one's solicitor. The result is a supporting partnership, built upon understanding, knowledge, and strength.'
'Very professional. They are quick to understand issues and offer sound advice.'
'Personal, friendly, and excellent service and attention.'
'Very prompt and professional. Thorough in questions and advice. Went above and beyond to accommodate our special request. Made us feel at ease and looked-after.'
'They are a very professional firm which at the same time maintains a sense of individuality to their clients.'
'All of the family law team are friendly, professional and personable to work with.'
'Crane & Staples is a firm that offers not only the professionalism that one would expect from a law firm but also the depth of coverage that gives confidence in the continuity that they provide. In effect, the sense of continuity goes beyond client knowledge and extends to peer appreciation within the firm.'
'David Bird has consistently demonstrated an ability to gain a rapid appreciation of client requirements and to articulate advice in helpful terms that the layman can understand easily. This has proved invaluable in arriving at effective solutions relating to the financial management of family affairs.'
Operating out of Welwyn Garden City, the team at Crane & Staples LLP specialises in matters relating to real estate and property development, including acquisitions and disposals, commercial refinancing and lettings and finance. Well-regarded commercial head Bonnie Twiggs specialises in leasehold enfranchisement work, while residential property head Christopher Brewis advises on matters such as the acquisition of commercial premises. Senior associate Manish Patel is also recommended.
Practice head(s):
Other key lawyers:
Testimonials
'Chris Brewis is approachable and has good people skills; a competent practitioner with a competitive streak that makes him stand out, always returning calls and willing to go that extra mile for his clients. I regularly recommend him and have had no complaints. He sets a high standard within his specialist field.'
'Bonnie Twiggs always gets straight to the point and explains things in layman's terms – it is really valuable to receive practical, clear advice without the legal jargon that other solicitors use. Bonnie also has a common sense approach and will always get the job done quickly and efficiently.'
'Manish Patel has great energy and a positive attitude at all times – he is highly understanding through various challenges; his patience and attention to detail makes it a pleasure to do business together.'
'Friendly, efficient personal service. Easy to contact, professional team. Helpful and thorough.'
'Highly professional, and importantly very responsive. They are proactive in chasing up on outstanding questions, and are very thorough and diligent. Very approachable, happy to meet face to face and you feel they are constantly pushing to move forward.'
'A hard-working team who provide a transparent service with integrity.'
'Bonnie Twiggs provides an exceptional service – she takes the weight off of the client's shoulders and onto her own.'
'A very friendly, knowledgeable firm delivering to our local community.'
Key clients
Simmons (Bakers) Ltd.
Hatfield Trading Ltd.
Isabel Hospice
Netherdown (Herts) Ltd.
Peter Alexander Investments Ltd.
Park Securities Ltd.
RBL Field House Care Ltd.
Renshaw UK Ltd.
W Austin & Sons
Transport Planning Associates
Willowcity Estates
Meadow Holdings Ltd.
Anergreen Properties Ltd.
Lawlock Ltd.
Longcroft Luxury Cat Hotel
Cresthaven Developments Ltd.
Haydenlang Ltd.
PaybyPhone Ltd.
Home Hug Ltd.
Azza Ltd.
Easyrent Ltd.
Gigi & Valter Ltd.
Paramour Properties Ltd.
AJD Tiverton Ltd.
Thrive Assets Ltd.
Crane & Staples LLP >
Firm Profile
Crane & Staples was established in 1938 in the heart of Welwyn Garden City. We position ourselves as: 'Professional solicitors delivering a specialist service to the local community'.
Our seven partners are passionate about their business. They are dynamic and forward thinking, embrace challenge and change and make significant investment in both their team and technology to drive the business. The total team numbers 35 and includes 23 lawyers.
We pride ourselves on both our legal expertise and understanding our clients' needs across a diverse and complicated range of areas such as commercial, employment and property law, significant lifetime events such as divorce and family law, and sensitive areas of later life planning and bereavement.
Nearly 98% of our work comes from happy clients who return to us, from their recommendations to family and friends, or from professional referrals. We pay no introducer fees.
As a firm, Crane & Staples is extremely well established and connected in Welwyn Hatfield with an excellent reputation with individuals, families and businesses. We have always been a proactive firm within the local and business community and the last 12 months have been no exception.
We aim to provide our clients with legal expertise in a professional way at every point of contact; to deliver an outstanding level of client care, advise, guide and reassure our clients through the times that matter and exceed their expectations.
Quality in all aspects of the business is fundamental to our philosophy. We were the 2nd law firm in Hertfordshire to achieve the Lexcel legal quality mark, whose standards we will have consistently achieved for 17 years this year.
Main Contacts
| Department | Name | Email | Telephone |
| --- | --- | --- | --- |
| Family | Sharon Montgomery | | |
| Family | Danielle Peters | | |
| Private Client | David Bird | | |
| Private Client | Samantha Webb | | |
| Property | Bonnie Twiggs | | |
| Property | Christopher Brewis | | |
| Employment and Dispute Resolution | Michael Scutt | | |
Lawyer Profiles
| Photo | Name | Position | Profile |
| --- | --- | --- | --- |
| | Miss Annabel Andreou | NQ Solicitor specialising in Wills, Trusts, Probate, Inheritance Tax and Estate Planning,… | View Profile |
| | Mr Tom Axon | Solicitor specialising in a variety of property matters including freehold and leasehold… | View Profile |
| | Mr David Bird | Partner and Head of Private Client Department, specialising in Tax planning, estate… | View Profile |
| | Mr Christopher Brewis | Partner and Head of Residential Property, specialising in all aspects of residential… | View Profile |
| | Mrs Heather Charles-Wall | Residential Conveyancer specialising in all aspects of residential conveyancing, plot sales and purchases. | View Profile |
| | Mrs Sian Churchill | Solicitor, specialising in Children Law and Domestic Abuse, passionate about providing vulnerable clients… | View Profile |
| | Miss Sara Dobson | NQ Solicitor specialising in Family Law and Residential and Commercial Property. | View Profile |
| | Miss Georgina Donnellan | Solicitor specialising in Wills, Trusts, Probate, Inheritance Tax and Estate Planning, Powers… | View Profile |
| | Mr Malcolm Hemmings-Portas | Associate with broad experience dealing with a range of aspects of Commercial… | View Profile |
| | Ms Attia Hussain | Senior Associate, Advocate (Higher Courts Civil Proceedings), Family and Children Law Specialist… | View Profile |
| | Mrs Janet Martland | Solicitor specialising in Family and Children Law, in particular representing parents and… | View Profile |
| | Mrs Sharon Montgomery | Partner, dealing with problems or issues that result from the breakdown of… | View Profile |
| | Mr Tahir Nisar | Senior Associate specialising in Estate Administration, preparation of Wills and LPAs, Court… | View Profile |
| | Mr Manish Patel | Senior Associate specialising in all aspects of residential and commercial conveyancing, including… | View Profile |
| | Mrs Danielle Peters | Head of Family Department and Partner, specialising in all issues on relationship… | View Profile |
| | Mr Michael Scutt | Partner and Head of Department specialising in employment law for both small… | View Profile |
| | Miss Katie Smits | NQ solicitor specialising in Wills, Trusts, Probate and Residential and Commercial Property. | View Profile |
| | Mrs Vasoula Televantos | Associate Solicitor, providing advice in all aspects of residential property, acting for both… | View Profile |
| | Mrs Bonnie Twiggs | Partner and Head of Commercial Department, specialising in all aspects of residential… | View Profile |
| | Mrs Samantha Webb | Partner with a breadth of experience in Private Client work, including Court… | View Profile |
Languages
English Punjabi Urdu Kashmiri
Memberships
Resolution Society of Trust & Estate Practitioners (STEP) Solicitors for the Elderly (SFE) Law Society
Client Testimonials
TESTIMONIAL: We have been very happy with the service from Crane and Staples. They have been supportive, efficient and provide a personal touch that makes them a bit different from the competition.
TESTIMONIAL: You and your colleagues have helped ensure that the process has been smooth and stress free and we are extremely appreciative of your support.
---
TESTIMONIAL: Very professional and efficient at all times. We were very happy with the service and would happily promote you to friends and family.
---
TESTIMONIAL: I deal with a lot of solicitors due to FTSE 100 / Big Four employment and the service from Crane & Staples was as good as, or better than all the large City firms. Will definitely use again and recommend.
---
TESTIMONIAL: This was the first time I had used a Solicitor in my life, due to their expertise, tenacity and support a horrendous situation was made bearable and had a huge positive impact on my family's life. I would recommend Crane & Staples Solicitors and their professional links wholeheartedly specifically Danielle Peters.
---
TESTIMONIAL: The Residential Property Team at C&S looked after my interests extremely diligently over the past year and more in both my buying and selling processes – courteous, pleasant and highly responsive, I have no hesitation in recommending C&S!
---
TESTIMONIAL: The best team I've had the pleasure of using in years. 10 out of 10!
---
TESTIMONIAL: Thank you for your excellent service and the empathy you have shown towards us during this difficult situation.
---
TESTIMONIAL: Bonnie helped me with the Ground Rent Review Assistance Scheme – kept me up to date on progress, super responsive and very good value. Highly recommended.
---
TESTIMONIAL: Tahir Nasir dealt with my mother's estate in a very professional and efficient manner. Have used Crane and Staples a number of times and would not hesitate will use them again as required.
---
TESTIMONIAL: Sincere thanks for providing our company with reliable assistance and excellent service which allows us to fulfil commitments, deadlines and high expectations for our valued clients throughout the year.
---
TESTIMONIAL: Recently sold and bought house in pandemic using Crane & Staples for conveyancing. I have used them previously for transferring the title on my property and will continue to use them, even though living many miles from Welwyn Garden City! I was extremely impressed by the high level of service I received from Tom Axon. He was very efficient and professional throughout and kept me well informed at each stage during the process. I would highly recommend Tom and Crane & Staples for their excellent work.
---
TESTIMONIAL: My family and I recently used Crane and Staples to help with a legal matter concerning a property. They were extremely professional and proactive, and I would definitely advise others to use their services.
---
TESTIMONIAL: May I take the opportunity to thank you for your excellent service which has been friendly, efficient, and attentive to our needs. We have much appreciated your advice.
---
TESTIMONIAL: I would not only like to extend a heartfelt thank you for your professional handling of my situation but also your kind and compassionate approach during this time. The patience and ease with which you explained the legal system made it easy for me to understand throughout the whole process. Thank you again and I would certainly recommend your services.
---
TESTIMONIAL: I would highly recommend this company for conveyancing work and we have also found them to be very helpful with wills and power of attorney.
---
TESTIMONIAL: I want to say a big thank you to you. Thank you for all the work that you do to safeguard children. Wow, my grandchildren are so lucky to have you as the appointed guardian solicitor with all your knowledge. Also, thank you for helping me understand the court proceedings. I am really grateful.
---
TESTIMONIAL: I thought the service was excellent. The advice received was clear and concise and took the stress out of what had been a very stressful experience, I was able to make confident decisions and bring the matter to a speedy resolution.
---
TESTIMONIAL: I recently worked with Miss Smits and Mr Patel regarding a house purchase. They both provided a professional and efficient service and ensured all my queries were answered in a timely manner. The entire process was completed with ease and I would most definitely use them again.
---
TESTIMONIAL: I received truly excellent service from Michael Scutt at Crane & Staples. He was extremely professional but also personable, explaining everything to me in terms I could easily understand. I really felt like he was on my side. I wouldn't hesitate to recommend them to anyone looking for an excellent law firm. Thank you, Michael and the C&S team!
---
TESTIMONIAL: I needed an employment law specialist quickly and Crane and Staples stepped up to the mark with practical and pragmatic advise.
---
TESTIMONIAL: I have used Crane and Staples solicitors for over 30 Years. Recently I had to employ them to administer an estate and produce mine and my wife's wills. They did both with total professionalism and courtesy, it was a trying and difficult time for us as a family and they understood this. The charges were reasonable. But most important the service was excellent and second to none, we were kept informed every step of the way. I will continue to use Crane and Staples as my preferred solicitor in the future.
---
TESTIMONIAL: I have to say that I think you have been absolutely superb on both my transactions and I do get asked all the time, being a solicitor myself, for conveyancing and property recommendations so you should be top of my list!
---
TESTIMONIAL: I have known Michael Scutt, a Solicitor at Crane & Staples, for over 20 years! and it is my pleasure to be able to say that he is a total gentleman and very proficient and professional at ALL that he does within the Litigation fields that he specializes in.
---
TESTIMONIAL: I cannot recommend Tom Axon highly enough. We began to relocate in February and have never found ourselves wanting for guidance or information. All parties involved with either purchasing or selling our house have also remarked on his efficiency, clarity and attention to detail. Tom supported us during the current pandemic when other firms seemed to have shut down. We are very aware of how lucky we have been with Crane & Staples and have been more than delighted with the expertise Tom has shown. We will continue to use Crane & Staples in the future and will ask specifically for Tom.
---
TESTIMONIAL: I am writing to thank you very much for the efficient manner in which you handled my sale. I am particularly grateful for the patient way you listened and gave me the benefit of your experience and advice. I was always able to feel that I had somebody 'on my side' with whom I could share my thoughts and that was of great value to me.
---
TESTIMONIAL: Highly recommend this company especially Attia Hussain thoroughly helpful compassionate and consideration in my case at a very emotional stressful time for me but Attia kept me calm and focused thanks Attia Hussain for all your help.
---
TESTIMONIAL: Heather Charles-Wall and her team carried out most efficiently and dealt with all our queries. Tracey Fenner handled many of the queries we raised and dealt with them quickly by email or telephone.
---
TESTIMONIAL: Great service, very happy with the outcome. Smooth, polite and felt that my needs and concerns were being met at all times. We are very pleased with your service.
---
TESTIMONIAL: Georgina's knowledge and expertise in the areas of Wills, Probate and LPAs is outstanding. At all times, Georgina is professional and polite, yet personable too. From our first meeting to our last appointment (over nearly a year), Georgina was always prepared, helpful and efficient. I can highly commend her legal services. Georgina's achievement of the Hertfordshire Law Society's 'Junior Lawyer of the Year' Award Winner 2019 is very well deserved.
---
TESTIMONIAL: From all my dealings with conveyancing solicitors, there is only one person who consistently excels. Manish Patel always provides good communication, integrity, research, and judgement when called upon. He is the most proactive solicitor I have ever dealt with. Highly recommended.
---
TESTIMONIAL: First class responsive, supportive & professional service from start to finish of dealings with Mr Nisar – highly recommended.
---
TESTIMONIAL: Fantastic from day one. Tom and his team just dealt with everything, my move was hassle free, very professional service, I have absolutely no hesitation recommending Crane and Staples to friends or relatives, actually you want an easy move, give them a call.
---
TESTIMONIAL: Excellent solicitors have really helped me through the darkest time in my life. Great people and do their job spectacularly! Very happy and very confident with these fighting my corner.
---
TESTIMONIAL: Crane and Staples were fantastic in handling our first home purchase. Tom Axon and Sara Dobson were brilliant, answering emails in a timely manner and always on hand with spot on advice. Thank you for making the process so easy!
---
TESTIMONIAL: Chris Brewis and Tracey Fenner provided a FIRST-CLASS SERVICE – attentive to detail, careful, professional, knowledgeable, friendly and supportive, and above all they understood the transaction, its important points and its risks. They made sure it was carried out successfully.
---
TESTIMONIAL: Chris Brewis and his team were 100% excellent in dealing with matters. Fantastic service and a pleasure to work with and deal with. Keep up the good work!
---
TESTIMONIAL: Amazing, friendly staff.
Diversity
Crane & Staples LLP is committed to promoting equality and diversity and eliminating discrimination in its own policies, practices and procedures and in those areas in which it has influence. The Firm has joined the Law Society Equality & Diversity Section and hopes soon to be signing the Charter. Our Equality and Diversity Policy is available on request.
Our Commitment to Diversity
Crane & Staples LLP champions diversity in the workplace.
We employ the most ambitious staff members and are keen to nurture developing talent. We adhere to a diversity policy to ensure we never discriminate based on gender, race, religion, age, sexual orientation, disability or social background. This applies to clients and contacts as well as our own staff and hiring practices.
Many of our employees come from local state schools. We also have strong links with the University of Hertfordshire and frequently recruit students and graduates from this university, many of whom join us as assistants and trainees and progress to more senior positions in the firm.
Four of our seven partners are women and 68% of all our lawyers are women, exceeding the national average of 48%. We are passionate about encouraging women in the legal profession and some of our team are involved in women-only networking groups and the Women in Family Law Group.
Additionally, members of the BAME community are represented across the firm and all three of our Senior Associates are from BAME backgrounds. Both Manish Patel and Attia Hussain were finalists at the national Asian Legal Awards in 2019 and four of our staff are members of the Society of Asian Lawyers.
We are proud to employ a multi-generational workforce, utilising the skills, talents and experience of all our employees. Our lawyers have a combined experience of over 350 years and all members of the team benefit from their breadth of knowledge and expertise. We were delighted that Georgina Donnellan won Hertfordshire Law Society's Junior Lawyer of the Year in 2019. Many of our junior staff are members of the Hertfordshire Junior Lawyers Division.
Our role in the community
Over eighty years, we have cemented an excellent reputation with local individuals, families and businesses.
Some of our activities from the last year include:
· Supporting charitable causes like the Great Legal Bake, the Great Legal Walk and Mental Health Awareness Week;
· Sponsorship of local business events such as the Best Business Women Awards;
· Regularly volunteering at the Citizens Advice Bureau.
Response to the 2020 Coronavirus Pandemic
The Covid-19 pandemic presented lots of challenge and we wanted to do our best to help our clients and businesses in the community.
We ensured we were always available to clients when they needed us, by promoting online contact methods and social media, and implementing a 24/7 telephone service.
We regularly attended online meetings hosted by the Welwyn Garden City Business Improvement District and local council, so we were aware of the procedures in our town centre and could offer our help.
We are also part of the Hertfordshire Covid-19 Business Support Group.
Please contact our Equality and Diversity Partner, Sharon Montgomery, if you require more information.
Interviews
Sharon Montgomery and Samantha Webb, Partners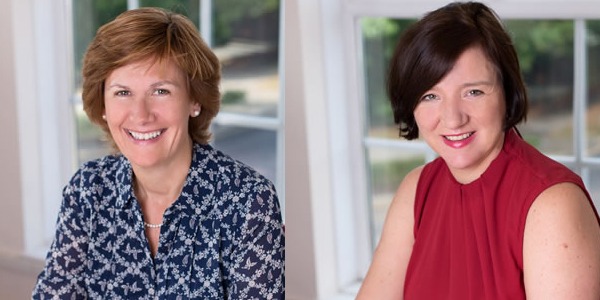 Sharon Montgomery and Samantha Webb discuss Crane & Staples LLP's client service ethos and explain how the firm has continued to deliver exceptional client care during these challenging times.
How would you describe your firm's client service ethos?
Client service is at the heart of everything we do at Crane & Staples. Our core values are: Excellence, Empathy and Integrity. Every member of our team knows that they have a role to play in providing an outstanding client experience. As an established firm for over eighty years, we have a great reputation locally and our clients have high expectations of our services. We work hard to exceed these expectations, so that clients, their friends, and families, can confidently return to us time and again.
Every client and case is different, and we recognise the importance of tailoring our approach to a client's individual needs. Whether our clients are successful business owners, established local families, elderly members of the community or vulnerable clients in crisis, we go above-and-beyond to promote a warm and personable atmosphere. Whilst our legal expertise and technical skills help our clients to trust as lawyers, we also want our clients to trust us as people so they know their matters are being looked after. This is why we are so committed to delivering an excellent and well-rounded client experience.
What would you say are the aspects of law firm service that clients value the most?
Over eighty years, our firm has learned a great deal about client service and what our clients value in a firm. As consumers themselves, our team also recognise the key aspects of a positive client experience and apply these principles to their own work.
Of course, when a client has a legal matter, the main aspect they value is that the solicitor can successfully resolve their case. This relies on the solicitor to have the knowledge, experience, and legal skills to handle the matter. Beyond this knowledge, we believe clients are also looking for a harmony between speed and care. Undoubtedly, every client wants their matter to be resolved quickly, but they also want it done properly. At Crane & Staples, we focus on efficiency, so that we can complete matters in good time, whilst also being thorough and ensuring the work is done correctly.
We also know that clients value good communication from their solicitor. It is important for clients to be kept updated on the progress of their matter and receive clear and well-presented correspondence and documentation. Clients should also be confident that they can get in touch with their solicitor and talk to them about their case.
What advantages does your firm's size give you in terms of providing an effective service?
Our firm is made up of seven Partners, seventeen fee-earners and twelve support staff. We feel this is the ideal balance of breadth and depth. This smaller size creates a friendly and communal working environment; we always appreciate when clients recognise the camaraderie between our team members, as this positive atmosphere affects their own experience of our firm.
Every team member has their own unique skills, experience and expertise and we value a team-approach so that these can be shared and utilised. Training and mentorship are also very important at Crane & Staples, and we have an open-door policy so junior team members can ask their colleagues for advice and support if needed.
The size of our firm means we all know each other's strengths and how these can benefit our clients. Many of our cases involve cross-departmental issues, for example, property and trusts, business and employment, estate administration and dispute resolution. The strength and size of our team means we can refer to colleagues in other departments to provide a comprehensive client service.
We value our long-term clients, who instruct us at different points in their lives, on a wide range of matters. We are grateful that these clients have a positive experience with one matter, and this gives them the confidence to come back to us again for another case. Many of our clients view us as their family's firm, and we are privileged that these clients choose to instruct us for all their legal matters in their lifetimes. We feel that our firm's size offers clients this possibility because we can combine a warm and friendly atmosphere with an impressive depth of technical knowledge.
How do you assess whether clients are happy with the service your firm is providing?
It is important for us to monitor our service and check in with clients to ensure they are happy with us. We take the time to get to know our clients from the start of their matter and keep in touch with them throughout. This makes it easy for clients to tell us if they have any concerns. If clients do have an issue, we encourage them to tell us right away so that we can rectify it as soon as possible.
At the end of their case, we send our clients a survey, where they can assess the service provided, share their feedback and make any comments. These surveys are reviewed by the Partners. Our Client Care Partner makes the effort to speak to any client who has raised a concern in their survey.
We are active online and on social media and we regularly receive online reviews from clients. Again, we take the time to respond to all of these reviews so that we can act on their feedback and provide the best service possible.
We are fortunate and grateful that the overwhelming majority of our clients are happy with our service and this is reflected in our reviews and surveys. In 2019, 98% of clients who completed our surveys said that they would use us again and recommend us to others.
However, we are not complacent and we never take this for granted because we value the importance of quality and consistency in our approach to client service.
Given the current challenges everyone is facing, what measures has your firm taken to ensure client service standards are maintained during the lockdown?
Crane & Staples has recognised that working remotely presents challenges, mainly: 1) Ensuring that clients can still contact us, that we are still available to clients when they need us, and that we can still prepare and send out documents to clients in a timely manner; and 2) Ensuring that staff are working confidently and can get in touch with colleagues and managers for advice, assistance, and regular supervisions, as well as social contact.
We have continued to maintain excellent standards of client service by using technology to overcome these challenges.
Firstly, we are still available to clients when they need us, and they can contact us through a number of methods. From the first day of lockdown, all calls were seamlessly diverted to mobile phones. Our reception service continues to operate both during and out of hours. All staff have email access as normal. We also promoted contact methods on our social media pages: Facebook, Twitter, Instagram, and LinkedIn. We linked Facebook messenger to our own website so clients could send us Facebook messages in a live chat, 7 days a week. We set up Google messenger so that clients could message us directly when they search for us online.
Our remote working systems successfully duplicate the exact set-up we have in the office, meaning we have secure access to our complete case management system, emails, dictation, and bundle software.
We already used an outsourcing company for the bulk of our typing work, so this was in place and our typing continued to be produced with exceptionally fast turnaround times. We were fortunate that we already had sophisticated software in place. During lockdown, these became more widely accepted and used. For example, we had PDF bundle software ready and this meant we were ready when the Court requested E-Bundles and we were using DocuSign to request digital signatures.
We were grateful that the postal service continued to operate, so staff members could safely post documents that could not be emailed, and these were received by clients in good time, just as before.
Regarding management and supervision, just before lockdown, we had invested in Microsoft Teams for all staff. We were able to communicate with each other through Teams meetings including video calls. Departmental and supervisory meetings continued to be held regularly, meaning all solicitors could ensure their work was overseen, could ask and answer any questions and could share and keep up with the latest advice and regulations.
Additionally, we set up various WhatsApp groups to ensure colleagues could keep in touch with each other, both for professional queries and for social conversation. The main benefit of this was to ensure client service standards were maintained and no staff member was left without appropriate support and supervision. A bonus of this was that the ongoing contact helped improve team morale. A motivated, engaged, and satisfied workforce produce the best standards of client service and we were pleased we could maintain this as far as possible.
Overall, we are very proud that our team adapted so well to the difficult circumstances and we believe we maintained our high standards of client service during this time. We are extremely grateful to our staff for their hard work and dedication, and to our clients for continuing to trust us with their legal matters during these unusual times. The lessons we learned during lockdown will continue to improve our client service in the future.
Top Tier Firm Rankings
Firm Rankings