Firm Profile > Peckar & Abramson, P.C. > New York, United States
Peckar & Abramson, P.C.
Offices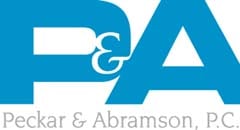 Peckar & Abramson, P.C.
1325 AVENUE OF THE AMERICAS, 10TH FLOOR
NEW YORK, NEW YORK 10019
United States
Peckar & Abramson, P.C. > The Legal 500
Rankings
Peckar & Abramson, P.C.
 is a firm of construction specialists with lawyers spread across ten offices throughout the US. Hailed by clients as '
an invaluable resource
', the team has noted strengths in every area of construction, from government contracts and PPP projects to high-valued construction litigation. Firm chairman 
Steven Charney
 and vice-chairman 
Stephen Reisman
 coordinate the team from New York City and Miami respectively. In Washington DC, construction and government contracts expert 
Michael Branca
 led on some of the firm's most significant highlights of the past year, including public infrastructure projects and major disputes.
Robert Peckar
 in New York and 
Ronald Helmuth
 in Los Angeles are recommended for creative dispute avoidance counsel. Also in New York, 
Paul Monte
 provides transactional and project support services to contractors on major infrastructure projects; he also has experience in complex litigation. Houston-based 
Matthew Moore
 acts as co-managing partner of the Texas offices, and represents some of the largest national commercial contractors in the country in their projects in Texas.
Practice head(s):
Steven Charney; Stephen Reisman
Other key lawyers:
Michael Branca; Robert Peckar; Paul Monte; Ronald Helmuth; Matthew Moore
Testimonials
'Full service construction law firm. Wide breadth of attorneys that can staff up for big cases.'
'The Peckar Team is a consummate group of professionals. They offer sound counsel and are careful not to allow legal strategy override sound business decision making. I consider them an invaluable resource for any matter that remotely appears to need a legal perspective.'
Peckar & Abramson, P.C. >
Firm Profile
As a firm dedicated to the needs of its clients in the construction industry, P&A employs over 115 attorneys in 11 offices across the US, including New York, New Jersey, Massachusetts, Washington, DC, California, Florida, Illinois, and Texas. The firm also maintains international affiliations around the world, allowing its capabilities and scope to reach a truly global scale.
Main areas of practice

Construction/Construction Litigation:
Represents clients in a wide range of construction projects in the public and private sectors with a focus on general contractors and construction managers. The firm has extensive experience on a wide range of projects, including: airports, government buildings, highways, bridges, power generation facilities, railways, tunnels, pipelines, schools, hospitals, sports arenas, manufacturing facilities, hotels and other hospitality-industry projects, residential communities, etc.
Key Clients: National and international general contractors, construction managers and other members of the construction industry.
Contact: Steven M. Charney
Tel: 212-382-0909
Email: scharney@pecklaw.com
Contracts, Project Documentation and Risk Management
Laser-focused on the transactional side of construction projects — beginning with up-front project agreements, extending to project documentation during the course of performance, and ultimately to project closeout.
Contact: Levi W. Barrett
Tel: 212-382-0909
Email: lbarrett@pecklaw.com
Corporate:
Represents both public and privately held companies in all matters of corporate law including mergers, acquisitions, public offerings, private placements, venture capital, securities regulation, formation and organization of corporations, partnerships and limited liability companies, joint venture agreements, licensing, corporate governance and general commercial agreements.
Contact: Stephen P. Katz
Tel: 201-343-3434
Email: skatz@pecklaw.com
Corporate Compliance:
Provides advice on internal corporate controls, constructing and implementing compliance programs, internal investigations of potential ethics violations and representation of clients in investigations, audits and litigations, with a particular focus on the Foreign Corrupt Practices Act.
Contact: Robert S. Peckar
Tel: 212-382-0909
Email: rpeckar@pecklaw.com
Cyber Security & Data Privacy:
Provides guidance based on our deep understanding of our clients' business and the legal issues concerning cyber security and data privacy, the technologies employed by construction businesses, and the importance of maintaining privacy and security to our clients' daily and long-term operations.
Contact: Richard R. Volack
Tel: 212-382-0909
Email: rvolack@pecklaw.com
Government Contracts:
Provides counsel to a wide variety of industries engaged in government contracting and represent them in connection with an even broader array of contracting issues and disputes, including bid protests.
Contact: Patrick J. Greene, Jr (co-chair)
Tel: 201-343-3434
Email: pgreene@pecklaw.com
Contact: Lori Ann Lange (co-chair)
Tel: 202-293-8815
Email: LLange@pecklaw.com
Employment:
Handles defense and oversight of EPLI/D&O claims through insurance coverage, and monitor EPLI/D&O claims on behalf of carriers.
Contact: Kevin J. O'Connor, Aaron C. Schlesinger
Tel: 201-343-3434
Email: koconnor@pecklaw.com, aschlesinger@pecklaw.com
Labor Relations:
Counsels private employers, public employers and ERISA entities in all matters of litigation and labor relations management.
Contact: Gregory R. Begg
Tel: 201-343-3434
Email: gbegg@pecklaw.com
Power & Industrials/EPC:
Represents owners, contractors, construction managers and equipment vendors and suppliers in connection with a vast range of national and international power and industrial projects.
Contact: Timothy Rothberg
Tel: 713-568-1500
Email: trothberg@pecklaw.com
International:
International dispute resolution expertise is deep and diversified, representing industries including construction, banking and sports/entertainment. The firm represents clients in formal and informal proceedings, in court and before dispute resolution boards and international arbitration forums around the world.
Contact: Denis Serkin
Tel: 201-343-3434
Email: dserkin@pecklaw.com
Public-Private Partnerships:
Regularly counsels clients on complex P3 projects, including civil infrastructure initiatives such as bridges, tunnels, highways, pipelines and railways, and social infrastructure projects.
Contact: Nathan A. Cohen
Tel: 310-228-1075
Email: ncohen@pecklaw.com
Real Estate:
Handles every aspect of commercial real estate transactions, including the acquisition, financing, construction financing, leasing and disposition of real property.
Contact: Craig D. Spector
Tel: 201-343-3434
Email: cspector@pecklaw.com
Surety:
Combines insight and experience in the construction industry with a genuine understanding of issues affecting sureties to provide pragmatic solutions to complex problems.
Contact: Michael C. Zisa
Tel: 202-293-8815
Email: mzisa@pecklaw.com
White Collar Criminal Defense:
The firm has extensive experience on both the federal and local levels in criminal trials, the intricacies of the grand jury and other aspects of the practice of criminal law and issues that arise in the conduct of business.
Contact: Thomas J. Curran
Tel: 212-382-0909
Email: tcurran@pecklaw.com
Main Contacts
| Department | Name | Email | Telephone |
| --- | --- | --- | --- |
| Chair | Steven M. Charney | scharney@pecklaw.com | 212.382.0909 |
| Founding Partner | Robert S. Peckar | rpeckar@pecklaw.com | 212.382.0909 |
| Vice Chair | Stephen H. Reisman | sreisman@pecklaw.com | 305.358.2600 |
| Co-Managing Partner, New York | Gregory H. Chertoff | gchertoff@pecklaw.com | 212.382.0909 |
| Co-Managing Partner, New York | Paul Monte | pmonte@pecklaw.com | 212.382.0909 |
| Managing Partner, New Jersey & California | Robert Drucker | rdrucker@pecklaw.com | 201.343.3434 |
| Managing Partner, Chicago | Edward O. Pacer | epacer@pecklaw.com | 312.881.6300 |
| Managing Partner, Washington, DC | Michael A. Branca | mbranca@pecklaw.com | 202.293.8815 |
| Co-Managing Partner, Miami | Adam P. Handfinger | ahandfinger@pecklaw.com | 305.358.2600 |
| Co-Managing Partner, Miami | Gary M. Stein | gstein@pecklaw.com | 305.358.2600 |
| Co-Managing Partner, Texas | George C. Baldwin | gbaldwin@pecklaw.com | 512.236.0009 |
| Co-Managing Partner, Texas | Matthew S.C. Moore | mmoore@pecklaw.com | 713.568.1500 |
| Co-Managing Partner, Texas | Timothy D. Matheny | tmatheny@pecklaw.com | 214.523.5100 |
| Chair, Contracts, Project Documentation and Risk Management | Levi W. Barrett | lbarrett@pecklaw.com | 212.382.0909 |
| Chair, Corporate Law | Stephen P. Katz | skatz@pecklaw.com | 201.343.3434 |
| Corporate Compliance | Robert S. Peckar | rspeckar@pecklaw.com | 212.382.0909 |
| Chair, Cyber Security & Data Privacy | Richard R. Volack | rvolack@pecklaw.com | 212.382.0909 |
| Chair, Employment | Kevin J. O'Connor | koconnor@pecklaw.com | 201.343.3434 |
| Chair, Government Contracts (Federal) | Lori Ann Lange | llange@pecklaw.com | 202.293.8815 |
| Chair, Government Contracts (State & Local) | Patrick J. Greene, Jr | pgreene@pecklaw.com | 201.343.3434 |
| Chair, Labor | Gregory R. Begg | gbegg@pecklaw.com | 201.343.3434 |
| Director, Latin America | Jerry P. Brodsky | jbrosky@pecklaw.com | 305.358.2600 |
| Chair, International Construction | Denis Serkin | dserkin@pecklaw.com | 201.343.3434 |
| Chair, Power & Industrials/EPC | Timothy Rothberg | trothberg@pecklaw.com | 713.568.1500 |
| Chair, Public-Private Partnerships | Nathan A. Cohen | ncohen@pecklaw.com | 310.228.1075 |
| Chair, Real Estate | Craig D. Spector | cspector@pecklaw.com | 201.343.3434 |
| Chair, Surety | Michael C. Zisa | mzisa@pecklaw.com | 202.293.8815 |
| Co-Chair, White Collar Criminal Defense | Thomas J. Curran | tcurran@pecklaw.com | 212.382.0909 |
Staff Figures
Number of Partners : 61 Number of Other Attorneys : 55 Total Employees : 200
Languages
English Arabic Armenian Creole Dutch Farsi Filipino French German Hindi Italian Japanese Lithuanian Polish Portugese Russian Spanish Vietnamese
Memberships
ABA (American Bar Association) New York Bar Association American Arbitration Association Associated Builders and Contractors American College of Construction Lawyers Associated General Contractors of America Association for the Improvement of American Infrastructure Construction Financial Management Association Dispute Resolution Board Foundation Latin Builder's Association New York Building Trades Employers Association NYC Building Commissioner's Council TEXO Utility & Transportation Contractors Association
Other
Office : Austin, TX Office : Boston, MA Office : Chicago, IL Office : Dallas, TX Office : Houston, TX Office : Los Angeles, CA Office : Miami, FL Office : New York, NY Office : Oakland, CA Office : River Edge, NJ Office : Washington, DC
Top Tier Firm Rankings
Firm Rankings