Icaza, González-Ruiz & Alemán > Panama, Panama > Firm Profile
Icaza, González-Ruiz & Alemán
Offices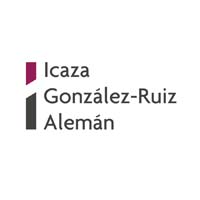 Icaza, González-Ruiz & Alemán
IGRA BUILDING, NO 8 AQUILINO DE LA GUARDIA STREET
PANAMA
Panama
Icaza, González-Ruiz & Alemán > The Legal 500
Rankings
The IP lawyers at
Icaza, González-Ruiz & Alemán
are highlighted as '
very skilled trade mark practitioners
', but also have expertise in patent matters, with a comprehensive practice which covers filings, oppositions and renewals, as well as anti-counterfeiting litigation. The firm enjoys strong connections with international law firms thanks to its membership of alliances such as Multilaw, allowing it to advise multinationals across a broad spread of sectors, including pharmaceuticals, telecoms, luxury goods, sports, and food and beverages, on the management of their IP portfolios. '
Excellent
' practice head
Gabriela Tejada de Britton

, who is the current president of the Panamanian Association of Intellectual Property Law, is renowned for her experience in the full spectrum of trade mark and patent matters. She is supported by up-and-coming partners
Moisés Rivera
, an expert in IP litigation (particularly opposition actions), and
Mariela de la Guardia
(who leads the firm's growing data privacy and protection department), and '
remarkable
' associate
Fernando González-Ruiz
, whose practice has an emphasis on brand protection and anti-counterfeiting litigation.
Practice head(s):
Gabriela Tejada de Britton
Testimonials
'It is a great team of very professional lawyers with excellent, high-quality client service.'
'Fernando González-Ruiz is a remarkable lawyer – he is direct and has great knowledge of the subject matter.'
'The team assists us with professionalism and efficiency.'
'Fernando González-Ruiz has supported us in a professional way to serve our clients in Panama, and has always been available to better assist so that clients feel comfortable.'
'Very skilled trade mark practitioners.'
'Gabriela Tejada de Britton is excellent.'
Key clients
Bristol Myers Squibb
Unilever IP Holdings
Conair Corporation
Exxon Mobil Corporation
General Electric Company
Harman International Industries
LBrands
L'Oréal
New Balance Athletics
General Motors
Work highlights
Advised Connect Road Assists on the filing and prosecution of a patent application titled "Dispatch Platform for Road, Travel or Home Assistance", overcoming objections by the Panamanian Patent Office.
Acted for New Balance Athletics in a nullity and cancellation action filed against the trade mark "IV & Design" in class 25, as its design is similar to the client's "N" design.
Acted for Epic Games in an opposition action against the registration of the trade mark "Fortnite" by Marcamoda, and sent a cease and desist letter to the owner of the company to prevent the sale of counterfeit Fortnite merchandise.
Thanks to its Icaza Accounting Services and Icaza Trust Corporation divisions,
Icaza, González-Ruiz & Alemán
is well equipped to advise on the structuring of trusts, corporations and private interest foundations across a broad spread of jurisdictions, with offices in Cyprus, Hong Kong, Singapore, Switzerland and Uruguay, and the ability to provide services in the BVI, the Bahamas, Belize, Anguilla and the Seychelles. In particular, the firm focuses on succession planning for HNWIs and family businesses, as well as structuring and administering commercial and public trusts. An experienced trio of lawyers leads the practice:
Domingo Díaz
has a 35-year record of advising on company formation and management, with a focus on expanding the firm's operations in Asia;
Joaquín Díaz
 is sought after for his advice on Panama private interest foundations; and
Estefanía Alemán
 acts as director of Icaza Trust Corporation. The talented line-up of junior lawyers includes deputy manager
Luis Martínez
 and
Domingo Díaz de la Guardia
, who is responsible for company formation operations.
Practice head(s):
Estefanía Alemán; Domingo Díaz; Joaquin Díaz
Icaza, González-Ruiz & Alemán
's expertise in project finance makes it a popular choice to advise leading domestic and international banks on high-profile infrastructure developments; its recent work highlights include advising on the financing of the expansion of the Panama City metro, and it has also been highly active in transactions relating to healthcare facilities and road construction. The experienced leadership group is made up of
Gabriel González-Ruiz
, a standout name for advising international consortiums on project finance;
Luis Chalhoub
, who has a broad banking and finance practice that notably includes advising on factoring transactions; and
Michelle O de de la Guardia
.
Alfredo Fonseca
, who was elevated to the partnership in June 2023, is also a key contact for project finance in the energy and infrastructure sectors.
Practice head(s):
Gabriel González-Ruiz; Michelle O. de de la Guardia; Luis Chalhoub
Key clients
Banco Nacional de Panamá
Banco Internacional de Costa Rica (BICSA)
Caja de Ahorros
Ministry of Economy and Finance of Panama
Global Bank Corporation
Factor Global
BHD International Bank
Scotiabank
Atlas Bank
Banistmo
Davivienda
Work highlights
Advised Caja de Ahorros and Banco Nacional de Panamá on granting a revolving credit facility to finance the construction and equipment of the City of Health Hospital in Panama City.
Advised BICSA Factoring, a subsidiary of Banco Internacional de Costa Rica, in connection with the granting of a revolving credit facility to finance the construction of the Manuel Amador Guerrero Hospital in Colón, Panama.
Advised Global Bank Corporation in connection with the financing of a $23m road infrastructure project for the construction of a vehicular bridge over the Bayano River in the port of Coquira.
Icaza, González-Ruiz & Alemán
advises a broad client portfolio of banks, multilateral institutions, private funds and corporations on the full range of capital markets matters, from public offerings on both the domestic and international markets to the licensing of brokerage houses and investment fund managers. The highly experienced
Gabriel González-Ruiz
, whose workload spans regulatory and transactional matters, is a key contact; other names to note include
Michelle O de de la Guardia
, who has additional expertise in trust-related issues,
Luis Chalhoub
and recently promoted partner
Alfredo Fonseca
.
With a focus on advising multinationals across a wide array of sectors, the corporate team at
Icaza, González-Ruiz & Alemán
 is well versed in cross-border M&A, and also has standout expertise in asset purchase transactions (particularly in the real estate sector), corporate reorganisations, spin-offs and joint ventures. Practice head
Alexis Herrera Jr
has robust skill sets in M&A, with an emphasis on the energy, infrastructure and trade fields, drawing on his strength in public procurement matters. He leads a highly experienced team, which includes
Luis Chalhoub
, whose wide-ranging practice takes in commercial, M&A, competition and consumer protection, and free trade zone law,
Gabriel González-Ruiz
 and former Minister of the Presidency of Panama
Álvaro Alemán
. Recently promoted partner
Alfredo Fonseca
 and associate
Adolfo González-Ruiz
 provide capable support. The firm is also noted for its participation in social development programmes and pro bono services through its foundation, Fundación IGRA.
Key clients
Ernst & Young Colombia
Farma Value Honduras
Haleon Costa Rica
HPH Joint Venture Consortium
Holland & Knight
Dell
Delta Airlines
Ernst & Young Mexico
ChemSol Group
Work highlights
Advised Sunstar Hotels and Development, the owner of Bijao Beach Resort, on the sale of 100% of its shares.
Advised the ChemSol Group on the process of selling 100% of its shares to Univar Solutions.
Advised Ernst & Young Colombia on the corporate reorganisation of its legal structure.
Icaza, González-Ruiz & Alemán
's experienced dispute resolution team is skilled in a wide range of civil, commercial, administrative, family, tax, consumer protection and competition-related disputes, often joining forces with the firm's specialist IP, maritime and labour departments to take on contentious cases in these areas. In particular, it has a strong recent track record in representing international companies and consortiums in construction disputes relating to major energy and infrastructure projects. The experienced duo of
Marisol Ellis
 (whose strengths also include arbitration) and
Carlos Villalobos
, both of whom joined the partnership in January 2022, leads the practice. Associate
Albany Broce
 provides capable support in civil litigation.
Practice head(s):
Marisol Ellis; Carlos Villalobos
Icaza, González-Ruiz & Alemán
 is adept at assisting investors in Panama with real estate transactions, including the sale and acquisition of properties, project development and the structuring of horizontal property.
Icaza, González-Ruiz & Alemán >
Firm Profile
Icaza, Gonzalez-Ruiz & Aleman is a Panamanian law firm established in 1920. It is composed of a team of 39 lawyers capable of handling the most important branches of law, both at national and international levels. It is one of the country's leading law firms upholding a strong commitment to client responsibility and unyielding ethics.
The firm: Supported by excellent academic credentials and significant experience in legal services, the firm looks after the individual needs of a distinguished and diverse clientele.
With over 100 years of experience, the beginnings of this prestigious law firm date back to the first quarter of the last century, when jurists Juan Lombardi (1875-1944) and Carlos Icaza (1895-1979) founded the firm Lombardi and Icaza in 1920. Almost 30 years later, the firm became Icaza, Gonzalez-Ruiz & Aleman.
Since then, the partners of Icaza, Gonzalez-Ruiz & Aleman have contributed in significant ways to the structure and jurisprudential blueprints of Panama, with a number of its lawyers leaving an indelible print in public service as pioneers who contributed to the creation of the legal structure of the country.
Over the years, the firm has evolved and expanded alongside Panama's international services center, delivering services of the highest caliber and enjoying an unrivalled reputation.
Icaza, Gonzalez-Ruiz & Aleman provides tailor-made, sophisticated solutions to key corporate clients, international institutions, and public entities while remaining committed to offering a partner-led, individualized legal service and advice to private clients.
The firm's specialized and high-caliber work has also been acknowledged by important international organizations such as the World Bank and The Inter-American Development Bank, which have been clients of the firm both internationally and locally.
Areas of practice: The legal team has the capacity and required experience to render comprehensive legal consulting in 22 practice areas, including administrative; admiralty and shipping; banking and finance; capital markets and securitization; communications and information technology (CIT); corporate law; consumer protection and competition law; environment and energy; immigration and naturalization; labor; insurance and reinsurance; intellectual property; international commerce; litigation and alternative dispute resolution; mergers and acquisitions; public contracts and privatizations; taxation; company formation; trust and estate planning; and private foundations.
This work is supported by the firm's membership of prestigious international legal networks, such as Multilaw, a global network of independent law firms, which connects Icaza, Gonzalez-Ruiz & Aleman, and its clients with legal professionals in more than 150 cities around the world.
Main Contacts
| Department | Name | Email | Telephone |
| --- | --- | --- | --- |
| Banking and Finance | Gabriel González-Ruiz | | |
| Banking and Finance | Luis Chalhoub | | |
| Banking and Finance | Michelle O de de la Guardia | | |
| Banking and finance | Alfredo Fonseca Zauner | | |
| Capital Markets | Luis Chalhoub | | |
| Capital Markets | Gabriel González-Ruiz | | |
| Capital Markets | Alfredo Fonseca Zauner | | |
| Real Estate | Ana Graciela Medina | | |
| Immigration and Naturalization | Ana Graciela Medina | | |
| Immigration and Naturalization | Ayleen Quintero | | |
| Intellectual Property | Gabriela Tejada de Britton | | |
| Labor and Employment | Javier Vallarino | | |
| Litigation and ADR | Marisol Ellis | | |
| Litigation and ADR | Carlos Villalobos | | |
| Maritime and Admiralty | Alexis V. Herrera Jr. | | |
| Maritime and Admiralty | Alfredo Fonseca Zauner | | |
| Mergers and Acquisitions | Alexis V. Herrera Jr. | | |
| Mergers and Acquisitions | Gabriel González-Ruiz | | |
| Trust services | Joaquín Díaz | | |
| Trust services | Estefania Alemán | | |
| Corporate services | Domingo Díaz de la Guardia | | |
| Public Contracting | Alexis V. Herrera Jr. | | |
| Data Protection | Mariela de la Guardia Oteiza | | |
| Tax | Álvaro Alemán Healy | | |
Lawyer Profiles
| Photo | Name | Position | Profile |
| --- | --- | --- | --- |
| | Dr Estefania Alemán | Panama Trusts and Vista Trusts, and Energy and Hydrocarbons. | View Profile |
| | Dr Roberto Alemán | Corporate Law | View Profile |
| | Mr Ricardo A. Ceballos G. | Administrative Law, Contracts, Corporate Law, Real Estate & Tourism | View Profile |
| | Mr Luis Chalhoub M. | Administrative Law; Banking and Finance; Capital Markets; Consumer Protection & Competition; Contracts, Insurance and Re-Insurance; Panama Trusts; Trust Services. | View Profile |
| | Dr Joaquín Díaz Strunz | Labor Law; Company Formation and Management; Corporate Law; Contracts; Panama Private Interest… | View Profile |
| | Mr Domingo Díaz Strunz | Banking Law, Company Formation and Management, Contracts, Corporate Law, Real Estate and… | View Profile |
| | Mr Domingo Díaz de la Guardia | Administrative Law, Company Formation and Management, Corporate Law, Public Contracting | View Profile |
| | Mrs Marisol Ellis | Litigation & ADR | View Profile |
| | Mr Eduardo Flores B. | Labor Law | View Profile |
| | Mr Alfredo Fonseca Z. | Alfredo Fonseca is a Partner at Icaza, González-Ruiz & Alemán with fifteen… | View Profile |
| | Mrs Yexadira García | Company Formation and Management; Corporate Law; Trusts in different jurisdictions. | View Profile |
| | Mr Fernando González-Ruiz | Associate | View Profile |
| | Mr Adolfo González-Ruiz | Corporate Law, Company Formation and Management and Public Contracting. | View Profile |
| | Mr Francisco González-Ruiz | Administrative Law; Company Formation and Management;Contracts; Corporate Law; Intellectual Property; Panama Private Interest Foundations | View Profile |
| | Mr Gabriel González-Ruiz | Public Procurement and Privatizations, Administrative Law, Commercial Law, Tax Law, Banking Law,… | View Profile |
| | Dr Alexis V. Herrera Ríos | Public Contracting & Privatization; Mergers, Acquisitions and Financing; Corporate Law; Maritime and… | View Profile |
| | Mrs Nora Jurado | Corporate Law, Maritime and Admiralty. | View Profile |
| | Mr Joel Medina | Maritime Law, Company Formation and Management, Corporate Law | View Profile |
| | Mrs Ana Graciela Medina | Communications & IT; Corporate; Immigration and Naturalization; Real Estate; Tourism Law. | View Profile |
| | Mr Mariano Oteiza Díaz | Administrative Law; Company Formation and Management; Contracts; Corporate Law; Panama Private Interest Foundations | View Profile |
| | Mr Mariano Oteiza Icaza | Banking Law, Corporate Law; Contracts; Company Formation and Management; Real Estate and… | View Profile |
| | Mrs Michelle Oteiza de de la Guardia | Administrative Law, Banking Law & Finance, Capital Market, Contracts, Corporate Law, Insurance… | View Profile |
| | Mrs Ayleen Quintero | Inmigration and Naturalization, Real Estate & Tourism, Special Economic Zones, and Contracts. | View Profile |
| | Mr Moisés Rivera | Partner | View Profile |
| | Mrs Gabriela Tejada de Britton | Intellectual Property: Trademarks, patents, utility models, industrial designs, slogans, copyrights, trade and… | View Profile |
| | Mrs Karen Tejeira S. | Labor Law | View Profile |
| | Mr Javier Vallarino | Labor Law: Advisor on labor issues, queries, procedures, conciliation, negotiations, claims and… | View Profile |
| | Carlos Villalobos | Litigation & ADR | View Profile |
| | Miss Mariela de la Guardia O. | Law; Public Contracting, Company Formation and Management; Contracts; Corporate Law; Intellectual Property;… | View Profile |
Staff Figures
Other fee-earners : 14 Total staff : 250
Languages
Spanish English Portuguese French Italian
Memberships
International Bar Association (IBA) Society of Trust & Estate Practitioners (STEP) Multilaw International Trademark Association (INTA) Inter-American Association of Industrial Property (ASIPI) International Fiscal Association (IFA) International Chamber of Commerce (ICC)- Panama Chapter PrivacyRules
Other
Partners : 18