Shook, Hardy & Bacon LLP > Chicago, United States > Firm Profile
Shook, Hardy & Bacon LLP
Offices
Shook, Hardy & Bacon LLP
111 S. WACKER DR. FLOOR 51
CHICAGO IL 60606
United States
Shook, Hardy & Bacon LLP > The Legal 500
Rankings
Shook, Hardy & Bacon LLP
's data and discovery strategies department includes, in addition to lawyers, analysts, project managers and technology experts which enables it to provide a full-service e-discovery and information governance product.
Patrick Oot
 and
Denise Talbert
 jointly lead the team from Washington DC and Kansas City respectively.
Practice head(s):
Patrick Oot; Denise Talbert
Benefiting from a deep understanding of the industry, as well as the legal and regulatory landscape,
Shook, Hardy & Bacon LLP
is well-positioned to effectively represent many well-known entities in the automotive space, including Ford Motor and Kia America, in high-stakes litigation, as well as from a risk management perspective. Primarily centered out of the West Coast, the team, which is co-headed by
Janet Hickson 
in Orange County,
Amir Nassihi
 in San Francisco and
Robert Adams
 in Kansas City, has expertise handling cases across a wide spectrum of disputes impacting not only automakers but also component suppliers and Original Equipment Manufacturers. Supported by more than 100 research analysts with advanced science and technical degrees, the firm is also at the vanguard of developments in the sector and is particularly adept at advising on litigation/regulatory matters relating to autonomous vehicles.
Frank Kelly
in San Francisco has formidable advocacy skills, representing clients across a range of product liability cases, including in high-stakes matters for automotive manufacturers accused of causing catastrophic injury and wrongful death.
Practice head(s):
Other key lawyers:
Key clients
Ford Motor Company
Toyota Motor Sales, U.S.A., Inc.
Tesla
U-Haul International, Inc.
Porsche Cars North America, Inc.
Mazda North American Operations
Kia America, Inc.
Hyundai Motor Company
American Honda Motor Co.
Ferrari North America, Inc.
Jaguar Land Rover North America, LLC
Volvo Car USA, LLC
Ducati North America, Inc.
Kansas-headquartered litigation powerhouse
Shook, Hardy & Bacon LLP
represents manufacturers of consumer goods, food and beverages, and tobacco, among others, and is particularly well-suited to defending clients in large-scale class actions and MDLs. As well as bringing to bear pure legal expertise, it is also able to effectively draw upon the technical and scientific expertise of the firm's in-house research analysts. San Francisco-based
Amir Nassihi
 has developed a strong reputation in the market as a result of his successes for clients in class actions throughout the country, as well as his aptitude at handling appellate actions in California. Nassihi co-heads the overarching class action and appellate litigation group alongside
Michael Mallow 
in Los Angeles and Kansas City-based
Tristan Duncan.
In Miami,
Kenneth Reilly
has vast experience in relation to high-profile tobacco litigation, and is particularly noted for his advocacy skills. Based out of the firm's Kansas City headquarters,
Jim Muehlberger
'
is creative and strategic in his approach to settlement'
, ensuring that clients receive a '
cost-effective'
and tailored service in the defense of consumer and third-party payor class actions.
Practice head(s):
Other key lawyers:
Testimonials
'The solutions-oriented team provides pragmatic advice and don't want to litigate for the sake of litigating.'
'Jim Muehlberger is very pragmatic and easy to work with. He ensures efficient and cost-effective billing. He is creative and strategic in his approach to settlement.'
Key clients
DeLaval Inc.
Unilever
Simmons Foods, Inc.
Ben & Jerry's Homemade Inc.
Barkman Honey, LLC
Shutterfly Lifetouch, LLC and Shutterfly, LLC
Tyson Foods, Inc.
Ford Motor Company
Tesla Inc.
American Honda Motor Co.
Toyota Motor Sales, U.S.A., Inc.
Bayer Corporation
Philip Morris USA
Appreciated for its willingness to '
seamlessly collaborate with other law firms
',
Shook, Hardy & Bacon LLP
is a popular choice among pharmaceutical companies and medical devices manufacturers throughout the litigation continuum. Able to leverage significant in-house scientific strength and to tap into the expertise of product litigators spread throughout the country, the firm regularly takes on lead and co-ordinating counsel roles in MDLs and is particularly adept at trying cases, both at first instance and on appeal. With '
a good sense of what is important and what is not
',
Jon Strongman
in Kansas City is an '
excellent trial lawyer
', who offers strong advocacy skills and is able to effectively explain complex medical and scientific issues in a clear and understandable way to juries. San Francisco-based practitioner
Alicia Donahue
is a '
zealous advocate
' for healthcare clients and co-heads the team alongside
Hildy Sastre
in Miami.
Practice head(s):
Other key lawyers:
Testimonials
'They are real experts in managing discovery.'
'They provide a cost-effective approach and are willing to seamlessly collaborate with other firms.'
'Alicia Donohue is such a zealous advocate; she lives and breathes my cases. I really appreciate her dedication.'
'Jon Strongman is an excellent trial lawyer, who has a good sense of what is important and what is not.'
Key clients
Sanofi U.S.
Cerner
Stryker Corporation
Roche / Genentech
Gilead Sciences
Zoetis Inc.
Perrigo, Inc.
Alkermes, Inc.
Atrium
Combining litigation, regulatory and counselling expertise,
Shook, Hardy & Bacon LLP
's Kansas City-based team provides a one-stop-shop service to chemicals, petroleum, utilities, and pharmaceuticals clients across the gamut of their environmental needs. Truly national in scope, the team has deep knowledge across the panoply of federal and state environmental regulations, and is as effective on behalf of clients from a risk management perspective, as it is litigating individual, group and class action toxic tort disputes. The team is also well-versed in advising on Superfund-related matters, including in the context of cost recovery and contribution claims under CERCLA.
Mark Anstoetter
 and
David Erickson
co-head the team and both have vast experience across the spectrum of environmental litigation (including toxic tort), with expertise defending clients against private litigation, as well as government enforcement actions and citizen group lawsuits.
Practice head(s):
Other key lawyers:
Key clients
The Chemours Company
SPG (Passaic River Court Litigation) and SPLG (CERCLA Cost Recovery Litigation)
Huhtamaki Inc.
Mallinckrodt, Inc.
Zoetis Inc.
The Doe Run Company
Shook, Hardy & Bacon LLP
is well known for its incident response, compliance and risk minimization practice, combines with strong capabilities in privacy litigation, whereby an emphasis is put on biometric privacy cases. Based in Miami, practice head
Al Saikali
is '
particularly good with helping business, technology, and legal executives prepared to deal with cybersecurity incidents.'
Further team members in Chicago include
Melissa Siebert
 and
Matthew Wolfe
, who is an expert on BIPA and
'gives good, direct guidance in that space.'
Other key lawyers:
Testimonials
'The lawyers at SHB are very, very cost conscious and drive great value for their clients. They are willing to think globally to try to reduce costs and drive efficiencies in litigation, when possible. Impressive knowledge in pending litigation matters and strategic advice. They keep up on industry trends and have good, broad knowledge on this substantive space. The advice they give is practical and straight-forward.'
'Al Saikali is a perfect outside counsel to work with. He is funny, engaging and has a great ability to look at issues from the point of view of his clients. On billing issues, he is eminently fair. He is also very good at bringing in team members when it makes sense.'
'Matthew Wolfe is great at executing against a task. He is good at keeping his client informed and making sure that work is getting done and addressed in a timely fashion. He knows a ton about BIPA and gives good, direct guidance in that space.'
'Al Saikali and his team have deep expertise on data breach preparedness, mitigation, and response. He has outstanding relationships with his clients and partners – and we trust his and value his experience and expertise. Al is particularly good with helping business, technology, and legal executives prepared to deal with cybersecurity incidents.'
'Al Saikali and his team of lawyers are pragmatic, experienced, and easy to work with.'
'This is a firm that produces outstanding work product with competitive rates. They are proactive in keeping clients informed and do terrific work.'
Key clients
Crate&Barrel and CB2
Whirlpool
Biometric Privacy Class Action Lawsuits
Florida Justice Reform Institute
Appgate
GlobeNet
AMN Healthcare
Nextiva
Work highlights
Represented Crate & Barrel/Whirlpool and achieved dismissals in the first three of more than 45 multimillion dollar class action lawsuits in Florida brought by visitors to websites of companies that use session replay technology.
Advised Appgate on building a comprehensive privacy compliance program to meet the legal requirements in the multiple jurisdictions in which it operates.
Advising the Florida Justice Reform Institute to provide background information and testimony to the Florida House of Representatives, Florida Senate, and Florida Governor Ron DeSantis about the potential risks presented by a proposed privacy law.
Shook, Hardy & Bacon LLP >
Firm Profile
Shook, Hardy & Bacon has long been recognized as one of the premier litigation firms in the country. Shook has represented companies in the health, science and technology sectors in their most substantial national and international product liability, mass tort and complex litigation matters for more than 125 years.
Shook's success in these areas has captured the attention of many in the industry, including The American Lawyer, which recognized the firm as its 'Product Liability Litigation Department of the Year' in 2012 and 2008, as well as a finalist in its 2010 and 2016 contests. For 13 consecutive years, Shook has also been named the 'Product Liability Defense Law Firm of the Year' by Who's Who Legal: The International Who's Who of Business Lawyers; and Shook was named one of Law360's 'Product Liability Groups of the Year' in 2015 and 2016. In 2018 the firm was honored to receive the Corporate Equality Index's 100-percent rating for the 10th consecutive year.
Shook is known for its abilities and expertise in litigation-more than 90 percent of its attorneys are litigators, and many have advanced degrees in health and sciences fields. The firm has represented leading international companies in a variety of industries, including pharmaceutical and medical device, technology, chemical, energy, food and beverage, and automotive. In the past three years alone, Shook lawyers have tried more than 30 cases to verdict in state and federal courts, successfully defending clients against claims involving product liability, environmental and toxic tort, patent infringement, labor and employment and other claims. Shook has represented the industry's leading pharmaceutical manufacturers for more than 40 years. The firm has also represented US cigarette manufacturers in product liability litigation continuously since 1957, and currently represents the largest US tobacco company as lead trial counsel in its pending litigation. In recent years, the firm has leveraged its complex litigation expertise to build substantial national practices in intellectual property, environmental and toxic tort litigation, data security and privacy, employment litigation, commercial litigation, and public policy. While product liability remains a core strength and a growth area for the firm, practice diversification has allowed Shook to offer a variety of innovative solutions to regulatory and compliance challenges as well.
Shook has represented nearly three-quarters of the Fortune 100. The firm's clients include global industry leaders who demand proven legal strategies. As a result, the firm has developed long-standing relationships with many of its clients. 'There is no short list for national counsel of a major pharmaceutical company that doesn't include Shook', said the former General Counsel of one of the nation's leading pharmaceutical companies in an article on Shook. Another client added that Shook attorneys litigate like they're going to trial, but not unnecessarily. 'If a matter does end up going to trial, they'll be in the best possible position to defend it', the Shook client told the ABA Journal.
Diversity and Inclusion
Shook, Hardy & Bacon Diversity Statement
Inclusion is not about asking people to fit in. It is about creating a space where everyone belongs.
Diversity and inclusion are essential components of Shook, Hardy & Bacon's strategic plan. Shook recognizes that the varied perspectives and experiences found in a diverse and inclusive workplace create a broader, richer environment, and produce innovative solutions for our clients.
Diversity is an essential component of our vision statement, which provides, in part, that Shook, Hardy & Bacon is deeply passionate about sustaining "a diverse environment where everyone is respected, feels appreciated and experiences fulfillment and enjoyment through meaningful contributions." The firm's equal opportunity policy explicitly bars discrimination based on gender, race, ethnicity, religion, sexual orientation or gender identity, and domestic partner benefits apply to same-sex relationships.
Shook works with clients to make significant progress in the recruitment and advancement of attorneys from diverse backgrounds. The firm is actively involved with the Minority Corporate Counsel Association and is a supporter of "A Call to Action: Diversity in the Legal Profession." Shook is also a member of the Leadership Council on Legal Diversity and the Institute for Inclusion in the Legal Profession, national organizations dedicated to improving diversity and inclusion in the legal arena.
Among many other accolades, Shook has earned a 100-percent rating on HRC's Corporate Equality Index for the past 10 years and the Gold Standard Certification from the Women in Law Empowerment Forum (WILEF) for the seventh consecutive year. Vault has also consistently ranked Shook among the top 25 law firms across the nation for diversity and inclusion.
Law School Workshops
Shook partners with student organizations such as the National Black Law Students Association on programs that offer practical advice on improving resumes and interviewing skills.

Minority Job Fair Recruiting
Shook recruits at such events across the nation, including the Heartland Diversity Job Fair, DuPont Minority Job Fair, Lavender Law Job Fair, Cook County Minority Job Fair, and Southeastern Minority Job Fair.

Women's Management Council
This proactive group of Shook women partners serves as a catalyst for programs targeting the unique challenges facing women practitioners.

Educational Programming
Shook's Diversity and Inclusion Committee spearheads diversity-themed presentations throughout the year for attorneys and staff. Recent programs have included those focusing on increasing awareness of micro-inequities and luncheons featuring Shook alumnae in the judiciary, LGBT issues, Native American/Tribal law issues, and parenting diversity-sensitive children.
Shook Champions
Shook matches firm leaders and influencers with minority senior associates to promote the sharing of critical information about paths to success and remove the hidden barriers to achievement in the workplace.

SOUL Program
A reverse-mentoring program, "Strengthening Opportunities for Unity and Learning," pairs senior firm leaders with minority attorneys to engage in discussion and experiences focused on racial and ethnic diversity.
Implicit Bias/Cultural Competency Training
As we assess how implicit bias and cultural competencies affect our client service, decision-making and professional advancement, we provide in-depth training to everyone in our firm. Training is followed with action items as well as individual and organizational strategies.
Diversity Leadership Q&A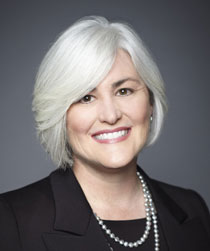 What is the ethos behind the firm's approach to diversity?
Shook is committed to building an inclusive environment where all individuals are able to find success by being their authentic selves. Our clients and communities are themselves diverse; and as attorneys we are often asked to collaborate across borders and practices to solve complex problems. To connect the dots for our clients, Shook seeks to foster cultural competency, while interrupting both explicit and implicit bias in meaningful and measurable ways. The firm places a high value on transparency and flexibility, parental leave policies and culture, mentoring and sponsorship programs, courageous conversations, and diverse leadership.
What has a more diverse and inclusive workplace brought to your firm, and also to your clients?
Shook understands that a diverse workplace and inclusive leadership is a critical component of providing successful and fulfilling career paths for our employees. At the same time, we put ourselves in our clients' shoes: Who will be the best fit for their immediate needs as well as their long-term business goals? What talents do we have to build the best team for the best results? As complex problems increasingly require collaboration across practices, borders and even other law firms — and as our client organizations become more inclusive and diverse — we are seeing that these experiences help build meaningful client relationships that thrive, not in spite of these challenges, but often because of them.
How do you encourage a more diverse and inclusive workplace?
Law firms sometimes struggle to reinvent their compensation, evaluation and development systems to interrupt implicit bias and create cultural competency in meaningful — and measurable — ways. Firms often rely on informal networks to keep business flowing across a chain of people with much in common, often to the detriment of women and minorities. At Shook, we have revamped our succession planning and compensation systems to try to resolve these inequities. We train our leaders and relationship partners not only to be cognizant of these blind spots within the organization and the legal profession, but to proactively address them by partnering with clients to get a 360-degree view of our own performance. We also use an open partner compensation system to ensure dialogue and transparency.
What are your policies for recruitment, and what are the major challenges?
Shook works to attract diverse candidates on multiple fronts. The firm posts job openings with various diversity organizations and bar associations; holds resume and interview workshops at law schools with diversity organizations; and solicits referrals from our own network of attorneys and alumni. All attorneys who interview potential candidates on Shook's behalf are trained on what the firm does to support diversity and inclusion.
In an effort broaden our pool of diverse candidates beyond our local market, we are currently developing a new, practical skills program for diverse students from law schools across the country. Shook has also participated in the 1L LCLD Scholars Program since its inception in 2011. And for more than two decades, the firm been active with several minority and veteran legal career fairs, including the Cook County Minority Job Fair and Southeastern Minority Job Fair since 1998 and the Lavender Law Job Fair since 2003, among others. In recent years, we have expanded these efforts to other parts of the country through the Northwest Minority Job Fair and Southwest Region of the National Black Law Students Association Job Fairs.
Retention of diverse staff is a critical issue – what are the programs your firm has in place that you feel will help retain your staff?
Shook's diversity and inclusion initiatives extend well beyond the recruiting phase to focus, not just on their retention of diverse attorneys and staff, but their engagement, advancement and success. Among our many diversity and inclusion programs and initiatives, we offer a robust professional development program that tackles all aspects of the technical skills lawyers need to be successful—from brief writing workshops, basic and advanced trial practice, deposition skills, and more. Shook has also developed formal sponsorship programs at every career stage that are designed to help diverse attorneys break the cycle of being over-mentored and under-sponsored to become business developers and client relationship attorneys. As part of the firm's courageous conversations initiative, the firm pairs minority attorneys and senior majority leaders and empowers them to have discussions and mentor one another.
In addition to the Women's Management Council, which Shook's women partners started more than a decade ago to support successive generations of women leaders at the firm, Shook holds leadership academies targeted at diverse groups such as women (through a partnership with the University of California, Hastings) and women of color (through the Leadership Institute of Women of Color Attorneys).
As a result of these long-standing efforts, Shook continues to attract and support top legal talent. In 2017, the firm for the 10th consecutive year earned a 100-percent rating on the Human Rights Campaign's Corporate Equality Index, and is one of only two firms to receive the WILEF Gold Standard for the last seven years by exceeding all criteria every year. Shook's clients have also recognized the firm's emphasis on diversity and inclusion. The Coca-Cola Company has awarded Shook the company's "Living the Values Award" three times for demonstrating a commitment to diversity through innovative solutions that advance diversity in the legal profession, and, in 2017, Shook was named the first recipient of The Coca-Cola Company's General Counsel Diversity Advancement Award.