Firm Profile > Seyfarth Shaw LLP > Chicago, United States
Seyfarth Shaw LLP
Offices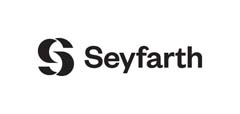 Seyfarth Shaw LLP
233 SOUTH WACKER DRIVE
SUITE 8000
CHICAGO, IL 60606 - 6448
United States
Seyfarth Shaw LLP > The Legal 500
Rankings
Seyfarth Shaw LLP >
Firm Profile
Seyfarth Shaw LLP is a full-service international law firm, serving Fortune  1000, Global 500 and other companies worldwide through more than 900 attorneys and dedicated professional staff (including certified project managers, legal technologists, practice managers and other paraprofessionals). Seyfarth has been widely recognized for its leadership in designing innovative, client-focused solutions for the delivery of high-quality legal services. Recent highlights include:
Earned 13 Tier 1 national rankings in the S. News – Best Lawyers® 2020 edition of 'Best Law Firms' in the areas of commercial litigation, construction law, employee benefits (ERISA) law, employment law – management, franchise law, health care law, immigration law, labor law – management, litigation – antitrust, litigation – construction, litigation – ERISA, litigation – labor and employment, and real estate law
Recognized by The Financial Times among the most innovative law firms for the ninth consecutive year in its annual FT Innovative Lawyers series
Named as the No. 15 best-branded law firm by corporate counsel, according to the BTI Brand Elite 2019. Placing Seyfarth among the top 5% of all law firms serving large, corporate clients
BTI Consulting named Seyfarth 'Most Recommended Law Firms' in 2019. Seyfarth Shaw was named one of 27 law firms recommended by general counsel. These recommendations directly reflect the longstanding dedication to exceptional client service and innovative solutions, which continue to set the firm apart
Seyfarth earned a perfect score of 100 in the annual Human Rights Campaign Foundation's 'Corporate Equality Index' and was named a 'Best Place to Work for LGBTQ Equality' for the 12th consecutive year
Named among the 'Best Law Firms for Women' by Working Mother annual report for the ninth consecutive year
Largest US Labor and Employment practice in a full-service firm, with over 400 attorneys
Recognized by Law360 as 'Practice of the Year' in employment for eight consecutive years
The world's largest dedicated team specializing in international employment law, completing more than 100 multi-jurisdictional strategic and compliance projects covering 120+ countries in the last year
Acted as specialist international employment counsel on more than 25 international transactions in 2019
One of the five largest real estate practices in the United States with over 130 attorneys
One of the largest employee benefits and executive compensation practices in the US, serving clients across 30+ industries
170+ business litigators across a global platform, offering a full-service litigation practice
Earned 'Honor Roll' recognition in annual BTI Litigation Outlook across multiple litigation practice areas
Handled more than 200 corporate M&A transactions across a diverse range of industries over the past two years
Main areas of practice: ADA Title III and public access; corporate counseling and governance; employee benefits; employment; executive and equity compensation; government contracts; government relations and policy; immigration; intellectual property counseling and prosecution; international employment law; labor management relations; privacy and security; trade secrets and non-competes; trusts and estates; workplace safety and environmental; antitrust and competition; appellate; bankruptcy and restructuring; class and collective actions; commercial litigation; construction claims and disputes; ediscovery and information governance; employment litigation; government contracts litigation; intellectual property litigation; product liability and complex tort; real estate litigation; securities and fiduciary duty litigation; tax controversies and litigation; trials; trusts and estates litigation; white-collar defense and investigations; workplace arbitration and ADR; capital markets; commercial contracts; commercial finance; construction and development projects; financial products and technology; infrastructure and project finance; institutional investors; mergers and acquisitions; real estate; real estate finance; REITs and real estate capital markets; tax
International experience: Seyfarth Shaw's international service model is custom-built to deliver an integrated, cross-border legal and commercial solution. Seyfarth's model relies exclusively upon cohesive partner-led teams of highly experienced international attorneys who focus solely on helping multinational clients deal with their international business issues, regardless of location. Central to the firm's international department is Seyfarth's award-winning, specialist international employment practice, which is acknowledged as one of the world's leading practices in the area. Our team also offers multidisciplinary corporate, commercial, and real estate advice to multinational clients with needs across the globe.
Main Contacts
| Department | Name | Email | Telephone |
| --- | --- | --- | --- |
| Construction | Michael T. McKeeman | | |
| Construction | Alison Ashford | | |
| Corporate | Steven Meier | | |
| Employee Benefits | Diane Dygert | | |
| Privacy & Security | Scott Carlson | | |
| Privacy & Security | John Tomaszewski | | |
| Healthcare, Life Sciences & Pharmaceuticals | Cynthia Mitchell | | |
| Healthcare, Life Sciences & Pharmaceuticals | Kristin McGurn | | |
| Healthcare, Life Sciences & Pharmaceuticals | Jesse Coleman | | |
| Immigration | James W King | | |
| Immigration | Russell B Swapp | | |
| Institutional Investor | Robert Bodansky | | |
| Intellectual Property Litigation | Brian Michaelis | | |
| Intellectual Property Litigation | Edward Maluf | | |
| International | Darren Perry | | |
| International | Pete Talibart | | |
| Labor and Employment | Laura J Maechtlen | | |
| Litigation | James McGrath | | |
| Mergers and Acquisitions | Suzanne L Saxman | | |
| Mergers and Acquisitions | Andrew Lucano | | |
| Real Estate | Paul P Mattingly | | |
| Tax | Steven R Meier | | |
| Tax | John P Napoli | | |
| Employment | David Baffa | | |
Lawyer Profiles
| Photo | Name | Position | Profile |
| --- | --- | --- | --- |
| | David Baffa | Mr. Baffa is Chair of the Workplace Compliance Solutions Group at Seyfarth… | View Profile |
| | Tracy Billows | Ms. Billows is a partner in the Chicago office of Seyfarth Shaw… | View Profile |
| | Mr Scott Carlson | Mr. Carlson founded and Chairs Seyfarth Shaw's eDiscovery and Information Governance practice… | View Profile |
| | Ms Joan Casciari | Joan Casciari is a partner in Seyfarth Shaw LLP's Chicago office. Her… | View Profile |
| | Mr Mark Casciari | Counsel, Seyfarth Shaw, LLP. | View Profile |
| | Mr Brent Clark | Mr. Clark is a partner in the Firm's Labor and Employment Department… | View Profile |
| | Mr Benjamin Conley | Partner | View Profile |
| | Mr Christopher DeGroff | Chris DeGroff is the national Co-Chair of the firm's Complex Discrimination Litigation… | View Profile |
| | Ms Pamela Devata | Pamela Devata is a Labor and Employment Partner at Seyfarth Shaw LLP… | View Profile |
| | Kenneth Dolin | | View Profile |
| | Ms Ada Dolph | Ada represents healthcare, airline, retail, and manufacturing clients in a wide range… | View Profile |
| | Mr Jake Downing | Co-Chair, Defined Contribution Plans Practice Group | View Profile |
| | Ms Diane Dygert | Ms. Dygert is a partner at Seyfarth Shaw LLP and Chair of… | View Profile |
| | Noah Finkel | | View Profile |
| | Mr Robert Flanagan | Mr. Flanagan is a partner in the Employee Benefits & Executive Compensation… | View Profile |
| | Mr Matthew Gagnon | Matt's practice focuses on defending employers against complex class and collective action… | View Profile |
| | Mr Adam Greetis | Partner | View Profile |
| | Ms Linda Haynes | Co-Chair, Institutional Investing Practice Group | View Profile |
| | Christine Hendrickson | Christine Hendrickson is Partner in the Chicago office of Seyfarth Shaw LLP,… | View Profile |
| | Mr Cory Hirsch | Co-Office Managing Partner of the Firm's Chicago office | View Profile |
| | Valerie Hoffman | Ms. Hoffman is a partner at Seyfarth Shaw LLP where she has… | View Profile |
| | Ms Christina Janice | Christina Janice is a senior counsel of Seyfarth Shaw. Her practice focuses… | View Profile |
| | Kyllan Kershaw | | View Profile |
| | Ms Jennifer Kraft | Co-Chair; Welfare Practice Group | View Profile |
| | Mr Ronald Kramer | | View Profile |
| | Mr Richard Lapp | Partner | View Profile |
| | Mr Bradford Livingston | Brad Livingston is a partner in the Chicago office and long-serving former… | View Profile |
| | Gerald Maatman, Jr. | Gerald (Jerry) L. Maatman, Jr. – is a partner with the firm's… | View Profile |
| | Mr Condon McGlothlen | Condon McGlothlen is a partner at Seyfarth Shaw LLP in Chicago. For… | View Profile |
| | Ms Ellen McLaughlin | Ellen McLaughlin is a partner in Seyfarth Shaw LLP's Chicago office. She… | View Profile |
| | Mr Steven Meier | Partner, Chair of Corporate Department, Co-Chair of Tax Practice, and Co-Leader of… | View Profile |
| | Mr Ian Morrison | Ian Morrison has extensive experience representing employers, employee benefit plans, and fiduciaries… | View Profile |
| | Ms Camille Olson | Camille Olson is a partner at Seyfarth Shaw LLP and Chair of… | View Profile |
| | Karla Sanchez | Partner, Seyfarth Shaw, LLP. | View Profile |
| | Ms Suzanne Saxman | Partner and Chair of Mergers & Acquisitions Practice Group | View Profile |
| | Sam Schwartz-Fenwick | Mr. Schwartz-Fenwick is a partner in the Labor and Employment Practice Group… | View Profile |
| | Mr Andrew Scroggins | Andy Scroggins is a member of the firm's Complex Discrimination Litigation and… | View Profile |
| | Ms Amanda Sonneborn | Amanda Sonneborn is a partner in the Labor and Employment Department of… | View Profile |
| | Mr Brian Stolzenbach | Partner | View Profile |
| | Annette Tyman | Partner | View Profile |
| | Michael Wexler | Partner | View Profile |
| | Mr Shawn Wood | Mr. Wood is a partner in the Chicago office of Seyfarth Shaw,… | View Profile |
Staff Figures
Number of Partners : 436 Number of Other Fee-Earners : 478 Total Staff : 1,928
Top Tier Firm Rankings
Firm Rankings