Orrick, Herrington & Sutcliffe LLP > San Francisco, United States > Firm Profile
Orrick, Herrington & Sutcliffe LLP
Offices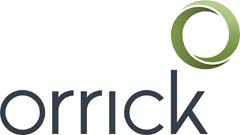 Orrick, Herrington & Sutcliffe LLP
THE ORRICK BUILDING
405 HOWARD STREET
SAN FRANCISCO, CA 94105-2669
United States
Profiles
Orrick, Herrington & Sutcliffe LLP > The Legal 500
Rankings
The 'exceptional' litigators at Orrick, Herrington & Sutcliffe LLP 'clearly know the ins and outs of patent appellate litigation'; indeed, the practice has excellent depth in IP matters at the Federal Circuit. In one standout highlight of many, a team led by Joshua Rosenkranz, including Brian Goldman and Eric Shumsky ('clear communicator, collaborator and strategist'), racked up a Federal Circuit victory for Gilead Sciences leading to the invalidation of a $2.54bn verdict, the biggest patent judgment to date. Elsewhere, building upon the firm's prior success for Synopsys at district court level, a team led by the highly experienced Robert Loeb is acting for the client in an appeal at the Ninth Circuit seeking to establish whether the Department of Labor should comply with a request to disclose federal contractors' annual employee demographic reports. Further, the group's appellate attorneys are equally well versed in proceedings before the US Supreme Court; their recent work has been making headlines in light of the country's growing interest in the regulation of the use of force exercised by police. Of recent note, the team acted for the petitioner in Torres v Madrid, a case in which the Roberts Court considered what constitutes a 'seizure' of a suspect under the Fourth Amendment. The department is spearheaded by New York-based Rosenkranz ('great strategist, writer, and oral advocate') and 'excellent leader' Mark Davies in Washington DC. Senior associate Jeremy Peterman is also recommended. Former practice co-leader Kelsi Corkran departed to embark on a pro bono senior fellow career in February 2021.
Orrick, Herrington & Sutcliffe LLP continues to be engaged in matters at the forefront of cutting-edge issues, such as its defense of Marathon Oil in unprecedented climate change claims. With its strong appellate practice and emphasis on innovation, the firm offers clients a team of diverse expertise and skillsets, notwithstanding the recent moves of attorneys Morton Dubin, Kristen Fournier and John Ewald to King & Spalding LLP in February 2020. The team has gained a new first chair trial lawyer with Christina Maccio from DLA Piper LLP (US), while Gregory Beaman, Jennifer Lee and Marc Shapiro were promoted to partners in February 2020. Peter Bicks in New York is active for some of the firms biggest clients and a name to note. Elyse Echtman in New York, who has 25 years of product liability experience and Darren Teshima in San Francisco, who specializes in the technology and finance sectors, lead the practice.
Orrick, Herrington & Sutcliffe LLP
 provides market-leading advice to sponsors from the energy and non-energy infrastructure segments, assisting with the financing of greenfield projects as well as M&A transactions. Though strong across the board, P3 projects is one of the team's primarily strengths, having advised on the development, construction and financing of complex initiatives such as the Fresno State energy project. Tax equity financing is another key area of expertise; the group works with leading project developers such as ENGIE North America on financing renewable projects across the US. In addition to its sponsor work, the team also advises a range of lender clients, most notably funds, on financing telecoms projects and other infrastructure developments. Renewables specialist
Dahl Thompson
  and
Blake Winburne
 , who focuses on the downstream and midstream energy sectors, are the names to note in the Houston office. In New York,
Daniel Mathews
  co-leads the global infrastructure practice, while
Young Lee
  and
Vincent Casey
 represent, sponsors, lenders and public authorities in innovative P3 projects.
Les Sherman
  leads the renewable energy practice.
The restructuring team at Orrick, Herrington & Sutcliffe LLP works extremely closely with the firm's stellar public finance practice, and has thus been able to distinguish itself as a leader in the field of public finance restructuring. Contacts in the New York office include Raniero D'Aversa, who chairs the practice group, and experienced practitioner Lorraine McGowen, who has played a key role in several matters concerning Puerto Rico's debt restructuring. Thomas Laryea in Washington DC stands out for his expertise in sovereign debt restructuring, while San Francisco-based senior counsel Marc Levinson is widely recognized as a go-to name for Chapter 9 work, having acted as the lead insolvency lawyer in the City of Stockton case. In November 2020, Douglas Mintz left the firm for Schulte Roth & Zabel LLP.
Based in New York, the team at 
Orrick, Herrington & Sutcliffe LLP
 has a stand-out issuer- and underwriter-side CMBS and RMBS practice, and is also recognized for its record in CLO work. In addition to more traditional areas, including MBS and credit card securitizations, the team also has capabilities in esoteric asset classes, including whole-business securitizations and music royalty-related transactions; 
Leah Sanzari
  is a key figure in this space. 
William Cullen
  and 
Janet Barbiere
  are names to note for CMBS work; 
Howard Goldwasser
  takes the lead in CLOs; and 
Alan Knoll
 , who heads up the wider structured finance group, is the name for credit and charge card, consumer and auto loan securitizations.
Led from San Francisco by 
Les Sherman
and also receiving robust support from the firm's energy and project finance-focused Houston hub, as well as regulatory, environmental and disputes lawyers throughout its national network of offices,
Orrick, Herrington & Sutcliffe LLP
is well placed to advise a range of stakeholders throughout the life cycle of solar, wind, hydro, geothermal and battery storage projects. The firm has developed deeply entrenched relationships with many developers/sponsors, including the renewable arms of major energy utilities, among which EDF Renewables and E.ON Renewables are the most prominent. Consequently, it picks up a tremendous volume of work as these energy behemoths invest and dispose of a myriad of renewables projects throughout the country, often in the context of large portfolio transactions. Recent highlights included the representation of Acciona Energy in its acquisition of a 3GW utility-scale portfolio of greenfield solar projects and a 1GW battery storage development portfolio from Tenaska. Although his project development and financing expertise in the energy sector covers a mix of renewables assets,
Eric Stephens
has gained most acclaim for his work within the solar space, particular as it relates to distributed projects, an area that he has been at the forefront since the inception of the technology over a decade ago. 
Mark Weitzel
is particularly noted for his tax equity financing expertise in the solar and wind space. All practitioners named are based in the firm's San Francisco office.
Orrick, Herrington & Sutcliffe LLP
's leading practice is noted for its handling of high-value financing mandates for Native American tribes and businesses. Based in Portland and led by
Townsend Hyatt
, the practice is skilled in a variety of financing work including public debt finance, as well as lending for domestic banks and borrowing for Indian nations. In San Francisco, banking partner
David Lin
is the key contact for casino projects, casino development, and gaming matters; and
Zachary Finley
is also routinely involved in large financing transactions. The group also handles inter-tribal loans work. Los Angeles-based
Ramon Galvan
focuses on casino construction projects for Native American tribes as well as tribal financing matters for tribal clients across the West Coast.
Orrick, Herrington & Sutcliffe LLP
underwent a number of recent changes with the arrival of
Sarah Schaedler
from
Kirkland & Ellis LLP
in October 2020 in the San Francisco office; this followed the arrivals of patent, IT and data expert
Colleen McDuffie
from 
Arnold & Porter
in Washington DC, and that of life sciences and biotechnology specialist
Shana Solomon
, formerly in-house at Velocity Sciences, in Boston, both in September 2020. Following the departure of former co-head of the global technology transactions practice
Glynna Christian
to
Holland & Knight LLP
in January 2021, the Menlo Park-based
Daniel Yost
now co-heads the practice with new arrival Schaedler. With its combination of strength in market-leading technology transactions, often acting for technology giants, in licensing-related patent disputes, and its outstanding track record in the venture and growth capital space, the firm remains among the finest licensing addresses in the market.
The team at Orrick, Herrington & Sutcliffe LLP recently welcomed the arrivals of Shannon Yavorsky from Venable LLP, Keily Blair and James Lloyd from PricewaterhouseCoopers LLP. Strengthening an already impressive offering, these hires add to the group's expertise in CCPA, GDPR and the domestic/global parameters of regulatory enforcement. Regular work flows for the team include advising clients on optimal responses to cyberattacks and increasingly on developing areas such as biometrics. In this regard, the team secured a motion to dismiss a class action regarding Acuant's purported violations of BIPA. Led by Douglas Meal and Heather Egan Sussman, the practice also includes Aravind Swaminathan, Michelle Visser, Seth Harrington, Antony Kim and Emily Tabatabai. Also of note, the firm recently introduced a proprietary cloud-based utility customized to meet global privacy needs as well as assist with the monetization and exploitation of data sets.
Orrick, Herrington & Sutcliffe LLP's 'top-notch' team 'blends deep subject matter expertise with practical day-to-day advice'. The practice group is deeply experienced in the establishment and enhancement of e-discovery programs, and acts as e-discovery liaison in large resource-heavy cases, including MDL. Washington DC-based practice head Wendy Butler Curtis counts Fortune 100 companies and major financial institutions among her clients, advising on the deployment of policy, process and technology to reduce e-discovery cost and risk. Based in Wheeling, West Virginia, Kelly Cullen is director of the firm's global operations and innovation center and is experienced in complex litigation and transactional matters.
Based in New York, Orrick, Herrington & Sutcliffe LLP's 'brilliant' team is particularly strong in financial services, technology and consumer products disputes. Over the review period, Elyse Echtman successfully defended Johnson & Johnson in multiple high-stakes cases regarding claims that its talcum powder contains cancerous asbestos. Another contact in the product liability space is Peter Bicks, a popular choice for major corporates embroiled in high-profile, nationwide class actions. Richard Jacobsen is a contact for financial services disputes; he continues to represent clients including Credit Suisse and Goldman Sachs in business critical disputes.
Orrick, Herrington & Sutcliffe LLP
 fields a deep bench of experienced practitioners who are '
candid and timely with advice
'. Its presence across the country sees it engaged by financial institutions and corporate issuers in key industry sectors, including technology and life sciences. 
Robert Stern
 in Washington DC chairs the '
pragmatic, commercial and available
' white-collar, investigations, securities litigation and compliance practice group. Working with
Richard Morvillo
, he settled a case for TD Ameritrade concerning trading losses in highly leveraged derivatives positions. 
James Kramer
 heads the securities litigation group in San Francisco. He and emerging talent 
Alex Talarides
 are currently acting for Apple in a class action arising from the company's announcement in 2019 that it was lowering its Q1 revenue guidance. Also in San Francisco, 
Kenneth Herzinger
won a precedent-setting case for The Elastos Foundation.
Walter Brown
 joined the San Francisco office
Paul, Weiss, Rifkind, Wharton & Garrison LLP
 in early 2021.
Led from Houston by 
Blake Winburne
 and 
Dahl Thompson
 and also able to draw upon the expertise of energy-focused M&A and financing practitioners based out of New York, as well as regulatory experts from Washington DC, 
Orrick, Herrington & Sutcliffe LLP
's energy and infrastructure practice has the critical mass and subject matter expertise to be able to advise stakeholders on the development, financing, sale and purchase of assets in the electricity space, irrespective of geographical location. As well as benefiting from strong ties with numerous IPPs and international energy companies, the firm also regularly advises funds, including Ares Management and Infrastructure Investment Fund, on single-asset and multi-asset portfolio acquisitions and disposals. As part of his extensive transactional energy practice, Winburne has been involved in many conventional energy project development and M&A transactions, including his recent representation of Southwest Generation on the $680m acquisition and financing of the Mankato Energy Center, a 720MW natural gas-fired power plant located in Minnesota. New York-based partner
John Donaleski 
 is well-versed across a range of debt financing techniques throughout the capital structure and his arrival in October 2019 from 
White & Case LLP
 consequently enhances the firm's credentials on the lender and borrower side for private equity M&A transactions in the sector. Although it is less active across "pure" conventional power mandates, the firm's San Francisco office has considerable expertise in the renewables space and has recently handled a substantial amount of battery storage-related work.
The copyright team at Orrick, Herrington & Sutcliffe LLP has expertise across the full range of high-stakes IP matters, with particular experience in copyright litigation and appeals before the Supreme Court and Federal Circuit Court of Appeals. The team's copyright advisors and litigators are local in several key cities across the US to provide comprehensive service to clients such as major media corporations, newspaper publishers, and record companies. Based in San Francisco, lead director Annette Hurst is highly regarded for her work in copyright litigation, while in Silicon Valley Jared Bobrow co-chairs the IP business unit and is a well-known IP litigator. A name to note in Washington DC is Sten Jensen, who focuses on IP issues in the tech sector and is noted for his experience litigating in the Delaware courts.
The multidisciplinary Orrick, Herrington & Sutcliffe LLP trade secrets practice provides experience in non-competes, restrictive covenants and white-collar crime, as well as advising in the areas of technology, biotech and software. Key names in the team are Michael Weil and Catherine Lui, who work from the firm's San Francisco office, and New York-based James McQuade.
With offices in California, Washington DC, Boston, and New York, the team at Orrick, Herrington & Sutcliffe LLP has a solid coast-to-coast platform for representing both new and established brands in high-profile trademark litigation. It is frequently involved in prominent International Trade Commission trademark investigations and is highly experienced in trade dress matters for clients in the footwear, consumer goods, and automotive industries. A key contact in the team is Peter Vogl in New York, a veteran first chair litigator with extensive experience in state and federal courts. Silicon Valley-based Jared Bobrow co-chairs the IP business unit alongside Sten Jensen, who is located in Washington DC.
Orrick, Herrington & Sutcliffe LLP's team impresses with its 'depth of knowledge', which ranges from handling pay discrimination and sexual harassment cases to independent contractor and termination matters. Its client portfolio includes prominent names from industries encompassing the financial and professional services, TMT, consumer products and non-profit sectors. Lynne Hermle in Silicon Valley has longstanding experience in the field and is engaged by high-profile clients including Twitter and Morgan Stanley. Practice head Julie Totten divides her time between San Francisco and Sacramento, and New York-based Mike Delikat is also well versed in whistleblower claims and internal investigations. Jill Rosenberg and Lisa Lupion as well as Renee Phillips and senior associate Mark Thompson are further key contacts in New York. Jessica Perry in Silicon Valley handles wage and hour class actions.
Orrick, Herrington & Sutcliffe LLP
leverages its position in Silicon Valley to act as legal advisor to technology companies that are involved in various types of transactions. Featured in the team's recent caseload are SPAC transactions, including some billion-dollar highlight cases for Fisker, Momentis and Luminar Technologies, along with sell-side transactions involving serial acquirers such as Amazon, Dell, DropBox, Facebook, Google and others. Led by highly recognized
Matthew Gemello
, who often acts on buy-side M&A, the team is also noted for its experience handling transactions in the energy and pharmaceutical sectors.
Orrick, Herrington & Sutcliffe LLP is one of the most active firms in the market, with an especially strong reputation for company side work in the technology sector. The firm has an especially strong presence in California, but is also building up on the East Coast: in New York, Peter Fusco is known for his advice to funds and tech companies, while the firm's Boston office was recently boosted by the arrival of partners Albert Vanderlaan and Gregg Griner from Gunderson Dettmer LLP. Stephen Venuto and Amanda Galton jointly lead the team, with key input from technology head Annette Hurst, John Bautista, Silicon Valley's Ellen Ehrenpreis and Santa Monica-based Josh Pollick. All partners are based in San Francisco unless otherwise stated.
Orrick, Herrington & Sutcliffe LLP has an extremely strong reputation for representing emerging and established fintech service providers. Clients benefit from a multi-faceted transactional, IP and corporate practice, as well as expertise in increasingly critical areas such as regulatory, litigation, and public policy. The team is jointly led by cybersecurity and data privacy partner Barrie VanBrackle in Washington DC, and financial services specialist Howard Altarescu in New York. John Bautista in Silicon Valley is a key contact on the start-up and venture capital front, while capital markets partner Robert Moyle in New York is also very active in this area. Clients include major payment processors, corporate venture arms, and online lenders and trading platforms. Christopher Austin joined Paul Hastings LLP in March 2020, and Glynna Christian joined Holland & Knight LLP in February 2021.
Orrick, Herrington & Sutcliffe LLP
 is well placed to handle matters across the US, but also turns its hand to multi-jurisdictional matters, working in conjunction with its international network. Acting for both companies and individuals, the firm focuses on investigations and compliance work, and is particularly experienced in SEC-imposed corporate compliance monitorships. The team is headed by Washington DC's
Robert Stern
. New York-based 
Amy Walsh
, a former federal prosecutor, is recommended for government investigations. In March 2020, 
William Jacobsen
 and
Jonathan Lopez
 left for
Allen & Overy LLP
. Gregory Morvillo left for Morvillo PLLC in April 2020.
At Orrick, Herrington & Sutcliffe LLP, derivatives lawyers have a strong focus on the energy and infrastructure sectors, in line with the core strengths of the wider firm. In this regard, the group regularly advises financial institutions and end-users on return swaps and fixed-income matters. The firm also stands out for its emphasis on innovation, with clients able to utilize the specialist Orrick Analytics group to assist with the remediation and amendment of derivatives documentation. Nikiforos Mathews is global co-head of the derivatives group, advising on the structuring and negotiation of derivative products; while Alan Knoll chairs the wider structured finance group. Al Sawyers, who co-heads the global finance business unit, also has expertise in derivative securities and structured financial products. All named lawyers are based in New York.
Since establishing its energy-focused Houston office in 2016, Orrick, Herrington & Sutcliffe LLP has increased its visibility in the market, acting on behalf of an eclectic mix of stakeholders, including integrated and independent oil companies, petrochemicals companies, funds and financial institutions, across a versatile mix of transactions throughout the value chain. While Houston is now the engine room of the practice, the firm's multi-disciplinary approach and frequent partnering with corporate and finance lawyers throughout the firm's national network of offices enables it to comfortably handle complex transactions. For example, in a deal led out of Houston by Jonathan Ayre and aided by New York-based structured finance partner Leah Sanzari, the team advised the note purchasers on all aspects of first-of-a-kind innovative securitizations of operated oil and gas wellbore working interests owned by Diversified Gas & Oil. Houston-based energy and infrastructure head Blake Winburne regularly advises private equity funds and global corporates on high-value transactions involving midstream transportation infrastructure, exploration and production assets, storage and terminal facilities, and petrochemical and refining plants.
Orrick, Herrington & Sutcliffe LLP primarily represents clients in the technology and finance industries, with extensive experience in advising clients on a range of insurance coverage matters including RMBS monoline litigation and cost of insurance (COI) litigation. The firm has been highly active in COI litigation, and a prominent figure in this area is Khai LeQuang in Orange County who represents major investor groups in pending lawsuits relating to increases in COI rates. Co-heading the practice are Barry Levin, based in New York and San Francisco, and Darren Teshima in San Francisco.
Orrick, Herrington & Sutcliffe LLP
distinguishes itself through its very successful PTAB practice as one of the most efficient firms acting for patent challengers, its combination of a high-profile federal court and ITC practice and its sector focus on the semiconductor, networks, software and consumer electronics sectors. Under the lead of practice heads
Sten Jensen
in Washington DC and
Jared Bobrow
in Silicon Valley, the group continues to secure significant wins in the country's most important venues. In February 2020,
Jason Yu
, a patent and trade secret litigator and IPR expert, and
Robert Uriarte
, who specialises in technology litigation relating to software and security matters and is a member of the firm's cyber, privacy and data innovation practice, made partner in the Silicon Valley office.
Orrick, Herrington & Sutcliffe LLP
stands out as one of the most versatile practices in the market. In addition to its busy patent caseload, the team also regularly acts in trademark and other non-patent related ITC investigations. With its track record of high-stakes competitor patent disputes, especially in the technology and electronics sectors, and innovative approach to collecting and presenting evidence within the ruleset governing ITC procedures, the group steadily grows its ITC renown.
Sten Jensen
in Washington DC and
Jared Bobrow
are the heads of the firm's IP business unit that also includes a powerful federal court and PTAB litigation team. Washington DC's
Jordan Coyle
and
Steven Routh
,
Clement Seth Roberts
in San Francisco and
Robert Benson
, who splits his time between the Orange County and Taipei offices, are also among the key ITC practitioners.
Orrick, Herrington & Sutcliffe LLP is noted for its bicostal domestic platform and its strong relationships with IP attorneys in Europe and Asia, enabling the IP team to manage global IP portfolios, file trademarks, and advise on trademark clearance and licensing worldwide. Its clients are generally in the alternative energy, consumer products, biotechnology, food and beverages, and pharmaceuticals sectors. Contacts on the East Coast include Peter Vogl in New York, who primarily works in trademark prosecution in the life sciences and technology sectors, and Washington DC-based Sten Jensen, who serves as co-chair of the firm's wider IP practice and is also experienced with IP in the technology sector. In the San Fransisco office, Beth Goldman is recommended for transactions and related trademark matters, and Betsy Wang Lee was promoted to partner in February 2020.
Sectors of focus for Orrick, Herrington & Sutcliffe LLP's employee benefits and executive compensation practice include online payments, medtech, software, retail, technology and financial services. Most recently, the team, which includes practice head Juliano Banuelos, Jason Flaherty and senior associate J.T. Ho, has been advising a solid client roster of public companies on high-value M&A transactions, spin-offs, proxy disclosure issues and deferred compensation negotiations. Named lawyers are based in the San Francisco office.
Orrick, Herrington & Sutcliffe LLP is rated by clients for its 'highly-specialized industry expertise' and 'excellent partners' who are 'very business and ops-focused'. The full-service practice group handles a range of matters for technology and life sciences clients at every stage of the value chain. Former co-head Glynna Christian departed for Holland & Knight LLP, but this was offset by several strong recruits, including corporate partner Sarah Schaedler from Kirkland & Ellis LLP in San Francisco, Colleen McDuffie from Arnold & Porter in Washington DC, and Boston-based IP licensing partner Shana Solomon from an in-house role. Silicon Valley-based Daniel Yost leads the team, which also includes Timothy Greene in Los Angeles. Senior associate Ramin Tohidi in San Francisco is also singled out for praise.
'
An excellent real estate transaction team
',
Orrick, Herrington & Sutcliffe LLP
's real estate department is chaired by the '
exceptional and detail-oriented
'
Gerard Walsh
, who is experienced in the full array of matters, including finance, with asset class expertise that spans master planned communities, mixed-use, hotel, resort, retail, corporate campus and commercial projects. Based alongside him in Los Angeles is
Randolph Perry
, a lawyer who is '
effective in negotiations
' and specializes in distressed assets and hospitality-related transactions. The team also includes San Francisco-based
Michael Liever
and
Marshall Brozost
in New York; both of whom are investment specialists, and act for the team's roster of institutional, private equity and overseas investors, funds and lenders in portfolio transactions, joint ventures, leasing and development projects.
Orrick, Herrington & Sutcliffe LLP
 is regularly sought out by leading companies and financial institutions to act as a special tax counsel on highly technical matters pertaining to acquisitions, divestitures, joint ventures and financings. Other key department strengths include UPREITs, tax equity financings for renewable energy projects, and tax-exempt public finance deal structuring. The deep bench of practitioners is co-chaired by New York-based
Peter Connors
 and
John Narducci
, and San Francisco-based public finance expert
Chas Chardall
. Other key contacts in the team include
Eric Wall
 and
George Wolf
 in San Francisco.
Orrick, Herrington & Sutcliffe LLP
 attracts plaudits for displaying '
deep expertise in the intersection of technology markets and antitrust
', most notably in matters straddling the line between IP and antitrust law. '
Brilliant competition law strategist'
Jay Jurata
heads up the group, which assists clients in investigations into allegations of monopoly, abuse of market dominance, and constraint of distribution channels. Elsewhere,
Amy Ray
 '
has a gift for translating complicated technology and legal analysis into simple, easy to understand bites
'.
Jim Tierney
is a former chief of the DOJ's networks and technology enforcement section; he brings to bear '
unmatched credibility
' in investigations work. All named attorneys are in the firm's Washington office.
Orrick, Herrington & Sutcliffe LLP
acts for well-known tech clients in disputes that lie at the intersection of antitrust and technology law. Specifically, the team has an excellent reputation for handling no-poaching disputes, standard-essentials patent and price-fixing cases. A '
brilliant competition law strategist
',
Jay Jurata
in Washington DC heads up the department. Within the group, San Francisco-based of counsel
Howard Ullman
is particularly well versed in cases arising from the California insurance sector, where he advises on Sherman Act cases and healthcare antitrust matters. In early 2020,
Alex Okuliar
 left to take up a role at the DOJ.
Orrick, Herrington & Sutcliffe LLP stands out for its regular recruitment by major companies to handle merger control matters, with new cases from Toyota and Fisker in the past year. Additionally the firm handles all antitrust and merger control matters for Microsoft, reflecting its capabilities in big-ticket M&A. The team has a particular expertise in handling SPAC mergers, having advised on three standout SPAC mergers each worth over $1bn during 2020. Jay Jurata heads up the team, and is a trusted antitrust counsel to Microsoft across the full range of antitrust and merger clearance matters. Jim Tierney is a former head of the DOJ's networks and technology enforcement section and is a prolific adviser to major tech clients including Microsoft and Expanse on completed and proposed M&A deals. Amy Ray led on Fisker's $2.9bn merger with Spartan Energy, continuing her strong record in antitrust merger advice. Alex Okuliar left for a position at the DOJ. All named lawyers are in Washington DC.
Peter Bicks - Orrick, Herrington & Sutcliffe LLP New York-based Peter Bicks is highly regarded for his expertise in product liability trials and large-scale class actions. Bicks recently led the team that acted for KBC Bank in a long-running dispute with diamond company Lazare Kaplan, which concluded in the Second Circuit with the dismissal of all claims against the KBC in the US. Other key clients include Johnson & Johnson, which has retained Bicks to represent it in nationwide product liability suits.
Lynne Hermle - Orrick, Herrington & Sutcliffe LLP
Orrick, Herrington & Sutcliffe LLP is gaining ground in the DCM space, both on the underwriter and issuer side; it now represents many of the bulge-bracket investment banks. The group is also building relationships with issuers from multiple industries, thanks to growth of the senior team in recent years, particularly in the life sciences, tech and financial services sectors. Among its recent highlights, the team represented Gap in a $2.25bn offering of senior secured notes. San Francisco partner Brett Cooper had an especially active 2020 with major issuer and underwriter engagements. Christopher Austin left for Paul Hastings LLP in March 2020 and up-and-coming partner Stephen Ashley joined Pillsbury Winthrop Shaw Pittman, LLP in November 2020.
Orrick, Herrington & Sutcliffe LLP has maintained its activity in 2020 with a series of SPAC mergers and follow-on offerings. The firm's established presence in Silicon Valley and San Francisco, along with its growing Boston office, makes it especially well suited to technology and life sciences transactions. Strong teams in New York, Santa Monica and elsewhere, enable a rounded offering for both issuers and underwriters. William Hughes leads the team from San Francisco/Silicon Valley. Former department head Christopher Austin has joined Paul Hastings LLP.
The team at
Orrick, Herrington & Sutcliffe LLP
has experience in regulatory investigations, regulatory permitting and compliance pertaining to FERC and PHMSA regulations, among others. New York-based
Lisa Tonery
is the key contact in this space. Of recent note, Tonery handled a number of complex regulatory proceedings relating to the Freeport Liquefaction Project—the first authorized LNG export facility in Texas.
Dahl Thompson
 acts as the global leader of energy and infrastructure practice. Erik Swenson retired at the beginning of 2020.
Orrick, Herrington & Sutcliffe LLP has maintained sponsor and investor-side client relationships despite the universal challenges of 2020, while also picking up some new big-names clients. As well as building stronger relationships with longstanding clients over the last year the practice has developed work representing sponsors in new types of funds. The firm has seen growth in its fund formation practice due to its strength in finance, tech and energy and infrastructure. The practice is an advisor on complex global matters and handles over 100 private investment funds annually. It specializes in deals with complex structures and heavily negotiated issues. The practice is led by global co-heads of private investment funds Quinn Moss (based in New York) and Dolph Hellman (based in San Francisco).
Focusing on the areas of biopharmaceuticals, healthcare technology and medical devices, Orrick, Herrington & Sutcliffe LLP is well known for its track-record as appellate counsel in mass tort and product liability litigation. The practice continues to expand its Boston-based healthcare venture capital and life sciences start-ups practice, bolstered by the recent addition of Albert Vanderlaan and New York-based Stephen Thau, who joined from Gunderson Dettmer LLP and Morrison & Foerster LLP, respectively. In Silicon Valley, Scott Iyama advises on the full life cycle of high-growth life sciences companies, assisted by Peter Lamb and senior associate Vinella Sido.
With Raniero D'Aversa at the helm, Orrick, Herrington & Sutcliffe LLP's New York-based team maintains a reputable track record in creditor and investor-side work, and also has a steadily growing debtor-side practice. Of recent note, the group's capabilities in the energy and technology sectors were put on show in its representation of the holders of a significant amount of corporate equity in connection with PG&E's bankruptcy case, as well as in its involvement in the bankruptcy of Windstream. Cross-border restructuring matters, especially those involving Canada, Europe and Hong Kong, are also an area of strength for the firm; Laura Metzger is one of the main contacts for this type of work. Douglas Mintz left for Schulte Roth & Zabel LLP in November 2020.
Orrick, Herrington & Sutcliffe LLP >
Firm Profile
Founded in San Francisco 150 years ago, Orrick is a leading global law firm with a particular focus on serving companies in the technology, energy, infrastructure and financial sectors. The firm is recognized worldwide for delivering the highest quality, commercially-oriented legal advice.
The firm: Recognized by Chambers Latin America, Chambers Global, Chambers USA and Latin Lawyer, the Orrick team includes lawyers who are fluent in Spanish and English, as well as Portuguese for transactions involving Brazil, and are admitted to practice in Latin American jurisdictions. The firm knows the region's civil law system, business practices, and regulatory and political landscapes, which allows it to add value for international clients seeking to grow their presence in Latin America. The team also works with lawyers across more than 25 Orrick offices worldwide to help Latin American clients pursue expansion strategies and obtain capital in the international markets.
Orrick guides clients through complex cross-border matters that are shaping the future of a region ripe for substantial international investment. These have included the acquisition of the Dominican Republic's largest airport company; the development of a US$1.3bn petrochemical facility in Mexico, including negotiating to close a first-of-its kind structure with Mexico's Comision Federal de Electricidad (CFE) to transport low-cost natural gas from the United States to the facility in Mexico; the structuring and launching of a US$200m Mexican investment fund, which will be the first ever agrotech-dedicated fund in Mexico; and the acquisition of nine airports and three partial management contracts, including co-control stakes in Costa Rica's two major airports.
The team has handled matters in every Latin American country and works in the region on a daily basis. Orrick has developed a strong network of contacts in the business and government sectors, connecting them with the key professionals in the region. As a result, the firm has long-standing collaborative relationships with top local law firms in Latin America that complement its strengths and reinforces the ability to counsel clients on the most complex international legal matters.
Areas of practice: M&A and private equity; corporate; power; renewables, oil and gas; infrastructure; project finance; corporate finance; real estate; restructuring; intellectual property; international trade, investigations and compliance; and technology.
Main Contacts
| Department | Name | Email | Telephone |
| --- | --- | --- | --- |
| Partners | Carlos Treistman E: ctreistman@orrick.com | | |
| Partners | Rodrigo Dominguez E: rdominguez@orrick.com | | |
Staff Figures
Other fee-earners : 25
Other
Partners : 30
Orrick, Herrington & Sutcliffe LLP >
Firm Profile
The firm: Orrick is focused on serving clients in the Technology and Innovation, Energy and Infrastructure, and Finance sectors globally. Founded more than 150 years ago, the firm today has 1,100 lawyers in offices across the U.S., Europe and Asia. The firm provides clients with innovative approaches to their most complex transactional, litigation and regulatory matters. Financial Times singled out Orrick as the "Most Innovative Law Firm in North America" in 2016, 2017 and 2018, and Fortune has named the firm among the "100 Best Companies to Work For" four years in a row.
Main areas of practice
Technology:
Advised on more than 860 venture capital financings valued at over US$14.6bn for companies based in 35 countries. We helped the following companies and their investors cross the billion-dollar mark to unicorn status: Asana, Convoy, DoorDash, Graphcore, HashiCorp, Lime, Monzo, PagerDuty, Revolut, Swiggy and Warby Parker. Additionally, Orrick helped companies with their strategic exits, advising on 30 sell-side M&A deals and seven initial public offerings, including the US$70m IPO for Twist Bioscience on Nasdaq.
Argued on behalf of Microsoft a historic data privacy case before the Supreme Court. U.S. v. Microsoft was a globally watched clash over the federal government's right to seize private emails stored in foreign countries. With the case pending, Congress enacted the CLOUD Act, which updated the Stored Communications Act in a way that addressed the concerns of Microsoft and the tech industry – and which was heavily influenced by Orrick's legal position throughout the litigation. The Supreme Court declared the case moot, but it was a clear victory for Microsoft, which strongly supported the legislation.
Scored back-to-back wins for Microsoft and Twitter in major gender discrimination cases. Orrick's Employment team persuaded two separate judges to reject bids for class certification of gender bias claims in less than two weeks. These cases were referred to as "the barometer for gender bias litigation in the tech industry."
Represented Oracle in the appeal, retrial on remand, and second appeal of the Oracle v. Google copyright trial – one of the most closely watched IP cases of the decade. The Federal Circuit unanimously found that Google's use of Java was not fair use as a matter of law. In overturning the jury verdict, the Federal Circuit reaffirmed important copyright protections for software developers and set the stage for a new trial to decide how much Google should pay to Oracle in damages for its unauthorized use of Java.
Advised Hedera Hashgraph on its US$82.5m Simple Agreement for Future Tokens (SAFT) round in August, totaling US$100m in SAFTs raised by the company in 2018. Hedera Hashgraph is the creator of a technology to overcome one of blockchain's major flaws: that it is either fast but unsecure, or secure but slow.
Secured a very successful resolution in the jury trial of Desktop Metal v. Markforged, one of the most significant litigations in the rapidly growing 3D printing industry. The case involved allegations of patent infringement, trade secret misappropriation, breach of contract, unfair trade practices and breach of fiduciary duty.
Energy and infrastructure:
Advised GE Energy Financial Services in a mezzanine debt financing of the 1,182 MW South Field combined-cycle, gas-fired power project in Columbiana County, Ohio. Equity and financing on the development stage project totaled US$1.3bn.
Advised Recurrent Energy, LLC in the sale of interests in five California solar photovoltaic projects. Pensionskassernes Administration acquired 49 percent interest in the Garland and Tranquility projects equivalent to 260 MWp. In a separate transaction, Korea Electric Power Corporation acquired interests in the Astoria (100 MWac/131 MWp), Astoria 2 (75 MWac/100 MWp) and Barren Ridge (60 MWac/78 MWp) projects.
Advised Clearway Renew LLC in the US$1.35bn acquisition of an approximately 4.7 GW development pipeline of utility-scale solar projects from SunPower, spanning 16 states.
Advised Equinor with Total in the acquisition of Cobalt International Energy L.P.'s 60 percent operating interest in the North Platte discovery in the U.S. Gulf of Mexico.
Represented Ocean Rig in the U.S. Court of Appeals for the Second Circuit against an attempt to overturn a New York bankruptcy court's order recognizing the company's Cayman Islands-based restructuring proceedings under chapter 15 of the Bankruptcy Code.
Advised Port Authority of NY & NJ in the redevelopment of the Hudson River underwater rail crossings and associated infrastructure (Gateway Project) currently in the preliminary stages of development and financing, including possible RRIF/TIFIA funding.
Financial services:
Secured a win for client TD Ameritrade Futures & Forex in a putative class action stemming from losses suffered by TD's customers – traders in futures options – in connection with extreme market volatility in early February 2018. A judge in the U.S. District Court for the South District of Florida ruled in our client's favor and denied the plaintiffs' motion to certify a class of over 200 customers. Another ruling dismissed all but one of the claims brought against TDAFF, including all claims asserted under the Commodity Exchange Act.
Secured a complete victory in the Ninth Circuit on behalf of the City of Stockton, California in an appeal from an order confirming the plan of adjustment in the City's chapter 9 bankruptcy case. The appellate win marked the latest important step in Stockton's emergence from novel bankruptcy proceedings, which Orrick's teams have guided for more than six years.
Helped bank group KBC secure a complete dismissal of a long-running US$1.5bn RICO lawsuit in the Southern District of New York. The plaintiff, diamond manufacturing and distribution company Lazare Kaplan International, alleged the theft of US$135m in diamonds from Lazare's Belgian and other foreign subsidiaries.
Advised on the first-ever restructuring of a U.S. territory and the largest U.S. municipal restructuring to date by serving as co-counsel to the COFINA Senior Bondholder's coalition in connection with its restructuring and its exchange issuance of approximately US$12bn in restructured bonds.
Advised on the first renewable natural gas project financing in the U.S. capital markets, a US$61.4m green bond issued by the Industrial Development Authority of the County of Pinal to finance one of the world's largest anaerobic digester facilities in Arizona.
Advised a leading real estate private equity firm on the US$1+ bn mixed-use redevelopment project for St. John's Terminal in Manhattan and on the revitalization of San Francisco's historic Pier 70.
Advising online lender Oportun in its funding strategies, including all of its consumer loan securitizations, warehouse facilities and whole loan sales, in addition to providing regulatory advice.
Advised the initial purchasers and placement agents on the Morongo Band of Mission Indians' US$147.5m bond offerings and US$227.5m note offering to fund portions of the construction for an expansion of the Morongo Casino Resort Spa in California.
Advised a leading Asset Management firm on upsizing a US$260m hybrid securitization backed by trade financing loans, finance leases and factored receivables originated or acquired in Latin America.
Staff Figures
U.S.A. : 903 Worldwide : 1,100+