Orrick, Herrington & Sutcliffe LLP > Hong Kong, Hong Kong > Firm Profile
Orrick, Herrington & Sutcliffe LLP
Offices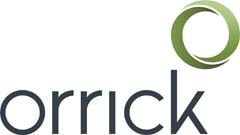 Orrick, Herrington & Sutcliffe LLP
43RD FLOOR, GLOUCESTER TOWER
THE LANDMARK, 15 QUEEN'S ROAD CENTRAL
HONG KONG
Hong Kong
Orrick, Herrington & Sutcliffe LLP >
Firm Profile
The Firm
Orrick is focused on serving clients in the technology and innovation, energy and infrastructure, and finance sectors globally. Founded more than 150 years ago, today the firm has 1,100+ lawyers focusing on key markets across the United States, Europe, Asia, and Africa. The firm provides clients with innovative approaches to their most complex transactional, litigation and regulatory matters. Financial Times singled out Orrick as the "Most Innovative Law Firm in North America" in 2016, 2017, and 2018, and Fortune has named the firm among the "100 Best Companies to Work For" four years in a row.
Main Areas of Practice
Technology:
Achieved a complete victory in the ITC 337 trade secret misappropriation case on behalf of Advanced Technology & Materials and four other Chinese respondents. The case was awarded "Disputes and Investigations Deal of the Year" by China Business Law Journal in 2019.
Advised JD.com, the largest retailer and e‑commerce company in China by revenue, on the US$1 billion+ Series A financing for its healthcare subsidiary, JD Health. Investors include CPEChina Fund, CICC Capital, and Baring Private Equity Asia.
Advised Japan-based e-commerce and internet company Rakuten on its participation in the US$284 million Series C preferred financing of Rakuten Medical, a U.S.-based clinical stage biotechnology company developing tumor-targeted precision therapies.
Advised Liquid.com on its first Series C funding led by IDG Capital and Bitmain Technologies. As the second unicorn startup company in Japan, Liquid Group is the first global cryptocurrency exchange licensed by the Japan Financial Services Agency.
Advised Estun Automation and China Renaissance Capital Investment on the acquisition of Carl Cloos Schweißtechnik GmbH, a German market leader in welding technology and robotics.
Advising a U.S.-based technology startup and its subsidiary in Japan in reaching a settlement of all outstanding disputes with its former founder-employee (and major shareholder), which involved litigation in both Delaware and Japan.
Advising a Japan-based medical device manufacturer on its internal investigation in Russia and the Netherlands concerning issues of corruption, bid rigging, commercial bribery, employment dispute, and fraud.
Energy & Infrastructure:
Advising Geo-Jade Petroleum Corporation, the largest private oil exploration and production company in China, in its joint venture and strategic cooperation relating to the exploration, construction, production, and refinement of natural gas facilities and pipelines in Kazakhstan.
Advised on the largest wind power-generation project covering a 12 km area along the coast of the Sea of Japan in Tsugaru City, Aomori Prefecture. When the project is completes in 2020, it will become Japan's largest wind power station, supplying Tohoku Electric Power with electricity that is equivalent to the annual power consumption of approximately 90,000 houses.
Advising a Japanese utility company in the development and construction of a new electric power generation project in one of the Pacific Islands, including all support facilities, on a build-operate-transfer basis, to provide electricity to GPA under a 25-year energy conversion agreement.
Advised Pattern Energy Group LP and Green Power Investments in the approximately US$325.5 million sale of 206 MW of owned capacity in Japanese wind and solar projects to Pattern Energy Group Inc.
Representing Chinese state-owned enterprises China Minmetals Corporation (metals and mineral trading company) and China Gezhouba Group (construction and engineering company) in a broad range of general corporate matters, including cross-border M&A, investments, joint ventures, restructurings and financing across China.
Successfully assisted China Institute of Atomic Energy in defending a product liability lawsuit filed in the United States.
Finance:
Representing China Resources Capital Management in the formation of the US$2 billion China Resources Healthcare Fund, L.P.
Representing one of the largest Asian government investors in its cross-border investments in multiple alternative investment funds since the commencement of its alternative investment program in 2008, with total investment commitments of over US$15.7 billion.
Advising on the formation of US$1 billion Macao QiXin One Belt One Road Investment Fund, a tri-party-funded private equity fund for investing in innovative companies with major business operating in the One Belt One Road Area.
Advising a Chinese state-owned investment fund on the investment in a KKR-led consortium to purchase Unilever's spreads business for US$8.1 billion.
Represented a Japanese real estate investment company using the funds of its Singapore parent company in their acquisition of a building in Tokyo with financing from a Japanese bank.
Advising a company providing real estate crowdfunding, brokerage, and consulting, in connection with the creation of a crowdfunding platform targeting United States real estate REITs.
Advising LexinFintech, a NASDAQ-listed online consumer finance platform in China, on its investments in the United States and Southeast Asia.
Staff Figures
Number of legal professionals in this country : 20+ worldwide : 1,100+
Languages
English Mandarin Cantonese Shanghainese Taiwanese Italian