Firm Profile > Orrick, Herrington & Sutcliffe LLP > Boston, United States
Orrick, Herrington & Sutcliffe LLP
Offices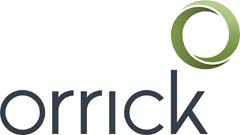 Orrick, Herrington & Sutcliffe LLP
500 BOYLSTON STREET
SUITE 1850
MA 02116-3740
United States
+1 617 880 1800
+1 617 880 1801
Profiles
Orrick, Herrington & Sutcliffe LLP > The Legal 500
Rankings
Orrick, Herrington & Sutcliffe LLP >
Firm Profile
Founded in San Francisco 150 years ago, Orrick is a leading global law firm with a particular focus on serving companies in the technology, energy, infrastructure and financial sectors. The firm is recognized worldwide for delivering the highest quality, commercially-oriented legal advice.
The firm: Recognized by Chambers Latin America, Chambers Global, Chambers USA and Latin Lawyer, the Orrick team includes lawyers who are fluent in Spanish and English, as well as Portuguese for transactions involving Brazil, and are admitted to practice in Latin American jurisdictions. The firm knows the region's civil law system, business practices, and regulatory and political landscapes, which allows it to add value for international clients seeking to grow their presence in Latin America. The team also works with lawyers across more than 25 Orrick offices worldwide to help Latin American clients pursue expansion strategies and obtain capital in the international markets.
Orrick guides clients through complex cross-border matters that are shaping the future of a region ripe for substantial international investment. These have included the acquisition of the Dominican Republic's largest airport company; the development of a US$1.3bn petrochemical facility in Mexico, including negotiating to close a first-of-its kind structure with Mexico's Comision Federal de Electricidad (CFE) to transport low-cost natural gas from the United States to the facility in Mexico; the structuring and launching of a US$200m Mexican investment fund, which will be the first ever agrotech-dedicated fund in Mexico; and the acquisition of nine airports and three partial management contracts, including co-control stakes in Costa Rica's two major airports.
The team has handled matters in every Latin American country and works in the region on a daily basis. Orrick has developed a strong network of contacts in the business and government sectors, connecting them with the key professionals in the region. As a result, the firm has long-standing collaborative relationships with top local law firms in Latin America that complement its strengths and reinforces the ability to counsel clients on the most complex international legal matters.
Areas of practice: M&A and private equity; corporate; power; renewables, oil and gas; infrastructure; project finance; corporate finance; real estate; restructuring; intellectual property; international trade, investigations and compliance; and technology.
Main Contacts
| Department | Name | Email | Telephone |
| --- | --- | --- | --- |
| Partners | Carlos Treistman E: ctreistman@orrick.com | | |
| Partners | Rodrigo Dominguez E: rdominguez@orrick.com | | |
Staff Figures
Other fee-earners : 25
Other
Partners : 30
Orrick, Herrington & Sutcliffe LLP >
Firm Profile
The firm: Orrick is focused on serving clients in the Technology and Innovation, Energy and Infrastructure, and Finance sectors globally. Founded more than 150 years ago, the firm today has 1,100 lawyers in offices across the U.S., Europe and Asia. The firm provides clients with innovative approaches to their most complex transactional, litigation and regulatory matters. Financial Times singled out Orrick as the "Most Innovative Law Firm in North America" in 2016, 2017 and 2018, and Fortune has named the firm among the "100 Best Companies to Work For" four years in a row.
Main areas of practice
Technology:
Advised on more than 860 venture capital financings valued at over US$14.6bn for companies based in 35 countries. We helped the following companies and their investors cross the billion-dollar mark to unicorn status: Asana, Convoy, DoorDash, Graphcore, HashiCorp, Lime, Monzo, PagerDuty, Revolut, Swiggy and Warby Parker. Additionally, Orrick helped companies with their strategic exits, advising on 30 sell-side M&A deals and seven initial public offerings, including the US$70m IPO for Twist Bioscience on Nasdaq.
Argued on behalf of Microsoft a historic data privacy case before the Supreme Court. U.S. v. Microsoft was a globally watched clash over the federal government's right to seize private emails stored in foreign countries. With the case pending, Congress enacted the CLOUD Act, which updated the Stored Communications Act in a way that addressed the concerns of Microsoft and the tech industry – and which was heavily influenced by Orrick's legal position throughout the litigation. The Supreme Court declared the case moot, but it was a clear victory for Microsoft, which strongly supported the legislation.
Scored back-to-back wins for Microsoft and Twitter in major gender discrimination cases. Orrick's Employment team persuaded two separate judges to reject bids for class certification of gender bias claims in less than two weeks. These cases were referred to as "the barometer for gender bias litigation in the tech industry."
Represented Oracle in the appeal, retrial on remand, and second appeal of the Oracle v. Google copyright trial – one of the most closely watched IP cases of the decade. The Federal Circuit unanimously found that Google's use of Java was not fair use as a matter of law. In overturning the jury verdict, the Federal Circuit reaffirmed important copyright protections for software developers and set the stage for a new trial to decide how much Google should pay to Oracle in damages for its unauthorized use of Java.
Advised Hedera Hashgraph on its US$82.5m Simple Agreement for Future Tokens (SAFT) round in August, totaling US$100m in SAFTs raised by the company in 2018. Hedera Hashgraph is the creator of a technology to overcome one of blockchain's major flaws: that it is either fast but unsecure, or secure but slow.
Secured a very successful resolution in the jury trial of Desktop Metal v. Markforged, one of the most significant litigations in the rapidly growing 3D printing industry. The case involved allegations of patent infringement, trade secret misappropriation, breach of contract, unfair trade practices and breach of fiduciary duty.
Energy and infrastructure:
Advised GE Energy Financial Services in a mezzanine debt financing of the 1,182 MW South Field combined-cycle, gas-fired power project in Columbiana County, Ohio. Equity and financing on the development stage project totaled US$1.3bn.
Advised Recurrent Energy, LLC in the sale of interests in five California solar photovoltaic projects. Pensionskassernes Administration acquired 49 percent interest in the Garland and Tranquility projects equivalent to 260 MWp. In a separate transaction, Korea Electric Power Corporation acquired interests in the Astoria (100 MWac/131 MWp), Astoria 2 (75 MWac/100 MWp) and Barren Ridge (60 MWac/78 MWp) projects.
Advised Clearway Renew LLC in the US$1.35bn acquisition of an approximately 4.7 GW development pipeline of utility-scale solar projects from SunPower, spanning 16 states.
Advised Equinor with Total in the acquisition of Cobalt International Energy L.P.'s 60 percent operating interest in the North Platte discovery in the U.S. Gulf of Mexico.
Represented Ocean Rig in the U.S. Court of Appeals for the Second Circuit against an attempt to overturn a New York bankruptcy court's order recognizing the company's Cayman Islands-based restructuring proceedings under chapter 15 of the Bankruptcy Code.
Advised Port Authority of NY & NJ in the redevelopment of the Hudson River underwater rail crossings and associated infrastructure (Gateway Project) currently in the preliminary stages of development and financing, including possible RRIF/TIFIA funding.
Financial services:
Secured a win for client TD Ameritrade Futures & Forex in a putative class action stemming from losses suffered by TD's customers – traders in futures options – in connection with extreme market volatility in early February 2018. A judge in the U.S. District Court for the South District of Florida ruled in our client's favor and denied the plaintiffs' motion to certify a class of over 200 customers. Another ruling dismissed all but one of the claims brought against TDAFF, including all claims asserted under the Commodity Exchange Act.
Secured a complete victory in the Ninth Circuit on behalf of the City of Stockton, California in an appeal from an order confirming the plan of adjustment in the City's chapter 9 bankruptcy case. The appellate win marked the latest important step in Stockton's emergence from novel bankruptcy proceedings, which Orrick's teams have guided for more than six years.
Helped bank group KBC secure a complete dismissal of a long-running US$1.5bn RICO lawsuit in the Southern District of New York. The plaintiff, diamond manufacturing and distribution company Lazare Kaplan International, alleged the theft of US$135m in diamonds from Lazare's Belgian and other foreign subsidiaries.
Advised on the first-ever restructuring of a U.S. territory and the largest U.S. municipal restructuring to date by serving as co-counsel to the COFINA Senior Bondholder's coalition in connection with its restructuring and its exchange issuance of approximately US$12bn in restructured bonds.
Advised on the first renewable natural gas project financing in the U.S. capital markets, a US$61.4m green bond issued by the Industrial Development Authority of the County of Pinal to finance one of the world's largest anaerobic digester facilities in Arizona.
Advised a leading real estate private equity firm on the US$1+ bn mixed-use redevelopment project for St. John's Terminal in Manhattan and on the revitalization of San Francisco's historic Pier 70.
Advising online lender Oportun in its funding strategies, including all of its consumer loan securitizations, warehouse facilities and whole loan sales, in addition to providing regulatory advice.
Advised the initial purchasers and placement agents on the Morongo Band of Mission Indians' US$147.5m bond offerings and US$227.5m note offering to fund portions of the construction for an expansion of the Morongo Casino Resort Spa in California.
Advised a leading Asset Management firm on upsizing a US$260m hybrid securitization backed by trade financing loans, finance leases and factored receivables originated or acquired in Latin America.
Staff Figures
U.S.A. : 903 Worldwide : 1,100+
Top Tier Firm Rankings
Firm Rankings