Firm Profile > Nixon Peabody LLP > Boston, United States
Nixon Peabody LLP
Offices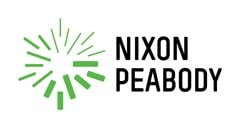 Nixon Peabody LLP
Exchange Place, 53 State Street
Boston, MA 02109-2835
United States
Nixon Peabody LLP > The Legal 500
Rankings
Nixon Peabody LLP >
Firm Profile
Nixon Peabody sees the law as a tool to help shape the future for its clients and communities. Its lawyers navigate clients through today's exciting and challenging times, foresee obstacles, and ensure they are equipped with winning legal strategies. The firm is driven by a forward-thinking culture with a comprehensive understanding of its clients and their industries.
Working together, Nixon Peabody's more than 600 attorneys across 17 offices handle complex challenges in litigation, real estate, corporate law, intellectual property, finance, and more, anywhere in the world.
Connecting businesses, regulators, funders and leaders, Nixon Peabody offers clients strategic partnership in addition to skilled legal counsel.
The firm: Nixon Peabody traces its roots back to the 1800s when Peabody & Brown formed in Boston, MA, and Nixon, Hargrave, Devans & Doyle LLP opened in Rochester, NY. The Boston and Rochester firms combined in 1999, forming Nixon Peabody LLP. Since then, the firm has expanded its national and international service capabilities by making several strategic acquisitions.
In 2015 – a significant year in the firm's history – Nixon Peabody acquired Chicago-based firm Ungaretti & Harris, adding 100 attorneys and expanding its nationwide depth in corporate, healthcare, real estate, litigation, public finance, intellectual property and government relations. The following year, the firm opened an office in Singapore.
Most recently, Nixon Peabody opened an office in Raleigh, NC, giving the firm a new presence in the southeastern US.
Main areas of practice
Litigation and dispute resolution: national, co-national and regional counsel represent clients in federal and state courts, the US Supreme Court and US Courts of Appeals.
Real estate: assisting clients nationally with financing, restructuring and workouts, acquisitions, dispositions, leasing and development, financing, foreign investment, joint ventures and land use.
Business and finance: a growing group of corporate lawyers collaborating across multiple disciplines and geographies on financing municipal and infrastructure projects, M&A, IPOs, financing structures, long-term tax planning and business strategies.
Intellectual property: lawyers with strong technical backgrounds and insightful industry-specific business knowledge that strategically manage patent portfolios, advise fashion and entertainment clients on trends impacting brands, and vigorously defend IP rights.
Public finance: one of the most active US public finance practices provides innovative counsel to clients in public works and infrastructure, including P3.
Main Contacts
| Department | Name | Email | Telephone |
| --- | --- | --- | --- |
| Corporate and finance | Stephen D Zubiago | | |
| Public finance and infrastructure | Kenneth C Lind | | |
| Tax credit finance and syndication | Gregory N Doran | | |
| Healthcare | Michael J Taubin | | |
| Intellectual property | Jeffrey L Costellia | | |
| Intellectual property | Jason C Kravitz | | |
| Labor and employment | David Rosenthal | | |
| Labor and employment | Brian V Alcala | | |
| Litigation | Scott O'Connell | | |
| Litigation | Joseph J Ortego | | |
| Private clients, estate, trust and financial planning | Evelyn V Moreno | | |
| Real estate and community development | Michael J Goldman | | |
| Affordable housing | Stephen J Wallace | | |
| Bankruptcy and financial restructuring | Victor P Milione | | |
| Data privacy and cybersecurity | Jason P Gonzalez | | |
| Energy | Scott M Turner | | |
| Life sciences | Jill H Gordon | | |
| Life sciences | Seth D Levy | | |
| Franchise | Kendal H Tyre | | |
| Franchise | Keri A McWilliams | | |
| M&A/corporate transactions | David A Martland | | |
| M&A/corporate transactions | Christopher P Keefe | | |
| M&A/corporate transactions | Brian E Krob | | |
| Government investigations and white-collar defense | David A Vicinanzo | | |
| Private equity and investment funds | Philip B Taub | | |
| Private equity and investment funds | David A Martland | | |
| Food, beverage and agribusiness | David A Martland | | |
| Food, beverage and agribusiness | Janet M Garetto | | |
| Food, beverage and agribusiness | Vivian M Quinn | | |
Staff Figures
Number of Partners : 316 Number of Other Fee-Earners : 322 Total Staff : 828
Other
Senior Partners : Michael J Goldman Senior Partners : Scott O'Connell Senior Partners : Stephen D Zubiago Other Offices : Albany Other Offices : Buffalo Other Offices : Chicago Other Offices : Hong Kong Other Offices : London Other Offices : Long Island Other Offices : Los Angeles Other Offices : Manchester Other Offices : New York Other Offices : Providence Other Offices : Raleigh Other Offices : Rochester Other Offices : San Francisco Other Offices : Shanghai Other Offices : Singapore Other Offices : Washington, DC
Top Tier Firm Rankings
Firm Rankings