Firm Profile > Nixon Peabody LLP > Washington DC, United States
Nixon Peabody LLP
Offices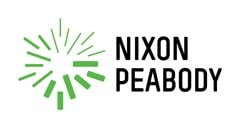 Nixon Peabody LLP
799 9th Street NW, Suite 500
Washington, DC 20001-5327
United States
Nixon Peabody LLP > The Legal 500
Rankings
Nixon Peabody LLP
 is valued by clients for being able to '
balance legal risk assessment with strategic goals'
and for the ability of the team to collaborate. It employs proprietary tools to provide its clients with transparency on budgeting and real-time monitoring of the progress of their cases. Alternative fee and project management programs are especially geared to mid-market clients.
Lori Green
 in Rochester and
Christopher Keefe
 in Boston head the group which has an impressive range of domestic and international clients from industries as diverse as consumer products (food and beverages in particular), technology and energy. Its expertise encompasses all aspects of corporate and M&A work and includes public-to-public and private-to-public mergers and acquisitions, joint ventures, and compliance with securities law. Some of the highly rated attorneys in the group include Chicago-based
Brian Krob
 who has a wealth of experience advising corporates, private equity and not-for-profit clients in the healthcare and tech sectors. 
David Martland
 (Boston) is known for handling complex international deals, and also in Boston, the '
exceptional
' 
Gregory O'Shaughnessy
 acts for private equity, growth equity, and venture capital investors. Washington DC-based
John Partigan
 chairs the firm's nationwide securities practice and is noted in particular for his work in the media industry which includes capital markets advice.
Andrew Share
 in Manchester is also noted, especially for technology-related deals.
Practice head(s):
Christopher Keefe; Lori Green
Other key lawyers:
David Martland; John Partigan; Brian Krob; Greg O'Shaughnessy; Andrew Share; Philip Taub
Testimonials
'We have been with our main contact for years. He follows up on everything anyone does for us. '
'Available 24/7. Have helped from personal issues, kid issues to all business issues. '
'I think the key to Nixon's success is the way the attorneys collaborate. No matter what the situation there is someone who has seen something similar before. The ability to draw from so many experiences – sets Nixon's team apart.'
'I feel like the attorneys that I work with make you feel like your family.'
'Phil Taub and Andrew Share are great lawyers and even better people. '
'To prepare myself for the sale of my business I recognized that the first step was to understand the process and have a strong team assembled. After interviewing several firms I selected Greg O'Shaughnessy of Nixon Peabody. He had the knowledge experience and personality I was looking for and I was impressed with his support staff. The major factors for my decision was the process he proposed and his knowledge of the due diligence process. Greg and his team was there for every step I took and participated in every discussion.'
'Atty O'Shaughnessy was always focused on the best way to get me the best deal possible and advised that the best deal is not always the highest sell price. Also they provided me at the beginning an estimate of the legal costs that would be involved and updated me if there was any change so there would be no surprises. The billing was always concise and billed timely with no surprises. Atty O'Shaughnessy and his Associates were exceptional and I do not hesitate to recommend their legal services.'
'They understand the needs of the business and balance legal risk assessment with strategic goals. Very practical and actionable advice is a hallmark of the firm.'
'Andrew Share is our go-to partner. He understands the needs of in-house counsel and the pressures we face. He does an incredible job of assessing our legal requirements while also taking business needs into account. He makes my job manageable in a very small in-house legal department with limited resources. Having the assistance of Andrew is like having another four lawyers on my staff. He is that good.'
'The team have shown a quick understanding of our businesses, and what is important to us.'
'I have thoroughly enjoyed working with Alexandra Lopez-Cassero, who managed to explain complicated regulatory topics in a calm way, while keeping an eye out for pragmatic solutions. Brian Krobb is also worth a mention: responsive and always helpful in getting us across the finishing line of an M&A Project.'
'Incredibly responsive and VERY easy to work with'
'The Nixon Peabody team that works on our matters made the time investment necessary to truly understand the different sectors of our business and the associated unique legal considerations. They know our business, they know us, they know our concerns and preferences, and that makes them more than an outside law firm, it makes them a valued partner. Partner Tyler Savage and Associate Kat Murphy provide stand-out service and expertise. '
'What is unique is their capacity to answer any question in all domains but also to always take into account the needs of the business in assessing the risks.'
'I work with John Partigan. Not only is John always available but it is really appreciated that as a partner he is the one to deal with all our issues so that he has a global view of our problematics. He has got a perfect understanding of our business and has a very wide expertise. '
'The Nixon team, especially Brian Krob, are true partners for us. They are responsive, balanced and thoughtful in their approach. We also feel that our in-house teams (both legal and business) learn and grow from working with Brian. In practice areas that are new to us, working with Brian and his team enables our in-house team's professional development.'
'Brian Krob is a great lawyer and true teacher. His ability to break down complex legal matters for our business teams and even in-house counsel coming into new practice areas is tremendously valuable for us as a business. The communication is always clear, effectively breaking down issues, educating in-house legal and business but then always offering clear advice.'
Routinely acting as national litigation counsel for aviation manufacturers, Nixon Peabody LLP is sought out for advice in National Transportation Safety Board (NTSB), FAA and foreign accident investigations. It also assists manufacturing, aviation and other transportation clients with regulatory matters and with establishing risk-management and product integrity procedures. New York-based practice head Joseph Ortego handles aviation industry-related litigation, regulatory, and compliance issues. Deputy aviation leader Brian Dalrymple in San Francisco, rated for 'his sharp technical skills and great human touch', has over 30 years' experience in representing corporations, airlines, type certificate holders, parts manufacturer approval holders, drone manufacturers and airports.
Practice head(s):
Joseph Ortego; Brian Dalrymple
Other key lawyers:
Vivian Quinn; Thomas Mealiffe; Tracey Scarpello; Erik Goergen; Domenico Perrella
Testimonials
'Brian Dalrymple is rated both for his sharp technical skills and great human touch.'
Key clients
Daher-Socata
Airbus
Airbus Helicopters
Avions de Transport Regional
AXA
MGM, Inc.
Several lawyers in the  'extremely client-oriented' team at Nixon Peabody LLP have a science background, which they can draw on when representing clients in the food and beverage and pharmaceuitcal industries, among others. The firm handles exposure cases and is at the forefront of more recent trends surrounding fire retardant chemicals. At the head of the practice are recognized trial lawyer Joseph Ortego in New York and Buffalo-based Vivian Quinn, who is adept at creating early risk assessment models. The trial bench in Chicago was strengthened by the addition of Jonathan Lively from Segal McCambridge Singer & Mahoney, Ltd. in February 2020.
Practice head(s):
Joseph Ortego; Vivian Quinn
Other key lawyers:
Scott O'Connell; John Weinholtz; Tracey Scarpello; Santo Borruso
Testimonials
'This team is extremely client-oriented, very business-savvy and excellent at developing and maintaining relationships. They just have a very good sense of how their corporate clients operate and what it means to support and work with them to resolve legal challenges. They work with us to get us where we need to go.'
'Santo Borruso. Santo is a terrific lawyer and a real collaborator and thought partner. He is knowledgeable, thorough and responsive, providing reliable advice that addresses problems and drives solutions. Santo quickly and efficiently corrals the substantive legal issues and, as important, recognizes the business context in which they have emerged '
Key clients
PestSure
Daimler Trucks North America LLC
Cummins
Brookhaven National Laboratories
With expertise in IP issues, labor and employment work, business litigation and government investigations, Nixon Peabody LLP is well placed to advise on a range of trade secrets matters. The firm has a track record in claims under the federal Defend Trade Secrets Act, the Uniform Trade Secrets Act, the Computer Fraud and Abuse Act, the Economic Espionage Act, and other state and federal statutes. In addition, the practice provides pre-litigation preventative trade secret protection services, as well as handling reviews and revisions of existing company policies. Boston-based Matthew McLaughlin acts in trade secrets disputes in state and federal courts and co-leads the team with Lisa Sullivan in Chicago, who focuses on commercial disputes, including trade secret, patent infringement and antitrust claims.
Practice head(s):
Matthew McLaughlin; Lisa Sullivan
Other key lawyers:
Robert Weikert; Shawn Hansen; Vernon Johnson; John Ruskusky; Scott O'Connell
Key clients
250ok, Inc.
Lifetouch National School Studios
ClimaCell Inc
Nixon Peabody LLP's construction and real estate team handles a broad range of work, with strengths in both disputes and transactional matters. An example of the firm's range of support was its recent advice to Toray Plastics, a highlight in which Providence-based practice co-head Jeffrey Brenner handled the negotiation of construction contracts for projects in Virginia and Rhode Island, and also represented the company in a dispute with a contractor. Trial and litigation attorney Vernon Johnson III co-heads the team from the Washington DC office, where Anthony Barron is another key contact, acting for owners and contractors in contract negotiations, project counseling and dispute resolution.
Practice head(s):
Jeffrey Brenner; Vernon Johnson III
Key clients
Marathon Construction
The Board of Trustees of the California State University
Biosar USA LLC
Toray Plastics (America), Inc.
Rivian Automotive
L3 Capital
Galleron Properties LLC
RA Nelson & Associates
Lawrence Berkeley National Laboratory
96-108 Pine Street LLC
Nixon Peabody LLP
is recognized in this space for its experience in managing corporate partnerships and its familiarity with government programs and emerging payment programs. New York-based practice head
Peter Egan
leads the team's transactional work, with particular experience of private equity deals and the sale of licensed facilities. Chicago-based
Thomas Fahey
also comes recommended for his work on strategic transactions. The team is active across a variety of market segments, including digital health, behavioral health, long-term care and clinical research.
Other key lawyers:
Thomas Fahey; Jill Gordon; Michele Masucci; Valerie Montague
Key clients
Providence St. Joseph Health
University of California Board of Regents
University of Southern California
Kaiser Foundation Health Plan
Torrance Health Association
Gold Coast Health Plan
Emanate Health
Chinese Hospital
Pacific Dental Services
AMITA Health
Cook County Health and Hospitals System
OSF HealthCare Little Company of Mary Medical Center.
Erie Family Health Center
Oroville Hospital, Inc.
Ann & Robert H. Lurie Children's Hospital of Chicago
Swedish Covenant Health
Children's Surgical Foundation, Inc.
Presence Health
Trinity Health
Nixon Peabody LLP >
Firm Profile
At Nixon Peabody, we deliver sophisticated legal services to our clients and our communities by combining high performance, entrepreneurial spirit, deep engagement, and an unwavering commitment to a culture of collaboration, diversity, and humanity.
Main areas of practice
Litigation and dispute resolution: National, co-national, and regional counsel represent clients in federal and state courts, the US Supreme Court and US Courts of Appeals.
Health care: A cross-disciplinary team experienced in health care delivery, corporate organization, government programs, emerging payment programs, managed care models, and a vast array of other cutting-edge issues impacting health care clients.
Public finance: One of the most active US public finance practices, providing innovative counsel to clients in public works and infrastructure, including P3.
Real estate: A dynamic team assists clients nationally with financing, restructuring and workouts, acquisitions, dispositions, leasing and development, financing, foreign investment, joint ventures, and land use.
Business and finance: A growing group of corporate lawyers collaborating across multiple disciplines and geographies on financing municipal and infrastructure projects, M&A, IPOs, financing structures, long-term tax planning, and business strategies.
Intellectual property: Lawyers with strong technical backgrounds and insightful industry-specific business knowledge that strategically manage patent portfolios, advise fashion and entertainment clients on trends impacting brands, and vigorously defend IP rights.
Main Contacts
| Department | Name | Email | Telephone |
| --- | --- | --- | --- |
| CEO and Managing Partner | Stephen D Zubiago | | |
| Chief Operating Officer | Lauri Walker | | |
| Department Head, Litigation | Anthony Barron | | |
| Department Head, Project Finance, Infrastructure & Real Estate | Michael J Goldman | | |
| Department Head, Business & Finance | Christopher P Keefe | | |
| Chief Talent Officer | Stacie B Collier | | |
| Director of Diversity and Inclusion | Rekha Chiruvolu | | |
| Management Committee, Strategic Impact Partner | Jill H Gordon | | |
| Management Committee, Strategic Impact Partner | Gregory N Doran | | |
Staff Figures
Number of Partners : 286 Number of Other Fee-Earners : 275 Total Staff : 664
Top Tier Firm Rankings
Firm Rankings