Firm Profile > McKinney, Bancroft & Hughes > Nassau, Bahamas
McKinney, Bancroft & Hughes
Offices
McKinney, Bancroft & Hughes
MAREVA HOUSE, 4 GEORGE STREET
PO BOX N-3937
NASSAU, BAHAMAS
Bahamas
McKinney, Bancroft & Hughes > The Legal 500
Rankings
McKinney, Bancroft & Hughes
is highly focused on transactions and litigation involving large corporations, trusts and ultra-high-net-worth individuals. The firm fields corporate and commercial law experts, who regularly assist with the establishment and management of business entities, corporate structuring issues, trusts, estate and tax planning, and liaising with government regulators. In the real estate sector, the practice assists with complex transactions including detailed title searches and government approvals for travel, leisure, and development companies, as well as acting for international and local investors on major commercial, residential and hotel projects in the Bahamas. The litigation team handles commercial and trust disputes, insolvency and restructuring matters that are frequently cross-border and involve financial services issues, private client matters, IP claims, corporate disputes and other business-related matters.
John Wilson QC
serves as chair of the trusts and private client, and litigation and dispute resolution groups, and 
Sean Moree
 is vice chair of the trusts and private client team. Other key names include transactional specialist
Kimberley Rolle
,
Beatrice Miranda
, who heads up the tax and trade practice group, and 
Timothy Eneas
, who is a conveyancing and litigation specialist. Consultant
Campbell Cleare III
is highly regarded for complex and high-value investments and developments in the Bahamas, and
April Turner
 is chief operations officer of MB&H Corporate Services, an affiliate of the law firm that provides corporate and financial services.
Kevin Moree
 and
Alexander Christie
 were recently promoted to the partnership. Brian Moree QC and Diane Stewart departed to become Chief Justice and Justice of the Supreme Court of the Bahamas, respectively.
Key clients
Butterfield Trust
Citibank N A Bahamas
EFG Bank Bahamas
FirstCaribbean International Bank (Bahamas)
Leeward Yacht Club
Lyford Holdings
Mitsubishi Logistics
Pineapple Grove
Pineapple House Investments
RAV Bahamas
Terralaw
Treasures Bahamas
McKinney, Bancroft & Hughes >
Firm Profile
FIRM OVERVIEW
McKinney, Bancroft & Hughes is one of the largest and oldest firms in The Bahamas
McKINNEY, BANCROFT & HUGHES is one of the largest and oldest firms in The Bahamas and conducts an extensive international and domestic practice from its offices in the cities of Nassau and Freeport. Established in 1945, the Firm's philosophy of delivering superior levels of service by industry specialists was established by its founding partners, Donald McKinney, Sir Oswald Bancroft and Sir Leonard Knowles. Dr. Colin A. Hughes joined the partnership in 1947 following the departure of Sir Leonard Knowles and the Firm was restyled McKinney, Bancroft & Hughes.
Since its inception McKinney, Bancroft & Hughes has grown from a small practice of three attorneys with a support staff of three to a team of over thirty attorneys with a support staff of more than one hundred.  Originally housed in a single office in the Boyle Building, downtown Nassau, in 1990 the firm moved to offices located on George Street in the heart of Nassau. McKinney, Bancroft & Hughes also has offices at Lyford Cay in Western New Providence and in Freeport, the nation's second city, on the Island of Grand Bahama.
Each client of the firm is the responsibility of an individual lawyer, through whom the collective expertise and resources of the firm become available. While each client's work is handled on a personal basis, the high degree of interchange of information and cooperation between individual attorneys ensures that the client's work is effectively supervised and guided within the firm to the appropriate areas of expertise.
The Firm is The Bahamas member of Lex Mundi, a Global Association of over 160 Independent Law Firms that represent over 60 countries. High professional standards of performance and quality representation are the main membership selection criteria. Through the effective and efficient professional association of Lex Mundi, the Firm is able to respond to requirements for legal services throughout the markets of the world and virtually every country.
Founded principally as a corporate and commercial firm, today McKinney, Bancroft & Hughes is engaged in the general practice of law and services its clientele through the expertise of its attorneys in over 35 practice areas.
Languages
English Cantonese French German Spanish
Memberships
Lex Mundi IFLR The Legal 500 Society of Trust & Estate Practitioners (STEP)
Interviews
John F. Wilson, Senior Partner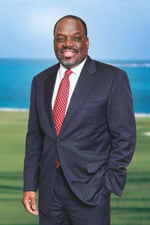 What do you see as the main points that differentiate McKinney, Bancroft & Hughes (MBH) from your competitors?
– Responsiveness. All of our lawyers are under strict directives to respond to every client email within 24 hours. We can say we have excellent attorneys, while we believe our attorneys are the best in the Bahamas, other firms also have excellent attorneys, but it is our responsiveness that sets us apart from our competitors.
– A culture of efficiency. MBH has provided world class legal solutions since its formation in 1945, we continue to do so aided by our Association with Lex Mundi the leading network of independent law firms.
Which practises do you see growing in the next 12 months? What are the drivers behind that?
Tax & Trade and Trust and Private Client practice groups.
Tax & Trade
The introduction of value added tax in The Bahamas has resulted in a paradigm shift in how The Bahamian government raises revenue and this has resulted in an entirely new practice area. There is a significant amount of work to be done in assisting clients to navigate the new landscape.
Trust and Private Client
With the recent changes in how international financial centres operate, ushered in by the initiatives implemented by various multinational bodies, a generous amount of work is being created in dealing with issues such as registers of beneficial ownership, legislative substance requirements and base erosion and profit sharing legislation. Ultra High Net Worth individuals will now need lawyers adept at navigating this landscape.
What's the main change you've made in the firm that will benefit clients?
MBH recently re-launched its website which widens our outreach to clients and offers a better opportunity to manage market ideals while making more information available to our client base. By providing a more user-friendly platform we have leveraged this medium to better inform clients and meet their needs.
Is technology changing the way you interact with your clients, and the services you can provide them?
Absolutely, it provides us with the opportunity for connective thinking. As a firm we have certainly embraced technological advances to transform our service platform in a way that makes for better interaction with clients, and we have also capitalized on the way in which technology has improved productivity.
Our firm operates on a bank of connected databases and we have always utilized technology to grow and maintain the links of service between our several offices in Nassau New Providence, Freeport Grand Bahama and in Lyford Cay. This day-to-day use of technology has also proved useful in providing efficiency to clients we serve in various time zones and markets. MBH has recently taken advantage of practice management and knowledge management software, keeping our practitioners accountable and significantly improving productivity. However, the most impactful and rewarding enhancement to client interaction which we have seen is with the use of social media to transform our customer relationship management.
Can you give us a practical example of how you helped a client add value to their business?
This is certainly a forte of our strong team in the Trusts and Private Client practice comprising of diverse legal backgrounds and years of experience in complex commercial litigation and wealth management advice. A ready example of our innovative solutions-based service to clients can be found in our service to a longstanding family owned group of entities which include the largest local retailers in the pharmaceutical business and manufacturers/wholesalers of home improvement supplies and construction materials, with a combined net worth of $150 million. The recent restructuring of this group of entities for tax efficiency and wealth management purposes prepared the group for, and optimized its value in the wake of, the implementation of a new tax regime in The Bahamas.
Are clients looking for stability and strategic direction from their law firms? – where do you see the firm in three years' time?
Yes I certainly believe so. Recent transitions at MBH have proved that stability and strategic direction is imperative for most clients. We have always provided long-standing contributions to the legal profession. As one of the oldest law firms in the Bahamas having been established in 1945, our founding Partners and many of our practitioners who have led the profession at the Bar, have gone on to make stellar contributions to the Judiciary. This has meant that MBH has had to maintain client confidence in the stability provided by experienced and competent legal minds by offering premium efficiency and excellence with innovative and strategic thinking. The ability to manage client's expectations while delivering quality service, will position the firm over the next 3 years to smoothly transition while appealing to a younger more demanding client demographic.
Top Tier Firm Rankings
Firm Rankings