Firm Profile > Finnegan, Henderson, Farabow, Garrett & Dunner LLP > Washington DC , United States
Finnegan, Henderson, Farabow, Garrett & Dunner LLP
Offices

Finnegan, Henderson, Farabow, Garrett & Dunner LLP
901 NEW YORK AVENUE, NW
WASHINGTON, DC 20001-4413
United States
Finnegan, Henderson, Farabow, Garrett & Dunner LLP > The Legal 500
Rankings
Finnegan, Henderson, Farabow, Garrett & Dunner LLP >
Firm Profile
Finnegan, Henderson, Farabow, Garrett & Dunner, LLP is essentially a GP of IP, a true full-service IP firm with experts in every area of IP and every technology. A comprehensive approach to clients' IP needs and Finnegan's mega-boutique size underpin its year-to-year, decade-to-decade pre-eminence in IP litigation across all industries and tribunals. From offices in the United States, Asia and Europe, Finnegan continues to be one of the world's largest firms focusing on intellectual property law, practicing all aspects of patent, trademark, copyright and trade secret law, representing clients on IP issues relating to US and European patent and trademark law, international trade, portfolio management, the internet, cybersecurity, e-commerce, government contracts, antitrust and unfair competition. Finnegan offers full-service IP legal and technical experience in virtually every industry and technology: biotechnology, pharmaceuticals, biologics and biosimilars, combination products, chemicals, oil and gas, electronics, semiconductors, computers and software, fintech, internet of things (IoT), automotive, aerospace and aviation, industrial manufacturing, consumer products, outdoor recreation, sports and fitness, digital health, medical devices, clean energy and renewables, robotics, textiles, and 3D printing. More than 300 of Finnegan's legal professionals hold degrees in scientific disciplines (65+ hold PhDs), more than 225 are registered to practice before the US Patent and Trademark Office (USPTO), and more than 30 are former USPTO patent examiners.
Surveys conducted by legal and business publications consistently rank Finnegan as one of the leading intellectual property law practices in the world. The firm is consistently ranked in the United States for contentious and prosecution trademark and patent work by publications including Managing Intellectual Property, Intellectual Asset Management, World Trademark Review, and The Legal 500, which has ranked Finnegan as a top-tier firm in nearly every significant IP category since 2009. The publications cite the firm's winning record, technical expertise and deep bench of talent in all aspects of IP litigation, including trials, appeals and proceedings at the US Patent and Trademark Office and US International Trade Commission investigations.
Finnegan's clients include: Ajinomoto, AstraZeneca, Biogen, Bridgestone Firestone, Caterpillar, Eli Lilly and Company, Ferring BV, FedEx Corp., FIS, LG Electronics, Nestlé, Oath, Otsuka Pharmaceuticals, Philips Electronics, Sony Corp., Toshiba Corp., Toyota Motor Corp., and Under Armour.
Main areas of practice: Finnegan's attorneys focus on US and European intellectual property law, including patent prosecution; patent opinions and counseling; PTAB trials and patent office proceedings, including inter partes review, post-grant review, reexaminations, reissues, interferences, and derivation; patent transactions, including due diligence licensing, and patent monetization; patent litigation; trademark prosecution and counseling; trademark litigation; trade secrets; and copyrights.
Main Contacts
| Department | Name | Email | Telephone |
| --- | --- | --- | --- |
| Patent litigation: pre-trial strategy, trials, appeals, abbreviated new drug application (ANDA), ITC section 337 proceedings, arbitration and other ADR | | | |
| Patent office trials: inter partes review, post-grant review, covered business method patents, interferences, derivations, appeals of PTAB trial decisions | | | |
| Patent office examinations: prosecution, re-examinations, reissue proceedings, appeals to the PTAB | | | |
| Patent portfolio management, monetization, and transactions: antitrust and misuse; due diligence; licensing, pooling, and other transactions; opinions and counseling; patent mining and mapping; portfolio management | | | |
| European IP practice: patent prosecution, patent oppositions, appeals, EPO third party observations, central limitation and revocation, supplementary protection certificates, United Kingdom patent practice, trademarks, designs, the Unitary Patent system and the Unified Patent Court | | | |
| Design patents | | | |
| Trademark: counseling and prosecution, litigation, TTAB litigation, domain name litigation and UDRPS, false advertising, counterfeiting/gray market goods | | | |
| Trade secrets | | | |
| Copyright | | | |
| Export control | | | |
Other
Managing Partner : Mark D Sweet Chair : James B Monroe Other Offices : London Other Offices : Seoul Other Offices : Shanghai Other Offices : Taipei Other Offices : Tokyo
Trusted Advisor: The Power of Collaboration
Trusted Advisor. Working as a business partner with your clients
In this video and print segment, IP specialist Finnegan detail how their collaborative approach makes for a unique culture which is designed to allow them to work with clients in a way which is cognizant of the challenges facing all companies today.
Managing Partner Mark Sweet and Chairman, James Monroe, discuss with Catherine McGregor, Publishing Director, The Legal 500 (In – House) and GC Magazine topics such as how to avoid silos, creating a distinct culture, collaboration for and with clients and what is the key lesson a client has taught them.
Culture and Collaboration
Lawyers as business advisors
Diversity and Inclusion
Our story
At Finnegan, diversity and inclusion are core values that we live every day in thought, approach, and solutions. In fact, they are so much a part of our culture, we are consistently ranked as one of the nation's top law firms for overall diversity.
Finnegan traces its roots to 1965, when Marc Finnegan and Doug Henderson established an intellectual property law firm designed to serve the growing needs of national and international clients. Finnegan hallmarks are many, but the one that defines us most clearly is that we focus on the practice of intellectual property law. This means over 90 percent of our attorney recruits possess some sort of science or engineering background. Of Finnegan's nearly 300 professionals possessing a science or engineering degree, more than 60 have a doctorate in a technical field. Workplace statistics show that women, black, and Hispanic professionals continue to be underrepresented in the Science, Technology Engineering, and Math (STEM) workforce. Despite what others might perceive to be daunting U.S. workplace and talent pool statistics, Finnegan has worked creatively and aggressively to excel in recruiting, developing, and promoting extraordinary and diverse professionals within its ranks. The results speak for themselves: 66 percent of the incoming summer 2019 class members are diverse. Our professionals are multilingual and multicultural, and they work with clients in real time around the world. Our professionals hail from locations ranging from Romania to Mississippi to Colombia to Taiwan to Niger. For more than 50 years, we have maintained a keen pride in our ability to hire, retain, and promote some of the best and most diverse IP law talent in the world.
Finnegan Innovation
These healthy statistics don't happen in a vacuum. The firm works diligently and creatively to hone existing programs and develop new ones, ensuring that when it makes promotional decisions, our attorneys and administrative professionals are given a competitive edge.
For example, our firm has a robust training curriculum (L.E.A.P.: Learn, Enrich, Achieve, Progress), designed to support the continued growth and development of attorneys at all levels. Finnegan believes that training and ongoing education are essential to developing the best attorneys and advocates for our clients. With multiple training and education components, L.E.A.P. is designed to enhance the firm's existing training and mentoring activities throughout the year. This highly-ranked program (#8 in Formal Training, Vault 2018) arms our team with the tools and resources necessary to practice law in an ever-evolving legal and business market.
The L.E.A.P. calendar includes the following programs: litigation training, advanced legal writing, advanced patent prosecution, practice before the Patent Trial and Appeal Board (PTAB), advanced technical and legal research, business development training and individualized coaching, billing and timekeeping, budget development, accounting for lawyers, persuasive speaking, law firm economics, presentation skills, leadership, management, and delegation.
For those new to patent prosecution, Finnegan offers a prosecution bootcamp to introduce our newest professionals to the practice. The bootcamp is supplemented by bi-monthly prosecution roundtables, in which Finnegan experts discuss developments in the law and how it impacts our day-to-day prosecution practice.
Persuasive, precise, and compelling writing is something we strive for at Finnegan. Our writing trainers hone the legal writing skills of our attorneys through classroom teaching and one-on-one writing consultations. Sample classroom topics include brief writing, writing as an advocate, advanced legal writing, and writing as a non-native English speaker.
Every other year, our top litigators teach an in-house litigation skills series, taking a litigation matter from its inception (how to develop case strategy with your client) to its conclusion (how to write and argue appellate briefs). These classroom programs are supplemented with experiential learning workshops, including topics about effective deposition strategies, how to interact with experts, and how to conduct cross- and direct-examination of witnesses. The capstone litigation experience occurs with our senior associates, who can participate in the University of Virginia Trial College, including a mock trial from start to finish, learning from the best trial attorneys in the country.
Senior associates seeking to improve their practices and attract clients are offered a comprehensive business-development training and coaching program. The six-month program includes a preliminary assessment, group training sessions, individual coaching sessions, and related business development and marketing activities.
Finnegan was one of the first firms in the country to implement a comprehensive new partner training and coaching program. As part of this year-long program, new partners are paired with a share partner advisor, whose charge is to meet regularly with the new partner to discuss workload and business and career development, and to serve as a sounding board and advocate as the new partner progresses to equity partner consideration. The training curriculum includes topics such as: Leadership Development (new partners learn the fundamental tenets of leadership during immersion and capstone training programs and are paired with a leadership/executive coach who works with the new partner one-on-one for a year); Budgets and Finances (including Color Accounting, designed to assist new partners in understanding the business imperatives and finances of firm clients); Advanced Pitch Workshops (new partners emulate the role of the pitching attorneys, and share partner advisors play the role of the client, all under the tutelage of our communications expert/coach); How to Prepare Your Compensation Memo (designed to give new partners up-to-date and transparent information as to how best to present her/himself to the Compensation Committee for compensation and elevation purposes); and a roundtable with members of the management committee, share partner advisors, and practice group leaders (designed to arm new partners with best practices for navigating the nuances of partnership).
Diversity and inclusion training includes topics such as The Diversity Wheel (two parts) and Overcoming Bias as a Leader. The firm's compensation, management, and review partner committees took part in a recent day-long experiential workshop on how to avoid implicit bias in talent management. Finnegan was proud to implement its first ever six-part Women's' Leadership Series for female attorneys and female managers/leaders. Our Women's Forum serves the internal educational and networking needs of our women attorneys.
Finnegan's women partners recently launched Finnegan FORWARD: Focused on Raising Women's Advancement, Representation, and Development. Finnegan FORWARD has three main objectives: (1) establish business initiatives for women attorneys; (2) increase internal and external networks for women attorneys; and (3) provide career advancement and business development training programs tailored specifically to women.
As expected, Finnegan FORWARD is demonstrating the best of the firm's collaborative culture—many women are volunteering to lead various sub-initiatives and joining together to find solutions to address systemic barriers. We have hosted business development training; a women's leadership forum featuring a roundtable discussion and follow-up article; networking breakfasts, dinners, and receptions for women in IP; community outreach programs for elementary school children and victims of sexual violence; in addition to sponsorship of women's conferences globally.
Our Finnegan FORWARD efforts advance the firm's ultimate goals for our women attorneys: raising external profiles, building and expanding networks, and securing profitable work. Finnegan also actively participates in several external initiatives targeting retention, professional and business development, and promotion of our women, minorities, and lesbian, gay, bisexual, transgender, and queer (LGBTQ) colleagues, including Charting Your Own Course (CYOC) and the Leadership Council on Legal Diversity (LCLD) Fellow and Pathfinder external development programs for minority attorneys.
In 2018, the firm joined the Mansfield Rule 2.0, becoming one of 65 law firms nationwide participating in this program modeled after the Rooney Rule, which calls for increased diversity in the National Football League's coaching ranks.
As a Mansfield Rule adopter, we are expected to consider a diverse slate of candidates for purposes of recruitment, promotion, and leadership, to include:
Equity Partner Promotions
Lateral Partner and Mid/Senior Level Associate Searches
Practice Group & Office Head Leadership
Executive Committee and/or Board of Directors
Partner Promotions/Nominations Committee
Compensation Committee
Chairperson and/or Managing Partner
Results matter. Thirty-eight percent of our equity partners are women or attorneys of color; 56 percent of our non-equity partners are women or attorneys of color; women and/or attorneys of color make up 60 percent of firm's partnership nominating committee (conducting partnership admission/elevation due diligence/recommendations); more than 40 percent of our management and compensation committees are comprised of women and attorneys of color; and one-third of our practice groups/sections are chaired by women or attorneys of color. Two of our offices are led by female managing partners.
Finnegan's management committee recently approved an alternate/off-track associate program, recognizing the need to offer a variety of career paths for attorneys who possess invaluable skill sets, but who may not wish to pursue partnership at a particular point in their professional or personal lives. More than 20 years ago, the firm established two part-time options (80 percent and 60 percent time), which, regardless of gender or parenthood status, provide attorneys with a continued path to partnership while working a reduced schedule.
Finnegan Recruitment
It takes a special kind of lawyer to work at Finnegan. Not only do our lawyers have law degrees, but all our patent lawyers have scientific or technical degrees. The firm's success and growth are proof of the benefits of a collaborative culture that supports a range of initiatives to attract diverse talent. The Finnegan Diversity Scholarship, established in 2003, awards $15,000 per year for tuition and law school fees, as well as an offer to join the firm's summer associate program. Over $400,000 has been awarded to student applicants since the inception of the scholarship.
Results matter. Typically, more than half of our summer associate programs are comprised of women and minority students. In fact, the incoming 2019 summer class is 66 percent diverse—women, of color, and/or LGBTQ students. In 2018, over 70 percent of our summer class members were diverse.
Finnegan Collaboration
Finnegan proudly participates in the Leadership Council on Legal Diversity (LCLD), hosting Fellows and Pathfinders for the past several years. We have formed relationships with many associations and educational institutions committed to developing minority and women lawyers. Our attorneys participate in and support these organizations by teaching, serving leadership roles, and co-sponsoring IP-related events focused on diverse audiences. Finnegan has a strong history of supporting diversity and women in the legal and IP profession. The firm is active in the AIPLA Diversity Committee and the Women in IP Law group. We have been a major sponsor of the annual Women in IP Law dinner since 2008, and for years we have sponsored the AIPLA Diversity Reception.
Howard University Law School has honored Finnegan for its contributions to the university's Institute of Intellectual Property and Social Justice, which the firm has proudly supported since its beginning. For fifteen years, our attorneys have taught an advanced patent law and social engineering course. In 2003, the firm began its collaboration with Howard University Law School to present a one-day Intellectual Property Law Seminar that continues to expand each year in number of attendees and lecturers.
Finnegan is an annual supporter of the Hispanic National Bar Association Intellectual Property Law Institute (IPLI), which addresses underrepresentation of Hispanics in IP law. The initiative immerses Latinx law students with key members of the federal judiciary and administrative agencies, legal scholars, and attorneys in IP and tech law.
Our relationship with the Asian American bar is a strong one, regularly sponsoring or supporting a wide range of bar and community events. Finnegan is a long-standing sponsor of the National Asian Pacific American Bar Association (NAPABA) Annual Convention. Finnegan attorneys have held high-level positions, including president of NAPABA; member of the NAPABA board; and president of affiliate APABA of the Greater Washington, D.C. Area. In addition, we are a regular sponsor of the APABA Education Fund (AEF) annual scholarship dinner.
A truly diverse environment is one in which everyone is a teacher—and a learner. This philosophy is the basis of the mentorship program at Finnegan. All our new lawyers are paired with a senior associate and a partner advisor who share similar interests and backgrounds. Our collegial nature ensures that doors are always open, and questions—no matter the nature—are always answered.
Finnegan Professional Staff
Progress related to diversity and inclusion is not limited to associates and partners, which can often be the focus in many law firms. Finnegan is equally proud of its diversity among support staff and management and its support of career advancement and promotions for staff.
For example, of the 74 staff manager employees in 2018:
45 were promoted/had career paths (60.8%)

of the 45 promoted, 34 were women (75.6%)
of the 34 women promoted, 13 were people of color (38.2%)
12 out of 13 litigation case managers were promoted (92.3%);

of the 12 promoted, 7 were women (58.3%)
of the 7 women promoted, 3 were people of color (42.9%)
4 out of 6 supervisors were promoted (66.7%)

of the 6 promoted, 2 were women (33.3%)
of the 2 women promoted, 1 was a person of color (50.0%)
21 out of 35 managers were promoted (60.0%)

of the 21 promoted, 19 were women (90.5%)
of the 19 women promoted, 10 were people of color (52.6%)
5 out of 14 director-level corporate executives were promoted (35.7%)

of the 5 promoted, 5 were women (100.0%)
3 out of 6 chief-level corporate executives were promoted (50%)

of the 3 promoted, 2 were women (66.67%)
Occasionally, we let others speak for us
In the Vault Guide's 2019 survey of the leading law firms for women, minorities, and overall diversity, Finnegan ranks in the top 10 in each of these categories. The American Lawyer similarly includes the firm in the top 25 in its 2018 survey of the leading 100 U.S. law firms for overall diversity, and in 2019, we earned a perfect score of 100 percent on the Human Rights Campaign Foundation's Corporate Equality Index (CEI), a national benchmarking survey and report on corporate policies and practices related to LGBTQ workplace equality. We are particularly pleased to be identified by Working Mother magazine as a top 100 company for working mothers for the last six years. Only four law firms in 2018 received this distinguished recognition.
Much has transpired since the firm's founding in 1965. What has not changed, however, is the firm's laser focus on being the best IP law firm in the world; we are a firm populated, managed, and led by diverse attorneys and professionals at every level. This is what our clients expect, and what we will continue to demand of ourselves.
| | | | | | | | | | | | | | | | | |
| --- | --- | --- | --- | --- | --- | --- | --- | --- | --- | --- | --- | --- | --- | --- | --- | --- |
| Firm has a written diversity strategy that has been communicated to all Firm attorneys. | Firm gives billable credit for work that is directly related to diversity efforts (but is not pro bono work). | Firm ties a component of partner compensation to diversity efforts. | Firm has a diversity committee that includes senior partners and that reports to the Firm's highest governing body. | Firm has a full or part-time diversity professional who performs diversity-related tasks. | Firm has affinity or employee resource groups for its women and diverse attorneys, which meet at least quarterly. | Firm has a succession plan that specifically emphasizes greater inclusion of women and diverse lawyers. | Firm mandates and monitors that minority and women attorneys have equal access to clients, quality work assignments, committee appointments, marketing efforts and Firm events. | Firm requires inclusion of at least one diverse candidate in all hiring decisions. | Firm policy specifically prohibits discrimination based on sexual orientation, gender identity and gender expression. | Firm provides opportunity for attorneys to voluntarily disclose their sexual orientation or gender identity and expression through Firm data collection procedures. | Firm policy specifically provides for paid maternity leave.  | Firm policy specifically provides for paid paternity leave.  | Firm has a formal, written part-time policy that permits partners to be part-time.  | Firm has a flex-time policy. | Firm provides for or mandates diversity training for all lawyers and staff. | Firm has a supplier diversity program. |
| T | | T | T | T | T | | | | T | T | T | T | T | T | T | |
Trusted Advisor: Women in Leadership
Trusted Advisor. Working as a business partner with your clients.
In a cross-platform collaboration between GC magazine and leading IP law firm Finnegan, key partners and senior in-house clients explore the challenges for women in assuming leadership roles in the legal profession. Through a series of videos and an extensive editorial, informed by a full-day summit held in Washington DC, the collaboration gleans an insight into just what it means to be a leader and the strategies employed by those who have made it to the top of the legal profession, as well as what can be done to foster an environment which both recognises and develops the potential of future leaders.
Fostering the Development of Future Female Leaders
Unique Challenges
Barriers for Women
Interviews
Adriana Burgy, Partner
What do you see as the main points that differentiate Finnegan from your competitors?
Experience, depth of practice, efficiency, quality, and value are all services everyone sells, and our competitors aptly describe themselves as able to provide all those types of legal services. Having those qualities does not set you apart from the crowd.
Finnegan leads the intellectual property legal market because all we do is intellectual property law; every day, all day, and everyone. Our attorneys speak our clients' language, our attorneys have worked in our clients' industries, our attorneys hold advanced degrees in all the major sciences, and our attorneys are experts in their respective fields. But most of all, we invest in our attorneys. That investment comes in the form of training, mentoring, continuing education, and our firm resources. Our attorneys are as passionate as our clients are about their new inventions/technological advancements. This is what sets Finnegan ahead of its competitors; every day, all day, and everyone.
Which practices do you see growing in the next 12 months? What are the drivers behind that?
It all starts with the innovation. But how do you protect that invention? By obtaining a patent. And how do you obtain a patent? Patent prosecution. Today, innovation is alive and well in the world, which means those areas growing include all things intellectual property and particularly, obtaining and protecting patents. From a patent prosecution perspective, where you are looking to protect your innovation, areas to watch include how the courts and the U.S. Patent and Trademark Office (USPTO) continue to tackle subject matter eligibility. The USPTO also continues to roll out a number of programs geared toward its quality initiatives and pilot programs, and we will continue to see the effects of the American Invents Act, e.g., developing and implementing prosecution strategies with an eye towards insulating granted patents from post-grant proceedings.
Intellectual property continues to be an area that clients look to build and/or solidify their edge in the marketplace. Finnegan services all aspects of intellectual property, including all aspects of patent, trademark, copyright, and trade secret law, including counseling, prosecution, licensing, and litigation. We also represent clients on IP issues related to international trade, portfolio management, the Internet, e-commerce, government contracts, antitrust, and unfair competition. In the next 12 months, we will continue to see growth in all of these different aspects of intellectual property as long as companies continue to innovate, compete, and grow.
What's the main change you've made in the firm that will benefit clients?
Our clients innovate in their technology space, and so do we. We took a 360-degree look at the way we handle patent prosecution at the firm; we innovated our docketing systems, updated the administrative aspects of patent prosecution, and modernized the internal resources available to those that are involved in patent prosecution. What does this mean for clients? It means our attorneys' focus remains on the legal, technical, and strategic aspects of patent prosecution, while at the same time meeting the administrative demands of clients today. We offer big-firm resources with a small-firm feel.
Is technology changing the way you interact with your clients, and the services you can provide them?
While technology continues to change the way we interact with our clients, as well as the services that we provide them, it is just one part of the picture. From an administrative perspective, technology gives us the ability to manipulate large amounts of data, instantaneously forward court and agency communications to our clients, keep in constant communication with our clients, and provide various platforms to demonstrate our skill set. But technology cannot be a substitute for a personal call or face-to-face meeting. As technology revolutionizes the way we conduct business, the bedrock of our firm remains the relationships between our clients and our attorneys. Technology merely serves as a facilitator or a tool in building or growing that relationship.
Can you give us a practical example of how you have helped a client to add value to their business?
Adding value to a client's business is one of the best ways to stand out and to really become partners with clients in today's competitive legal landscape. That is one of our goals at Finnegan, i.e., to become a trusted partner to our clients that can marry their legal and business objectives. For example, as a patent prosecutor, it is not only my job to draft and obtain robust protection for my clients' inventions, but also to think strategically to position my clients favorably in the competitive landscape and for any future challenges (including post-grant proceedings) once a product comes to market. Recently, we were able to obtain patent coverage for an invention that was stuck in prosecution for many years. In view of that patent coverage, our client was able to negotiate a favorable licensing position with one of its competitors.
Are clients looking for stability and strategic direction from their law firms – where do you see the firm in three years time?
Clients come in all different shapes and sizes; their needs are just as diverse. But, stability and strategic direction are two characteristics that may unite all of our clients in what they look for from Finnnegan. In the next three years, Finnegan will continue to have the flexibility to pivot with our clients. Finnegan has and continues to be the world's leading intellectual property firm. To maintain that position, we will continue to speak our clients' languages by becoming an integral member of their team that helps them to obtain their business goals through their intellectual property assets.
Interviews
Mike Jakes, Partner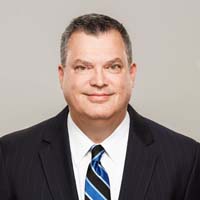 What do you see as the main points that differentiate Finnegan from your competitors?
Finnegan is one of the few firms of its size that focuses on intellectual property law. With more than 350 IP professionals, we have the capacity and depth of experience to hit the ground running with virtually any technology or legal issue. But we didn't get to be one of the world's largest IP law firms by just growing our lawyer ranks and adding offices. We got there by truly believing in our clients while protecting, advocating, and leveraging their ideas.
Our culture is based on a simple concept—that all clients are clients of the firm. While this seems logical, the fact is that in many law firms, a client is the property of an originating partner. Since Finnegan's founding in 1965 by good friends Marc Finnegan and Doug Henderson, the decision was deliberately made that every lawyer in their growing firm should have the same interest in serving a client as any other. And so it has always been at Finnegan that every client's needs are the concern of every attorney and member of our staff.
Which practices do you see growing in the next 12 months? What are the drivers behind that?
Post-grant review in the U.S. Patent and Trademark Office has greatly changed the landscape of patent law in the United States, and we expect that it will continue to be a significant and growing part of our practice. Finnegan has already represented clients—petitioners and patent owners—in nearly 700 proceedings before the Patent Trial and Appeal Board (PTAB) since 2012. The U.S. Supreme Court, in Oil States Energy Services v. Greene's Energy Group, just rejected a challenge under the U.S. Constitution to inter partes review of issued patents so those proceedings are here to stay. They will continue to be important as the validity of patents is often decided in PTAB trials rather than the courts.
Biologics and biosimilars will also be an increasing practice area for Finnegan. The main driver is the Biologics Price Competition and Innovation Act (BPCIA), which opened the door for companies to seek FDA approval to manufacture and sell biosimilar or interchangeable versions of brand name biological products. Finnegan advises clients on virtually every intellectual property issue related to this complex and evolving area of branded biologics and biosimilars, including patent prosecution, due diligence investigations, portfolio management, and litigation.
Practice before the U.S. International Trade Commission (ITC) has also rebounded in a big way. After a downturn in the number of investigations at the ITC, that has turned around completely in the last two years. Beyond the cases involving electronics, such as the "smartphone" wars a few years ago, these investigations have involved technologies such as medical devices and biotech. For example, Finnegan recently represented Ajinomoto in a rare biotech investigation involving patents related to genetically modified organisms to make commercial quantities of tryptophan. The ITC found Ajinomoto's patents valid and infringed and issued limited exclusion and cease-and-desist orders barring the respondents from importing infringing products into the United States. With injunctions still hard to obtain in the district courts, patent owners are turning back to the ITC to protect their IP.
What's the main change you've made in the firm that will benefit clients?
Our clients' businesses and IP assets are global. To meet this challenge, Finnegan has offices in the key global markets of London, Seoul, Shanghai, Taipei, and Tokyo. This expansion has been gradual, but the change to a truly international IP firm gives us the resources and experience to formulate and execute global strategies for our clients. Our professionals are multilingual and multicultural, and they work with clients in real time around the clock and around the world. Our clients obviously benefit when we can provide them with a single coordinated strategy to protect their global IP.
Is technology changing the way you interact with your clients, and the services you can provide them?
As a firm focused on technology, Finnegan itself has always taken advantage of new technology to better serve our clients. Although we take much of it for granted today, the advances in communication have greatly improved the way we can interact with clients in real time. The proliferation of electronic documents has made litigation more costly, not less, and we're constantly looking for ways to use technology to reduce costs while delivering the same results. We have applications that give clients access to the latest developments in the law in a focused and timely way. These are just a few of the ways that technology has changed our practice. Our clients come to us to protect their cutting-edge technology, and we need to have the best tools to do that.
But because we understand technology so well, we also know that it is only a means, not an end. We can have the best technology in the legal business (and we do), but it's still no substitute for the investment in our people. Technology greatly improves the delivery of legal advice and services, but it's still the knowledge and advice that matters!
Can you give us a practical example of how you have helped a client to add value to their business?
Finnegan adds value to our clients' business by protecting their intellectual assets. As a full-service IP firm, we have the ability to protect these assets in creative ways, using patents, designs, trademarks, copyrights, trade secrets, and other techniques. We can license these assets for monetary value, or when necessary, litigate to protect them. A recent high-profile example where we did just that was a temporary restraining order we obtained for Patagonia against jackets bearing a replication of Patagonia's mountain-peak logo.
Protecting these intellectual assets is increasingly challenging, however, as the law is constantly changing. We don't just keep up with the rapid changes in the law though—we set the pace. For example, after the America Invents Act in 2012, Finnegan was one of the first firms to file a covered business method review petition at the PTAB, the first to argue at an oral hearing before the Board, and the first to win a trial before the PTAB.
Are clients looking for stability and strategic direction from their law firms – where do you see the firm in three year's time?
Clients certainly look for stability and strategic direction from their law firms. In a topsy-turvy legal market, Finnegan has been remarkably stable. This is largely due to our focus on intellectual property law—we don't chase after every hot new practice area or need to dump unfashionable practice groups. But with our depth of IP experience and technical expertise, we're able to stay in front and lead the development of the law, such as we have with the PTAB trial practice. Our clients benefit because we can provide the strategic direction to protect their IP assets as the law develops and not just react to changes after they happen. Because of our solid foundation, Finnegan will continue to lead in the global protection of IP.
Interviews
Danny Awdeh, Partner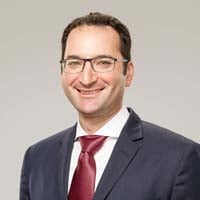 What do you see as the main points that differentiate Finnegan from your competitors?
At Finnegan, we liken ourselves to the GP of IP firms. Since the firm was founded more than fifty years ago, we have grown to approximately 350 legal professionals 100% dedicated to, and focused on, IP. We have a wealth of experience in virtually every technology area and IP subject matter—backed by a collaborative work environment and enthusiasm for IP inherent in our firm's philosophy and culture.
I was struck by Finnegan's unique culture when I interviewed with the firm for an entry level associate position. Whether an opinion, complex prosecution matter, licensing deal, litigation, or new technology, Finnegan attorneys take advantage of the firm's collective expertise and resources. Our clients are firm clients and, as such, we work together as a firm to bring value to their businesses and legal objectives. This was true the day I interviewed and remains central to our practice today.
Finnegan also stands out for our IP infrastructure, which was built to suit our IP-only focus and collaborative approach. Our platforms are uniquely designed to accommodate the particularities of patent and trademark matters and to drive quality and efficiency across our service offerings.
Which practices do you see growing in the next 12 months? What are the drivers behind that?
I practice in the areas of trademark and false advertising. Over the next 12 months, I expect we will see continued advancements in blockchain technologies. This technology could have significant applications in the trademark context through the empowerment of consumers and brand owners to better authenticate genuine products and avoid/combat counterfeits. We have numerous experts within the firm involved in the advancements of this technology.
We've seen growth in the protection of nontraditional marks in the form of product designs and packaging. I expect this area to continue to grow over the next twelve months as brand owners look beyond traditional marks to stand out from their competitors.
I also see potential growth in false advertising. In the era of "fake news" and "alternative facts," and in view of recent commitments by social media platforms and others to take a more active role in protecting the public from false information, I expect we will see growth in false advertising claims and lawsuits.
What's the main change you've made in the firm that will benefit clients?
In addition to remaining committed to maintaining and fostering a collaborative work environment, we've continued to bolster our firm's efficiencies and flexibility in meeting client needs. We are constantly looking for ways to take advantage of new technologies to enhance our client service and manage costs.
Is technology changing the way you interact with your clients, and the services you can provide them?
Technology has had a significant role in client accessibility, managing work, and driving efficiency. Through our various platforms, clients have 24/7 access to not only the latest developments in their IP portfolios, but advances/changes in the laws most relevant to their businesses. Our firm's new website, for example, was designed as a tool for clients to follow the latest trends in their areas of interest and participate in our firm's ongoing educational programing.
On the trademark side, our platforms provide the real-time status of a client's marks throughout the world along with documents and other evidence that can be readily accessed for use in corporate matters or contentious proceedings. Our clients have valuable information and documents at their fingertips, enabling them to meet internal needs immediately at any time without contacting our firm or incurring any expense.
We've also grown our trademark practice over the years to meet the growing challenges facing our clients. We have an attorney dedicated solely to domain name and Internet trademark issues, trademark attorneys specialized in China-specific infringements, a team of in-house investigators versed in complex investigations, and other tools to meet the demands of today's evolving marketplace.
Can you give us a practical example of how you have helped a client to add value to their business?
A significant part of my practice involves international trademark portfolio management. I view this as an important role towards supporting client business opportunities, and approach portfolio management with this primary objective in mind. By strategically building portfolios tailored to existing and future business objectives, our clients have successfully entered valuable markets without interruption, obtained quick relief (both injunctive and monetary) against infringements/counterfeits threatening their businesses, and taken advantage of licensing opportunities and trademark sales that may not have otherwise been available.
We've also helped clients add value through our subject matter expertise. Whether it is an industry where I have significant experience (such as hospitality, food, sports, banking, automotive, etc.) or an area where one of my colleagues stands out, we pool our resources and work collaboratively to find a solution. For example, one of our trademark clients recently came to me with an urgent and complex software issue with significant business implications. The issue required someone deeply educated in the subject who could speak directly with the client's software engineers. Fortunately, I was able to turn to my patent colleagues with computer science backgrounds and coding expertise who were eager to help. They were a seamless addition to the team, jumping in to provide invaluable support to our client under urgent circumstances.
Are clients looking for stability and strategic direction from their law firms – where do you see the firm in three year's time?
Our firm's culture has been central to our stability over the past fifty years and will remain integral to the firm's philosophy and approach well into the future. I also see our continued development of technical expertise and adoption of technological advancements over the next three years as playing an important role in our commitment to providing high-quality legal services efficiently and custom tailored to our clients' needs.
Interviews
Doug Rettew, Partner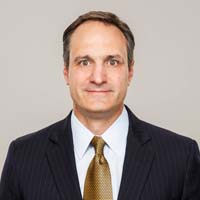 What do you see as the main points that differentiate Finnegan from your competitors?
While some firms have a few trademark specialists, we have a deep bench of lawyers who focus exclusively in trademark law—day in and day out. As a result, we are able to handle the enforcement and litigation for entire portfolios of numerous world-famous brands. And we know the ins and outs of trademark litigation. Having taken important cases through trial and appeals in courts around the country, we boast a broad range of experience with preliminary injunctions and temporary restraining orders, experts to use (and avoid), how to construct and attack confusion and other consumer surveys, and whether cases are best tried before a judge or jury. We also pride ourselves on providing timely, practical, business-centered counsel. We are sensitive to how litigation strategies and goals should be used to achieve our clients' business objectives.
Which practices do you see growing in the next 12 months? What are the drivers behind that?
First, the latest Trademark Trial and Appeal Board (TTAB) rule changes, which streamlined the admission of direct testimony (among other things), should result in TTAB cases going further. International clients in particular should be more willing to go the distance in these cases, as the new rules eliminate the need for them to come to the United States for a live testimony deposition or submit testimony through written questions (a cumbersome and time-consuming process).
Second, the Apple/Samsung cellphone wars have increased clients' awareness of the power of design patents and trade-dress rights. We have seen an uptick in the number of clients seeking to protect and enforce their product packaging and product configuration trade dress, and we expect that trend to continue through 2018.
Third, the ever-expanding generic top-level domains (gTLDs) and use of social media has increased enforcement/litigation based on or involving domain names and online infringements.
Fourth, with the improving economy, companies seem more willing and able to protect and enforce their brands in the courts and at the TTAB. This has been particularly true with respect to enforcement actions against counterfeiters, where courts are willing to grant ex parte asset restraints and clients can obtain significant monetary judgments.
What's the main change you've made in the firm that will benefit clients?
Over the past year, we've made a number of changes that will significantly benefit our clients. With clients' increased need for predictable budgeting, we have added in-house resources to allow us to better track, predict, and report on expense levels. We are very experienced in working closely with clients' in-house legal teams to learn the ins and outs of their billing cycle, and adjust our billing policies to ensure our systems are as streamlined as possible. Recognizing the importance of remaining flexible to our clients' needs when it comes to pricing, our former Director of Financial Services transitioned to Director of Pricing to oversee alternative fee arrangements and we've added experienced analysts to this important group.
Additionally, recognizing our clients' expanding enforcement needs in China, we have hired a native-speaking attorney skilled in the strategic challenges of enforcing marks in Asia to assist our client teams.
We have also continued to expand our expertise in the online arena. We have one lawyer dedicated exclusively to domain name issues and a group of people who closely monitor trends and issues arising from the ever-increasing use of social media as an advertising tool and communication medium.
Is technology changing the way you interact with your clients, and the services you can provide them?
Definitely. When we meet with potential clients, Finnegan's extranet capability is often cited as a key factor in their decision to add us to their team. We routinely provide our clients with personalized extranet sites that offer 24/7 access to their portfolios, dockets, case documents, and enforcement databases. Each extranet is designed by our in-house programmers, and is customized for each client—in order to accommodate specific needs that can vary based upon portfolio size, enforcement history, and other factors. Here at Finnegan, we've also adapted our methods of communication and information gathering to evolve with technology. We've modified the format of our opinions, investigations, and reporting letters to accommodate trends in the legal marketplace.
Can you give us a practical example of how you have helped a client to add value to their business?
Value in litigation often comes through victory. For example, a district court awarded more than $168 million in damages to Finnegan client LG Electronics MobileComm USA in a counterfeiting case against nearly 20 companies accused of producing and selling counterfeit and knock-off LG headsets. LG's TONE Bluetooth headsets are the product category leader, having created the neckband Bluetooth headsets product space with its highly unique and distinctive looking design. To protect unsuspecting consumers who may unknowingly buy what they think is the latest LG TONE Bluetooth stereo headset, LG sued numerous U.S. and foreign companies selling counterfeit versions of the product online. Finnegan obtained a temporary restraining order (TRO) against the named counterfeiters enjoining them from manufacturing, distributing, and selling knock-offs of the popular headsets. As part of the TRO and subsequent preliminary injunction order, the court granted LG's request to freeze the defendants' financial accounts in order to preserve LG's ability to collect any final monetary judgment.
Although the Lanham Act gives courts broad discretion in determining the amount of statutory damages—allowing damages of anywhere from $200,000-$2,000,000 per mark if the counterfeiting is found to be willful—the court decided to award the statutory maximum of $2,000,000 per mark "given the strength and recognition of the LG brand in electronics." The court noted the number of defendants, which underscored "the serious counterfeiting problem LG faces." Once the final judgment issued, LG recovered ill-gotten proceeds previously frozen by the court, and seized additional assets.
We also helped Under Armour prevail against a company that had registered "ASS ARMOUR" for a padded, protective snowboarding short. The defendant approached Under Armor to settle after opening arguments at trial, after which the court signed and entered a consent judgment providing that Under Armour's UNDER ARMOUR, ARMOUR, and ARMOUR-formative marks are famous, and that defendant's use of ASS ARMOR is infringing. A fame finding was significant for the brand because it greatly broadens the scope of protection afforded the mark (effectively increasing the types of marks and uses that can be considered infringing) and, significantly, opens the door to dilution protection, which can be used to enjoin noncompetitive uses that are not necessarily likely to cause confusion.
These are just two examples of our many recent victories. These two, however, illustrate how we were able to protect and save two different product lines for our clients.
Are clients looking for stability and strategic direction from their law firms – where do you see the firm in three years' time?
With the increased activity in the merger and acquisition space, and increased health of the economic landscape generally, has come a significant uptick in the amount of litigation work. And given the employee turnover that is a necessary consequence of this type of activity, we find that clients are looking to their law firm more and more to be their repository of institutional memory. In many cases, outside attorneys have more experience with a company and its IP history than the in-house team.
The clients who are sophisticated enough to come to our firm for assistance recognize the importance of using intellectual property to advance their business interests and assets—both offensively and defensively. They come to our firm for our zealous advocacy and strategic, proactive, practical, and consistent counsel on national and worldwide issues. They expect their counsel to keep on top of international legal developments, maintain international relationships, and approach their portfolio with an eye towards business and resource realities. We do that now, and fully expect to continue to evolve our services with marketplace and legal changes over the next three years.
Top Tier Firm Rankings
Firm Rankings