Firm Profile > O'Neal Webster > Tortola, British Virgin Islands
O'Neal Webster
Offices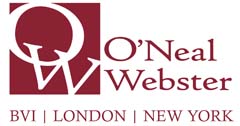 O'Neal Webster
COMMERCE HOUSE, 181 MAIN STREET
P.O. BOX 961, ROAD TOWN
TORTOLA VG1110
British Virgin Islands
O'Neal Webster > The Legal 500
Rankings
O'Neal Webster >
Firm Profile
The firm
The roots of O'Neal Webster date back to 1989. The firm was founded by Paul Webster QC, Colin O'Neal and Barbara O'Neal, who were all associates in law firms in the British Virgin Islands. Their commitment to delivering a high level of legal service with a commitment to clients and the community, led them to form the partnership of O'Neal Webster O'Neal. In 1993, a strategic alliance was formed with leading Caribbean law firm Myers Fletcher & Gordon of Kingston, Jamaica, to establish and develop what is now one of the leading commercial law firms in the British Virgin Islands (BVI), one of the most important offshore financial services centres in the world.
O'Neal Webster has grown with the BVI and has become established as a firm that is recognised globally for its expertise in all aspects of BVI corporate and commercial law as well as litigation. The proficiency and knowledge of the firm's attorneys are well regarded and they are to be found on several bodies within the BVI community contributing to the review and implementation of change to BVI legislation. The firm's barristers have distinguished themselves at every level of the judicial system in the BVI, the Caribbean and at the Privy Council in London. In addition to its legal services, the firm, through an associated business, offers the facilities of company formation, fiduciary and private client services.
Areas of practice
Banking and finance: the firm has extensive experience in advising on international and local banking transactions and is listed as the BVI firm of choice on legal panels of many international banks.
Corporate and commercial: the firm frequently advises on all aspects of BVI corporate and commercial law including stock exchange listings, BVI startups, partnerships, joint ventures, mergers and acquisitions and corporate restructuring.
Intellectual property: the firm has gained a very good reputation as a trademark agent for numerous clients worldwide in handling major transactions involving acquisitions of large trademark portfolios in chain of title.
Investment funds and regulatory: the firm offers efficient, practical and cost-effective advice on the formation and management of various types of BVI funds and the structuring and restructuring of BVI funds.
Litigation: the firm's attorneys have earned a reputation for excellence in complex commercial disputes including insolvency and restructuring by combining creative innovative legal strategies with dedication.
Trusts and estates: the firm provides practical commercial advice on all aspects of BVI trust law and trust disputes to trustees (individuals and corporations) and beneficiaries alike on many issues such as wealth protection, probate planning and trust creation.
Restructuring and insolvency: the firm's expertise covers a gamut of insolvency-related issues including advising directors and investors in distressed funds, debt restructuring and reschedulings, schemes of arrangements, cross-border insolvency, cross border tracing and recovery action, liquidation of fund and other corporate entities, appointment and removal of liquidators and receivers, and appointment and removal of corporate trustees.
Property and business: With over 20 years of BVI practice, the firm has developed remarkable and recognised expertise in advising a wide range of clients, both domestic and international in all types of BVI property and business transactions.
Shipping and aircraft: the firm offers the full range of services required to secure the registration of vessels and aircraft in the BVI and advises on all matters relating to the acquisition, financing, operation and transfer of vessels and aircraft in the BVI.
Staff Figures
Number of lawyers : 12 at this office : 11
Memberships
Lex Mundi World Services Group
Interviews
Vanessa King, Managing Partner
O'Neal Webster Managing Partner Vanessa King discusses current and future opportunities for businesses, investors, and high net worth individuals under the British Virgin Islands legal regime.
What do you see as the main points that differentiate O'Neal Webster from your competitors?
Most of our competitors are firms from other jurisdictions which in recent years have opened offices in the BVI. O'Neal Webster is different in that we are a BVI firm, operating in the BVI for over 25 years. Therefore, we know our territory, its laws, policies, practices, and people very well. Our long-standing position in the BVI, along with our talented, service-oriented professionals, gives our clients a critical edge.
Which practices do you see growing in the next 12 months? What are the drivers behind that?
A new limited partnership act came in to force in the last quarter of 2017. The Limited Partnership Act, 2017 modernizes BVI partnership law and introduces several key new features. We expect this Act to create new interest in the use of limited partnerships and will also booster the funds' offerings.
Additionally, in 2018 the BVI Micro Business Companies Act (MBCA) came in to force. This legislation creates a new corporate vehicle and new markets. Microbusinesses are a growing, vibrant, and profitable economic segment throughout the world. Such enterprises provide flexibility for individuals to operate on their terms, according to their skills and passions. The MBCA is designed to be much simpler than a standard BVI Business Company. It is transparent, affordable, easy to use, and available on an internet platform that permits direct access to information and MBC management from a computer or mobile phone. The MBCA application programming interface (API) envisions support for the blockchain-based trading economy and other fintech developments, such as smart contracts and token sales, where the validity of the MBC, its principals, and beneficial owners can be verified electronically. The most fundamentally exciting and essential part of this product is that for the BVI and corporate law, broadly, the MBCA represents a first regarding the relationship between law and technology.
What's the main change you've made in the firm that will benefit clients?
We have restructured and refined the manner in which we serve clients by employing "client teams" comprised of attorneys with different practice specialties. The client team structure provides better coverage and efficiency. Team members are briefed on client operations and objectives and stay updated on open matters. When a client calls with a question regarding any legal issue, our team can quickly respond to their needs in the context their operations, goals, and current status, without wasting time getting up to speed.
Is technology changing the way you interact with your clients and the services you can provide to them?
Definitely. Technology makes real-time service a real thing. As a firm, we are always exploring new applications to improve process, communication, reporting, and security for our clients.
Can you give us a practical example of how you have helped a client to add value to their business?
The firm's practice is quite diverse. We advise private clients, government authorities, offshore structures, clients involved in dispute resolution, and more. Where we think there is a common interest amongst our clients, we can make introductions to expand their networks and help them develop their respective businesses or investments. Our clients greatly appreciate this added service.
Are clients looking for stability and strategic direction from their law firms? Where do you see the firm in three years' time?
Clients do look for stability and strategic direction from their legal advisors. We have found ourselves becoming more involved in the businesses of our clients, and we see this as essential in our role as advisors.
Looking ahead, we had to slightly revise our strategic plan following Hurricane Irma, which hit the BVI in the fall of 2017. In revisiting the program, we've gained more clarity and improved our focus. We expect significant growth in the next three years in our key areas of corporate and finance, investment funds and regulatory, dispute resolution, real estate, and trusts and estates, while streamlining other services that we offer to provide greater efficiencies. Beyond our BVI and London offices, we are currently expanding our footprint into key locations that will enable us to serve our global clients fully and look to continue that expansion and growth in the coming years.
Top Tier Firm Rankings
Firm Rankings