Alfaro, Ferrer & Ramírez > Panama, Panama > Firm Profile
Alfaro, Ferrer & Ramírez
Offices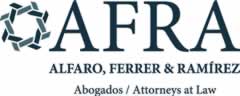 Alfaro, Ferrer & Ramírez
AFRA TOWER
SAMUEL LEWIS AVENUE AND 54TH STREET
PANAMA CITY
Panama
Alfaro, Ferrer & Ramírez > The Legal 500
Rankings
Alfaro, Ferrer & Ramírez's 'excellent' team is well versed in all areas of labour law; it advises on individual and collective employment matters, including the negotiation of employment contracts and collective bargaining agreements, the termination of employees, social security audits and labour litigation. Multinationals with operations in Panama make up a large part of the team's client base, which also includes large local companies and financial institutions. The practice is led by Enna Ferrer, who has substantial experience advising on the transition of employees following M&A transactions and on negotiations with trade unions; Juan Gabriel González, who is skilled in labour litigation, the settlement of employee and union disputes, and day-to-day employment issues; and Francisco Iglesias, who focuses on labour litigation. Associate Nelson Sales has additional expertise in immigration issues.
Practice head(s):
Enna Ferrer; Juan Gabriel Gonzalez; Francisco Iglesias
Testimonials
'We have worked with various different law firms and in my opinion Afra is the best.'
'They stand out for their close contact with clients and knowledge of the subject matter.'
'All of the lawyers are excellent.'
Key clients
L'Oréal Panama
DHL Panama
Port of Singapore (PSA)
Corporación Andina de Fomento (CAF)
International School of Panama (ISP)
Arcos Dorados (McDonald's Corporation)
Ricardo Perez (Itochu Group)
Hospital Paitilla (Hospiten Group)
ALS Global Panama
Productos Toledano
Industrias Lácteas (Estrella Azul)
Sony
Hilti Latin America
Puma Energy
Servier
Citibank
Importadora Maduro
adidas
Banistmo (Grupo Bancolombia)
Cervecería Nacional (AB InBev Group)
Cinemark
Cummins
Trane Technologies
Farmacias Arrocha
Liebherr
Alimentos del Istmo (Pepsico)
Stanley Black and Decker
UBS
Vopak
Western Union
Work highlights
Advised Industrias Lacteas on the termination of a number of employees following its acquisition by a Honduran group.
Assisted Cervecería Nacional (AB InBev Group) with the negotiation of a collective bargaining agreement with its union.
Assisted ALS Panama (ALS Global Group) with filing an amparo action for the protection of constitutional guarantees, which prevented the client from having to negotiate with a mining union.
Alfaro, Ferrer & Ramírez is particularly noted for its experience in advising foreign development agencies on multilateral financings, including project financing and on-lending operations. In addition, the team advises major lender and borrower clients on domestic and cross-border loans, and assists with day-to-day regulatory issues. At the head of the practice, Roberto Harrington focuses on transactional work, with notable strength in project finance, while María Cargiulo stands out for her regulatory expertise. Other key members of the team are Annette Bárcenas, who has extensive experience in the financing of public infrastructure projects, Alfredo Ramírez Jr and Juan Antonio Alfaro, who frequently advises on financing in the maritime, energy, and oil and gas sectors.
Practice head(s):
Roberto Harrington; María Cargiulo
Key clients
DEG – Deutsche Investitions- und Entwicklungsgesellschaft DEG)
Inter-American Investment Corporation (IDB Invest)
Global Bank Corporation
Work highlights
Advised DEG on a $15m loan to Banco Internacional de Costa Rica to be used for on-lending of sub-loans to SMEs and small corporates in Central America.
Advising IDB Invest on a loan of $60m to a Panamanian entity, wholly owned by Selina Holding Company.
Advised Global Bank Corporation in connection with the refinancing of its obligations in the hydroelectric sector.
Securities brokerage firms, investment banks, fund managers and investment advisers, both local and international, make up the client base of Alfaro, Ferrer & Ramírez. The team is experienced in advising underwriters and fund managers on the structuring, registration and listing of public and private securities offerings, with particular expertise in debt issuances in the financial and real estate sectors. The practice also advises on licensing and securities regulation, and during the pandemic it has been highly active in the restructuring of corporate bond programmes under special regulatory procedures. Senior partner Luis López Alfaro, who focuses on regulatory and compliance matters, and María Cargiulo, who has extensive expertise in public and private offerings and securitisations, lead the team.
Practice head(s):
Luis López Alfaro; María Cargiulo
Key clients
Credicorp Bank
Inversiones Inmobiliarias Arrocha
Caribbean Financial Group
Retail Centenario
Hidroeléctrica San Lorenzo
Abaco Capital Management
Work highlights
Advised Creditcorp Bank on the securitisation of $300m of personal consumer loans issued by the client and sold to a Panamanian SPV.
Advised Inversiones Inmobiliarias Arrocha, the real estate arm of Grupo Arrocha, on the restructuring of its $100m revolving corporate bond programme.
Assisted Financiera El Sol, the Panamanian subsidiary of Caribbean Financial Group, on the restructuring of its $100m revolving corporate bond programme, backed by consumer loans originated by the issuer and sold to a Panamanian SPV.
Experienced senior partners Luis López Alfaro and Alfredo Ramírez Jr lead the practice at Alfaro, Ferrer & Ramírez, which has considerable expertise in M&A, including cross-border transactions, acting for major domestic and international clients. The team is particularly active in advising companies in highly regulated industries, including finance, insurance, telecoms and energy. Among the team's strong junior partners, Ricardo Moreno stands out for his expertise in M&A deals, particularly in the financial sector, Alejandro Alemán brings complementary tax expertise to the team, in addition to his experience in corporate and M&A matters, and Juan Antonio Alfaro is particularly experienced in M&A in the maritime and ports and oil and gas sectors.
Practice head(s):
Luis López Alfaro; Alfredo Ramírez Jr.
Testimonials
'All the lawyers are excellent, but I would like to highlight one of them, Alejandro Alemán, in particular. I have worked closely with Alejandro and his knowledge of the subject and his business acumen are excellent. The firm is made up of lawyers with a great deal of experience and knowledge, but none with the commercial vision of Alejandro Alemán.'
Key clients
L'Oreal
Stanley Black & Decker
Abbott
The Western Union Company
Pepsico
Vopak
LG Electronics
Sanofi Aventis
Hilti Latin America
Global Bank Corporation
Ford Motor Company
Banco Aliado
Carnival Corporation
Southern Cross Group
Petrolera Nacional / Organización Terpel
Google
Work highlights
Advised Mizratex Group, a wholesale company based in the Colon Free Zone, on the spinoff and sale of its Christmas division to May's Zona Libre, one of the biggest wholesalers in the Colon Free Zone.
Advised VT Group on corporate, commercial and maritime matters relating to its acquisition of Boluda Corporación Marítima's assets and tanker activities in mainland Spain, Morocco, the Canary Islands, Trinidad & Tobago and Panama.
Advised Polaris on its acquisition of a 100% equity stake in the Chuspas 100MW run-of-river hydro project in Boquerón, Chiriquí.
The 'extremely proactive and accessible' team at Alfaro, Ferrer & Ramírez advises domestic and international clients from a wide range of sectors, including the chemical, consumer product, food and drink, retail and pharmaceutical industries, on IP issues in Panama and throughout Latin America, the Caribbean, the US and Europe. Areas of strength include trade mark and patent registrations, copyright infringement cases, utility and design applications, and IP enforcement actions. At the head of the team, the 'highly available and always responsive' Marissa Lasso de la Vega and Monique Ferrer are experienced in both contentious and non-contentious IP matters. Ferrer also leads the firm's regulatory department, advising on advertising and labelling compliance for pharmaceutical, cosmetics and agrochemical products, among others.
Practice head(s):
Marissa Lasso de la Vega; Monique Ferrer
Testimonials
'They are highly up-to-date with new market trends and new topics, which allows them to give the correct advice to clients and find creative solutions that minimise risks. They are a team that is almost always one step ahead of the rest of the firms.'
'They are extremely proactive and accessible. The attitude of Marissa Lasso de la Vega and Monique Ferrer as directors of the practice permeates the entire team as they are highly available and are always responsive to the client's needs.'
Key clients
PepsiCo
Televisa
Romar Trading
Varela Hermanos
BASF
Puma Energy
Edwards Lifesciences
Altieri Coffee
Adidas
Nacional Quimica
Work highlights
Represented the Republic of Panama in a trade mark litigation and a further arbitration process before the ICC.
Acted for Laboratorios Gerco in a trade mark cancellation action before the Panamanian courts.
Acted for Inter in a cancellation and nullity action against the registration of a trade mark.
The 'always available' team at Alfaro, Ferrer & Ramírez has a wide range of experience in civil, commercial, corporate and financial litigation and arbitration, both domestic and cross-border. It has particular expertise in construction and infrastructure, healthcare, insurance, IP and telecoms disputes, acting for large local and multinational clients. The practice is led by senior partner Alfredo Ramírez Jr, who brings his experience in corporate and finance law to litigation and arbitration cases, and Katherine Aparicio. Associate Joelis Arauz specialises in civil, commercial and probate disputes.
Practice head(s):
Alfredo Ramírez Jr.; Katherine Aparicio
Testimonials
'They have been very informative in terms of the technical legal issues that they are handling for our company, so that the entire process has been understandable for us. Each situation has been handled successfully and thus far they have proven to be the best firm for us.'
'Their follow-up on cases and their constant communication with us allows me to carry out my work knowing that all the legal matters are being taken care of. They get in touch immediately if a new situation arises.'
'The lawyers we work with are always available to assist us and provide clear, forceful and effective answers. I have worked with other large firms and Alfaro, Ferrer & Ramírez is the one that has given me successful results.'
'Alfaro, Ferrer & Ramírez has lawyers with a lot of experience and a long track record, and also young lawyers with a lot of knowledge about the current market and the changes and situations that businesses are facing at the moment, where there is more complexity in negotiations. They give us the best solutions and answers to all our legal questions all in one place.'
Key clients
Banesco
Citibank
DHL
Elevadores Otis
Hannover Re
LG Electronics
McDonald's
Panasonic
Tigo
Western Union
Alfaro, Ferrer & Ramírez has been active in the financing and construction of major port, oil terminal, public infrastructure and energy projects in Panama. In addition, the team assists with tax, regulatory, real estate and corporate matters arising from large-scale developments. At the helm of the practice, Annette Bárcenas specialises in public procurement in the energy and telecoms sectors, advising clients on public bids and the negotiation of government contracts, and also has expertise in project finance, regulatory and administrative matters. Among the other notable members of the team, Juan Antonio Alfaro is experienced in the development of oil terminal, port and logistics, and real estate projects, and senior associate Luis Horacio Moreno focuses on public procurement and government contracts.
Key clients
Petroamerica Terminal (PATSA), a VTTI Group company
PSA International Terminal
Colon Logistic Park
Naturgy
China State Construction Engineering Corporation
PNE
Astican & Astander
Consorcio Linea Panama Norte (consortium formed by the Panama branches of Mota-Engil Engenharia e Construcao and Obrascón Huarte Lain)
China Electric Power Equipment & Technology (a subsidiary of State Grid Corporation of China)
Otis Elevator Company
Vopak
Polaris Infrastructure
Work highlights
Advising Colon Logistic Park on the development, construction and operation of a logistics park located inside the Colon Container Terminal, located at the Atlantic entrance to the Panama Canal.
Advising PNE on the development of the Santa Cruz wind farm project in the Coclé region.
Advising Consorcio Linea Panama Norte (a consortium formed by the Panamanian branches of Mota-Engil Engenharia e Construcao and Obrascón Huarte Lain) on the extension of Line 1 of the Panama Metro.
Alfaro, Ferrer & Ramírez >
Firm Profile
Alfaro, Ferrer & Ramirez (AFRA) was established in 1965, and since then has grown into one of Panama's leading full-service law firms.
The firm is recognized for its solid integrity, ability to successfully address legal issues in sophisticated deals, and the reliability and trust offered to its clients by its lawyers and staff. AFRA has a strong local practice and is focused on international companies coming to Panama to carry out business operations. In addition to that, it has a representative group of local companies engaged in important sectors of the economy. The firm's corporate practice is complemented by the services offered through its BVI office.
AFRA has become a leading firm in advising on and handling complex M&A transactions involving international companies, public procurement on high-profile infrastructure contracts sought by international engineering firms, and internationally known companies establishing their regional offices in Panama.
Areas of practice
The following are only a few of the firm's representative areas of practice:
Intellectual property: AFRA's intellectual property department is perhaps one of the strongest and most prominent in the country. AFRA's experienced intellectual property lawyers and staff provide services in registration and protection of trademarks, patents, trade names, copyrights, trade secrets, franchises, industrial designs, domain names and commercial names in general.
Banking and finance: the firm serves as external counsel for local banks and private international finance institutions, and multilateral agencies operating in Panama. Its services range from addressing everyday regulatory questions, to structuring complex finance and securitization deals.
Public contracting and infrastructure: over the last 20 years, Panama has witnessed an outstanding increase in infrastructure projects. The firm has attained experience acting as legal counsel to many international engineering and telecommunications firms that have been awarded contracts for the construction of highways, roads, hydroelectric facilities, energy transmission systems, ports, airport expansion and Metro.
Labor and immigration: the firm provides extensive experience to international clients carrying out business activities in Panama in connection with labor disputes and litigation, as well as in regulating the presence of expatriate officials sent to Panama by multinational companies.
Taxation: the firm offers practical tax advice to international clients and guides them in attaining tax efficiency in their local operations.
Commercial, M&A: the firm handles a variety of general commercial matters, and is frequently retained to handle sophisticated and high-profile M&A deals.
Capital markets: the firm has expertise in securities regulation issues and serves as legal advisor for the most prominent players in the capital market industry. The firm has been actively involved in structuring secured and unsecured financing, from debt and equity offerings to bonds, equity-related debt and establishment of mutual funds.
Main Contacts
| Department | Name | Email | Telephone |
| --- | --- | --- | --- |
| Corporate/M&A | Alfredo Ramírez Jr | | |
| Trusts and foundations | Luis R López Alfaro | | |
| Intellectual property | Marissa Lasso de la Vega F | | |
| Commercial and real estate | Rodrigo A Moreno Jr | | |
| Public contracting | Annette Barcenas | | |
| Labor and immigration | Enna Ferrer de Carles | | |
| Energy and telecommunications | Annette Barcenas | | |
| Litigation | Alfredo Ramírez Jr | | |
| Tax | Rodrigo A Moreno Jr | | |
| Banking and insurance | Luis R López Alfaro | | |
| Securities market and project finance | Alfredo Ramírez Jr | | |
Staff Figures
Total staff : 150
Other
Partners : 16 Associates/attorneys : 24