Alfaro, Ferrer & Ramírez > Panama, Panama > Firm Profile
Alfaro, Ferrer & Ramírez
Offices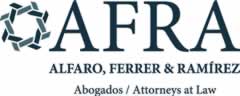 Alfaro, Ferrer & Ramírez
AFRA TOWER
SAMUEL LEWIS AVENUE AND 54TH STREET
PANAMA CITY
Panama
Alfaro, Ferrer & Ramírez > The Legal 500
Rankings
Alfaro, Ferrer & Ramírez
's sizeable labour and employment team is highly regarded for its experience in the negotiation of collective bargaining agreements on behalf of multinationals with operations in Panama. Practitioners are adept at handling labour litigation, including both individual and collective claims, and provide assistance to clients in social security audits and employee remuneration issues. The team is also a go-to destination for large employers seeking advice on the employment aspects of M&A and the closure of operations, and a strong choice for the transition of public companies and employees to private ownership.
Enna Ferrer
, who focuses on labour disputes and immigration matters, leads the practice with
Juan Gabriel González
, a key contact for the settlement of union and employee claims.
Francisco Iglesias
specialises in labour litigation, while associate
Nelson Sales
is engaged in both contentious and non-contentious matters.
Practice head(s):
Enna Ferrer; Juan Gabriel González
Key clients
L'Oréal Panama
DHL Panama
Port of Singapore (PSA)
Corporación Andina de Fomento (CAF)
International School of Panama (ISP)
Arcos Dorados (McDonald's Corporation)
Ricardo Perez (Itochu Group)
Hospital Paitilla (Hospiten Group)
ALS Global Panama
Productos Toledano
Industrias Lácteas (Estrella Azul)
Sony
Hilti Latin America
Puma Energy
Servier
Citibank
Importadora Maduro
adidas
Banistmo (Grupo Bancolombia)
Cervecería Nacional (AB InBev Group)
Cinemark
Cummins
Trane Technologies
Farmacias Arrocha
Liebherr
Alimentos del Istmo (PepsiCo)
Stanley Black and Decker
UBS
Vopak
Western Union
Velocity Global
Boston Consulting Group
Work highlights
Assisted Port of Singapore (PSA Panama) in successfully negotiating a collective bargaining agreement with one of the unions of the company.
Assisted DHL Panama in negotiating and resolving a collective conflict brought by one of the unions of the company before the Ministry of Labour and Workforce Development.
Advised Importadora Maduro on negotiating with its union the suspension of the effects of the collective bargaining agreement and the reductions of employees' work shifts as part of the reorganisation of its operations.
With notable expertise in acting for multilateral development agencies on project finance and on-lending mandates,
Alfaro, Ferrer & Ramírez
's sizeable banking and finance team is sought by both domestic and international clients engaged in high-value, often cross-border transactions. The practice, which fields strong credentials in lender and borrower-side instructions, is also highly regarded for its regulatory expertise and in-depth knowledge of the banking sector. On the transactional side of the practice,
Alfredo Ramírez Jr
 and the '
super
'
Roberto Harrington
are key contacts, advising on complex projects and multilateral financings, while
Luis López Alfaro
 and
María Alejandra Cargiulo
are the names to note for regulatory matters. Also recommended,
Annette Bárcenas
focuses on the financing of infrastructure projects. The strong associate cohort includes
Ana Cristina Negrón
 and
Alfredo Ramírez Pabón
, the latter of whom excels in real estate finance.
Practice head(s):
Alfredo Ramírez Jr; Luis López Alfaro; Roberto Harrington; María Alejandra Cargiulo
Testimonials
'Roberto Harrington is super.'
Key clients
Deutsche Investitions- und Entwicklungsgesellschaft (DEG)
Inter-American Investment Corporation (IDB Invest)
Global Bank Corporation
Corporación Interamericana para el Financiamiento de Infraestructura (CIFI)
Safra Bank Lux
Banesco
Corporación Andina de Fomento
Citi
Work highlights
Advised Inter-American Development Bank on its $5m loan to property developer Caribe Hospitality (CHSA) to finance the working capital requirements of its portfolio of companies.
Assisted DEG with transactional and regulatory matters regarding a long-term senior loan of $50m to Multibank to finance on-lending and sub-loans to SMEs in Panama.
Advised Inter-American Development Bank on its $8m investment in the Panamanian holding company of Farmalisto, a leading healthcare platform in Latin America.
Alfaro, Ferrer & Ramírez
's '
excellent
' capital markets team is highly experienced in public and private securities offerings, showcasing particular strength in debt transactions in the financial and real estate sectors. The team, whose broad service offering also covers securities regulation and compliance matters, provides support to clients ranging from leading domestic and international banks, to brokerage firms and investment advisers.
María Cargiulo
, who has considerable strength in complex securitisations, public and private offerings, and investment fund structuring, leads the practice with senior partner
Luis López Alfaro
, a regulatory and compliance specialist. Associate
Ana Raquel Sedda
provides key support in an array of capital markets transactions.
Practice head(s):
Luis López Alfaro; Maria Alejandra Cargiulo
Testimonials
'The team stands out for its high level of commitment to keeping up to date in form and substance with new trends and to providing support and immediate responses throughout the process.'
'Maria Alejandra Cargiulo and Ana Raquel Sedda demonstrate confidence and empathy, and put themselves in the client's position to seek immediate and effective solutions.'
'Luis López is always aware of our case and available for any questions.'
'Maria Alejandra Cargiulo gives us an excellent service and keeps us up to date with everything that is happening in the local market.'
'Excellent firm with specialised knowledge of this area of law.'
Key clients
Global Bank Corporation
Grupo Aliado
Av Securities
Lifeinvest Asset Management
Banesco
J Safra Sarasin Group
Credicorp Bank
Retail Centenario
Procosta
Caribbean Financial Group
Work highlights
Advised Lifeinvest Asset Management on the structuring of an $18m multi-class umbrella private investment fund (Avila Recovery Fund), as well as the notification to the Superintendency of Capital Markets of Panama.
Advised Credicorp Bank on the securitisation of $300m-worth of personal consumer loans originated by the client and sold to an insolvency remote Panamanian SPV.
Advised Inversiones Inmobiliarias Arrocha on the restructuring of its $100m revolving corporate bond programme.
The '
first-rate multidisciplinary team'
 at
Alfaro, Ferrer & Ramírez
predominantly advises multinational corporations from an array of sectors, ranging from shipping, pharmaceuticals, and hospitality to energy, oil and gas, and real estate. The practice is especially active in cross-border transactions, including complex M&A on behalf of domestic and international clients. The team is led by the highly experienced duo of
Alfredo Ramírez Jr
 and
Luis López Alfaro
, the latter of whom has extensive expertise in compliance matters. Other key contacts include
Alejandro Alemán
, an expert in M&A and corporate tax,
Ricardo Moreno
, who co-heads the tax practice. Associates
Alfredo Ramírez Pabón
 and
Ana Cristina Negrón
, both of whom have considerable experience in advising international clients with operations in Panama, are also part of the core team.
Practice head(s):
Luis López Alfaro; Alfredo Ramírez Jr
Testimonials
'AFRA provides practical solutions, with a first-rate multidisciplinary team. Excellent client service and a very good price/quality ratio.'
'The AFRA team is without a doubt one of the best in the region. A high level of technical knowledge, practical solutions, high ethical standards and excellent client service distinguish them. Ana Cristina Negrón is an excellent member of this team.'
'If I am in the middle of a transaction, I need knowledge, agility and creativity. The AFRA team gets five stars in everything.'
'Alejandro Alemán and Alfredo Ramírez constantly prove to be true defenders of their clients' interests. Superlative attention to detail and impeccable client service.'
'AFRA's attorneys are terrific problem solvers. They not only advise you on the law, but they figure out what is the best way to achieve your goals. They are also super responsive.'
'Alejandro Alemán and Alfredo Ramírez Pabón are excellent lawyers, clear and succinct communicators, and creative problem solvers.'
'What stands out is the experience of the partners at the firm, as well as their close relationships with the clients.'
'The team has experience and knowledge in complex and international issues.'
Key clients
L'Oreal
Stanley Black & Decker
Abbott
Western Union
PepsiCo
Vopak
Citibank
Hilti Latin America
Global Bank Corporation
Trane Technologies Latin America
Banco Aliado
ABB
Southern Cross Group
Petrolera Nacional (Organización Terpel)
Accenture
Panama Transhiptment Group
Varela Hermanos
Grupo Comercial de Comunicaciones
Volaris
Work highlights
Acted as local counsel to Redwood Capital Investments on the acquisition of the occupational workwear portion of VF Corporation.
Advised Corporación Multi Inversiones on the acquisition of a minority stake in two industrial companies operating in Panama, Depsa and Redeprosa.
Advised Servicios Latinoamericanos de Inversiones (Grupo SLI) on the buyout of its interests in the Grand Hyatt São Paulo by Hyatt Corporation.
The IP, health and compliance department at
Alfaro, Ferrer & Ramírez
 is renowned for its '
thorough and specific knowledge
' of contentious and non-contentious IP matters. The team is particularly active in litigation, including opposition, cancellation and nullity actions, and anti-counterfeiting cases. It also handles the global trade mark and regulatory portfolios of clients operating in a variety of industries, including manufacturing, financial services, food and beverages, and life sciences. At the head of the practice,
Marissa Lasso de la Vega
focuses on IP enforcement litigation and '
is always on top of cases
', while the '
knowledgeable
'
Monique Ferrer
primarily handles the prosecution of IP rights and regulatory issues concerning the advertising and labelling of cosmetic, agrochemical and pharmaceutical products.
Practice head(s):
Marissa Lasso de la Vega; Monique Ferrer
Testimonials
'The AFRA team provides a very good level of service. They have very good response times and a broad practice covering all the different queries we have brought to them. In addition, they share our firm's values in terms of diversity, commitment and efficiency.'
'Marissa Lasso de la Vega is a lawyer who is always on top of cases and looking for an effective solution to different problems. When looking for a solution, she always proposes the option that really fits the needs of that specific case.'
'It is a team that is permanently monitoring issues and provides quick and timely responses. They are very organised and take care to keep clients informed at all times.'
'Monique Ferrer is knowledgeable about all the matters she is in charge of, and her service is personalised and very efficient.'
'Thorough and specific knowledge of IP issues.'
'Marissa Lasso de la Vega is extremely dedicated, with extensive knowledge of the subject.'
Key clients
PepsiCo
Televisa
Conair Corporation
Alicorp
Varela Hermanos/Nacional Quimica
Target Brands
BASF
Puma Energy
Koninklijke Philips Electronics
Bugfables
Haribo/Rigo Trading
Work highlights
Acted for Varela Hermanos  in an international arbitration seeking the transfer of a website promoting the product to the client.
Advised Haribo on a cancellation and nullity process initiated by Pascual due to a supposed similarity between its Panda Bear brand and the client's Golden Bear brand and design.
Advising Televisa in an opposition process filed against it by Disney in Panama seeking to determine which of the two television companies is best entitled to the use of the "Star" or "Stars" brand.
With notable experience in the oil & gas, logistics and maritime sectors,
Alfaro, Ferrer & Ramírez
fields a '
competent'
practice that provides legal support to a host of clients in relation to the financing and construction of projects. Typical mandates also include public procurement, concession contracts and regulatory issues. The department is under the leadership of
Annette Bárcenas
, whose areas of focus span public procurement, regulatory matters and project finance. '
Excellent lawyer
'
Juan Antonio Alfaro
specialises in regulatory matters relating to oil free trade zone projects. Other names to note include corporate and project finance expert
Roberto Harrington
, and recently promoted partner
Luis Horacio Moreno
, a key contact for procurement mandates.
Testimonials
'The team provides personalised attention and is very focused on guiding us through the options and on to the best way forward.'
'We work with Roberto Harrington and Juan Antonio Alfaro, who are stellar in their subjects.'
'It is an agile firm, which responds in a short time. Even though we are a small company, they treat us like an important client, particularly Annette Bárcenas and Juan Antonio Alfaro.'
'A competent group with wide experience and expertise across the partners. It has been noticeable how often expertise from other partners has been used to further our interests as a company, and we have found that to be a great strength in our relationship.'
'I have enjoyed the relationship we have built with the firm, and this relationship has strengthened us as a company.'
'Juan Antonio Alfaro is an excellent lawyer, and he guides us very well.'
Key clients
Petroamerica Terminal (a VTTI Group company)
Vopak
PSA International Terminal (PPIT)
Colon Logistic Park (CLP)
Astilleros Puertos de Balboa
Puma Energy
Otis Elevator Company
Campo Las Cabras
Islas Secas Resort
Panama Digital Gateway
Alstom
Polaris Energy
Work highlights
Advising Astillero de Balboa on obtaining the concession for the restoration, development and operation of the Balboa Shipyard, located at the Pacific entrance of the Panama Canal.
Advising Logistic Park on the development, construction and operation of Colon Logistics Park, which will be located inside the Colon Container Terminal, one of the major terminal facilities in Panama in the Atlantic entrance of the Panama Canal.
Advising Puma's Future Energy division on the implementation of a new green project in the region aimed at transforming all gas stations into sustainable facilities by installing solar panel systems as energy generators.
Alfaro, Ferrer & Ramírez
is particularly experienced in handling domestic litigation on behalf of a diverse client base that features a number of well-known multinationals. Civil and commercial disputes are at the core of the department, which also fields strong credentials in arbitration proceedings before the Conciliation and Arbitration Centre of Panama, standing out for its expertise in matters relating to construction issues and commercial contracts.
Alfredo Ramírez Jr
, who has combined experience in corporate law, finance and contentious matters, leads the practice alongside
Katherine Aparicio
, a name to note for civil, commercial, corporate and financial litigation, as well as arbitration. Civil, commercial and probate disputes are core areas of focus for associate
Joelis Arauz
.
Practice head(s):
Alfredo Ramirez Jr; Katherine Aparicio
Key clients
Distribuidora Cummins
Citibank
DHL
Elevadores Otis
Hannover Re
LG Electronics
McDonald's
Grupo Hospiten
Tigo
Western Union
Work highlights
Acting for Panabinacia Forest, a supplier of wood products, in an arbitration brought against one of its clients for the failure to pay a debt of over $1m.
Acting for Saltus Panama, a supplier of wood products, in an arbitration brought against one of its clients for the failure to pay a debt of over $200,000.
Acting for maritime and port engineering company Intercoastal Marine in an arbitration brought before the Conciliation and Arbitration Centre of Panama by Telfer, the local operator of a petroleum storage terminal at the Atlantic entrance of the Panama Canal, over damage to the mooring facilities.
Alfaro, Ferrer & Ramírez >
Firm Profile
Alfaro, Ferrer & Ramirez (AFRA) was established in 1965, and since then has grown into one of Panama's leading full-service law firms.
The firm is recognized for its solid integrity, ability to successfully address legal issues in sophisticated deals, and the reliability and trust offered to its clients by its lawyers and staff. AFRA has a strong local practice and is focused on international companies coming to Panama to carry out business operations. In addition to that, it has a representative group of local companies engaged in important sectors of the economy. The firm's corporate practice is complemented by the services offered through its BVI office.
AFRA has become a leading firm in advising on and handling complex M&A transactions involving international companies, public procurement on high-profile infrastructure contracts sought by international engineering firms, and internationally known companies establishing their regional offices in Panama.
Areas of practice
The following are only a few of the firm's representative areas of practice:
Intellectual property: AFRA's intellectual property department is perhaps one of the strongest and most prominent in the country. AFRA's experienced intellectual property lawyers and staff provide services in registration and protection of trademarks, patents, trade names, copyrights, trade secrets, franchises, industrial designs, domain names and commercial names in general.
Banking and finance: the firm serves as external counsel for local banks and private international finance institutions, and multilateral agencies operating in Panama. Its services range from addressing everyday regulatory questions, to structuring complex finance and securitization deals.
Public contracting and infrastructure: over the last 20 years, Panama has witnessed an outstanding increase in infrastructure projects. The firm has attained experience acting as legal counsel to many international engineering and telecommunications firms that have been awarded contracts for the construction of highways, roads, hydroelectric facilities, energy transmission systems, ports, airport expansion and Metro.
Labor and immigration: the firm provides extensive experience to international clients carrying out business activities in Panama in connection with labor disputes and litigation, as well as in regulating the presence of expatriate officials sent to Panama by multinational companies.
Taxation: the firm offers practical tax advice to international clients and guides them in attaining tax efficiency in their local operations.
Commercial, M&A: the firm handles a variety of general commercial matters, and is frequently retained to handle sophisticated and high-profile M&A deals.
Capital markets: the firm has expertise in securities regulation issues and serves as legal advisor for the most prominent players in the capital market industry. The firm has been actively involved in structuring secured and unsecured financing, from debt and equity offerings to bonds, equity-related debt and establishment of mutual funds.
Main Contacts
| Department | Name | Email | Telephone |
| --- | --- | --- | --- |
| Corporate/M&A | Alfredo Ramírez Jr | | |
| Trusts and foundations | Luis R López Alfaro | | |
| Intellectual property | Marissa Lasso de la Vega F | | |
| Commercial and real estate | Rodrigo A Moreno Jr | | |
| Public contracting | Annette Barcenas | | |
| Labor and immigration | Enna Ferrer de Carles | | |
| Energy and telecommunications | Annette Barcenas | | |
| Litigation | Alfredo Ramírez Jr | | |
| Tax | Rodrigo A Moreno Jr | | |
| Banking and insurance | Luis R López Alfaro | | |
| Securities market and project finance | Alfredo Ramírez Jr | | |
Staff Figures
Total staff : 150
Other
Partners : 16 Associates/attorneys : 24