Firm Profile > Farani Taylor Solicitors > London, England
Farani Taylor Solicitors
Offices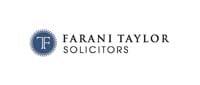 Farani Taylor Solicitors
FLEET HOUSE
8-12 NEW BRIDGE STREET
LONDON
EC4V 6AL
England
Farani Taylor Solicitors >
Firm Profile
Farani Taylor is based in London and is one of the UK's leading specialists in Immigration Law for both individuals and businesses. The firm also offers quality legal services in Estate Planning, Litigation, Commercial Law, Family Law, Criminal Law, Employment Law and Personal Injury Law.
The firm prides itself on embracing diversity in all forms.
The firm: Founded by Farhan Farani in 2010, the firm has grown exponentially. The firm has attracted some of the best minds in the legal field and clients can rely on that wealth of experience.
The team is highly regarded among private and public sector clients. We are confident that we offer the very best service and exceed the expectations of our clients.
By ensuring the team is built from some of the best in the industry, Farani Taylor has a reputation of excellence internationally.
The firm has adopted a different approach to the usual firm, we hand hold through whatever the legal process, providing City standard results with high street firm openness.
The firm is ideally placed to anticipate and respond to the needs of today's international business community – be that a UK corporate, a global PLC, a community-oriented business or a highly-skilled individual seeking to take up employment in the UK.
The firm has expanded to include specialists in the areas of Aviation, Family, Civil Litigation, Housing, Conveyancing, Wills Planning and Crime (general and corporate).
In 2012 the firm opened its branch office in Ilford Essex offering services similar to its City practice, this office has grown year on year since its inception.
The firm also has legal aid contracts in Family and Crime and aims to offer holistic services for all its clients.
Areas of practice: Farani Taylor has developed a range of legal services around its core immigration and nationality law specialism to offer a holistic service to its business and individual clients.
The firm is rooted in the City, at the heart of the legal establishment, but is proud of its grass-roots engagement with business keeping it completely in touch with its clients' commercial pressures and requirements.
As a law firm we work with large businesses and private individuals from around the world. We pride ourselves on being able to provide you excellent value for our expertise and experience while also grasping your situation and ensuring the best possible result.
We speak many languages which means that cross-border transactions represent an opportunity for our clients rather than a problem.
At Farani Taylor we embrace diversity in all its forms and strongly believe in behaving in a manner that is respectful to others and treats them as equals. We expect every employee to do the same and we are committed to avoiding discrimination in our relationships with employees, clients, members and third parties.
The approachable, multi-lingual team at Farani Taylor uses its expertise to make life as straightforward, productive and rewarding as possible for its clients – whether they be a business or an individual.
Languages
English Spanish Portuguese Punjabi Urdu Turkish Bengali Romanian Bulgarian Macedonian Serbian Russian Ukrainian
Spotlights
IMMIGRATION
HUMAN RESOURCES: IMMIGRATION
Farani Taylor was founded in 2010 by Farhan Farani as a specialist immigration firm but has since developed into a full service firm. We have an emphasis on providing quality service that fits the needs of our clients.
The firm is ideally positioned to assist clients with all their legal needs. We have experts spanning across all areas of law.
We are an international firm and our knowledge of foreign markets has been at the core of our success. We have a team of highly-skilled specialists tailoring their service to our clients' needs, whether domestic or abroad.
Our belief is that community should be at the heart of all our services and that need comes first. We pride ourselves on providing excellent value for this expertise. We are unique in that we bespoke our services to our clients. We explore each individual situation and offer tailored advice ensuring the best possible results for the client.
The firm has expanded rapidly over the years and we have opened offices in Ilford, Southall and Tooting to accompany the City office. We are a multi-lingual firm that not only possess the technical knowledge but are friendly, approachable and have a passion for helping others.
Top Tier Firm Rankings
Firm Rankings