Firm Profile > Leiper Gupta Family Lawyers Ltd (LGFL Ltd) > READING, England
Leiper Gupta Family Lawyers Ltd (LGFL Ltd)
Offices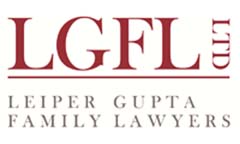 Leiper Gupta Family Lawyers Ltd (LGFL Ltd)
WYVOLS COURT, SWALLOWFIELD
READING
RG7 1WY
England
Leiper Gupta Family Lawyers Ltd (LGFL Ltd) > The Legal 500
Rankings
Established in 2008,
Leiper Gupta Family Lawyers Ltd (LGFL Ltd)
 has become a '
pre-eminent family law firm
' in the region, according to clients. The firm is co-led by
Rita Gupta
 and
Anne Leiper
; Gupta is '
loved by her clients for her calm and cool approach'
, while Leiper is '
a formidable lawyer who will not shy away from fighting her client's corner.'
 Much of the firm's work focuses on high-value divorce proceedings and Children Act matters, often with an international component. The firm is looking to add surrogacy law to its offering and has recently taken additional office space in central Reading.
Practice head(s):
Testimonials
'I was impressed with both the knowledge of my particular legal issue as well as the accessible nature of the solicitors and the open nature of their communication with me.'
'Since its inception some twelve years ago, LGFL has carved a reputation as a well-respected boutique firm specialising exclusively in family law. The firm has been very ably led by its formidable founders, Rita Gupta and Anne Leiper, who are experienced family lawyers. The firm has garnered an incredible reputation for itself as a client-focused firm, attracting well-heeled clients who appreciate the significant commitment the partners are able to provide on an ongoing basis. The high level of service and commitment the partners are able to provide contrasts remarkably well with its competitors, which tend to be bigger, blue-chip firms in the TV and Berkshire area, typically with set-ups which tend to allocate most of the work to associates or more junior members of the team.'
'The team at LGFL are always very efficient. They return telephone calls, are always pleasant and understanding during which for me is a very stressful time.'
'The great strength of LGFL is its size and personality. With only two lawyers, Anne Leiper and Rita Gupta, they manage to keep their work on a small scale but are still capable of handling the biggest cases. In many ways they are the perfect niche firm.'
'The practice itself is one I have had recommended to me professionally several times. I have in the past referred colleagues and friends to them off the back of these recommendations and have only had very positive feedback. I therefore chose to use the firm for my own circumstances, due to their reputation, genuine interest and rapport with the staff. Everyone from the receptionists to the representation are friendly, patient and the practice and building has a professional but welcoming atmosphere. It is a boutique style firm which pays attention to detail and this was why I continue to recommend them. '
'It was good to have an experienced and knowledgeable person in charge of my case, and that they understood sensitivities.'
'I have been a client of the law firm for almost two years and have put my trust firmly in their court; their responses to any query that I might have had have been immediate, always extremely clear and dealt with instantly.'
'The entire team have shown me extreme civility, warmth, friendliness and efficiency. I really cannot say anything other that I remain delighted with their service and have already recommended LGFL to various friends who are in need of reliable and honest advice.'
'This firm has been built from scratch by Anne Leiper and Rita Gupta. It is now one of the pre-eminent family law firms in Surrey / Hampshire. Together they are relentlessly focused on achieving the best results for their clients.'
'Rita Gupta worked tirelessly to address the overall goal and, more importantly, on issues that arose during the course of progressing the primary objective.'
'Rita Gupta is an experienced family lawyer, with a real talent for complex children work. She is also very adept at handling family finance cases, where those do not fall within the remit of Anne Leiper. Rita is wholly committed to her clients and will really go the extra mile to fight her client's corner. Her client dedication is second to none. She has admirable client care skills. She is tenacious, determined, but also a real team player.'
'Anne Leiper is a formidable lawyer, Anne will not shy away from fighting her client's corner. She is very comfortable undertaking high-value finance cases, and is not afraid to give robust advice to her own clients where necessary. Anne is also a real team player and like Rita Gupta, is tenacious and determined.'
'Anne Leiper is very thorough; she prepares meticulously and has excellent client handling skills which is why her clients love her.'
'Rita Gupta is always loved by her clients for her calm and cool approach. She is highly efficient and works with admirable economy. Far more than a safe pair of hands, she is a great solicitor.'
'I dealt with Rita Gupta, who always gave solid advice and support but was equally very collaborative in her approach. She was always very clear and explained procedures and possible outcomes at every stage of the process. I felt she was very positive in her approach to the outcome of my circumstances and was fully engaged with my circumstances. She was also respectful of my choices once I had received all the information I needed to progress. This was very important as I needed to feel in control of my circumstances in order to move forward.'
'In comparison with other firms I have dealt with I feel Rita represents the personal approach and has a genuine interest in her clients' welfare.''Anne Leiper was very straightforward and explained things in a simple no-nonsense way.'
'Anne Leiper advises me and is acting on my behalf; she is an extremely fair lady and has impressed me by her direct approach, I realise that she is hugely well informed and the promptness with which she acts never ceases to impress me. I respect and very much like her direct approach with which she gives out advice; she is forthright and honest – this is of great importance to me.'
'Both Rita Gupta and Anne Leiper are entirely client focused. From the outset they devise a strategy designed to achieve the best result for their client whilst deploying the proper level of resources. They are both terrier-like in their tenacity to achieve success for their clients.'
Leiper Gupta Family Lawyers Ltd (LGFL Ltd) >
Firm Profile
Leiper Gupta Family Lawyers (LGFL Ltd) are a forward-thinking family law firm offering all clients a personal, bespoke service. Based in Berkshire but serving clients across the UK and beyond, LGFL are renowned for their pragmatic yet empathetic approach. LGFL excel in cases where the interests of minor children are paramount.
As a boutique family law firm, LGFL are extremely client-focused. Directors Rita Gupta and Anne Leiper share a passion for helping their clients resolve complex family issues, and ensure the best possible outcome for the family and children. LGFL work in partnership with all clients to explore wide-ranging solutions for their family law problems, and every case is Director-led.
"LGFL has continued to solidify their reputation as a boutique, niche firm, specialising in high-value and complex matrimonial finance and children work … Clients receive a very high standard of service, and the two founding partners there are very hands-on and responsive (unlike many other bigger firms)."
"As a director-led practice, the firm collaborates with their clients and related professionals and focus on strategy and delivering client's solutions."
Legal 500 2020 edition
Specialist family lawyers: types of cases
LGFL specialise in all aspects of family law, including:
Divorce and separation
High-net-worth financial settlements
Complex private child cases, including residence, contact disputes, Specific Issue Orders and Prohibited Steps Orders, and advising on Special Guardianship
Cohabitation issues
Domestic and emotional abuse, and coercive control cases
Relocation cases involving the internal and external relocation of children
Pre and post nuptial agreements, and living together agreements
Making families through surrogacy and private law adoption
Mediation and collaborative law
LGFL: a tailored, individual service
LGFL uphold traditional standards of service by dealing with every matter in a highly professional, discreet and sensitive manner. Clients can meet in the discreet countryside offices at Wyvols Court in Swallowfield, or at the office in central Reading. Both locations maintain client discretion and privacy, and are COVID-secure.
"The firm prides itself on being boutique, and appeals to well-heeled, high net worth clients who demand a high level of service, but do not wish to instruct London firms."
Legal 500 2020 edition
National and international clients
LGFL offers high levels of expertise in person to the local communities in and around the Reading and North Hampshire areas, plus a growing number of remote-only clients through video conferencing and digital communications.
LGFL also work with an increasing number of clients living or working abroad. LGFL have been previously instructed by clients living and/or working in Hong Kong, the Middle East, the US and Asia. They value LGFL's reputation for swift action and pragmatic advice, and have often become a party to legal proceedings in England or Wales or who require representation on relocation cases.
Client Recommendations
Over half of LGFL Ltd's clients come to them from personal recommendations from friends, family or business colleagues who have enjoyed successful outcomes. Since all LGFL casework work is Director-led, all clients benefit from high levels of expertise and continuity of representation. The combination of years of experience, a collaborative approach, and a friendly manner is what sets LGFL apart from other boutique firms in the area.
Managing Director Rita Gupta
Managing Director Rita Gupta deals with all areas of Family Law covering divorce domestic and emotional abuse, finances, cohabitation issues and children. Rita is a strategic litigator with a particular expertise in cases involving:
Custody and care of children
Financial settlements where the interests of minors are paramount
Internal and external relocation of children
Complex financial abuse cases
Domestic abuse and coercive control
Surrogacy and private adoption.
Financial Director Anne Leiper
Financial Director Anne Leiper has worked solely in the area of Family Law for more than 20 years. She has particular expertise in securing complex, detailed financial settlements for high net worth clients, especially ones involving pensions. Anne is a much-respected and expert litigator, and is also a Mediator and Collaborative Lawyer.
"Anne Leiper and Rita Gupta fight fearlessly for the best interests of their clients. They are people you would like on your side if you were ever unfortunate enough to find yourself in the divorce courts."
Legal 500 2020 edition
Litigation
Both Rita and Anna are highly experienced in complex litigation that involves extensive documentation and emotive issues. Their approach to litigation is results-driven and they fight fearlessly for their client's goals, whilst adopting an objective approach. The interests of any minor children are always at the heart of what they do.
A constructive approach
LGFL prides itself on a constructive and pragmatic approach to resolving family disputes, rather than always relying on the courts. Clients are able to take advantage of Mediation and Collaborative Law services. This approach incurs the least possible distress to those involved, especially children, and limits unnecessary legal costs for the client.
This strategic approach also enables LGFL to secure strong financial settlements for both husbands and wives in financial remedy cases, both in contested proceedings and negotiated settlements outside of court. It has also enabled them to successfully conclude children cases with child-focused solutions.
Initial 1 hour consultation with free 30 minutes
The firm offers new clients regardless of location an initial 1-hour consultation with 30 minutes included free, either in person, via video or on the phone. The Directors have found this gives clients the time to discuss issues in more depth without rushing.
Areas of practice
LGFL deal with all aspects of family-related legal issues, including:
Divorce (petitioner and respondent) and separation
Complex child cases
Civil partnership dissolution
Cohabitation agreements
Pre-nuptial agreements
Domestic and emotional abuse, and coercive control
International family law
Private Client: LGFL have experience in dispute resolution and financial settlements and offer a fully comprehensive service for the family law client, including out of court settlements, representation within court proceedings, mediation, and collaborative law.
Family Law: LGFL specialise in family law and associated issues, including relationship breakdown, parental responsibility, child arrangement orders and other court orders, financial settlements, and other issues under the Children Act 1989 and the new Divorce, Dissolution and Separation Act 2020.
First listed in the UK Legal 500 for 2017, LGFL's reputation for legal expertise carried out with empathy and professionalism continues to grow both in the UK and abroad. You can find out more at the Leiper Gupta Family Lawyers website.
Lawyer Profiles
| Photo | Name | Position | Profile |
| --- | --- | --- | --- |
| | Ms Rita Gupta | Rita Gupta is Co-founder and Managing Director of LGFL Ltd, specialising in… | View Profile |
| | Anne Leiper | Director and Co-Founder of Leiper Gupta Family Lawyers (LGFL Ltd), Anne has… | View Profile |
Staff Figures
Number of UK directors : 2
Languages
English (fluent) Hindi Punjabi
Client Testimonials
CLIENT: Mother, Complex Private Children Act Proceedings
TESTIMONIAL: "Rita, you are fabulous, I only wish I had found you sooner. We talk of alchemists but rarely in the same breath as solicitors but you are the rare individual where this is possible. To provide such a professional, intelligent and genuine service with such a moral and child centred ethos has been life affirming. My case was historic, complicated and emotional but after years of confusion there is finally some order. With that chaos now gone, there is finally space to step forwards with greater confidence."
---
CLIENT: Anonymous, Hampshire
TESTIMONIAL: "Rita inspired confidence and I was briefed every step of the way with sound advice and recommendations. Rita always added a personal touch that made me feel like a person, rather than a business transaction at this emotional and distressing time. In court, Rita was very well prepared, assertive but courteous, and added the right amount of gravity to my situation that helped set the tone for a favourable outcome for my son and I."
---
CLIENT: Petitioner Wife/ Financial Case, Surrey
TESTIMONIAL: "Anne Leiper was supportive and professional at all times. I was always assured that she was constantly working in my best interests and she was never afraid to deal with difficult or contentious issues in a forceful but analytical manner. She has excellent contacts with other professionals including barristers but was transparent when considering costs. I would have no hesitation in recommending her and her colleagues to anyone who needed legal help."
---
CLIENT: Petitioner Husband, High Net Worth Financial Matter, Hong Kong
TESTIMONIAL: "Leiper Gupta Family Lawyers helped me tremendously throughout my divorce process. They provided me not only with excellent technical expertise but as importantly, Rita Gupta gave me tremendous support and guidance, whilst at the same time respecting my wishes to settle in the most peaceful and mutually satisfactory and respectful way. I had no hesitation in recommending Rita to a very close friend when his family situation required specialist lawyers."
---
CLIENT: Petitioner Wife, Financial Case, Hampshire
TESTIMONIAL: "LGFL Ltd was recommended to me by a friend and (their) professionalism and knowledge has been invaluable in my position. Every angle and situation has been viewed and advised on. From working with the partners to the wonderful and patient staff in the office, LGFL has been a real stabiliser in what has been a very difficult time; the whole office has been very discrete and approachable. I would not hesitate in recommending them to friends and have done so already."
---
CLIENT: Father in Residence / Children Act Proceedings, Surrey
TESTIMONIAL: "Rita was brilliant in helping me with my family dispute case. In a stressful time when outcomes can change lives you want to be sure you have the best advice and representation. Rita was paramount in achieving our result and I wouldn't hesitate in using her services again should the need arise."
---
CLIENT: Petitioner Wife, Kent
TESTIMONIAL: "When my divorce began, the best advice I received was to contact Anne Leiper. I cannot speak highly enough having her represent me throughout my divorce proceedings. From the outset, Anne provided clear expert guidance, enabling me to make informed life changing judgements about issues which would impact on the rest of my life. I always felt well represented by her and she instilled confidence in me, at a time when I had none. Now the divorce is finalised, I can really appreciate how she had helped to secure my future financially."
---
CLIENT: Petitioner Wife, Berkshire
TESTIMONIAL: "Rita helped me through difficult Divorce and child care proceedings. Rita attended a multiple of court hearings with me, not just for my financial settlement but for my children too which included a full CAFCASS report. Rita has a very professional work ethic and took control where control was needed for the benefit of not only myself, but my 3 children too. I would recommend her and her firm LGFL to anyone in a similar situation to myself."
---
CLIENT: Respondent Husband, Surrey
TESTIMONIAL: "Anne has represented me on four occasions, twice in matrimonial settlements, a financial matter, and a child residency case. Her knowledge of matrimonial law and understanding of all family matters coupled with her tireless work ethic sets her apart from her peers. She has been totally professional in every situation and has always achieved a successful outcome on my behalf."
---
CLIENT: Wife in Matrimonial Matter, Berkshire
TESTIMONIAL: "Thank you so much for getting me to this point so quickly. Your support, advice and professionalism throughout has been superb. You and your team have been brilliant every step of the way. I am in such as good place now compared to the bad place I was in when we first met."
Diversity/Community
Diversity and equality lie at the heart of LGFL, as the firm strives to reflect and represent the multi-faceted society in their home city of Reading, across Berkshire, and the UK. The LGFL mentoring and internship programme includes exceptional young talent from all backgrounds, with a mix of law undergraduates and business-focused young people mainly from state schools. Almost all of LGFL's interns have gone on to train as solicitors.
LGFL's client base is also drawn from a diverse set of circumstances, from local families in the Reading area to international clients based abroad in Europe and Asia, including Hong Kong. Director Rita Gupta herself is of Indian origin and is culturally aware, having acted for many clients of Asian descent.
Mentoring and Internships
LGFL's Directors Rita Gupta and Anne Leiper passionately believe in supporting legal talent regardless of background and to provide opportunities and experience for these individuals. They aim to inspire and empower the next generation of lawyers through the Law Society Mentoring scheme, the company's own intern placement, plus various mentoring activity. This include inspirational talks to aspiring lawyers, and providing workshops for schools including 'mock trials' to develop the art of research, logical reasoning and impassioned debate!
Community and Charity
As family lawyers Rita Gupta and Anne Leiper spend their days helping families. They also believe in supporting the wider 'family' of their local community. Supporting local community initiatives and organisations fits with LGFL's core values of care and professional responsibility.
Through Reading based charity Creating Better Futures, LGFL have made a long-term commitment to sponsor Plaxedes, a young lady in Zimbabwe. Plaxedes wants to become a policewoman, a career choice the firm can whole-heartedly endorse. As Managing Director Rita Gupta explains: "In our work, we always put the interests of the children first. This feels no different, and we are genuinely delighted to help Plaxedes achieve her ambitions through sponsoring key elements of her education, including school fees, and school meals."
LGFL always support a hand-picked selection of charities each year, from smaller local charities making a difference to young lives in the Thames Valley and Reading areas, to international charities supporting children and young people abroad. Examples of organisations receiving support include:
Local sporting events and teams sponsorship
LGFL have always supported local youth football teams, providing kit for Reading School and previously for Reading United Under 13s LGFL also aims to support teams that encourage their players to be the best they can, such as the Theale and Tilehurst Cricket Club.
National charities
National charities supported include the Alzheimer's Society, Macmillan Cancer Support, Jeans for Genes, Save the Children, Smalls for All and more.
Local charities
LGFL aims to help small charities make a big difference, such as First Days in Reading, Creating Futures, Wey Valley Horse show, Launchpad Reading. LGFL also take part in the Reading 10K Legal Walk, raising funds for frontline free legal advice services in Reading and the Thames Valley.
Top Tier Firm Rankings
Firm Rankings