A Y & J Solicitors > London, England > Firm Profile
A Y & J Solicitors
Offices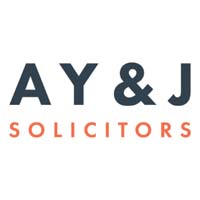 A Y & J Solicitors
5 Chancery Lane
LONDON
WC2A 1LG
England
A Y & J Solicitors > The Legal 500
Rankings
The immigration team at boutique firm
A Y & J Solicitors
is especially well known for its work assisting individuals with Global Talent visas and companies with sponsor licence applications and management work. Managing director
Yash Dubal
heads up the team, and senior associates
Diana Elena Todirica
and
Amy Felix-George
are key contacts.
Other key lawyers:
Testimonials
'The team has been great and responsive walking us through key strategic advice regarding immigration.'
'Customer care is the top priority for AY&J and they look after their clients till the very end.'
'A Y & J provide a bespoke service of the highest standard. They work collaboratively with counsel to ensure the best end result for their clients. They are always very well prepared for every conference and in their instructions with the highest standard of professionalism, managing their clients expectations at the same time finding creative solutions to complex.'
'Professional and very knowledgeable.'
'Diana Todirica is an experienced lawyer and extremely approachable. Her preparation is meticulous and she strives to find a positive solution for her clients. Yash Dubal truly understands the business needs of clients and strives for excellence no matter the challenge.'
'Amy Felix-George is a very safe pair of hands, always going the extra mile. Very knowledgeable, providing speedy and concise advice when needed.'
'Diana Todirica is always very patient in answering all our questions and explains every step in detail. AY&J is very fortunate to have such an excellent lawyer on its staff, as she is always ready to assist in any way she can.'
'Amy Felix-George was great. She walked me through the stages of applying on behalf of my employer for a sponsorship licence of a qualified employee from India. It was very easy to communicate with Amy, she is organised and focused, and she was very helpful. Her help made the process easier for me and it was great to get the licence. Amy also helped our employee from India with the visa application. In conclusion, Amy is very supportive, has excellent attention to details and it was great working with her.'
Work highlights
Assisted a CQC-registered care home in obtaining a sponsor licence to be able to sponsor registered nurses to work in the home.
Assisted a major hotels business (owning over 90 hotels in more than 20 countries around the world) in securing a Skilled Worker/Intra Company Transfer sponsor licence for its first UK hotel presence.
Assisted an international subsea operating company in bringing over numerous seafarers from the EU and also from non-EU countries.
A Y & J Solicitors >
Firm Profile
A Y & J Solicitors: Immigration Lawyers based in London, UK.
A Y & J Solicitors provides specialist immigration legal advice to individuals and businesses.  Based in London but acting for clients from all over the UK and abroad, our firm gained a reputation for providing best-in-class legal services.  Core values such as honesty, passion, credibility, continuing investment in professional development, and exceptional client care are deeply embedded in our firm's culture.
Our commitment to providing quality legal advice and personalised client care is demonstrated in our success stories and reviews.
A Y & J Solicitors is an SRA regulated firm, and we take our responsibilities extremely seriously.  We provide a bespoke solution that suits the needs of the professionals who instruct us, some of who are highly distressed due to immigration challenges.  We work efficiently, establishing the facts, assessing the strengths and weaknesses of an application or refusal, and then provide accurate advice and expert representation.  Our focus is on finding creative solutions to complex immigration law problems and ensuring our clients' expectations are exceeded and their matter resolved. The whole team shares the same values, they demonstrate academic excellence and works in an approachable, friendly manner.
Many of our team are multi-lingual, and we can quickly bring in interpreters if clients require.
We aim to provide immigration solutions which give corporate clients the ability to recruit the talent they need to compete in their sectors and which also offers our private clients with the security to live, work, and prosper in the UK, building a good life for themselves and their families.
A Y & J Solicitors is experienced in all immigration matters including appeals and Judicial Reviews. Our results stand the test of time, as each case is pursued to its completion.  Consequently, many of our clients become friends and recommend our services to others.
Our services
Our entire focus is on immigration law.  Therefore, clients can trust our expertise and our knowledge of the latest developments in the area.  As a niche firm, immigration law is not merely one of many offerings; it is what we live and breathe every day.  Because of this, we are often instructed in highly-complex matters, including Judicial Review cases.
A Y & J Solicitors advises individuals and families throughout the life-cycle of their UK immigration journey, from obtaining a visa to dealing with refusals, advising on extensions and finally, getting Indefinite Leave to Remain and British Citizenship.  When it comes to corporate immigration, we are business people first and lawyers second, this means we are alive to the commercial opportunities and consequences of any immigration decisions made. We offer dedicated support to corporates so that they stay abreast of their Sponsor Licence compliance requirements.  We are also a commercial partner of Department for International Trade (DIT)
Our specialist services include (but are not limited to):
Sponsor licences and business immigration
We work with enterprises of all sizes, assisting them with obtaining a Sponsor Licence so they can recruit non-EEA talent.  We also advise on Resident Labour Market Tests and completing Right to Work Checks to our clients.  Our expertise also extends to advising and representing organisations who have had their Tier 2 Sponsor Licence Suspended or Revoked. We can provide support to manage Sponsor Licence Management Systems, and help clients to ensure they are fully compliant at all times, thereby reducing their risk of adverse Home Office action.
Our team is expert in all aspect of business immigration including Tier 2 Sponsor Licence Renewal,   providing assistance with Home Office Compliance visit, challenging if Tie 2 Sponsor Licence is refused and Civil Penalty Notice.
Tier 1 Investor Visa
The Tier 1 Investor visa is an exclusive UK program for high net worth individuals and their dependents who wish to live in the UK. Our team works with clients and/or their representatives to ensure the application process runs smoothly, investments are made in compliance with the visa requirements, and applications for Indefinite Leave to Remain and British Citizenship are prepared thoroughly.
Tier 1 Entrepreneur Visa
A Y & J Solicitors has a proven success rate in advising and representing clients on all matters involving Tier 1 Entrepreneur Visas, including initial applications, and extensions.
We have the business acumen needed to prepare our clients for the Genuine Entrepreneur Test.  Our team understand that the business plan required as part of the application will be read by immigration officials, not investors and lenders, and will, therefore, advise on the best way to construct the business plan to demonstrate you meet the visa requirements.  We can also provide further guidance on the requirements for both extension and Indefinite Leave To Remain.
UK Family Visas, UK Dependent Visas
One of the most rewarding aspects of our work is bringing families together.  We work with applicants of UK Family Visas (i.e. Spouse Visas, Unmarried-Partner Visas and UK Dependent Visas) to prepare robust applications.  If your visa has been refused, we will examine the details of the Home Office's decision and provide legal advice on the best way for you to move forward which may improve chances to reunite your family.
Tier 4 Student Visa
A Y & J Solicitors advises students and educational institutions on all aspects of the Tier 4 Student Visa.  From assisting Education Institution in applying Sponsor Licence to helping prospective students with their submission of visa application, we provide quality legal advice and representation. Our experienced team also offer legal assistance to students in challenging visa refusal decision through Administrative Reviews.
Indefinite Leave to Remain
We have a strong reputation for successfully advising and representing clients on complex Indefinite Leave to Remain (ILR) refusals, including where ILR is refused due to tax amendments. Our team works quickly to establish the facts of such cases and possesses the expertise required to put together a robust case in favour of our clients.
Get in Touch with A Y & J Solicitors 
A Y & J Solicitors are specialists in immigration law based in central London. If you would like to have more information, please email us at contact@ayjsolicitors.com or call +44 20 7404 7933.
Main Contacts
| Department | Name | Email | Telephone |
| --- | --- | --- | --- |
| Senior partner | Yash Dubal | | |
Staff Figures
Number of UK partners : 4 Number of other UK fee-earners : 6
Languages
English Gujarati Hindi Romanian Italian Chinese (Cantonese and Mandarin) Albanian French
Memberships
Law Society of England and Wales Solicitors Regulation Authority
Client Testimonials
CLIENT: Anant Patel
TESTIMONIAL: As any business will know, having their sponsor licence suspended is a major setback and unnecessary stress for both migrant workers as well as licence holders, and hence when ours was suspended we faced uncertainty until we came across Yash Dubal's AY&J Solicitors who were just brilliant right from the very first phone call. Yash introduced us to Diana Todirica – Senior Immigration case worker and we felt as if she had just lifted a whole load of weight from our shoulders, leaving us time to concentrate on other pressing matters, we felt reassured with both Yash and Diana's straight forward approach, never giving any false hope, but comforting and reassuring us all along with their professionalism, expertise and knowledge.
Diana guided us tirelessly, working out of hours, paying attention to detail and never accepting anything without evidence as she knew very well what was asked and required having dealt with numerous cases for successful reinstatement. I would recommend Yash and Diana without any hesitation and go as far as saying it would be the best investment that anybody could make in procuring a first class, unique bespoke legal advise that one can possibly make and obtain.
---
CLIENT: Peter Yuan
TESTIMONIAL: A good solicitor could change your life! I just had my ILR approved in less than 2 months (advised by HO for up to 6 months wait). All the credits go to Charlotte and Diana!
I was under Tier 1 Entrepreneur and refused by HO in my extension, and was refused again after the AR. Then I found A Y & J, Diana took my case and gave me confidence. She worked hard to gather as much info and evidence as she could and finally, HO decided to reconsider my case. A while later, my extension has been approved! It was just miracle!
A year later, I was due to apply my ILR, Charlotte is my case worker this time. She is kind and professional. We all believed this time gonna be much easier as I had been following the instructions and prepared well. However, they found that I didn't declared I had a motor conviction in the past because I didn't realise the motor conviction is still one of the criminal conviction. So they asked me to prepare extra evidence proving that I didn't mean to avoid/hide I had the motor conviction, but still, there is a chance of the refusal.
Two days ago, Charlotte called me that my application of IRL is successful, and I was extremely happy to have it approved with a very short waiting period!
Once again, it was really appreciated and many thanks to Charlotte and Diana! They are just fantastic! I have already recommended A Y and J to my friends who got immigration matters, you won't regret.
---
CLIENT: Johannes Scheck
COMPANY/FIRM: Global Harvest Ministeries
TESTIMONIAL: A Y & J Solicitors kept their promise made to Global Harvest Ministries(GHM): that they will work closely with us and for us in an effortless and tireless manner leaving no stone unturned in their quest to secure a favourable outcome ( ie Reinstatement of GHM's Sponsor's License)
The advice, guidance and prompts offered by A Y & J Solicitors in the pursuit of the already stated objective was 1st Class.
A Y & J Solicitors proved highly knowledgeable and adept in dealing with Sponsorship and Immigrational issues .
A Y & J Solicitors were meticulous, attentive to detail (s) and their contribution and assistance with GHM'S Representations to the Compliance Office of the Home Office, proved immeasurable and contributed to the Reinstatement of GHM's Sponsor's License in a record time of 21 working days!
In GHM's dealings with A Y & J Solicitors, they proved helpful, understanding and empathetic to our plight.
Based on GHM's experience in dealing with A Y & J Solicitors , GHM would have no hesitation in favourably recommending A Y & J Solicitors to any prospective organisation(s) faced with similar challenges as those encountered by Global Harvest Ministries.
---
CLIENT: Amar Gupta
TESTIMONIAL: Complex Tier 4 visa – Successful
I hope this feedback help others who are in similar situation.I was referred to AYJ by one of my friend, who benefited from their services. I applied for tier 4 visa to pursue my PG in London. My case can be categorised as one of the most complicated/complex case. Sok Wei was my solicitor. Needless to say I have received my tier 4 visa. I received decision for my case in 20 days (15 days is the standard processing time). A case similar to mine would have easily taken anywhere from 30 – 60 days.
I can't discuss my case however I will definitely recommend AYJ to anyone who is thinking of hiring an immigration consultant. I liked their professionalism, timely replies, and keeping things straight with me (no polishing – at times it did annoy me and made me feel as if they don't like me however I think that is not the case). Thanks to Yash and his team – one of the best team in the UK immigration world.
---
CLIENT: Diana Samuel
TESTIMONIAL: I had a top-notch experience with AY&J. Diana fielded my call expertly, and sorted all of the complexities of the Representative of an Overseas Business Visa. My consultation with Martina Flanagan was excellent. She is a true professional who is empathetic and very knowledgeable in Sole Representative Visa. Owing to her advice, our company has taken the best decision. The peace of mind that I have now that I have spoken to her is priceless. I would definitely recommend this firm, and Martina in particular, to anyone without reservation.
---
CLIENT: Jimi
TESTIMONIAL: If you are reading this review then you must need legal support like we did a year ago and you are confused don't know who to trust or who to select as this side of life was completely unknown to you!!
So please read our story as it might guide you to the right direction. We had an ILR rejection back in Aug 2016 and it was one of the nasty allegation which is hard to get rid off. We were in tears, needed legal support and we didn't know any solicitors. So based on reviews we selected AYJ solicitors to pursue our AR and then Judicial Review.
I still remember the day of our refusal I left an enquiry on their webpage and the next day Diana called me and spent over 45 minutes to take our case history and booked us to to see Yash. At that point she won my heart as by then we already experienced that most solicitors don't even spend a minute over the phone unless and until you pay any consultation fee.
Yash was very open and honest. He showed us the true picture and let us decide to pursue JR or not!
So finally from JR submission until we received the outcome it took about a year. Throughout these time at every stage they kept us well informed at all times. Waleed took over our case half way through.He is a very genuine and efficient person. We never ever had to remind him about anything as he was always ahead of the game.
We have gone through an awful journey where sometimes we felt to give up but the team helped us to gain our trust back. Team members are very knowledgeable, caring, trustworthy and friendly. Throughout the time there was excellent communication, they kept us informed as soon as they had an update. The best part was they knew our case in details and never missed a single point.
I seen many people during our JR journey who had bad experience from their solicitor and kept on complaining about them. Honestly speaking we can't think of a single moment where they didn't meet our expectations!
Thank you guys for everything you did for us. You probably won't have any idea how grateful we are to you. Keep up the good work. Wish you all the best. We will definitely refer them to people who need legal support. We were truly touched by your service.
P.S. You can trust them closing your eyes!!!!
Press Releases
22nd October 2020
The global pandemic has thrown working lives in the air as we grapple with the 'new normal' and find ourselves looking for certainty in an uncertain employment world.
14th October 2020
A migrant who fled poverty to build a successful immigration advice service in the UK is now offering free legal guidance for migrants attempting to cross the Channel, in the hope of saving lives.
20th August 2020
London, August 12: Yash Dubal, Founder and Managing Director of A Y & J Solicitors has been shortlisted for Director of the Year Awards 2020 under the category of "SME up to 5 million " in the Institute of Directors London and South Director of The Year awards. The finalists were nominated from the hundreds of directors across ten categories.
Legal Developments
14th August 2020
Pandemic is the latest blow that has thrown millions of lives into disorder, however, one must not forget that the Brexit Train is gradually continuing to steam forward. On 31st January 2020, the United Kingdom has left the European Union by signing a withdrawal agreement with the EU. This momentous shift marks a significant transition from the freedom of movement to the Points-Based system, and the introduction of some new visa categories to come into force from 01 January 2021. This departure from the EU is expected to bring a drastic overhaul in the key immigration system. 
7th January 2019
Regardless of the Brexit outcome, the United Kingdom will remain one of the world most powerful economies. With a market of 65 million people and close ties with Europe, many overseas-based organisations look to establishing a subsidiary or branch office in Britain.
To achieve such a commercial ambition,companies often send a sole representative to the UK to establish contacts,investigate the market, and start building a sales pipeline. One of the most effective visas for this purpose is the Representative of an Overseas Business Visa.
28th November 2018
The plight of those denied a UK Spouse/CivilPartnership Visa or a Spouse/Civil Partnership Visa extension continues to feature in the headlines. In August 2018, the Guardian reported on one young woman, driven to attempt suicide after her fiancé, an Albanian national, was not permitted to enter the country.  The Home Office ruled Paige Smith, a British Citizen, did not meet the £18,600 income threshold.  It later transpired the Home Office lost a crucial payslip proving that Ms Smith met the criteria, a document the department had been sent four times by a Solicitor and Ms Smith's MP.  The appeal Judge took ten minutes to rule the Visa should have been approved; however, the couple still had to wait two months for the Home Office to declare it would not appeal the decision.
5th November 2018
A Tier 1 Entrepreneur Visa provides a gateway to entry and settlement in the UK for non-EEA individuals who wish to launch a start-up or invest in and become a director of a UK company running the business. There are advantages to entering Britain on the entrepreneur visa route; an applicant can bring their dependent family members with them, and there is also an opportunity to fast-track settlement applications if certain criteria are met.
However, the refusal rate for a Tier 1 Entrepreneur Visa is high. According to immigration statistics, in the last quarter of 2017, 48% of entrepreneur visa applications were declined. The toughening up of rules surrounding the Tier 1 Entrepreneur route resulted from a spate of bogus applications in recent years. Now those wishing to enter the UK on an entrepreneur visa must have a first-rate application, demonstrating they can meet the visa requirements and add value to the economy.
4th October 2018
The UK leaves the European Union in less than six months. With the number of EU nationals coming to the UK for work reducing, having a valid Tier2 Sponsor Licence is more crucial than ever for organisations whorely on foreign talent to meet customer demands.
Sponsor Licenceholders who do not have the advantage of large HR departments to monitorcompliance need to be mindful of Home Office actions while observing the non-compliance,including licence suspensions.