Firm Profile > A Y & J Solicitors > London, England
A Y & J Solicitors
Offices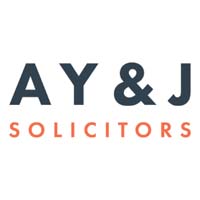 A Y & J Solicitors
CHANCERY HOUSE
53-64 CHANCERY LANE
LONDON
WC2A 1QS
England
A Y & J Solicitors > The Legal 500
Rankings
A Y & J Solicitors has a 'very passionate team which is committed to ensuring that it provides high-quality representation to individuals and businesses'. The specialist immigration firm handles a range of matters including sponsorship, appeals and complex immigration challenges, acting for high-net-worth individuals seeking investment and entrepreneurial visas. The team assists Tier 2 and Tier 5 sponsor licence holders, and also advises on sponsor licence applications and renewals. It also advises on licence suspensions and revocations. Clients are drawn from sectors including IT, financial services, hotels and retail, and sports. Managing director Yash Dubal and Diana Elena Todirica are praised as having 'exquisite legal minds'.
Testimonials
Yash Dubal is extremely well informed and is highly regarded in the sector.
Yash Dubal and Diana Elena Todirica both have exquisite legal minds.
Diana Elena Todirica's attention to detail and her ability to think outside the box puts her at the top.
Diana Elena Todirica knows how to get results for her clients.
The team takes the time to understand the client.
Yash Dubal is a sharp leader.
The team is very responsive and diligent.
The team makes the process as smooth and as hassle free as possible.
Diana Elena Todirica is extremely responsive and thorough in her instructions.
The team works in a cohesive manner, never giving up until they find a solution.
Yash Dubal is efficient and full of energy; his research skills are unparalleled and he is an expert on sponsor licences.
A Y & J Solicitors >
Firm Profile
A Y & J Solicitors: Immigration Lawyers based in London, UK.
A Y & J Solicitors provides specialist immigration legal advice to individuals and businesses.  Based in London but acting for clients from all over the UK and abroad, our firm gained a reputation for providing best-in-class legal services.  Core values such as honesty, passion, credibility, continuing investment in professional development, and exceptional client care are deeply embedded in our firm's culture.
Our commitment to providing quality legal advice and personalised client care is demonstrated in our success stories and reviews.
A Y & J Solicitors is an SRA regulated firm, and we take our responsibilities extremely seriously.  We provide a bespoke solution that suits the needs of the professionals who instruct us, some of who are highly distressed due to immigration challenges.  We work efficiently, establishing the facts, assessing the strengths and weaknesses of an application or refusal, and then provide accurate advice and expert representation.  Our focus is on finding creative solutions to complex immigration law problems and ensuring our clients' expectations are exceeded and their matter resolved. The whole team shares the same values, they demonstrate academic excellence and works in an approachable, friendly manner.
Many of our team are multi-lingual, and we can quickly bring in interpreters if clients require.
We aim to provide immigration solutions which give corporate clients the ability to recruit the talent they need to compete in their sectors and which also offers our private clients with the security to live, work, and prosper in the UK, building a good life for themselves and their families.
A Y & J Solicitors is experienced in all immigration matters including appeals and Judicial Reviews. Our results stand the test of time, as each case is pursued to its completion.  Consequently, many of our clients become friends and recommend our services to others.
Our services
Our entire focus is on immigration law.  Therefore, clients can trust our expertise and our knowledge of the latest developments in the area.  As a niche firm, immigration law is not merely one of many offerings; it is what we live and breathe every day.  Because of this, we are often instructed in highly-complex matters, including Judicial Review cases.
A Y & J Solicitors advises individuals and families throughout the life-cycle of their UK immigration journey, from obtaining a visa to dealing with refusals, advising on extensions and finally, getting Indefinite Leave to Remain and British Citizenship.  When it comes to corporate immigration, we are business people first and lawyers second, this means we are alive to the commercial opportunities and consequences of any immigration decisions made. We offer dedicated support to corporates so that they stay abreast of their Sponsor Licence compliance requirements.  We are also a commercial partner of Department for International Trade (DIT)
Our specialist services include (but are not limited to):
Sponsor licences and business immigration
We work with enterprises of all sizes, assisting them with obtaining a Sponsor Licence so they can recruit non-EEA talent.  We also advise on Resident Labour Market Tests and completing Right to Work Checks to our clients.  Our expertise also extends to advising and representing organisations who have had their Tier 2 Sponsor Licence Suspended or Revoked. We can provide support to manage Sponsor Licence Management Systems, and help clients to ensure they are fully compliant at all times, thereby reducing their risk of adverse Home Office action.
Our team is expert in all aspect of business immigration including Tier 2 Sponsor Licence Renewal,   providing assistance with Home Office Compliance visit, challenging if Tie 2 Sponsor Licence is refused and Civil Penalty Notice.
Tier 1 Investor Visa
The Tier 1 Investor visa is an exclusive UK program for high net worth individuals and their dependents who wish to live in the UK. Our team works with clients and/or their representatives to ensure the application process runs smoothly, investments are made in compliance with the visa requirements, and applications for Indefinite Leave to Remain and British Citizenship are prepared thoroughly.
Tier 1 Entrepreneur Visa
A Y & J Solicitors has a proven success rate in advising and representing clients on all matters involving Tier 1 Entrepreneur Visas, including initial applications, and extensions.
We have the business acumen needed to prepare our clients for the Genuine Entrepreneur Test.  Our team understand that the business plan required as part of the application will be read by immigration officials, not investors and lenders, and will, therefore, advise on the best way to construct the business plan to demonstrate you meet the visa requirements.  We can also provide further guidance on the requirements for both extension and Indefinite Leave To Remain.
UK Family Visas, UK Dependent Visas
One of the most rewarding aspects of our work is bringing families together.  We work with applicants of UK Family Visas (i.e. Spouse Visas, Unmarried-Partner Visas and UK Dependent Visas) to prepare robust applications.  If your visa has been refused, we will examine the details of the Home Office's decision and provide legal advice on the best way for you to move forward which may improve chances to reunite your family.
Tier 4 Student Visa
A Y & J Solicitors advises students and educational institutions on all aspects of the Tier 4 Student Visa.  From assisting Education Institution in applying Sponsor Licence to helping prospective students with their submission of visa application, we provide quality legal advice and representation. Our experienced team also offer legal assistance to students in challenging visa refusal decision through Administrative Reviews.
Indefinite Leave to Remain
We have a strong reputation for successfully advising and representing clients on complex Indefinite Leave to Remain (ILR) refusals, including where ILR is refused due to tax amendments. Our team works quickly to establish the facts of such cases and possesses the expertise required to put together a robust case in favour of our clients.
Get in Touch with A Y & J Solicitors 
A Y & J Solicitors are specialists in immigration law based in central London. If you would like to have more information, please email us at contact@ayjsolicitors.com or call +44 20 7404 7933.
Main Contacts
| Department | Name | Email | Telephone |
| --- | --- | --- | --- |
| Senior partner | Yash Dubal | | |
| Managing partner | Arjun Dubal | | |
Staff Figures
Number of UK partners : 4 Number of other UK fee-earners : 6
Languages
English Gujarati Hindi Romanian Italian Chinese (Cantonese and Mandarin) Albanian French
Memberships
Law Society of England and Wales Solicitors Regulation Authority
Diversity/Community
Diversity and Inclusion
A Y & J Solicitors places great value in taking concrete action to promote diversity and inclusion. We understand that people, cultures, faiths and individual identities create a talented and creative world that is beneficial to all. Our staff represents a broad and diverse sampling of backgrounds, and we are proud of the excellence in immigration law that this diversity brings.
We also value the diversity that our clientele represent, and we appreciate the relationships we've made with clients from around the world. Our firm is known as an internationally-minded company that is well-respected across cultures and nationalities.
Inclusion operates hand-in-hand with diversity. We value differences, and we welcome the people represented by all walks of life. From our hiring practices to our internal office culture and our multilingual and multicultural offerings to clients, we include all both within our firm and to our clients.
Community and Worldwide Sponsorship
Our staff is encouraged to give their time to the causes that are close to their hearts, and we are proud of the generosity and compassion they show in many charitable ways. We believe that every small change makes a difference, from volunteering to donating to making responsible environmental choices within our office.
We support a rotating list of charities both in the UK and internationally. Recent contributions have been made to local community programs, the British Red Cross, and cancer research. Yash Dubal, our director, is personally involved as a Vision India Member for Prantham UK, which provides education for disadvantaged children in India. He ran London marathon 2017 for charity.
Corporate Responsibility
As an immigration firm, we have first-hand knowledge of the impact that policies and values have on the community we live in. We have carefully chosen our firm's values, and we incorporate them into all aspects of our work. We are known as honest, ethical, and responsible solicitors who will do whatever is needed to ensure our clients receive fair, quality representation in every immigration matter.
We choose to speak up for justice and equality on behalf of our clients. Immigration law is a very personal business for us. Every day our firm is able to change lives, bring families together, and support organisations which are providing essential employment placements for deserving workers.
Environment
We recognise the importance of taking real action towards protecting the environment and restoring it for future generations. From small measures, like encouraging the electronic transmission of documents in order to use less paper and ink, to larger actions such as promoting awareness of environmentally responsible activities throughout the workplace, we are committed to taking care of our earth together.
Client Testimonials
CLIENT: Purnima Kaushal

COMPANY: Amisoft Technologies Ltd

TESTIMONIAL: "Outstanding Services – Right from the word go, AYJ Solicitors were ultra-professional. Having our Sponsor Licence suspended was a major roadblock for our business, but Mr. Yash Dubal and his team were exceptionally motivated and offered us honest legal advice. They worked with us tirelessly to get things sorted and get our Sponsor Licence duties in sync with UKVI requirements. As a consequence of their legal expertise our Sponsor Licence was reinstated. We would recommend AYJ Solicitors to anybody who is looking for high quality Legal Advice."
---
CLIENT: Monika Loewy

TESTIMONIAL: "Best decision I've made! I was at such a loss trying to get a leave to remain visa. I had been trying for months and months to get a premium appointment – waking up at 6 and signing it at midnight – to no avail. I couldn't stay here without working so I needed one and then found A Y & J Solicitors. They helped me immediately. Diana was my lawyer and she was dedicated and fast. Honest and direct, but also caring and kind. I would recommend them to anyone in my situation. It's expensive, but I don't regret spending that money for a minute. Now that I can work I'll make it all back! Honestly, all was worth it. I'm so thankful."
---
CLIENT: Johannes Scheck ( Elder)

COMPANY: Global Harvest Ministries, London

TESTIMONIAL: "A Y & J Solicitors kept their promise made to Global Harvest Ministries(GHM): that they will work closely with us and for us in an effortless and tireless manner leaving no stone unturned in their quest to secure a favourable outcome ( ie Reinstatement of GHM's Sponsor's License). The advice, guidance and prompts offered by A Y & J Solicitors in the pursuit of the already stated objective was 1st Class. A Y & J Solicitors proved highly knowledgeable and adept in dealing with Sponsorship and Immigrational issues . A Y & J Solicitors were meticulous, attentive to detail (s) and their contribution and assistance with GHM'S Representations to the Compliance Office of the Home Office, proved immeasurable and contributed to the Reinstatement of GHM's Sponsor's License in a record time of 21 working days! In GHM's dealings with A Y & J Solicitors, they proved helpful, understanding and empathetic to our plight. Based on GHM's experience in dealing with A Y & J Solicitors, GHM would have no hesitation in favourably recommending A Y & J Solicitors to any prospective organisation(s) faced with similar challenges as those encountered by Global Harvest Ministries."
---
CLIENT: Aura Berbesi De Davila Venezuela

TESTIMONIAL: "Excellent team of professionals, always concerned to help and keep informed their customers at all times. You never feel alone especially in paperwork that for you are so important and of which you do not know anything. They advise you, they watch because everything goes well and they always advise you. It has been fortunate for me to find them. Thanks to them I have achieved the residence cards of my mother, in record time and without any problem."
---
CLIENT: Vision IT Solutions Private Ltd

TESTIMONIAL: "VALUE FOR MONEY…. 100% Professionalism. Thanks to AYJ for providing services to my company sponsorship matters. YASH & his Team members all are having good modern immigration law client defended skills. I recommend you all to use AYJ Solicitors any of your individual or corporate UK immigration matters. Good Luck… Wish you all the best for your needs."
---
CLIENT: Paul Redman

TESTIMONIAL: "I was most impressed with the service provided by AY & J Solicitors – from all the people with whom I had dealings. They dealt with my partner's matter (challenging the refusal of a tourist visa to the UK by way of a Pre Action Protocol Letter prior to Judicial Review Proceedings) in a timely and professional manner. I got the impression that the lawyers who dealt with my case – Ms. Flanagan and Ms. Todirica – were both very competent and well experienced in their field of specialization, Immigration Law). I do not say this lightly as I am an unregistered barrister who well knows that not all lawyers exhibit the professional competence the general public would imagine (or could rightly expect). I would not hesitate to recommend AY & J Solicitors or to use them again."
---
CLIENT: Ades Ltd

TESTIMONIAL: "Highly Recommended Law Firm. From the first phone call, all the way through to subsequent meetings, AYJ showed a high level of professionalism. We commend you for working tirelessly on our case. You did a great job in representing us and we will definitely recommend your firm to others. A big Thank you to Yash, Diana and the entire team for their assistance and support."
Spotlights
A Y & J SOLICITORS
HUMAN RESOURCES: IMMIGRATION
A Y & J Solicitors has gained a reputation for passionate legal immigration representation – meeting the complex and varied needs of both individuals and corporations facing legal immigration obstacles. The immigration team takes an 'In It to Win It' approach, where every client is treated with honesty, integrity, and creative solutions that bring the best resolution in the shortest possible time.
The firm offers premium services to busy corporate and individual clients, meeting them when their busy schedules permit. With the combined expertise of more than 25 years, the firm's team is capable of handling complicated cases with a progressive, exceptional approach that allows clients to move forward without cumbersome immigration challenges. Clients consistently recommend its services to others, and the growth of the firm is evidence of their distinguished track record with immigration cases. Read reviews of A Y & J Solicitors here.
A Y & J Solicitors handles all UK visa applications, including Tier 1, Tier 2, Tier 4, Tier 5, spousal visas, sole representative visas, and all visa application appeals. Their corporate division expertly represents, advises, and supports Sponsor Licence holders so that businesses can retain their critical Non-EU skilled workers. They help from sponsor licence application to renewal; they also manage complex matters like overturning of suspensions and revocations of sponsor licence.
The firm is committed to excelling in all areas of immigration law in a way that ensures the client benefits from both their current success and planning for future success, regardless of the constantly changing immigration law.
A Y & J Solicitors: Immigration Lawyers based in London, UK.
Legal Developments
Regardless of the Brexit outcome, the United Kingdom will remain one of the world most powerful economies. With a market of 65 million people and close ties with Europe, many overseas-based organisations look to establishing a subsidiary or branch office in Britain.
To achieve such a commercial ambition,companies often send a sole representative to the UK to establish contacts,investigate the market, and start building a sales pipeline. One of the most effective visas for this purpose is the Representative of an Overseas Business Visa.
The plight of those denied a UK Spouse/CivilPartnership Visa or a Spouse/Civil Partnership Visa extension continues to feature in the headlines. In August 2018, the Guardian reported on one young woman, driven to attempt suicide after her fiancé, an Albanian national, was not permitted to enter the country.  The Home Office ruled Paige Smith, a British Citizen, did not meet the £18,600 income threshold.  It later transpired the Home Office lost a crucial payslip proving that Ms Smith met the criteria, a document the department had been sent four times by a Solicitor and Ms Smith's MP.  The appeal Judge took ten minutes to rule the Visa should have been approved; however, the couple still had to wait two months for the Home Office to declare it would not appeal the decision.
A Tier 1 Entrepreneur Visa provides a gateway to entry and settlement in the UK for non-EEA individuals who wish to launch a start-up or invest in and become a director of a UK company running the business. There are advantages to entering Britain on the entrepreneur visa route; an applicant can bring their dependent family members with them, and there is also an opportunity to fast-track settlement applications if certain criteria are met.
However, the refusal rate for a Tier 1 Entrepreneur Visa is high. According to immigration statistics, in the last quarter of 2017, 48% of entrepreneur visa applications were declined. The toughening up of rules surrounding the Tier 1 Entrepreneur route resulted from a spate of bogus applications in recent years. Now those wishing to enter the UK on an entrepreneur visa must have a first-rate application, demonstrating they can meet the visa requirements and add value to the economy.
The UK leaves the European Union in less than six months. With the number of EU nationals coming to the UK for work reducing, having a valid Tier2 Sponsor Licence is more crucial than ever for organisations whorely on foreign talent to meet customer demands.
Sponsor Licenceholders who do not have the advantage of large HR departments to monitorcompliance need to be mindful of Home Office actions while observing the non-compliance,including licence suspensions.
Top Tier Firm Rankings
Firm Rankings