Firm Profile > Boodle Hatfield LLP > London, England
Boodle Hatfield LLP
Offices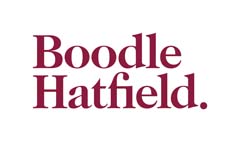 Boodle Hatfield LLP
240 BLACKFRIARS ROAD
LONDON
SE1 8NW
England
Boodle Hatfield LLP > The Legal 500
Rankings
Boodle Hatfield LLP >
Firm Profile
Boodle Hatfield is a full-service, commercially-focused firm with leading practices in property, private client and tax, litigation, family and corporate law.
The firm: One of the firm's key strengths is its ability to marry together its various disciplines to serve the needs of clients in both their personal and business life. Boodle Hatfield has been advising clients since 1722 and has a rich history acting for wealthy individuals, entrepreneurs, families, property owners and businesses. The firm has a leading Middle East team and is part of an international legal network, meaning it has established and strong connections worldwide. Boodle Hatfield is based in London with offices in Bankside and Mayfair as well as a smaller office in Oxford.
Types of work undertaken
Property: the highly rated property department is involved in large urban estate transactions with associated landlord and tenant matters, hotels, retail and London-based residential and mixed-use developments and investments. It acts for developers, owners, occupiers, funders and UK-based and international corporate and private investors. Skills also include property finance and secured lending, property taxes, construction (contentious and non-contentious) and the private rented sector. It also advises private individuals on the sale and purchase of prime residential property in London and the countryside.
Private client and tax: the private client and tax department is a leader in its field, domestically and internationally, and handles tax planning for large and complex estates, private companies, entrepreneurs, family offices, high-net-worth individuals and families, trustees, executors and charities. It advises on inheritance, capital gains and income tax planning, wills and probate, domicile and residence issues, pre-immigration planning, VAT, property and corporate taxes, the creation and administration of trusts, and on trust and probate disputes.
Corporate: the corporate department focuses on mid-sized corporate clients and private capital. It acts for an international mix of private businesses (chiefly SMEs, ranging from start-ups to substantial, established organisations), smaller quoted companies, entrepreneurs, funds, corporate and private investors, and financiers and funds. It advises on mergers and acquisitions, MBOs and private equity transactions, joint ventures, banking transactions (especially property-related), listings and the issue of securities, and commercial agreements.
Litigation: the litigation department is active in a broad range of commercial disputes and has substantial, well-regarded expertise in property litigation, commercial litigation, arts disputes, acting for major property and commercial organisations in construction, employment and agrochemicals.
Family and divorce: the family law practice deals with all issues related to relationship breakdowns and on new relationships starting up. Many of its clients have international backgrounds and the team has particular experience in cross-border cases.
Arts and culture: the arts group advises individuals, institutional collectors, estates and trustees, galleries, and art and antique dealers on art law issues including the disputed authenticity of old masters and conditional exemption claims for landed estates, as well as on commercial transactions.
Main Contacts
| Department | Name | Email | Telephone |
| --- | --- | --- | --- |
| Senior partner | Sara Maccallum | | |
| Arts and cultural | Sue Laing | | |
| Arts and cultural | Simon Fitzpatrick | | |
| Agricultural property | Saskia Arthur | | |
| Agricultural property | Jane Littlejohn | | |
| Banking and finance | Adam Chamberlain | | |
| Charities | Natasha Hassall | | |
| Commercial litigation | Simon Fitzpatrick | | |
| Commercial real estate | Simon Williams | | |
| Construction | John Wevill | | |
| Contentious trust and probate | Simon Rylatt | | |
| Corporate | Nigel Stone | | |
| Corporate finance/M&A | Nigel Stone | | |
| Corporate and property tax | Sara Maccallum | | |
| Entrepreneurs | Richard Beavan | | |
| Family | James Ferguson | | |
| Private client and tax | Simon Rylatt | | |
| Property litigation | Colin Young | | |
| Residential property | Saskia Arthur | | |
| Hotels | Rajeev Joshi | | |
Lawyer Profiles
| Photo | Name | Position | Profile |
| --- | --- | --- | --- |
| | Saskia Arthur | Saskia has a diverse client base and wide ranging practice focusing on… | View Profile |
| | Hayden Bailey | Hayden is a partner in the private client and tax team. He has… | View Profile |
| | Richard Beavan | Richard has been a corporate lawyer since 1998 and has extensive experience… | View Profile |
| | Emily Brand | Emily specialises in family law with particular expertise in complex financial proceedings,… | View Profile |
| | James Ferguson | James is head of the family team and specialises in family law… | View Profile |
| | Simon Fitzpatrick | Simon's practice covers a broad range of commercial litigation. Simon is leader… | View Profile |
| | Fiona Graham | Fiona advises a broad range of UK and non-UK domiciled high net… | View Profile |
| | Natasha Hassall | Natasha advises on long term estate planning, handling both onshore and offshore… | View Profile |
| | Jane Ireland | Jane specialises in mergers, acquisitions, disposals, joint ventures and reorganisations and acts… | View Profile |
| | Shaima Jillood | Shaima is a Partner at Boodle Hatfield. She is experienced in all… | View Profile |
| | Simon Kerrigan | Partner dealing with all aspects of residential property work, in particular landlord… | View Profile |
| | Caroline King | Caroline is a Partner experienced in all types of commercial property work,… | View Profile |
| | Salpy Kouyoumjian | Salpy is a Partner with a strong international client base and specialises… | View Profile |
| | Sue Laing | Sue specialises in succession planning, asset protection and capital and income tax… | View Profile |
| | Mark Lindley | Mark is an Associate at Boodle Hatfield. He specialises in handling disputes… | View Profile |
| | Jane Littlejohn | With over 25 years of experience, Jane heads our estates team. A… | View Profile |
| | Sara Maccallum | Sara is Senior Partner of Boodle Hatfield and head of the commercial… | View Profile |
| | Amanda O'Keeffe | Amanda has many years of experience in all aspects of residential property… | View Profile |
| | Simon Rylatt | Simon deals with a wide range of UK and international tax and… | View Profile |
| | Eleanor Sepanski | Eleanor deals with all aspects of onshore UK tax, private client and… | View Profile |
| | Nigel Stone | Nigel is head of the Corporate team. His practice areas are UK… | View Profile |
| | Rahul Thakrar | Rahul is a Partner who advises entrepreneurs and businesses on a variety… | View Profile |
| | Geoffrey Todd | Geoffrey gives UK and international tax and estate planning advice to individuals,… | View Profile |
| | Jonathan Turton | Jonathan is a leading enfranchisement solicitor. He principally acts for landlords, and… | View Profile |
| | John Wevill | John specialises in non-contentious and contentious construction law. He has over 15… | View Profile |
| | Simon Williams | Simon is experienced in all aspects of commercial property relating to development,… | View Profile |
| | Andrew Wilmot-Smith | Andrew acts for a wide variety of property businesses including family offices,… | View Profile |
| | Graham Winkley | Graham has a wide experience in all aspects of residential and commercial… | View Profile |
| | Colin Young | Partner acting on a wide range of property and commercial matters. Has… | View Profile |
| | Andrea Zavos | Andrea is a member of the contentious trust and estates team. She… | View Profile |
Staff Figures
Number of UK partners : 33
Diversity/Community
Diversity/Community
Boodle Hatfield's success is built on the enduring relationships it has developed over 300 years with its clients and staff. This is based on the respect we have for the individual, commitment to providing each person with the opportunity to succeed and the value we put on respecting diversity.
We are known for our positive working environment, friendly, informal atmosphere and a strong emphasis on developing each individual. We respect people of all backgrounds and have a good ethnic and gender balance amongst the staff.
We are particularly acknowledged for providing a good environment for women and we have been recognised in previous Euromoney Women in Law Awards. The firm won best National Firm across 31 countries from 2012 to 2016. Currently 56% of equity partners are women and two thirds of the fee earners are women.
We support the development of our staff by investing in our people and providing appropriate training so that employees have the opportunity to excel in their professional careers. This has led to a high retention rate of staff throughout all positions in the firm.
Corporate social responsibility
We are firmly committed to making a difference in the way that we conduct our business: we support initiatives that contribute to the good of the community, contribute financially to selected charitable causes and adopt environmentally friendly working practices.
Each year, within the firm, we select a Charity Partner to be the recipient of our fund raising activities. – see our website for more details here.
We are keen to support our people becoming involved in community initiatives and work with a range of community projects in Southwark. We work with local school children and undertake a reading scheme with St George's Cathedral Catholic Primary School in Southwark. We also provide pro bono advice to local charities and trusts and run workshops for interns from local charities.
The Lex 100 Verdict
Specialist practice areas, including a particularly strong reputation in private client and family law, attracted trainees to Boodle Hatfield. A 'good experience at interview' and the 'friendly culture witnessed on the vacation scheme' showcased the firm's best side and convinced recruits that the London outfit was the perfect place for them. An 'excellent quality and mix of clients' has inevitably contributed to the firm's Lex 100 Winner medals for job satisfaction, living up to expectations and quality of work. Trainees share offices with partners, allowing them to work directly with their superiors, something which is described as a 'great benefit' and has earned the firm a further two Lex 100 Winner medals for inclusiveness and approachability. Indeed, 'working closely with partners on big transactions' was cited as the best thing about the firm by one respondent. The 'smaller cohort of trainees due to the overall size of the firm' was seen as a downside by some recruits, whilst others praised the high levels of responsibility resulting from there being 'only a select number of trainees'. A 'fairly relaxed nature' characterises the firm, where 'partners expect trainees to work hard when necessary, but at the same time have a real appreciation for work/life balance'. Boodle Hatfield is also a Lex 100 Winner for remuneration. However, the 'lack of opportunities for travel' was lamented. Standout moments included 'obtaining a great result for a client at a final hearing which I had spent the last month preparing for' and 'recovering tens of thousands of pounds for a client when a settlement finally completed'. 'Being under pressure managing a workload and running my own files' was more stressful. For a firm which offers more responsibility, far better hours and a friendlier culture, take a closer look at Boodle Hatfield.
Top Tier Firm Rankings
Firm Rankings