Firm Profile > Adams & Remers > Lewes, England
Adams & Remers
Offices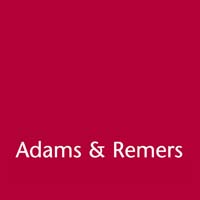 Adams & Remers
TRINITY HOUSE
SCHOOL HILL
LEWES
BN7 2NN
England
Adams & Remers > The Legal 500
Rankings
Adams & Remers >
Firm Profile
Adams & Remers provides straightforward and responsive legal advice to corporate and institutional clients and private individuals, both nationally and internationally.
The firm: The firm has 21 partners and a 110-strong team with an established reputation for providing outstanding, commercially-focused advice delivered by a team of highly skilled and experienced solicitors.   In 2018, Adams & Remers merged with Mayfair-based firm, Evans Dodd, which increased our staff numbers and client base.
Adams & Remers remains committed to extending our range of services and expanding our client base, by continuing steady organic growth across work types and sector specialisms.
Adams & Remers' clients include quoted and private companies, wealthy individuals, major landowners and their trustees. Industry specialisms include agriculture and rural estates, energy, listed buildings, healthcare, travel, retail and service industries.
Types of work undertaken
Residential and commercial property: commercial property, property development, planning, construction, investment, funding, insolvency, sales, purchases, leasehold enfranchisement, lettings, agriculture and mineral extraction, private property, and listed buildings. We also offer specialist services for care home owners for sales, acquisitions and refinances.
Corporate and commercial: mergers and acquisitions, admissions to the AIM Market, preparing a business for sale, corporate finance, business contracts, assisting in negotiations, company and partnership formation, shareholder and partnership agreements, advising on staff-related issues, tax planning, intellectual property issues, computer software contracts, and corporate recovery.
Private client: trusts; tax planning; inheritance, capital gains and income tax; wills; estate planning; estate restructuring; lifetime gifts; and notarial services.
Dispute resolution: commercial disputes; insurance; professional negligence; property, including landlord and tenant matters; environmental issues; health and safety; family and matrimonial law; and contested probate and trusts litigation.
Employment: contracts of employment, redundancies, disability and sick pay, transfers of business, disputes and dismissals, non-compete clauses, and staff incentive schemes.
Lawyer Profiles
| Photo | Name | Position | Profile |
| --- | --- | --- | --- |
| | Peter Ames | Associate Peter advises on a broad range of commercial and financial litigation,… | View Profile |
| | David Barrett | David is a Partner who has over 30 years' experience in dealing… | View Profile |
| | Suzanne Bowman | Suzanne is a Partner and Head of Residential Property (Lewes). For the last 15 years she has… | View Profile |
| | Danish Butt | Associate Solicitor Danish is a solicitor in the commercial property team and… | View Profile |
| | Joanna Clark | Jo is a Partner and deals with all aspects of buying, selling,… | View Profile |
| | Ashton Davies | Ashton is a Partner within the Litigation team. He specialises in claims involving… | View Profile |
| | Andrew Deans | Solicitor | View Profile |
| | Aisha Dickson | Aisha is a Consultant and advises on a wide range of commercial, intellectual property and… | View Profile |
| | Amanda Epstein | Consultant | View Profile |
| | Bibi Fortin Lees | Partner and Head of Private Client Bibi advises individuals and trustees on… | View Profile |
| | Katherine Gage | Solicitor | View Profile |
| | Lisa Gibbins | Lisa is an Associate and works with clients and other advisers to… | View Profile |
| | Jessica Gisby | Associate | View Profile |
| | Amy Goldstone-Sharma | Solicitor All aspects of residential property law and general property advice. Expertise… | View Profile |
| | Katherine Haslam | Katherine is a Partner and Head of Commercial Property. She handles a broad… | View Profile |
| | Robin Illingworth | Robin is a Partner, Head of Property and is also Managing Partner.… | View Profile |
| | Lloyd Junor | Lloyd is a Partner and heads the firm's contentious trust and probate… | View Profile |
| | Harriet Lythgo-Smith | Solicitor | View Profile |
| | Francis Nation-Dixon | Francis is a Partner and advises individuals and trustees with regard to… | View Profile |
| | Kristina Obeid | Solicitor | View Profile |
| | Andrew Pawlik | Andrew is a Partner and Head of Litigation, he has an impressive reputation for… | View Profile |
| | Jane Sinclair | Jane is a Partner in the commercial property team and advises clients… | View Profile |
| | Douglas Stewart | Partner, Douglas leads the Corporate Team in the Lewes Office. He advises… | View Profile |
| | Ryan Stewart | Solicitor | View Profile |
| | Sara Stuart | Conveyancing Executive | View Profile |
| | James Turner | James is a Partner and specialises in agriculture and landed estate property work… | View Profile |
| | Shauna West | Conveyancing Executive | View Profile |
Staff Figures
Number of UK partners : 21 Number of other UK fee-earners : 39
Languages
French German Afrikaans English Punjabi
Client Testimonials
CLIENT: Mr H
COMPANY/FIRM:
TESTIMONIAL: "Adams & Remers offer a very personal, sensitive and friendly service whilst acting with total professionalism at all times."
---
CLIENT: Mr & Mrs V
COMPANY/FIRM:
TESTIMONIAL: "Wonderful communication, upbeat, nothing was too much trouble. We appreciate all your help and would love to deal with you again in the future."
---
CLIENT: Mrs H
COMPANY/FIRM:
TESTIMONIAL: "Efficiency, calmness, friendliness, approachability."
---
CLIENT: Mr E
COMPANY/FIRM:
TESTIMONIAL: "Extremely professional and knowledgeable – but also much more accessible and responsive than other firms we have used in the past. Highly recommend!"
---
CLIENT: Mr H
COMPANY/FIRM:
TESTIMONIAL: "Adams & Remers managed the purchase of our first home. They ensured we always knew exactly what was going on with the purchase, providing us with regular updates where necessary. As first time buyers, you definitely went the extra mile in helping us through the process. Wouldn't think twice about working with you again."
---
CLIENT: Mr W
COMPANY/FIRM:
TESTIMONIAL: "Very responsive and a pleasure to work with at a fair price."
Top Tier Firm Rankings
Firm Rankings