Yousaf Amanat & Associates > Islamabad, Pakistan > Firm Profile
Yousaf Amanat & Associates
Offices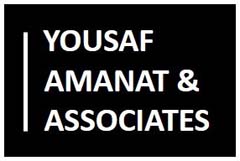 Yousaf Amanat & Associates
435 ST 01
F-11/1
ISLAMABAD
Pakistan
Yousaf Amanat & Associates > The Legal 500
Rankings
Yousaf Amanat & Associates
is recognised for advising clients across the full gamut of employment law matters. The practice has seen increasing work advising foreign clients on the termination and hiring of upper management, including CEOs and County Directors in Pakistan. Islamabad-based
Yousaf Amanat
leads the team and is also an advocate of the High Courts of Pakistan. Amanat's counterpart,
Noman Zahid,
operates from the Karachi office, and handles matters with a nexus to the Karachi and Sindh provinces.
Practice head(s):
Yousaf Amanat; Noman Zahid
Testimonials
'Yousaf Amanat is a thorough professional who is focused on the details.'
'I found the team very competent and up to date with the new laws and technologies.'
'Yousaf Amanat is very professional in his dealing with clients. He is efficient in engaging with relevant parties in cases involving court hearings.'
'Firstly, they are good human beings, then thorough professionals as per the latest trends.'
'The devotedness and attention they give to their work makes them exceptional.'
Key clients
ENI Spa Rome
Daily Motion
Telecure Technologies USA
China Three Gorges
KPMG Germany
Apple
Bloomberg
Nokia
Ericsson
GIZ
Work highlights
Advised on various labour issues relevant to the $3.8bn Karot Power Project.
Represented Telecure Technologies (USA) in litigation in collaboration with Cassels Brock & Blackwell LLP and DLA Piper.
Advised Daily Motion on the new Social Media Rules in Pakistan, in connection with the Data Protection Law.
Yousaf Amanat & Associates >
Firm Profile
 ADVISING ON:
[ EMPLOYMENT, DATA PROTECTION, MINING, TAX, COMPANY LAW, ADMIRALTY LAW, RESEARCH STUDIES, WORKPLACE HARASSMENT, CIVIL CRIMINAL LITIGATION, COMPANY FILINGS]
-REMOVAL OF DIRECTORS/CEO, APPOINTMENT OF DIRECTORS/CEO.

———Also ranked in CHAMBERS AND PARTNERS

GIG WORKERS: Advised Berlin based international food delivery giant Hero Delivery and Food Panda.  Detailed assessment of risks for the freelancer model.
[We just advised APPLE and DAILY MOTION on data protection!]
[The trusted partner for blue chip law firms and companies]
The ONLY EMPLOYMENT LITIGATION SPECIALIST FIRM IN PAKISTAN, WE HANDLE HIGH END EXECUTIVE LITIGATIONS.
We are the No 1 contact for GCs and law firms looking for advice in employment law in Pakistan: Clifford Chance, Cassels Brock & Blackwell LLP, Greenberg Traurig LLP, Herbert Smith Freehills, Baker Mckenzie, Addleshaw Goddard, Apple, Gaming Innovation Group, China Three Gorges, Daily Motion, KPMG Legal, E & Y Law, PWC, HMD Global OY (Nokia Phones), Citi Group, ENI, Ericsson, Hero Delivery, Food Panda, Daily Motion, Telecure Technologies, Gaming Innovation Group, Field Fisher, Adva Com, Oxfam, Marriott International, SABIC, GIZ, GROHE, Ministry of Foreign Affairs Denmark, Hearst Corporation are just some of the organizations for whom we are the No 1 employment law firm in Pakistan.
We are part of an elite international European body of employment and HR lawyers
Offices: The firm maintains offices both in Islamabad and Karachi but represents clients in all major cities of Pakistan. We currently have a staff of 20 which spans the Islamabad and Karachi offices and includes two partners and 18 lawyers.
Team: The firm is a one window operation for all employment matters from employment litigation specialist Mr Yousaf Amanat in Islamabad and Noman Zahid in Karachi, employment tax specialists Sheraz Aslam and Sheikh Saif, to civil and criminal litigation specialists Shafique Dab and Syed Khawar (Supreme Court) respectively.  Mr Amanat is also known for his advice on data protection.
We have developed our data protection, tax, criminal litigation, civil litigation, finance and arbitration practice in order to cater better to our strength which is employment law. This is our vision and this is what sets us apart from our competition. In instructing us on employment matters, clients do not have to search for separate firms for criminal, tax, data protection, civil, finance and arbitration.
A lot of firms in Pakistan work in employment law however we are the only ones contacted specifically to handle sensitive high profile employment matters for clients based abroad. GCs and law firms trust us worldwide. We are known for our technical know how of employment law. Be it getting a matter:  dismissed on applicability of a law to an organization, classification of the employee,  the law of limitation, employers rely on us in getting them out of a sticky situation.
Advised China Three Gorges on the inquiry of the Compliance Advisor Ombudsman of the World Bank for the Karot Power Project.
Represented HMD Global OY (Nokia Phones) in an Appeal in the Labour Court Karachi when the Labour Court decided to summon the Chairman of the HMD Global OY (Nokia Phones) from the US.
Presently representing ENI Spa Rome in a workman compensation litigation in Karachi which we hope to have dismissed on a technicality.
Advised Karot Power Project on Trade Unions and handling of Illegal Strikes.
Representing Telecure Technologies Inc US in a cyber crime complaint lodged with FIA.
Represented Oxfam successfully in the main case and the resulting Appeal filed in Pakistan by a Country Director of Pakistani Origin for Oxfam's Kenyan Program. The Country Director filed against the worldwide head of Oxfam.
Handled the termination of the CEO of an international financial group with offices in Pakistan. The matter saw us constantly in conference sessions with GCs of the organization.
Representing Telecure Technologies Inc US in a Civil Injunction before the Lahore Civil Courts.
Presently handling the  employment/criminal complaint filed by approximately 900 employees of Marriott International and Pearl Continent Hotels in Pakistan against their alleged wrongful termination during covid-19.
Representing Marriott International in the bail before arrest, police investigation and court trial of employees.
Represented HMD Global OY (Nokia Phones) in a complaint under Employment Law for registering of workplace.
Represented the employees of an international hotel chain successfully in a sexual harassment claim.
Advised China Railway and Construction on its proposed 2,000 strong employee workforce for a project.
The firm in July 2020 became part of a large consortium of employment law firms that are advising ABB/Hitachi. In July 2020, ABB divested its Power Grid division to Hitachi. The law firm of Elmzell Advokatbyra AB Sweden is the instructing firm in this matter. The consortium which is predominantly European has around 40 law firms and also includes names such as Tamimi & Co., Lewis Silkin and the Chinese firm Fang Law.
Whistle blowing investigation: In a recent assignment which the firm undertook for ENI Spa Rome, the firm was tasked with investigating a whistle blowing allegation regarding corruption and workman compensation.  The firm investigated the matter, conducted interviews of employees and examined the matter under purview of applicable laws on whistle blowing, anti-corruption and workman compensation. The firm treated the matter as a potential litigation threat for the company and advised the company on per-litigation protocols.
ILO and the World Bank: The firm has recently taken on work which involves advising clients specially Chinese companies working in the energy sector in Pakistan on compliance with the Labour Standards set by the ILO and the Compliance Advisor Ombudsperson. A lot of the Projects are financed by the IFC and the World Bank hence mandatory compliance of labour standards to the ILO and World Bank standards is important.
Data protection: We consider data protection law to be the future of law. With covid-19 we foresee that more and more emphasis worldwide will be placed on data protection. We are presently engaged in assisting Addleshaw Goddard in advising an identity monitoring service provider on the aspects of data protection found within the Prevention of Electronic Crimes Act 2016 and the Electronic Transactions Ordinance 2002.
Covid-19: Covid-19 has predominantly had a lot to do with the workplace, be it restructuring or remote working. We have been busy from March 2020 with GCs contacting us from aboard for advice on employment law in the covid-19 scenario.
We advised Agility Logistics Singapore on employment law regulations during the covid-19 period in Pakistan.
We are presently representing Marriott International and Pearl continental Hotels in an employment/criminal complaint regarding terminating workers during the covid-19 period.
We rendered advice to E & Y law on the termination of employment contracts for over seas workers during covid-19 in Pakistan.
Development in Pakistan on employment law:
Pakistan enacted its federal law on employment for persons with disabilities. The law is quite comprehensive and has added to the provincial laws on the same. The law fixes specific quotas for hiring of persons with disabilities and sets out the terms and conditions for their employment and termination as well as redundancy.
A draft law on data protection made the headlines back in August but the same has not been enacted as yet. We may very well see the law being enacted soon. A data protection law will require major overhaul in compliance for companies.
A draft law for maternity leaves too is in the process.
Employment related practices: For us employment law isn't just going to court and getting employee claims dismissed. That is what employment law is looked at as in Pakistan. We've gone one step further and made employment law our specialization.  We advise and work with international clients in the following areas of employment law:
Government compliance
Alternative dispute resolution
Background checks
Business restructuring with a particular focus on work force
Corporate compliance and ethics
Discrimination and harassment
Employee benefits
Sexual harassment
Employment practice audits
Employment taxes
Executive compensation
Global mobility
Hiring, performance management and termination
Investigations
Labour management relations
Policies procedures and handbooks
Litigation and trials
Data protection
Union activism
Criminal civil law litigation: The firm specializes in high end civil litigation both in Karachi and Islamabad. In Islamabad, Mr Yousaf Amanat and Mr Sahfiq Dab are known for their expertise in handling litigation matters whereas in Karachi Mr Noman Zahid is known for his successful conclusion to cases both at the District level and the High Court. Employment matters are complex in the sense that the statute governing majority of them also allows criminal courts at the Magistrate level to preside over them. The firm would be handicapped thus if we did not have resources in criminal law. Mr Khawar Shah who is a senior associate with the firm's Islamabad office  and is an advocate of the Supreme Court of Pakistan handles matters related to bail and white-collar crimes. The firm has also thus rendered advice on issues such as money laundering law and sexual harassment law.
The firm specializes in advising international clients on the legal requirements for their operations in Pakistan. We also offer services allied with the field of law such as advice on tax, government relations and handling matters with various government agencies. We have a specialized team for working on tax and matters related to government agencies.
Unions:
We specialize in handling matters related to labour unions. We negotiated a golden handshake with the 300 strong labour union for TCC which enabled the company to close up its camp site before exiting Pakistan.
We have advised MoL Pakistan Oil and Gas B.V with regard to their labour union.
The firm has been engaged by CGGC the main CPEC contractor to advise on their dealings with their union.
Other practices: International client's reliance on the firm has over the years grown for matters regarding their dealings with the government in Pakistan both at the federal and the provincial level. Our advice on such matters includes various sensitive issues which the firm prides itself in handling confidentially for its clients.
The Karachi office of the firm apart from employment law, specializes in Admiralty law and banking law. The Karachi office acts for a number of regional banks and shipping lines.
Mr Amanat holds a distinction in postgraduate in commercial law from the UK and is also affiliated with various universities as a visiting faculty member. Mr Amanat also acts as an arbitrator and undertakes research assignments in various fields of law.
The firm has lately started taking up advisory and contentious work in tax matters. The firm is representing various power projects in tax matters.
The firm also advises clients on regulatory issues matters pertaining to the SECP and customs authorities. Recently the firm has  provided advice to SABIC Saudi Arabia on matters pertaining to SECP and the customs authorities.
Linkedin: https://www.linkedin.com/company/yousaf-amanat-associates
Staff Figures
Partners : 02 Associate Lawyers : 18 Government Relations : 01 Manager Taxation : 01 IT : 01 Finance : 01
Languages
English (fluent) Urdu Punjabi Sindhi
Memberships
IBA (International Bar Association)
Interviews
Yousaf Amanat, Managing Partner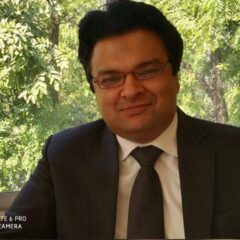 Yousaf Amanat talks about Mining, Data Protection and Artificial Intelligence and challenges faced by clients in Pakistan.
Any good news coming from Pakistan business wise?
Mining. That's presently the big news business wise. The USD 11 Billion dispute between Pakistan and Barrick Gold Corporation of Canada has finally been settled in the best way possible. The Supreme Court of Pakistan has ratified an Agreement between the Government of Pakistan and Barrick for the restart of the Project. Barrick is a 50% shareholder in the Project with the rest of the shareholding divided between Pakistan's stated owned entities and the province of Baluchistan.
Having worked in the mining sector both with Barrick Gold and Antofagasta we can tell you that this is going to be massive for Pakistan!!!! It will open one of the most lucrative mining industries of the world. The Tethyan Belt is one of the richest deposits in terms of Gold and Copper. We see various mining companies and other contractors working in Pakistan in the new future.
In your opinion what problems are faced by your clients when dealing with Pakistan?
In our experience the major problems faced by clients is the fear of the unknown when dealing with a litigation or regulators in Pakistan. In instances such as these the client is looking for a trusted partner who is well versed in the law as well as the practical side of dealing with courts and regulators.   This is what we specialize in and this what clients rely on us for. Clients when faced with a litigation or faced with regulators such as the SECP, Competition Commission or LEAs such as the FIA are not looking for legal opinions, what they are looking for are solutions. We specialize in providing solutions. From working on the over all strategy to our presence in courts and tribunal are success rate is 100%.
Data Protection and Privacy are compelling issues internationally. Do you receive queries on these subjects?
Data Protection is our specialty. PECA 2016 and the Removal and Blocking of Unlawful Online Content (Procedure, Oversight and Safeguards) Rules 2021 are laws that are a cause of concern for many international clients. The Government and security agencies of Pakistan are heavily invested in the use and promulgation of both laws. This year alone we advised Daily Motion, Apple and Choco Communications on both laws. I'm a member of various privacy organizations.
Last year we advised Addleshaw Goddard and their client Generali Global Assistance regarding the storage and transmission of data concerning Pakistani holders of Master Card.
You are recognized for your Employment Law practice but what are the other practices you receive queries for and why would clients prefer you when there are other Firms ranked for the same?
Apart from Employment Law the other queries we receive are for Data Protection, Tax, Company Law, Civil Litigation, Criminal complaints, Competition Law, Arbitration and helping charitable organizations.
We cant rightly comment on why we receive queries for the above practices when there are other Firms ranked for the same BUT we like to think that it is because clients find our rates reasonable and of course our reputation which is fast spreading by word of mouth.
Artificial Intelligence. Your encounters with the same in your practice?
That is a unique question indeed. We had the opportunity to work on a complex assignment with Delivery Hero and Food Panda which brought forth the unregulated phenomenon of Algorithm's actually controlling and employing workers. The Gig economy like other parts of the world is also booming in Pakistan. We advised Delivery Hero and Food Panda on the risks and liabilities which could materialize under the local employment laws when an algorithm actually controls how Gig workers perform their services.
We also recently advised EASOP a Belgium based tax software on stock options offered by US companies to employees based in Pakistan.
This has been most informative for our readers. Please also tell us do you cover all of Pakistan?
Well we wanted the interview to be of help to your readers. To answer your question, we have an office in Islamabad and Karachi but through our network of trusted associates we have provided representation to clients in KPK, Baluchistan and Punjab. So essentially, we do cover all of Pakistan.
Press Releases
9th November 2022
The Firm recently advised AI based software EASOP on income tax regime for Pakistan.
7th September 2022
The Firm recently advised the Berlin based international food delivery giant Hero Delivery and their subsidiary in Pakistan Food Panda. The work involved advising Hero Delivery and Food Panda on any liabilities or risk that the companies may encounter in the future while operating through freelancers as opposed to employees.
29th June 2022
The Firm recently advised Apple on Data Protection Law.
29th June 2022
The Firm recently advised Nokia Phones on the change in regulations in Pakistan on manufacture of cellphones.
28th June 2022
The Firm recently advised 
Apple
 on 
Data Protection Law
. The advice was provided in conjunction with the Law Firm Herbert Smith Freehills. Pakistan at present does not have a specific Data Protection Law however the law in Pakistan which provides against cyber-crime 
Prevention of Electronic Crimes Act 2016 
also to a large extent caters to Data Protection. The Firm has been providing advise on Data Protection Laws recently. We have seen an uptake on advice on Data Protection Law particularly in conjunction with Covid-19 regulations. The Firm was recently also instructed by Herbert Smith Freehills to provide advise to 
Bloomberg on Covid-19
 regulations with regard to workplace and employees.
7th February 2022
The Firm is advising the USD 1.42 Billion Karot Power Project on Employment and Labour Law. The advice also includes reviewing the guidelines of IFC and ILO on Labour. Formation of Trade Unions. Application of various Labour Laws on the operations of the Project.
7th February 2022
The Firm recently advised the social media video platform giant Daily Motion on the applicability of the Removal and Blocking of Unlawful Online Content (Procedure, Oversight and Safeguards) Rules, 2021. The Firm also advised Daily Motion on the applicability of Data Protection Law to its operations in Pakistan.
Legal Developments
5th January 2023
On December 14th, 2022, Pakistan passed perhaps its most useful and important law regarding foreign investment so far.
5th January 2023
On December 9th, 2022, the Supreme court of Pakistan declared an Agreement signed between the Government of Pakistan, Barrick Gold and Antofagasta PLC as legally binding. And I just cannot believe that I lived to see this day.
29th June 2022
The  Removal  and  Blocking  of  Unlawful  Online  Content  (Procedure,  Oversight  and Safeguards) Rules 2021 ("Rules") have been enacted in furtherance of sections 37 and 51 of the Prevention of Electronic Crimes Act 2016 ("PECA"). Section 37 and 51 of the PECA provide that the Pakistan Telecommunication Authority ("PTA") may promulgate rules for the blocking and regulating of online content on social media forums. The section further provides that such content shall be blocked ad removed when PTA considers the same to be violative of the glory and interest of Islam, defense, security and integrity of Pakistan, public order, decency or morality, or in relation to contempt of court or commission of or incitement of an offence relating to data protection or cybercrime.
22nd June 2022
1. THE LAW
1.1. Key legislation and regulations
In the main Employment Law or Labour Law as it is more commonly referred to in Pakistan is applicable to lower cadre employees who may be skilled or unskilled. Examples of lower cadre unskilled workers are drivers, gardeners whereas skilled lower cadre employees can be technicians, clerks, bank tellers, receptionist. Such lower cadre employees whether skilled or unskilled are referred to as "Workmen". All other employees may simply put be not Workmen. The reason behind categorising an employee as a workman or as a non-workman is the simple fact that the Labour Law will only be applicable to a Workman. Thus if an employee is not a workman he will not be able to seek the protection accorded to a Workman under Labour Law and will also not be able to seek the assistance of courts for the enforcement of the labour rights.