Firm Profile > Cecil Abraham And Partners > Kuala Lumpur, Malaysia
Cecil Abraham And Partners
Offices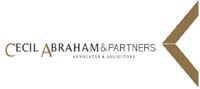 Cecil Abraham And Partners
SUITE 12.01, LEVEL 12, MENARA 1MK
1, JALAN KIARA, MONT' KIARA
50480 KUALA LUMPUR
Malaysia
Cecil Abraham And Partners > The Legal 500
Rankings
Dispute resolution boutique Cecil Abraham And Partners handles a range of both arbitration and litigation with experience in contractual, tortuous, privacy and breach of confidence claims, white collar crime and corporate governance disputes as well as contentious public and administrative issues. Cecil Abraham heads the practice and boasts a breadth of expertise.
Cecil Abraham And Partners >
Firm Profile
The firm: Cecil Abraham & Partners acts in a broad range of civil, commercial and construction disputes. Its practice varies from court and arbitration appearances to advice – both strategic and preventative – in the areas of practice referred to above. The members of the firm have significant court and arbitration (including investment treaty) experience. In recent years, clients have come to the firm for assistance in a wide range of matters including those relating to commercial disputes, fraud litigation, extradition and mutual assistance in criminal matters.
Areas of practice: In 2019, the firm was involved in a number of major disputes.  Particularly noteworthy, the firm successfully acted for Ireka Engineering & Consultants Sdn Bhd in landmark appeals before the Federal Court of Malaysia, that concerned the construction industry. The apex court in reversing several earlier decisions, ultimately held that the Construction Industry Payment and Adjudication Act 2012 ("CIPAA") is to be applied prospectively. This decision will have significant ramifications for the construction industry moving forward. In addition, the firm successfully represented  Triumph City Development Sdn Bhd in enforcing and registering an arbitral award in excess of RM200 million against the Selangor State Government.
On going notable disputes that the firm is involved include acting for Petrochemical Commercial Company International Ltd in a large and complex commercial fraud claim in the region of USD$76 million where monies misappropriated from Malaysia has so far been traced to various jurisdictions including United Kingdom, Canada, Singapore, Germany, Australia, Cyprus, Portugal and Iran. A worldwide freezing injunction was granted by the High Court of Malaya and has since been enforced in Canada, Cyprus and Australia and Bankers Trust Orders were issued in various jurisdictions including Canada, Australia, Cyprus, Singapore and Portugal in order to trace the missing funds. There are various interlocutory applications pending before the courts in Malaysia including applications to cross-examine defendants from Canada and Iran. The firm is presently acting for the Council of Regency of the State of Terengganu  in opposing a claim by Tengku Abdul Halim in a constitutional matter relating to succession to the throne of the Sultan of Terengganu that is currently pending before the Federal Court of Malaysia. In addition, the firm is also presently acting for Dream Property Sdn Bhd in the continuing dispute with Atlas Housing Sdn Bhd, in which the Federal Court in a landmark decision  laid down the principles relating to unjust enrichment . This dispute is now at the assessment of damages stage involving a claim of approximately RM400 million. On the environmental and public administrative law front, the firm is acting for Lynas Malaysia Sdn Bhd, one of the world's largest rare earth producers in respect of claims by several environmental activists seeking to quash the full operating licence granted to the company to operate its rare earth plant in Gebeng, Pahang. The firm is also acting for Memang Perkasa Sdn Bhd (a subsidiary of the Malton Group of Companies) in the much publicised judicial review proceedings filed by a residents' association to quash a perceived controversial development order granted to this developer.
Also to be noted, is the fact that the firm is acting for Raub Australian Gold Mining Sdn Bhd in opposing an appeal before the Federal Court of Malaysia brought by Mkini Dotcom Sdn Bhd, where the law relating to reportage will be visited for the first time in Malaysia.
The firm continues to advise MRCB George Kent Sdn Bhd, the main turnkey contractor in so far as the LRT 3 Project in Malaysia is concerned.
Finally, Tan Sri Dato' Cecil Abraham continues to be the only Malaysian to continue to sit as arbitrator in investment treaty claims.
Main Contacts
| Department | Name | Email | Telephone |
| --- | --- | --- | --- |
| Administration and probate | Tan Sri Dato' Cecil Abraham | | |
| Administration and probate | Dato' Sunil Abraham | | |
| Arbitration | Tan Sri Dato' Cecil Abraham | | |
| Arbitration | Aniz Ahmad Amirudin | | |
| Banking and insurance | Rishwant Singh | | |
| Banking and insurance | Dato' Sunil Abraham | | |
| Capital markets and securities disputes | Tan Sri Dato' Cecil Abraham | | |
| Capital markets and securities disputes | Rishwant Singh | | |
| Defamation and media | Tan Sri Dato' Cecil Abraham | | |
| Defamation and media | Rishwant Singh | | |
| Contractual and commercial disputes | Tan Sri Dato' Cecil Abraham | | |
| Contractual and commercial disputes | Dato' Sunil Abraham | | |
| Private breach of confidence | Rishwant Singh | | |
| Private breach of confidence | Dato' Sunil Abraham | | |
| Clubs and unincorporated associations | Tan Sri Dato' Cecil Abraham | | |
| Clubs and unincorporated associations | Aniz Ahmad Amirudin | | |
| Construction and infrastructure | Aniz Ahmad Amirudin | | |
| Construction and infrastructure | Dato' Sunil Abraham | | |
| Corporate and commercial | Tan Sri Dato' Cecil Abraham | | |
| Corporate and commercial | Dato' Sunil Abraham | | |
| Land and general property | Rishwant Singh | | |
| Land and general property | Dato' Sunil Abraham | | |
| Civil and commercial litigation | Tan Sri Dato' Cecil Abraham | | |
| Civil and commercial litigation | Rishwant Singh | | |
| Mutual assistance and extradition | Tan Sri Dato' Cecil Abraham | | |
| Mutual assistance and extradition | Dato' Sunil Abraham | | |
| Public and administrative law | Dato' Sunil Abraham | | |
| Public and administrative law | Rishwant Singh | | |
| White-collar and corporate governance | Tan Sri Dato' Cecil Abraham | | |
| White-collar and corporate governance | Rishwant Singh | | |
Staff Figures
Number of lawyers : 11
Languages
English Malay Mandarin and main Chinese dialects Tamil
Memberships
IBA (International Bar Association) Chartered Institute of Arbitrators (FCIArb) Singapore International Arbitration Centre (SIAC) ICCA ICC KLRCA Hong Kong International Arbitration Centre (HKIAC)
Other
Contacts : Tan Sri Dato' Cecil W M Abraham Contacts : Rishwant Singh Contacts : Dato' Sunil Abraham Contacts : Aniz Ahmad Amirudin
Top Tier Firm Rankings
Firm Rankings