Mahendra Bhavsar & Co > Ahmedabad, India > Firm Profile
Mahendra Bhavsar & Co
Offices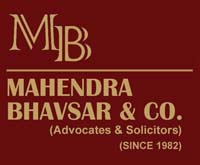 Mahendra Bhavsar & Co
B/201-204, 2ND FLOOR, ATMA HOUSE
OPP LA-GAIIAR CHAMBERS, ASHRAM ROAD
AHMEDABAD 380 009, GUJARAT
India
Mahendra Bhavsar & Co >
Firm Profile
About us: Mahendra Bhavsar & Co. is a leading Gujarat focused law firm, established since 1982. The firm acts as a one stop solution for legal requirements in Gujarat and has long standing expertise in dealing with real estate, foreign investments, corporate, commercial, IP, IT, litigation and arbitration from both domestic and international perspectives.
The firm has been known for its niche in practice areas such as real estate and cross border dispute resolution. The firm has over three decades of experience in assisting foreign and domestic investors and entrepreneurs with their projects and has advised on various cross-border disputes including those governed by the LCIA, SIAC, CIETAC, ICC and other cross border litigations ranging from general trade and commerce disputes to disputes involving interpretation of treaties and international law. The firm caters to a diverse clientele which include domestic and international corporations, law firms, investors, developers, high-net-worth individuals and government authorities in a multitude of transactions with varied industry sectors. The firm attracts both domestic and international clients and is regarded as one of the leading law firms in the State of Gujarat.
Services of the firm include advising and representing clients on both contentious and non-contentious issues arising out of setting up of projects, industries, acquisition of real estate, tenders and contracts, development of industrial parks, real estate investment trusts (REIT) and general dispute resolution. Contentious work includes representing clients before various quasi-judicial authorities, tribunals and courts ranging from District Courts to the Supreme Court of India. The firm assists on a wide range of projects including commercial, residential and industrial, commercial and industrial leasing, built-to-suit projects, mixed use facilities, large scale urban regeneration projects, infrastructure and public private partnership projects etc. The firm has a reputation of providing pragmatic and result oriented solutions with its regional expertise and acts as a single window service provider to its global clients.
The firm is the only Gujarat based law firm featured in The Legal 500 Asia Pacific and also selected as a leading Business Law Firm by Indian Lawyer 250 in its research survey conducted in partnership with the (ABA) American Bar Association. The law firm has been awarded for its practice in commercial, corporate and cross border matters by international legal research agencies like Corp-Intl, UK and Global Law Experts, UK.
The clients engaging with the firm have consistently applauded its strong commitment to the values of integrity and professionalism. With more than three decades of experience in advising across multiple industry sectors, the firm adds value with insights of sectoral issues in assisting its clients.
What we do
Real estate
Perform due diligence to ascertain the title clear and marketable upon transfer, by extensive search (at least 30 years) regarding transfer of titles in the property, missing documents, easements and other conditions restricting the use of property in certain nature.
Safeguard landowner's rights at every stage of land enforce performance or claim damages, where necessary.
Accurately derive applicable revenue due to the government arising out of mutation, purchase, sale, rent, lease, license in the land.
Enforcement of rights before, during, and after entering into litigation before concerned judicial authority or by way of formal dispute resolution.
Advisory services on site acquisition and development, contract negotiation, project bidding and management issues, insurance contracting, code compliance and drafting necessary documentation and Conveyance.
Documentation and Consultation services in commercial contracts including advisory on legal risk management.
Dispute resolution
Pre-litigation asset search which includes personal and business assets along with liabilities facilitating strategic advantage during negotiations as well as litigations.
Identify procedures that would obtain and enforce a judgment abroad easier and faster in cross-border litigation.
Litigation varying from matters in the civil, commercial, corporate and Intellectual Property domains, both at the Trial and at Appellate Courts.
Alternate dispute resolution by way of negotiation, mediation and arbitration or conciliation as the situation warrants.
Commercial
Fraud investigations and whistle blower lawsuits.
Handling business contract issues pertaining to termination and goodwill compensation claims with focus on specific aspects of distribution, agency creation, franchising and litigation in a cost-effective manner.
Provide strategic solutions to anticipated relationship issues in all commercial contracts that highly diminishes costs on arbitration or litigation.
High quality legal due diligence in contract reviews.
Corporate and regulatory
Representation to debtors and creditors in winding-up including objections, recalling to winding up petition; representation before trial sessions and Committees of Creditors; Challenging of, and appealing against, court decrees and judgments.
Indian regulatory issues pertaining to import/export control, Data Protection, Anti-Corruption and Anti-Money Laundering, Trade Competition, Trade Disputes and Investment Barriers.
Corporate re-structuring including issues of securities, intellectual property, employee benefits, taxation and anti-trust that are inherent in transaction of Mergers and Acquisitions.
Joint venture agreements.
Protect rights of clients in white-collar (corporate) crimes, and other antitrust
investigations before competent authorities.
Advisory on the competition law.
IP & IT
Protect electronic transactions and documents as under cyber law and the legal framework for agreements on software development.
Representation involving registration or opposition pertaining to Patent, Copyrights, Trademark, Geographic indications, Designs, and Technology before competent government authorities.
Enforcing rights in intellectual property by litigation specific to an action for infringement or passing off.
Manage portfolio in intellectual property and information technology with respect to its potential of global exploitation.
Draft and negotiate agreements under legal framework involving assignment, license, and transfer of rights in an Intellectual Property and transfer of technology including protection of Data therein.
Private client
Wills, Trusts and Agreements
Resolve succession with offshore investments, families with members in multiple jurisdictions as well as for members of the family that follow different personal laws.
Issues pertaining to joint ownership in an estate.
Draft wills based on intricate tax and estate laws and creative solutions to satisfy intentions about succession of estate during personal and professional lifespan of the person.
Probate of wills and for persons dying intestate.
Counsel fiduciaries during the administration of estates, trusts, guardianships, or conservatorships proceedings.
Advise on formation, registration, management, and government compliance on trusts and cooperative societies as regards their nature of formation as per jurisdictional intricacies.
Representation of trusts and co-operatives in litigation or before an authority for alternate dispute resolution.
Banking and debt recovery
Banking regulatory compliances.
Business transactions pertaining to securitization pooling, asset based financing and structured finance by way of special purpose entities.
Matters pertaining to Debt Recovery Tribunal (DRT) and National Company Law Tribunal (NCLT).
Litigation pertaining to securitization.
Negotiable instrument usage, obligations and action for enforcing the instrument in the event the instrument loses its negotiability.
Practices and procedures followed in Cooperative banking
Matters of default pertaining to Bank Guarantee and Letter of credit in International and national trade transactions of high value.
Maritime and admiralty
Obtaining order for release of ships against a maritime claim relating to Arrest of Ships.
Dispute resolution including International Arbitration.
Shipping contracts that vary from bareboat, ship construction contracts to sale and purchase.
Representation before government pertaining to Anti-Dumping Law investigation.
Staff Figures
Partners : 2 Advocates : 20
Languages
English Hindi Gujarati
Diversity
We take our inspiration from our ancient cultural values which says (in Sanskrit Language):
वसुधैव कुटुम्बकम. – "The whole world is one family".
We therefore strive to be inclusive in our actions towards our valued human resource as well as our clients. Mahendra Bhavasar & Co. is committed to upholding the highest standards of Diversity. We believe and cherish associating with people from diverse background, culture, beliefs and preferences. We have strongly believed that not only it brings about an inclusive culture but also enables in providing diverse, creative and innovative ideas in our work and services that we provide to our esteemed clients.
We pride in offering equal opportunities to practitioners and paralegal staff alike regardless of their race, cultural background, gender, age, marital status, sexual orientation, gender identity, disability, nationality, religious or political belief. Over the years, we have strived to build a culture based on inclusivity and mutual respect. Our team has a balanced representation of women and brings together values from across different regions in India.
For us, our commitment to diversity is not limited or confined to our people. It equally extends and covers our partners and customers that we work for. It has been our endeavour to uphold the highest standards of customer service and for doing the same, we are accessible and approachable to partners and customers regardless of their race, cultural background, gender, age, marital status, sexual orientation, gender identity, disability, nationality, religious or political belief.
Our commitment to diversity also extends to various community services that the firm engages into. We have served in the past and continue to serve the community in the rural areas for obtaining justice. Since our formation in 1982, we have engaged actively with the community and have advocated for justice for all irrespective of their background.
Notable Cases
1. Acted as Legal Counsel to a World Bank Group Entity for their Cross-border litigation. The Litigation had various cross-border aspects including interpretation of Treaty obligations. Acting as a Legal Counsel, the Firm successfully defended against the claim amounting INR 10 billion.
2. Acted as counsel in a dispute arbitrated under the London Court of International Arbitration (LCIA) and defended the enforcement of the award of INR 400 Million in India. In doing so, the Firm was the first to get a Reportable Judgement of the Gujarat High Court on the question of interpretation of 2019 amendments to the Arbitration and Conciliation Act, 1996.
3. Successfully represented a Ukrainian company in obtaining enforcement orders in Gujarat from Civil Court for an Award made by the Ukraine Chamber of Commerce for Arbitration.
4. Successfully represented an Indian client in a Cross-border litigation relating to Anti-Suit Injunction to prevent proceedings by the Italian Defendants before an Italian Court.
5. Worked Jointly with an American law firm based out of Texas and successfully assisted the Indian client in Cross Border litigation opposing the Chapter 7 Bankruptcy in USA.
6. Acted as a Legal Counsel for the London Borough Council for enforcing judgment pronounced by the High Court of London. We successfully assisted in obtaining Mirror Orders enforcing the Foreign Judgment before the High Court of Gujarat.
7. Appointed as Counsel for a major Japanese Industrial Group, having worldwide presence to defend in a litigation involving securitization, whereby the Firm successfully defended the Claims before the Gujarat High Court paving a way to implement the Industrial Project.
8. Worked Jointly with the Largest Chinese Law Firm, in a CIETAC arbitration, successfully achieving a settlement for the client.
9. Advised a Germany Headquartered Corporation with presence in 50 Countries in setting up of their project in Gujarat leading to successful Project implementation.
10. Advised a World leading Japanese Automotive giant for setting up of their Industrial Park in respect of Local Regulations affecting the Labour and Employment policies.
11. Advised the Largest Airport Operator of Malaysia on investment & Corporate Structures for entering India in the aviation sector as a part of their international expansion.
12. The firm has undertaken numerous transactions with a largest Automobile Company in India for their Real Estate acquisitions across the state of Gujarat aggregating to deal value of more than INR 2,500 Million.
13. Advised the Largest Steel Company of Russia on a 0.3 Million Metric Tonne per Annum Coal procurement tender with SAIL (Steel Authority of India Ltd.).
14. Advised an Italian Furniture Manufacturer on its Operations in India including setting up of Office and securing its IP under the Indian law.
Client Testimonials
CLIENT : Ms. Feng Lin (Senior Counsel)
COMPANY/FIRM : International Finance Corporation, Hong Kong SAR, China
TESTIMONIAL : The firm represented IFC with respect to a litigation matter, and provided very satisfactory services. The team was experienced, professional, and always responded to our queries timely. I would recommend the firm to others.
---
CLIENT : Mr. Paul Polycarp (Director Operation SOA, Plant Head)
COMPANY/FIRM : REHAU Polymers Pvt. Ltd., Pune, India
TESTIMONIAL : Our association with M/s Mahendra Bhavsar & Co. has been very impressive and knowledgeable. We were new in the state of Gujarat to start a venture and under the Legal guidance of the firm felt ourselves confident and satisfied that our decision to move ahead was cemented by proper and systematic guidance in the local laws. Their team of Lawyers were cordial and focused on the need of the hour and response to all our queries were addressed sincerely and judiciously. I would always have a Good Word for this organization and their professional approach and would recommend them to all companies seeking Professional Legal Advice .
---
CLIENT : Mr. Kailash Jaiswal (Legal Head & Company Secretary)
COMPANY/FIRM : TCG Lifesciences Private Limited, Kolkata, India
TESTIMONIAL : We are pleased to share that Mahendra Bhavsar & Company has timely performed our assignment with accuracy. Its competent team has deep and updated knowledge on the matters they take up and their services on the need of client is commendable. We are fully satisfied and look forward to having their services again and wish to refer to other to benefit from their knowledge, experience.
---
CLIENT : Mr. Abhishek Chauhan (Manager – Exports)
COMPANY/FIRM : Palvi Power Tech Sales FZE, UAE; Palvi Industries Ltd., India
TESTIMONIAL : The overall experience has been quite satisfying which can be purely attributed to the knowledge base, service levels and quick responses. We were facing an International Arbitration but owing to the legal guidance, knowledge and support of the team, it helped us to solve this dispute amicably. We would always carry a positive word of mouth for your firm and would surely recommend to all the individuals and firm who would like to seek legal advice.
---
CLIENT : Mr. Vaibhav Kumar Jain (Head – Projects)
COMPANY/FIRM : JSWMI Steel Service Centre Pvt. Ltd., Haryana, India
TESTIMONIAL : Very nice and polite. Fully satisfied. Always had a meaningful discussion and Prompt response. Sure to proceed further.
---
CLIENT : Mr. Anil Kumar (Head F&A)
COMPANY/FIRM : Wago Private Limited, UP, India
TESTIMONIAL : Overall experience is satisfactory. Will recommend to the people whom we know.