Martinez Vergara & Gonzalez Sociedad > Manila, Philippines > Firm Profile
Martinez Vergara & Gonzalez Sociedad
Offices
Martinez Vergara & Gonzalez Sociedad
33RD FLOOR, THE ORIENT SQUARE
F. ORTIGAS JR. ROAD, ORTIGAS CENTER
1600 PASIG CITY, METRO MANILA
Philippines
Martinez Vergara & Gonzalez Sociedad > The Legal 500
Rankings
Martinez Vergara & Gonzalez Sociedad
is regularly retained by many leading local and foreign banks and financial institutions to advise on various matters. The agile team has particular expertise in providing regulatory advice and is adept at advising on loan syndications in addition to acquisition and project financing work; the group also assists with debt restructuring matters.
Mark Vergara
has considerable strength in project finance, while
Manuel Gonzalez
 is recognised for his work on project finance and public infrastructure projects.
Rosalia S. Bartolome-Alejo
is a known name for her work on debt restructuring, consumer banking, credit card operations and credit and security transactions, while
Erika Paulino
is well-regarded for her work on project and corporate financing mandates.
Elmer Serrano
is now at
Serrano Law
.
Manuel Gonzalez
 and
Gwyneth Ong
 lead the dedicated capital markets practice at
Martinez Vergara & Gonzalez Sociedad
, which handles a wide spectrum of securities-related work. On the equity capital front, its work ranges from advising on significant IPOs, follow-on issues and rights offerings through to assisting with tender offers, reverse takeovers of publicly listed companies and the issuance of global depository receipts; the group also advises on private equity matters. The agile team is experienced in advising issuers and advising on real estate investments trusts and also handles all aspects of the debt capital markets, and frequently acts as counsel to domestic and international financial institutions and issuers on the issuance of corporate notes, bonds and similar debt securities.
Mark Vergara
and
Janice Co
 are among the other key members of the department.
The immigration practice at
Martinez Vergara & Gonzalez Sociedad
is jointly led by
Shirley Alinea
 and
Reynaldo Dizon
. Senior associate
Gino Paulo Uy
is another key member of the group, who acts for clients on a diverse range of immigration matters and transactions. The team advises on all types of visas and work permits, with demonstrable experience assisting clients who have been blacklisted or facing deportation proceedings. It is well-placed to advise both individual and corporate clients on a host of issues pertaining to visa downgrading and clearances, in addition to compliance with the terms of stay of foreigners.
Martinez Vergara & Gonzalez Sociedad
acts for both employers and employees on the conditions of employment. Other key areas of expertise include advising on labour relations issues, such as the creation of unions and collective bargaining arrangements, in addition to strikes and lock-outs. With
Reynaldo Dizon
at the helm, the group often handles contentious labour matters. It represents clients before the Labor Arbiters of the National Labour Relations Commission and handles mediations before the National Conciliation and Mediation Board. Dizon has a wealth of experience in collective bargaining negotiations, in addition to advising on grievances procedures, while
Kristine Bongcaron
acts for foreign clients on the direct hiring of Filipino nationals and processing overseas employment certificates.
Martinez Vergara & Gonzalez Sociedad
advises private project proponents and financiers on infrastructure, energy and natural resources projects and is particularly recommended for its project financing work; it also represents sponsors and bidders on other issues such as bidding processes and coordinating with the regulatory authorities. The team is similarly recognised for its public-private partnerships work and senior partner
Manuel Gonzalez
is well-regarded for his work in this area.
Erika Paulino
has represented arrangers, lenders, borrowers and project proponents in numerous high-value loan syndications, project financings and corporate bond and note issuances.
Gwyneth Ong
is another key figure and
Mark Vergara
is well-regarded for his project financing work.
Martinez Vergara & Gonzalez Sociedad
covers the full array of matters, ranging from property transfers and leasing arrangements to infrastructure development projects and financing work. Under the joint leadership of
Rosalia Bartolome-Alejo
 and
Janice Co
, the team excels in energy and infrastructure project financings, and counts sponsors, lender-banks and financial institutions among its key roster of clients.
Erika Paulino
handles the real asset portfolio divestment of one of the largest global banks, and advises on the funding of various development projects of hotels, casinos and residential subdivisions.
Mark Vergara
is another key contact in the team.
Steered by
Rosalia Bartolome-Alejo
, the team at
Martinez Vergara & Gonzalez Sociedad
represents local and foreign clients on their acquisitions, strategic divestment of assets and businesses, as well as their mergers and consolidations with subsidiaries and affiliates. Counting private entities and publicly listed companies among its key roster of clients, the team advises foreign companies on their direct investment into the Philippines and has considerable experience in the banking, power and energy, shipping, real estate and manufacturing sectors. Key contacts include
Manuel Gonzalez
 and
Mark Vergara
, while 
Elmer Serrano
,
Phil Ivan Chan
 and
Tephanie Gandia
departed to
Serrano Law
in January 2022.
Martinez Vergara & Gonzalez Sociedad
handles the full range of dispute resolution and mediation mandates, covering criminal, civil and administrative litigation. Its appellate practice is thriving under the joint leadership of
Eduardo Martinez
, who serves as an Appeals Court Mediator accredited by the Philippine Judicial Academy, and
Shirley Alinea
, who specialises in debt restructuring, in addition to the resolution of commercial disputes through litigation and commercial arbitration.
Kristine Bongcaron
is another key contact in the group and focuses on commercial litigation, debt restructuring, arbitration and alternative dispute resolution.
Led by
Kristine Bongcaron
, who was promoted to partner in November 2021, the team at
Martinez Vergara & Gonzalez Sociedad
assists its roster of clients on the protection, administration and maintenance of their IP rights. The practice routinely advises on trademark and patent searches, in addition to trademark infringement litigation. Other key areas of expertise include advising on the assignment, licensing, franchising and transfer of IP rights between foreign enterprises and their local counterparts.
Shirley Alinea
, who is an accredited arbitrator of the Intellectual Property Office of the Philippines, and
Manuel Gonzalez
are also key contacts.
Rosalia S. Bartolome-Alejo
and
Mary Elizabeth Belmonte
co-head the team at
Martinez Vergara & Gonzalez Sociedad
, which covers a wide spectrum of issues such as providing business advisory services on major deals and reorganisations. The group is also skilled at helping on cross-border matters and advising on the enforcement of tax treaties, and is well-equipped to provide estate planning advice to individuals. Another area of focus for the practice is advising on audit investigations and tax disputes.
Reynaldo Dizon
is sought out for his help on a range of contentious tax issues.
Martinez Vergara & Gonzalez Sociedad >
Firm Profile
The firm: With the combined experience of the firm's partners, MVGS takes pride in having established itself as a leading law firm, providing excellent legal services in the areas of corporate and commercial, banking, securities, corporate finance, mergers and acquisitions, intellectual property, litigation and alternative dispute resolution, labour and employment and immigration.
Areas of practice
Banking and finance: a core practice area, the firm acts as retained counsel for many leading local and foreign banks and financial institutions in the country. Special interest areas in banking operations, particularly regulatory compliance, are the firm's strong suit.
Corporate finance: the firm and its individual partners have participated in numerous loan syndications and project finance transactions across the spectrum of industries, acting for financial institutions, borrowers and project proponents.
Debt restructuring: the firm and its individual partners have participated in restructuring in varied industries, acting for financial institutions and borrowers. Debt restructuring projects include legal advisory on related debt relief strategies.
Capital markets (equity): its team of securities practitioners has handled a wide spectrum of securities-related issues, ranging from initial public offerings (IPOs), rights and follow on offers, top-up placements, tender offers, reverse takeovers of publicly listed firms and issuances of global depositary receipts, as well as private equity.
Capital markets (debt): the firm acts as counsel to international and local financial institutions, and issuers in connection with the issuance of notes, bonds and similar debt securities. It has also been involved in the private and public issuances of bonds and commercial papers, both long term and short term. The firm works closely with the Securities and Exchange Commission (SEC), the regulatory authority tasked with implementing the Securities Regulation Code (SRC), and the Philippine Stock Exchange, Inc (PSE), a private organisation afforded self-regulatory status.
The firm also assists clients in structuring, drafting and obtaining approval for equity based employee benefit plans, from employee stock options and stock appreciation rights, to stock purchase plans, restricted stock units and other capital accumulation programs.
Mergers and acquisitions (M&A): the firm's partners have significant experience in the consolidation of the banking and financial sector, as well as acquisitions involving both equity purchase and asset sale. In its M&A deals, the firm is involved in all stages of the transaction, from initial structuring and due diligence review, documentation of the merger or acquisition and related agreements, securing the relevant regulatory approvals, to transition.
Litigation and alternative dispute resolution: the litigation and dispute resolution group handles the full range of dispute resolution and mediation, covering criminal, civil and administrative litigation and includes appellate practice and advocacy. The firm has a strong arbitration team, headed by a partner who is concurrently a trustee of the Philippine Dispute Resolution Center Inc.
Intellectual property (IP): the firm handles the IP requirements of its domestic and international clients, including registration of trademarks, copyrights and patents, legal advisory on contractual concerns and prosecution and defense of intellectual property infringement actions.
Labour and employment: the firm's labour practice includes advisory services on various labour issues, authoring employment manuals and serving as counsel in negotiations for Collective Bargaining Agreements (CBAs). The firm also provides advice and assists in implementation of hiring programs, training, retrenchment, redundancy, closure of companies and employee movements. The firm also handles labour litigation, arbitration, conciliation and mediation.
Main Contacts
| Department | Name | Email | Telephone |
| --- | --- | --- | --- |
| Corporate and commercial | | | |
| Banking | | | |
| Securities | | | |
| Corporate finance | | | |
| Mergers and acquisitions | | | |
| Intellectual property | | | |
| Litigation and alternative dispute resolution | | | |
| Labour and employment | | | |
| Immigration | | | |
Interviews
Elmer B. Serrano, Managing Partner/Senior Partner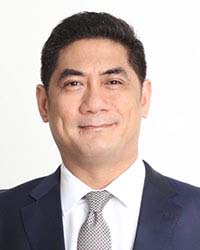 Elmer B. Serrano, Managing Partner of Martinez Vergara Gonzalez and Serrano (MVGS), explains how MVGS is adapting to its clients' changing needs brought about by globalisation and developments in technology.
What do you see as the main points that differentiate MVGS from your competitors?
With the unique background of the partners and our lawyers, MVGS shares the commercial perspective of its clients. We are able to appreciate the transactional goals and eventual business profile that our clients seek to achieve in all their dealings on which MVGS is consulted.
This commercial perceptiveness allows MVGS to tailor its solutions and to professionally empathize with the needs and goals of its clients, improving even the returns and benefits to our clients from their transactions. This partnership of effectivity between MVGS and its clients is reflected in the loyalty of clients to MVGS and the  constantly repeating business referrals over the years.
Which practices do you see growing in the next 12 months? What are the drivers behind that?
>While a number of emerging practice areas are gaining focus, some of the notable areas of growth in the near term are:
Banking and Securities, with the rising interest rates and the tightening economic condition, banks and issuers will explore alternative means of raising funds, including issuance of bonds, CDs, and quasi-capital.
In Project Development and Finance, with the Philippine government's thrust towards rapid infrastructure development and the country's clear requirement for such, clients will seek MVGS' distinct advisory services and assistance in securing project development contracts and in acquiring the corresponding funding.
In M&A, I see that as the Philippine economy grows, many industries will continue to consolidate and new businesses will develop. Competition law is particularly interesting.  In the last 2 years, we see more complexities in M&A execution, and as deals become more intricate, anti-trust regulations will quickly evolve. Many industries are young and need to thrive. It is my view that there must be a healthy balance between regulation and business so that growth in not stunted, or that competition regulations are not indiscriminately applied.
There are, of course, other practice areas I see emerging or growing. Stricter adherence to corporate governance standards and protection of intellectual property rights  have become more relevant of late. Local clients are also warming up to local or international arbitration and to areas of alternative dispute resolution.
We have also observed that some local clients overlook the importance of their brands and other IP rights in the past. However, as they grow, and enter into more cross-border transactions, protecting their IP rights and putting value to their brands havebecome more significant.
Globalization also drives our local clients to adhere to stricter corporate governance best practices and to new regulatory requirements such as data privacy rules. The legal guidance of MVGS is being tapped in all of these areas.
What's the main change you've made in the firm that will benefit clients?
MVGS is a young firm, and we continue to improve our services to meet our clients' expectations.
We have begun to restructure our organizational set-up mainly geared to enhance institutional training of our lawyers and become more responsive to their professional requirements so they can be more effective in the delivery of legal services to our clients.
Over the years, we have improved our IT system and security protocols and we have instituted more efficient use of our resources.
We have also  invested in technology that makes available to us data on the work and time use of our lawyers.  This will allow us to allocate our resources, manage our lawyers' time and to focus our attention on the more pressing requirements of our clients. As some clients say, "I want my handling lawyer to drop everything."  You can't do that unless you can quickly re-allocate resources to suit the immediate needs of clients and projects.
Is technology changing the way you interact with your clients, and the services you can provide them?
Yes. as technology improves, MVGS has become more efficient.
In the Philippines,  given the problem of traffic congestion and lack of efficient public transportation, improved technology minimizes undue waste of time and resources.
In terms of client communication, email is becoming a secondary means of communication, as mobile phone apps like Viber, WhatsApp and Messenger are preferred more and more by our clients due to the immediacy and real-time communication.  Transactions are now even more borderless.
Research has likewise become more efficient and verifiable information is readily available.
Leapfrogs in technology has made practice more interesting and challenging because of the legal issues that comes with the territory.  Practice has also expanded at an equivalent pace and we have to keep up.
Can you give us a practical example of how you have helped a client to add value to their business?
In a recent acquisition, we pointed out to the client how the group structure of the acquired company and its subsidiaries foster duplication.  We worked with them to merge companies and streamline their overall organization and creating even more efficiencies.  They have managed to substantially reduce cost and improve their bottomline.  They have since  involved us more in their organizational and business direction and policies.
In one litigation, instead of protracted proceedings, we advised the client to adopt a remedy and that client was able to collect almost Php2.0 Billion now rather than later, reduce its expenses and minimize the loss of opportunity.  Client was able to deploy those funds immediately and earn money from it now rather than wait what reasonably could be expected to have been a minimum of 5 years.
One of our strengths is that we are not just "lawyers" but are our clients' partners in their businesses.
Are clients looking for stability and strategic direction from their law firms – where do you see the firm in three years' time?
Yes, more and more, our clients require organizational responsiveness and dependability from us.  In fact, certain clients have established minimum standards for engaging lawyers.  Clients require a level of predictability from their service providers, including lawyers, in order to project future business and assess potential transactions.  Clients therefore require a higher standard of professionalism and we, at MVGS, continue to plan strategically so that our size, skills and processes will match the developing requirements of our clients. In fact, clients actually expect counselling beyond normal lawyering standards.   We welcome this challenge as we believe in growing with our clients.
In three years, I see MVGS, bigger, with better foundations and more specialized skills.  Our lawyers are maturing with us and as laws multiply and become more complicated, I see our lawyers more responsive.  We are learning and acquiring the skills for the future legal environment and the issues we, as lawyers, will face.  I see MVGS developing even more specialized departments and our lawyers focusing more on particular practices.  I see our client base even more diversifying and growing. I envision the trust of our clients deepening.  I see MVGS and its lawyers becoming even more conscientious of our obligations to our clients and wanting to constantly improve and become the law firm of choice – ALWAYS at the top of our clients' mind.