Debenhams Ottaway > St Albans, England > Firm Profile
Debenhams Ottaway
Offices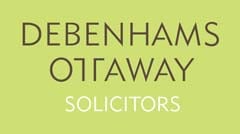 Debenhams Ottaway
IVY HOUSE
107 ST PETERS STREET
ST ALBANS
AL1 3EW
England
Debenhams Ottaway > The Legal 500
Rankings
The 'well-established and well-respected' family team at Debenhams Ottaway has strength in depth in high-value financial disputes, divorce and separation proceedings involving children, as well as expertise in prenuptial and postnuptial agreements. Practice lead Helen Young specialises in complex financial settlements, often involving family businesses and overseas assets. Natalie Lester handles divorce and separation matters involving issues concerning child arrangements. Helen Clyne focuses on sensitive children matters.
Other key lawyers:
Testimonials
'Debenhams Ottaway have been a well-established and well-respected family law practice for many years now. Their recruitment has been exceptional and they have a talented team of individuals offering a broad range of traditional family law services alongside mediation, collaborative law and the adoption of all ADR processes. They are a pleasure to work with.'
'Helen Young repeatedly delivers a wonderfully personable service to her clients. She has a lovely calm manner and explains everything simply and clearly.' 
'Natalie Lester has been excellent as my divorce lawyer. She has been thoroughly professional throughout the process. I have found her to be very approachable and she has shared her expertise with compassion and warmth. Natalie was always resolution-focused and helped to keep perspective in the negotiations. I am very grateful for her help and advice and would not hesitate to recommend her.' 
'Helen Young has been hugely supportive and helpful in navigating the divorce settlement process with me. I am grateful for her calm manner and ability to negotiate detailed and complicated issues within the settlement. Her attention to detail is excellent, but in addition to that she also has a way of smoothing contentious matters and enabling all sides to remain calm and purposeful. She has been a very steadying hand in a difficult period, and has truly contributed to the outcome of our divorce being as amicable as possible.' 
'Natalie Lester is very approachable and knowledgeable.' 
Debenhams Ottaway's 'high-quality private client team in St Albans' advises high-net-worth clients in Hertfordshire and London on a range of matters including inheritance tax and estate planning work, the preparation of wills, trusts and general lifetime planning issues. Practice leader Susan Glenholme specialises in private wealth management work, while Claire Sharp has particular expertise in trusts and tax planning issues. Rachel Hyndman handles Court of Protection work and lasting powers of attorney in relation to the elderly, and Andrew Spearman advises clients on setting up trusts. Nicholas Turner retired in 2020 and continues to assist the team on a consultancy basis.
Other key lawyers:
Testimonials
'Extremely knowledgeable, professional and efficient. The team are prepared to go the extra mile to assist their clients, many of whom will be experiencing significant stress.'
'Susan Glenholme is a great listener. She is also, as the main partner of the firm, seamlessly able to bring in other professions when needed to give the true holistic outcome.'
'The private client team is a diverse, knowledgeable, fresh and friendly group. The people within it, and the excellent leadership by Susan Glenholme, is what truly sets it apart. I can refer clients to them and I know that they will be listened to, will get the right advice for them and it will be done at a reasonable fee.'
'Rachel Hyndman has an excellent personality and combines an easy to deal with manner, with total expertise and excellence.'
'Andrew Spearman puts clients at ease and quickly builds trust.'
'Not only are the private client team at Debenhams Ottaway very professional, but they also have a friendly and personal touch. Clients are in good hands and Debenhams Ottaway complement our own company's ethos of delivering a highly personalised and comprehensive service.'
'Claire Sharp has a wealth of experience, and is always happy to help. Claire is efficient, knows what needs to be done, and delivers her outstanding service in a calm, friendly manner.'
'Susan Glenholme is friendly, caring and approachable, but is also extremely knowledgeable. She is very practical in her approach. She is very well respected in the local business community and has built this reputation from her hard work and commitment to her clients. She also manages the whole private client team and the practice extremely well.'
Work highlights
Advised Hubbard Will Trust on the scope and purpose of the trust, and the provisions in relation to surplus income.
Debenhams Ottaway handles a range of complex employment matters including settlement agreements, redundancy and restructuring, and employment tribunal cases. Based in St Albans, the team works with corporates, entrepreneurs, family-owned businesses, as well as advising clients in the education and healthcare sectors in Hertfordshire and London. Head of the practice Louise Attrup specialises in cases involving data theft, restrictive covenants and breaches of confidence. Michael Kerrigan advises clients in the recruitment, healthcare and education sector on matters pertaining to employment status disputes, social media issues and protection of post-termination information.
Other key lawyers:
Testimonials
'Louise Attrup and Michael Kerrigan are both accomplished solicitors. Their direct and efficient approach in explaining legal arguments ensure that we are presented with all the information required to make decisions on how we proceed with litigations. Excellent and sound legal advice received from both.' 
'Lousie Attrup is very knowledgeable, gives sound advice and has been a great help when negotiations have been tricky and testing. Louise is very responsive and has helped guide me through several difficult negotiations.' 
'Very friendly and informative level of service. There is always a quick response to questions and fast action when required.' 
'Michael Kerrigan is incredibly knowledgable and passionate about the service he provides. His energy is inspiring and he genuinely cares about the outcomes for his clients.'
Work highlights
Defended Brook Street in a dispute involving claims made by a temp who worked under a master vendor agreement and then under a second-tier supply arrangement.
The St Albans charities and not-for-profit team at Debenhams Ottaway offers charities and parishes the full range of charity advice, including niche areas such as representing charities who are the beneficiaries in wills. Practice leader Andrew Yates is an expert in charity incorporation, mergers, disposals and acquisitions. Nicholas Turner focuses on charity formation, Jonathan Foy provides commercial property advice to charities, and Claire Sharp specialises in trust law and estate administration. Neil Mercer is also a key resource for diocese seeking charity advice and charities regarding complex development agreements.
Testimonials
'The people make the practice – they are highly professional and skilled, which you would expect of course of a legal practice, but more than that they are dedicated and enthusiastic to find the right solutions for their clients. They present the human face of the law to help clients achieve their aims.'
'All of the people I have dealt with have been great. They clearly work hard to get to the right answer and to support their clients by approaching each assignment with passion and drive. Their development of team members underscores the ethos of the practice which has continued throughout the recent lockdown periods – which demonstrates their ability to adapt as a team.'
'Great team – friendly, responsive and always looking for ways to help. They are approachable, personable and always wanting to deliver their best.'
Key clients
City of Expertise
The Counselling Foundation
Hubbard Will Trust
Crohn's & Colitis UK
International Society for Krishan Consciousness (Hare Krishna)
Hertfordshire and Middlesex Wildlife Trust
InspireAll Limited
The St Albans Diocesan Board of Finance
Meher Baba Association Limited
The Church Lands Trust
Highfield Park Trust
Work highlights
Advised City of Expertise on its constitution and about its corporate members.
Helped the Counselling Foundation to update their standard training course terms and conditions.
Continued to act for Hubbard Will Trust, and educational trust established by Will in the 1940s.
Debenhams Ottaway advises both local and national clients, including hospitality companies, charities, corporates and local councils, on a range of matters including sales and purchases of owner occupied and investment property, property developments and secured lending matters. Based in St Albans, the team also provides specialist advice on diocese-related property and trust matters. Practice co-head Ruth Boulton deals with a range of property transactions, including high-value disposals and purchases, and residential matters. Fellow co-head Jonathan Foy handles complex lease work, while newly promoted partner Neil Mercer has expertise in matters concerning the occupation, development, purchase and sale of commercial property.
Practice head(s):
Ruth Boulton; Jonathan Foy
Other key lawyers:
Testimonials
'A well established local team of solicitors who are embedded in the local community. Highly knowledgeable team who are keen to work through issues with you for the clients benefit.'
'The team offer great advice and are always available.'
'Ruth Boulton is the best property lawyer that I have worked with.'
'The team take a creative approach when dealing with problems in the property industry, always looking for solutions where others tend to settle for unsatisfactory compromises.'
Key clients
Red Kite Land Company Limited
New Era Fuels Limited
Stratton Land
Morpheus Construction Limited
Broadwing Homes Limited
The St Albans Diocesan Board of Finance
Royal Bank of Scotland PLC
Market Reach Licensing Services Limited (Paddington Bear Café)
Luxottica North Europe Limited
Luxottica Retail UK Limited
InspireAll Limited
Work highlights
Assisted Red Kite Land Company Limited with acquiring a portfolio of eight supermarkets including Tesco, Co-Op and One Stops.
Acted for Royal Bank of Scotland on the refinancing of seven mixed-use properties with a £7.6m facility provided by the bank.
Advised HF Holidays Limited on the re-mortgaging of seven of its freehold sites throughout the UK.
Based in St Albans, Debenhams Ottaway has a strong focus on clients in the healthcare, charity and private wealth sectors, advising on matters relating to private company assets, share acquisitions and disposals, as well as terms and conditions for local clients and distribution agreements. Head of the team Andrew Yates deals with acquisitions, disposals and transaction finance, and has expertise on share rights and corporate structures. The 'incredibly engaging' James Brawn handles healthcare-related corporate and commercial matters.
Other key lawyers:
Testimonials
'Andrew Yates is our primary contact for all our varied commercial work, be it investments, acquisitions and growth share schemes – he is particularly able and amenable.' 
'They are very helpful, quick to respond, approachable and their advice is top notch.' 
'I have worked with several individuals from the practice, but in particular James Brawn stands out. He is incredibly engaging, very easy to work with and has a fantastic recall of what we have discussed on previous engagements. You never feel you start from scratch.' 
'Very thorough with excellent attention to detail.' 
Key clients
Veruth Holdings Limited
Europa Components & Equipment PLC
Luxottica North Europe Limited
Benchmark Fabrications Limited
Jeeves Holdings Limited
Work highlights
Advised Veruth Holdings Limited on the acquisition of an established private limited company by way of share purchase.
The St Albans team at
Debenhams Ottaway
advises clients on boardroom and contractual disputes, company dissolutions, professional negligence, and debt recovery and issues relationg to personal guarantees. Disputes head
Juliet Schalker
, who '
brings City expertise',
focuses on shareholder and boardroom disputes, insolvency litigation, private equity and alternative lending markets.
Mairead McErlean
has experience in representing clients in disputes, from high-net-worth individuals to international organisations. Former practice head
Luke Harrison
 departed in April 2020 to co-found
Keidan Harrison
.
Other key lawyers:
Testimonials
'Juliet Schalker is an experienced litigator – she brings City expertise to Debenhams Ottaway and is impressively focused on meeting client objectives in litigation.'
'The team had a good knowledge and understanding of the details of the case, and have guided us every step of the way.'
'Juliet Schalker has been very supportive and insightful on the details of the dispute resolution process.'
Key clients
Dermal Laboratories Limited
Access Group
Pizza Express
Pret A Manger
MSP Capital Limited
Three Oaks Care Home
Davis & Co LLP
Utility Warehouse Limited
Squad Security Limited
Work highlights
Acted for Dermal Laboratories Limited and Diomed Developments Limited in their £4m claim against Leumi ABL Limited, an asset based lender.
Acted for Davis & Co LLP in a dispute with another accountancy practice they acquired through an Asset Purchase Agreement.
Acted for Three Oaks Care Home Limited in a claim against them, made by BNP Paribas Leasing Solutions Limited, for breach of an unregulated hire agreement.
Debenhams Ottaway is strong in claims arising from workplace accidents, including those where claimants have sustained upper limb disorders, spinal injuries and chronic pain. Other work includes cases arising from road traffic accidents, as well as occupiers' liability and public liability matters. Practice head Howard Kent, who garners praise for his 'high-quality advice', is a longstanding Law Society accredited personal injury practitioner and a member of APIL.
Testimonials
'I work with Howard Kent. He stands out because of his dedication to the client, enthusiasm for the work and his efficient case management while achieving a high standard so that clients feel cared for and that they can trust him to achieve their best interests.'
'The personal injury and clinical negligence department is small but worthy of inclusion for the quality of care, skill and attention paid to his cases by the head of the department, Howard Kent. This is a small but well-run, efficient and caring team, sensitive to the demands of a personal injury and clinical negligence practice and delivering a consistently excellent service.'
'Howard Kent is establishing a well-earned reputation for consistently high-quality advice and representation and can compete with more established firms, delivering the essential combination of professionalism, reliability and intuition to meet the clients' needs.'
'A strong practical and down to earth team that goes the extra mile for clients.'
'I have done most work with Howard Kent. He is a determined and very hard working lawyer. He attracts excellent local work involving seriously injured clients.'
'Howard Kent – diligent, experienced and hard working.'
Work highlights
Successfully recovered damages for a female driver of a vehicle who was injured when the defendant vehicle lost control.
Acted for claimant employed as an administrator by the Home Office who suffered a spinal injury (compression/prolapsed disc).
Acted for client who is an experienced brick layer and his accident occurred whilst working on a Bovis new build mixed development construction site in Hertfordshire.
Debenhams Ottaway deals with wills, trusts, and inheritance disputes involving complex and high-value estates. Practice leader Michael Henry focuses on Inheritance Act claims, professional negligence, and disputes involving executors and beneficiaries.
Testimonials
'Michael Henry is very likeable and knowledgeable. He is always willing to talk through issues, which is helpful.'
'The team's in-depth knowledge and experience is comparable to a London City firm.'
'Michael Henry is very good; his client care is outstanding in my opinion. His knowledge and interest in the subject area is vast and he cares about his work and his clients.'
'Debenhams Ottaway are a very professional and long established firm.'
'Michael Henry is an excellent solicitor – he explains everything very clearly; gives you the best advice he on various situations and possible outcomes, and gives you a very clear picture of how to deal with these situations in the most amicable way. He has a very pleasant manner and has a very calming way about him. He has always tries to apply logic and common sense to my problems, giving me many options to consider, and will always try to diffuse any hostile situations if at all possible.'
'Michael Henry was the best possible person I could have had for my very upsetting situation I was having to deal with. His whole persona is amazing. Empathy with my situation, made me feel at ease. The manner in which he went about getting results and information was very impressive and utilising the time I paid for efficiently always aware that I was a person with limited funds but not in a way that made me feel uncomfortable.'
Debenhams Ottaway >
Firm Profile
Debenhams Ottaway is the largest law firm in St Albans. It is a multi-service law firm based in Hertfordshire, known for delivering outstanding service and award-winning legal advice to its clients.
The firm:
Debenhams Ottaway works with individuals, families and businesses in Hertfordshire, London and across the UK, helping them make the most of new possibilities or deal with unexpected challenges at home or in business. Debenhams Ottaway's long and successful history as a leading private wealth adviser is now matched by the reputation of its corporate, real estate and litigation teams which work with medium-sized businesses, owner-managed businesses and entrepreneurs in a range of sectors including healthcare, real estate and charities.
Debenhams Ottaway has a strong and loyal client base. Clients are regularly asked for feedback on their experience of working with the team at Debenhams Ottaway.  It uses the Net Promoter Score as a benchmark and has one of the highest scores in the legal sector. Key clients include Brook Street (UK) Limited, McNicholas Construction Services Limited, Dermal Laboratories Limited, St Albans Diocesan Board of Finance, Stratton Land, The Church Lands Trust, Veruth Holdings, Seva Care Home Group and Luxottica North Europe Limited.
Types of work undertaken: Debenhams Ottaway offers advice on private wealth, family, residential and commercial property, corporate and commercial, employment, litigation and dispute resolution.
KEY AREAS OF WORK
Corporate and commercial: Acquisitions and disposals, banking, finance and loan agreements, business structuring, commercial contracts.
Dispute resolution: Boardroom disputes, company dissolutions, contractual disputes, debt recovery, banking litigation, professional negligence, alternative dispute resolution, real estate disputes, personal injury.
Employment: Contract preparation and policy guidance, disciplinaries and grievances, workplace discrimination, unfair and wrongful dismissal, employment tribunal and court representation, redundancy and restructuring programmes, restrictive covenants and data thefts, board level advice, settlement agreements.
Family: Divorce and separation, civil partnership dissolution, financial disputes, pre-nuptial and post-nuptial agreements, living together and cohabitation agreements, child arrangements including international relocation, collaborative law.
Insolvency and restructuring: Office holder claims, defending director actions, distressed creditor actions, formal insolvency procedures, debt advisory and restructuring.
Private client: Protecting and managing wealth through inheritance tax, estate planning and estate administration., setting up and administering trusts, lasting powers of attorney, Court of Protection and professional deputyship services, Wills, trusts and inheritance disputes.
Real estate: Landlord and tenant work, property development, sales and purchases of owner occupied and investment property, secured lending, residential conveyancing.
Staff Figures
Number of UK partners : 15 Number of other UK fee-earners : 41
Diversity
At Debenhams Ottaway we value the diversity of our employees. To ensure our clients receive the best possible service, we encourage and support difference in our teams so that they can provide an empathetic, innovative and engaging service.
We encourage an inclusive and respectful working environment that seeks out everyone's contributions driven by their individual and diverse perspectives and backgrounds.
We believe it is important that our staff feel supported. All employees have access to the firm's Employee Assistant Programme service, where employees can talk to a professional about any personal problems that may impact their work. Our HR team are qualified mental health first aid champions (MHFA). They are not only able to provide support for existing staff who may be having difficulties but also are able to understand the discrimination that those with mental health issues may previously have experienced in recruitment and selection processes. We offer flexible working to our staff and are continually looking for ways to improve our working environment. We are committed to providing our teams with interesting and challenging work whilst encouraging and supporting everyone to find time for rest, relaxation and exercise.
Every year we give our staff the opportunity to complete our diversity questionnaire and the statistical information is published on our website. We strive to keep learning from any feedback we receive so that we can continue to attract and retain the best talent who will deliver the best service to our clients.
Our local community is very important to Debenhams Ottaway and each year everyone at the firm chooses a charity to support for the year. We take part in various activities to help raise funds and awareness for our chosen charities. In 2019, Debenhams Ottaway was recognised in the St Albans Chamber of Commerce Business Awards and won the Corporate Social Responsibility (CSR) award, which highlights our commitment and strong presence in the local community.
As part of the commitment to our chosen charity, Youth Talk, our corporate, commercial and charity sector teams have provided them with pro bono advice. In addition to this, we offer annual work placements for the students of a local St Albans school and sponsor a primary school in Radlett.
Client Testimonials
CLIENT: Anonymous
COMPANY/FIRM: Anonymous
TESTIMONIAL: "If someone asked me to recommend a law firm, I would suggest Debenhams Ottaway."
---
CLIENT: Anonymous
COMPANY/FIRM: Anonymous
TESTIMONIAL: "Debenhams Ottaway was perfect for us. They were always professional, communicative and empathetic, we would definitely use them again."
---
CLIENT: Anonymous
COMPANY/FIRM:
TESTIMONIAL: "I was provided with excellent, professional and efficient service at a reasonable fee. I could not fault their service one bit. I will definitely be using Debenhams Ottaway in the future and would highly recommend them any type of legal issue."
---
CLIENT: Anonymous
COMPANY/FIRM: Anonymous
TESTIMONIAL: "Not only did they know how to help us with a slightly complicated Will, they were always friendly and professional and made everything so clear."
---
CLIENT: Anonymous
COMPANY/FIRM: Anonymous
TESTIMONIAL: "Debenhams Ottaway is professional and always provides the best advice"
---
CLIENT: Anonymous
COMPANY/FIRM: Anonymous
TESTIMONIAL: "They clearly explained everything to me, and provided a professional and friendly service."