Firm Profile > Debenhams Ottaway > St Albans, England
Debenhams Ottaway
Offices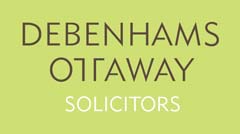 Debenhams Ottaway
IVY HOUSE
107 ST PETERS STREET
ST ALBANS
AL1 3EW
England
Debenhams Ottaway > The Legal 500
Rankings
Debenhams Ottaway >
Firm Profile
Debenhams Ottaway is the largest firm in St Albans. It is a multi-service law firm based in Hertfordshire, known for delivering outstanding service and award-winning legal advice to its clients. The firm is proud of its past, progressive in its outlook and unrelenting in its dedication to growth through doing more for its people, its personal and business clients and its communities.
The firm: Debenhams Ottaway has celebrated its 250th anniversary recently. Its long and successful history as a leading adviser to families and individuals is now complemented by its well established commercial team, which works with medium-sized businesses, owner-managed businesses and entrepreneurs, helping them grow and develop.
The firm has a strong and loyal client base, with 99% of clients surveyed saying they would use Debenhams Ottaway again and recommend it to family and friends. Clients include individuals and families, medium-sized businesses, owner-managed businesses, entrepreneurs, referrers and other professionals. Debenhams Ottaway regularly works with clients in the charity, healthcare, private wealth, banking, education and recruitment sectors and has dedicated teams working with these industries. Clients are based in Hertfordshire, London and across the rest of the UK, and include AXA PPP Healthcare Limited; Brook Street (UK) Limited; Crohn's and Colitis UK; Fujitsu General (UK) Co. Limited; Life Opportunities Trust; McNicholas Construction Services Limited; St Albans Diocesan Board of Finance; St Albans Museums and Galleries Trust, St Albans School and Luxottica.
Types of work undertaken: Debenhams Ottaway offers advice on private wealth, family, residential and commercial property, corporate and commercial, employment, litigation and dispute resolution.
Its award-winning private wealth team advises on wills, trusts, inheritance tax planning and probate. It often deals with complex and wealthy estates, including those with foreign assets.
The family team is particularly well known for providing legal advice on high-net-worth and complex financial divorce proceedings and other family/relationship matters.
The corporate and commercial team advises on the entire business lifecycle including acquisitions and disposals, share schemes and corporate finance.
The employment team acts primarily for employers, advising medium-sized businesses, manager-owned businesses and entrepreneurs across the UK. It has particular experience in data theft and restrictive covenants.
The property team works with a wide range of clients throughout the UK, including developers, property investors, major corporations, public bodies, schools, owner occupiers, retailers, landlords, tenants and entrepreneurs.
The litigation team works for high-profile clients and is known for taking on heavyweight litigation against much larger City firms.
The charity team works with charities and not-for-profits, from small trusts to national charities, advising on issues relating to both their legal needs and regulatory frameworks.
The healthcare team helps ensure care homes, doctors, dentists and pharmacists are legally compliant and assists with all legal aspects of the acquisition and disposal of healthcare businesses.
The private wealth team advises high-net-worth families and individuals on the legal aspects of personal wealth management, finding creative legal solutions to protect and manage their wealth now and safeguard it for the future.
The education team helps senior leaders from education institutions with the legal challenges they face in employment, property and planning, business and financial management.
Main Contacts
| Department | Name | Email | Telephone |
| --- | --- | --- | --- |
| Managing partner/ Private client | Susan Glenholme | | |
| Commercial property | Jonathan Foy | | |
| Commercial property | Ruth Boulton | | |
| Employment | Louise Attrup | | |
| Family | Helen Young | | |
| Residential conveyancing | Nigel Drake | | |
| Personal injury | Howard Kent | | |
| Contentious trusts and probate | Michael Henry | | |
| Corporate and commercial | Andrew Yates | | |
| Litigation | Juliet Schalker | | |
Lawyer Profiles
| Photo | Name | Position | Profile |
| --- | --- | --- | --- |
| | Louise Attrup | Specialises in employment law, advising employers or employees. Works with a broad… | View Profile |
| | Nigel Drake | Head of residential conveyancing at Debenhams Ottaway. Also the senior responsible officer… | View Profile |
| | Jonathan Foy | Joint-head of the commercial property team at Debenhams Ottaway. Jonathan specialises in… | View Profile |
| | Susan Glenholme | Managing partner of the firm and also manages a growing team in… | View Profile |
| | Michael Henry | Michael has experience of a broad range of commercial dispute resolution with… | View Profile |
| | Howard Kent | Head of the personal injury team. More than 20 years' experience as a personal… | View Profile |
| | Juliet Schalker | Juliet leads the litigation team. With her City expertise and contacts, Juliet… | View Profile |
| | Claire Sharp | Manages the private client team. Specialises in probate, trusts, Wills and inheritance… | View Profile |
| | Nicholas Turner | Head of the private client department, advising clients on complicated Wills, trusts… | View Profile |
| | Andrew Yates | Head of the corporate and commercial team at Debenhams Ottaway. Andrew specialises… | View Profile |
| | Helen Young | Head of the family team at Debenhams Ottaway. Undertakes a wide variety… | View Profile |
Staff Figures
Number of UK partners : 10 Number of other UK fee-earners : 50
Diversity
At Debenhams Ottaway we value the diversity of our employees. To ensure our clients receive the best possible service, we encourage and support difference in our teams so that they can provide an empathetic, innovative and engaging service.
We encourage an inclusive and respectful working environment that seeks out everyone's contributions driven by their individual and diverse perspectives and backgrounds.
We believe it is important that our staff feel supported. All employees have access to the firm's Employee Assistant Programme service, where employees can talk to a professional about any personal problems that may impact their work. Our HR team are qualified mental health first aid champions (MHFA). They are not only able to provide support for existing staff who may be having difficulties but also are able to understand the discrimination that those with mental health issues may previously have experienced in recruitment and selection processes. We offer flexible working to our staff and are continually looking for ways to improve our working environment. We are committed to providing our teams with interesting and challenging work whilst encouraging and supporting everyone to find time for rest, relaxation and exercise.
Every year we give our staff the opportunity to complete our diversity questionnaire and the statistical information is published on our website. We strive to keep learning from any feedback we receive so that we can continue to attract and retain the best talent who will deliver the best service to our clients.
Our local community is very important to Debenhams Ottaway and each year everyone at the firm chooses a charity to support for the year. We take part in various activities to help raise funds and awareness for our chosen charities. In 2019, Debenhams Ottaway was recognised in the St Albans Chamber of Commerce Business Awards and won the Corporate Social Responsibility (CSR) award, which highlights our commitment and strong presence in the local community.
As part of the commitment to our chosen charity, Youth Talk, our corporate, commercial and charity sector teams have provided them with pro bono advice. In addition to this, we offer annual work placements for the students of a local St Albans school and sponsor a primary school in Radlett.
Client Testimonials
CLIENT: Anonymous
COMPANY/FIRM: Anonymous
TESTIMONIAL: "If someone asked me to recommend a law firm, I would suggest Debenhams Ottaway."
---
CLIENT: Anonymous
COMPANY/FIRM: Anonymous
TESTIMONIAL: "Debenhams Ottaway was perfect for us. They were always professional, communicative and empathetic, we would definitely use them again."
---
CLIENT: Anonymous
COMPANY/FIRM:
TESTIMONIAL: "I was provided with excellent, professional and efficient service at a reasonable fee. I could not fault their service one bit. I will definitely be using Debenhams Ottaway in the future and would highly recommend them any type of legal issue."
---
CLIENT: Anonymous
COMPANY/FIRM: Anonymous
TESTIMONIAL: "Not only did they know how to help us with a slightly complicated Will, they were always friendly and professional and made everything so clear."
---
CLIENT: Anonymous
COMPANY/FIRM: Anonymous
TESTIMONIAL: "Debenhams Ottaway is professional and always provides the best advice"
---
CLIENT: Anonymous
COMPANY/FIRM: Anonymous
TESTIMONIAL: "They clearly explained everything to me, and provided a professional and friendly service."
Top Tier Firm Rankings
Firm Rankings