Firm Profile > BTO Solicitors LLP > Glasgow, Scotland
BTO Solicitors LLP
Offices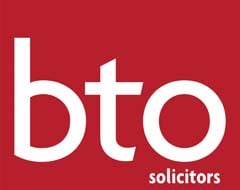 BTO Solicitors LLP
48 ST VINCENT STREET
GLASGOW
G2 5HS
Scotland
BTO Solicitors LLP > The Legal 500
Rankings
BTO Solicitors LLP >
Firm Profile
The Firm: BTO is an independent and well respected Scottish law firm which has grown steadily for two decades. The firm provides expert legal services and caters for the Scots law needs of commercial clients and individuals, with the capability to provide international legal advice through the Mackrell International network (www.mackrell.net) and other contacts.
Clients: Range from major insurers to medical defence organisations, housebuilders, property investors, established manufacturers, well known retailers, financial institutions and public sector organisations. BTO is viewed by its clients as client-focused, pragmatic and providing value for money. The firm is committed to helping its clients reach their goals by collaborating with them and looking beyond the law.
Principal areas of work: Corporate law, commercial and insurance-related litigation, criminal defence (including corporate, personal and regulatory), commercial and residential property and services for individuals. Niche teams include: ADVantage advocacy service, banking and finance, creative industries, construction and engineering, crisis management, disease claims, data protection, education,  employment, environmental, family law, health & safety and regulatory defence, insolvency, recoveries, regeneration, renewable energy, rural business, technology and IP, third sector, social housing, sports law and on line reputation protection.
Litigation: BTO has one of the largest teams in Scotland. Experience includes:
Successful in judgment by UK Supreme Court in case of Dooneen Ltd t/a McGinness Associates –v- Mond involving entitlement to a successful PPI claim where there had been an intervening insolvency by virtue of a Trust Deed. PPI claimant held to be entitled to PPI payment.  Numerous cases awaited outcome as did IPs holding funds.
LPM Ltd v Liberty Managing Agency Ltd and Liberty Corporate Capital Ltd: Pursuing a claim for indemnity under each proprietor's buildings insurance policy, regarding the common parts of a 50 apartment building in Edinburgh. Matter value £4.4m
Successful in the case of Esso Petroleum Company Limited v Scottish Ministers and Others, acting on behalf of the M74 Interlink joint venture in defending this claim (£3m).
BTO's ADVantage advocacy team has the highest headcount of solicitor advocates in Scotland with seventeen civil and three criminal solicitor advocates.  Clients value the continuity of representation and cost benefits that this service provides. BTO also employs two former procurators fiscal, both of whom are qualified criminal solicitor advocates. They focus on white-collar crime and health and safety matters within the largest independent and dedicated Health & Safety team operating in Scotland, all of whose caseloads are 100% regulatory defence work.
Insurance: BTO's insurance team alone has increased by on average 20% in each of the last five years and it has a 100% client retention rate. The team represents a number of major insurers and has the broadest range of specialist insurance-based legal skills in Scotland. It is frequently instructed by insurers in matters which have cross-border issues and in cases involving multi-jurisdictional claims.
Corporate: Renowned for its expertise in the SME/private company sector, the team has experience of a range of corporate and commercial matters in many jurisdictions, including cross-border mergers, acquisitions and joint ventures. The team is distinguished by its credentials in advising in some of the most high-profile issues in the worlds of football, golf and boxing. In addition, having advised some of Scotland's best known distillers, extensive knowledge of the whisky sector gives BTO a further edge.
Recent work highlights include acting in relation to the following:
Scottish FA acquisition of Hampden Park, Glasgow
Angus Dundee Distillers PLC on various strategic contracts
Triodos Bank in the funding of a £14m wind farm
£6m refinance of acquisition costs of property acquired in Scotland by NZ shareholders
Continued acquisitions for Scott Group Ltd
Sale by majority shareholders of Dougall Baillie Associates Limited 
Query Click in relation to a multi-million pound investment by Archangels and SIB
Frequent advice on shareholders and boardroom disputes
Real Estate and Construction: A diversely skilled team in the property sphere. Experience includes purchasing Silvan House in Edinburgh, the headquarters of the Forestry Commission. This was a significant investment purchase for an overseas investor. In addition to mainstream property work, the team acts for a substantial number of exclusive fashion and luxury goods retailers and travel agents and has developed a niche practice in these areas. It also remains the 'go to' firm for commercial property work in the leisure and hospitality sector. The firm's construction and engineering team continues to enhance its offering in both contentious and non-contentious legal matters.
Recent work includes advising:
Scottish Football Association on all property aspects in connection with the National Stadium;
Mar Estates Limited on all property work and disposal negotiations;
Stena Line Group's ferry/port on property and security aspects in connection with its ferry/port interests in Scotland, including a refinance arrangement of c $750m.
Robert Jones Holdings Ltd in purchase of landmark multi-let office investment worth c.£11m.
Cyber Risk and Data Protection: BTO's data protection team was involved in the first successful UK appeal against a (£250,000) monetary penalty notice served on a local authority after a widely publicised data protection breach. Paul Motion, who heads the team, is an accredited specialist in Freedom of Information and Data Protection law, one of only two such specialists in the private practice legal sector in Scotland.
Renewable energy: Acts in projects of all sizes, from those involving major international funders to others involving community-driven ventures, where it has unrivalled experience. The firm's expanding rural business team advises farmers, landowners and estates on property, company and business law, tax and succession planning and diversification, particularly diversification of landed estates.
Media and Entertainment: A solid reputation in this area has led to the team being invited for ten consecutive years to present workshops at the Edinburgh Festival Fringe.  'BTO BeCreative', the firm's Music and Creative industries team is gaining a strong reputation in the UK music industry.
Family: The team has been involved in some of the biggest financial provision cases in Scotland.  It is also regularly involved in cross-border cases dealing with both money and children. The team is highly regarded for its work on high-value estate administration, including complex restructuring for tax purposes, domicile, cross-border estates and legal rights disputes.  Providing advice in relation to surrogacy and donor conception is a growing area for the team.
Main Contacts
| Department | Name | Email | Telephone |
| --- | --- | --- | --- |
| Chairman | David Gibson | dbg@bto.co.uk | 0141 221 8012 |
| Chief Operating Officer | David Walker | djw@bto.co.uk | 0141 221 8012 |
| Commercial Dispute Resolution | Grant Hunter | ghu@bto.co.uk | 0141 221 8012 |
| Corporate | Gary Booth | gab@bto.co.uk | 0141 221 8012 |
| Crime (Corporate/personal/Regulatory) | Clare Bone | cbo@bto.co.uk | 0141 221 8012 |
| Creative Industries/Data Protection/Technology/IP/Media & Entertainment | Paul Motion | prm@bto.co.uk | 0131 222 2939 |
| Employment | Caroline Carr | cac@bto.co.uk | 0141 221 8012 |
| Family | Lesley Gordon | lxg@bto.co.uk | 0131 222 2939 |
| Health & Safety | Clare Bone | cbo@bto.co.uk | 0141 221 8012 |
| Insurance Litigation | Bill Speirs | wscs@bto.co.uk | 0141 221 8012 |
| Medical Negligence (defender) | Douglas Jessiman | dwj@bto.co.uk | 0141 221 8012 |
| Professional Negligence (defender) | Alan Eadie | awe@bto.co.uk | 0141 221 8012 |
| Property/Real Estate | Jane Steel | js@bto.co.uk | 0141 221 8012 |
| Renewable energy | Caroline Carr | cac@bto.co.uk | 0141 221 8012 |
| Rural business | Jane Steel | js@bto.co.uk | 0141 221 8012 |
| Social Housing | Patrice Fabien | pfa@bto.co.uk | 0141 221 8012 |
| Sports Law | Andrew Sleigh | afs@bto.co.uk | 0141 221 8012 |
Lawyer Profiles
| Photo | Name | Position | Profile |
| --- | --- | --- | --- |
| | Alistair Barbour | Alistair is an Associate within BTO's Insurance litigation team. Since qualifying in… | View Profile |
| | Emma Barclay | Associate Emma joined BTO in 2012 as a trainee and has been… | View Profile |
| | Audrey Blair | Associate Audrey, bringing with her over 16 years of experience in helping… | View Profile |
| | Marjory Blair | Associate Marjory has practiced Family Law for over thirty five years in… | View Profile |
| | Clare Bone | Partner and Criminal Solicitor Advocate Clare is a Criminal Solicitor Advocate and heads… | View Profile |
| | Gary Booth | Partner Gary is a partner in the corporate team with over 15… | View Profile |
| | Karen Brodie | Partner Specialised for over 30 years in commercial conveyancing with a special… | View Profile |
| | Ross Brown | Partner Ross is a Partner within the firm's Wills Estates and Succession… | View Profile |
| | Stephen Bryceland | Partner Stephen is the leader and manager of our large and growing… | View Profile |
| | Scott Buchan | Scott has over 25 years' commercial property experience with an extensive track… | View Profile |
| | David Cairns | Associate David is a Criminal Solicitor Advocate specialising in regulatory enforcement, corporate… | View Profile |
| | Lynne Cardow | Partner Lynne specialises in claims of professional negligence. She has particular experience… | View Profile |
| | Caroline Carr | Partner and head of BTO's employment team Caroline is accredited by the… | View Profile |
| | Michael Collins | Associate and Solicitor Advocate Michael is part of BTO's Property Litigation team, dealing… | View Profile |
| | Angus Crawford | Partner Angus specialises in providing advice to insurers and commercial clients in… | View Profile |
| | Catherine Currie | Partner and Solicitor Advocate Catherine is a Solicitor Advocate with over 30… | View Profile |
| | Marion Davis | Senior Associate Experienced in charity and public law matters, Marion is one… | View Profile |
| | Cara Docherty | Associate Cara is an Associate in BTO's clinical defence team. She has practised… | View Profile |
| | Emma Donaldson | Emma has been part of BTO's Wills, Estates and Succession Planning… | View Profile |
| | Alastair Dunn | PartnerAlastair's practice covers all aspects of company and contract law as well… | View Profile |
| | Alan Eadie | Partner A respected professional negligence lawyer, well known for his work in… | View Profile |
| | Patrice Fabien | Partner Patrice is undoubtedly one of the most respected and acknowledged… | View Profile |
| | Joanne Farrell | Senior Associate Joanne is a Senior Associate within BTO's Insurers' Representation team.… | View Profile |
| | Garry Ferguson | Partner Garry has over 20 years' litigation experience, the majority of which… | View Profile |
| | Carly Forrest | Partner and Solicitor Advocate Carly jointly heads up a team of lawyers… | View Profile |
| | David Gibson | Chairman / Partner Chairman of BTO. One of the most experienced commercial… | View Profile |
| | Alasdair Gillies | Partner & Criminal Solicitor Advocate Alasdair is a criminal solicitor advocate with… | View Profile |
| | Angus Gillies | Angus is an Associate in the Insurance litigation department. Angus specialises in… | View Profile |
| | Jeremy Glen | Partner Highly esteemed in his field, particularly for his ability to provide… | View Profile |
| | Peter Graham | Partner Peter joined BTO in 2013. Peter has extensive experience in a… | View Profile |
| | Lesley Grant | Lesley is a member of the employment team who practices both contentious… | View Profile |
| | Lesley Gray | Senior Associate Lesley is a Senior Associate within the Commercial Property team… | View Profile |
| | Gillian Harman | Gillian is an Associate within our professional liability team. Gillian handles professional… | View Profile |
| | Mark Hastings | Mark is an Associate and a Solicitor Advocate in our Catastrophic Injury… | View Profile |
| | Dorothy Hatfield | Partner Specialises in commercial dispute resolution, banking and insolvency litigation and has… | View Profile |
| | Neil Headrick | Partner Neil joined BTO as a partner in 2014 with more than… | View Profile |
| | Grant Hunter | Partner and Head of BTO's Commercial Dispute Resolution Department, based in our Glasgow… | View Profile |
| | Douglas Jessiman | Partner Heads up BTO's clinical defence team along with Laura Donald. Specialises… | View Profile |
| | Jennifer King | Associate Jennifer is an Associate in BTO's clinical defence team, ranked Band… | View Profile |
| | Lindsay MacNeill | Associate Lindsay joined BTO's thriving Health and Safety, Regulatory and Criminal practice… | View Profile |
| | Jennifer Mackenzie | Jennifer Mackenzie is an Associate within BTO's Insurance Catastrophic Injury Team dealing… | View Profile |
| | Kirsteen Maclean | Senior Associate Kirsteen has wide-ranging experience of handling litigation for businesses and… | View Profile |
| | Karina Manson | Partner Karina is a Partner in BTO's insurance team. She specialises… | View Profile |
| | Nicolas McBride | Partner Specialises in commercial property, property related finance and the hospitality sector. Nicolas… | View Profile |
| | Mark McCluskie | Senior Associate and Solicitor Advocate Based in the firm's Glasgow office and… | View Profile |
| | Rhona McKerracher | Rhona McKerracher is a senior solicitor within BTO's insurance litigation team. Rhona… | View Profile |
| | Mark Morton | Partner and Solicitor Advocate Mark works in BTO's Insurance team providing advice… | View Profile |
| | Ann O'Connell | Consultant Ann is a specialist in Construction Law accredited by the Law… | View Profile |
| | Jilly Petrie | Partner Jilly is a Partner in the Construction and Engineering and Construction… | View Profile |
| | Matthew Raftery | Matthew is an Associate specialising in insurance, contentious construction and professional risks.… | View Profile |
| | Marieclaire Reid | Senior Associate Experienced in a full range of transactions including acquisition and… | View Profile |
| | Lewis Richardson | Lewis is an Associate within BTO's insurance team, where he focuses on… | View Profile |
| | Donnie Robertson | Senior Associate Donnie acts for developers, housebuilders, RSLs, property managers and others… | View Profile |
| | Laura Salmond | Partner Laura has specialised in employment law for over 14 years and… | View Profile |
| | Eileen Sherry | Eileen is an Associate within BTO's Insurance Representation team, having initially joined the… | View Profile |
| | Andrew Sleigh | PartnerWorks in the corporate department specialising in SME corporate and commercial transactions,… | View Profile |
| | Bill Speirs | Partner Involved in commercial and insurance litigation for over 30 years. Considerable… | View Profile |
| | Jane Steel | Partner Jane has a very successful commercial property practice, acting for private… | View Profile |
| | Jennifer Stewart | Senior Associate Jennifer has specialised in personal injury litigation since qualifying… | View Profile |
| | Douglas Strang | Senior Associate Douglas specialises in employment law, providing advice to both employers… | View Profile |
| | Calum Sweeney | Associate Calum is a member of BTO's Insurers' Representation team specialising in… | View Profile |
| | Damien Tonner | Associate Damien has specialised in insurance litigation throughout his career, dealing with… | View Profile |
| | Rhona Wark | Consultant Rhona, is a highly experienced commercial litigator who demonstrates diverse expertise… | View Profile |
| | Vikki Watt | Partner and Solicitor-Advocate Vikki is a lead Partner in BTO's top tier… | View Profile |
| | Timothy Webster | Associate Initially training and qualifying in Scotland, Tim worked for a large… | View Profile |
| | Claire White | Partner Claire is a Partner in BTO's Insurance team, and has over… | View Profile |
| | Jennifer Whitelaw | Partner Jennifer is a Partner in the Property and Real Estate team.… | View Profile |
| | Scott Wyper | Partner Scott is involved in advising a broad range of clients, across… | View Profile |
| | David Young | Partner David has a recognised technical ability in a range of areas… | View Profile |
Staff Figures
Number of UK partners : 48 Number of other UK fee-earners : 135 (including 13 trainees)
Languages
English French German Spanish
Top Tier Firm Rankings
Firm Rankings