Firm Profile > Thompson Smith and Puxon > Colchester, England
Thompson Smith and Puxon
Offices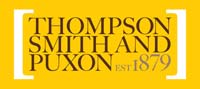 Thompson Smith and Puxon
STABLE 6, STABLE ROAD
COLCHESTER
CO2 7GL
England
Thompson Smith and Puxon > The Legal 500
Rankings
Thompson Smith and Puxon >
Firm Profile
The firm: Thompson Smith and Puxon can trace its roots back to 1879 and has since grown to be one of the leading law firms in Essex, with 12 partners, some 70 employees, and offices in Colchester and Clacton. It offers a range of legal advice to businesses and individual clients. Its specialist practice areas, with accredited lawyers and attentive support staff, ensure clients receive the most professional and practical advice available.
Types of work undertaken: Private client: whether planning for the future and needing wills and estates advice, buying or selling property, or needing advice on contentious issues such as personal disputes, personal injury, clinical negligence, employment or family matters, TSP provides practical advice to guide clients through the various processes and procedures.
Wills, trusts and estates: the team provides advice and assistance based on understanding clients objectives. It advises on wills, inheritance tax, powers of attorney and Court of Protection, estate planning, the administration of estates, trusts, and elderly and vulnerable client matters.
Family and divorce law: the team advises clients on all aspects of family law, from cohabitation agreements and civil partnerships to divorce, dissolution of civil partnerships, financial and property issues, and arrangements for children.
Clinical negligence (claimant): the team handles many different types of claim, but, in particular, specialises in catastrophic injuries involving children, such as birth injuries and cerebral palsy, and also cases involving missed diagnosis and treatment delay.
Personal injury (claimant): the specialist personal injury team has many years of experience helping accident victims with their claims and has recovered many millions in compensation. The personal injury team can help clients claim compensation for any injuries or losses suffered, which, as a direct result of the accident, affected the quality of life.
Residential Property: the team will guide you through each step of the buying and selling process as well as providing the practical and professional advice you need in order to ensure your transaction goes through smoothly and quickly.
Business services team: TSP looks after the business issues that matter to its clients whether they are large or small. The corporate and commercial team includes a number of lawyers with City law background and experience. Clients of TSP are regional, national and international, and include single-owner start-ups, high-net-worth individuals, SMEs and multinationals.
Sectors include: manufacturing, construction, care homes, hotels, energy (including solar and windfarms), professional services, agricultural businesses and dentistry.
Corporate/commercial: providing commercially driven advice, and transactional and advisory work (domestic and cross-border) in mergers and acquisitions, private equity, corporate finance, refinancing, reorganisations and de-mergers, shareholder arrangements and joint ventures, share options, partnerships (including corporates), insolvency, agency and distribution, and supply and maintenance agreements across a broad range of industries.
Employment: delivering solutions-based advice and supporting clients in the day-to-day management of their people, legal issues and risk. The team works on a strategic and operational level on both contentious and non-contentious matters across the private and public sectors including contracts of employment, restrictive covenants, employment policies and procedures, share option schemes, dismissals and redundancy, employment disputes (including tribunal representation), settlement agreements, business sales and reorganisations.
Dispute resolution: providing alternative dispute resolution (by mediation and negotiation), and advising on civil and commercial disputes including contentious probate, breach of contract and negligence, insolvency (corporate and individual), injunctions, commercial and residential landlord and tenant and boundary disputes, and consumer rights.
Real estate and property: delivering high-quality commercial and innovative advice on property matters to its clients, including property ownership (for dwelling, trading and investment purposes), management, development, acquisitions and disposals, options, joint ventures and property financing.
Agriculture and estates: TSP has long-standing and strong relationships with the rural community in Essex, Suffolk and the surrounding counties. Headed by Stephen Firmin, a Fellow of the Agricultural Law Association, the team is familiar with the specific issues and problems that the sector has and can advise on all matters that concern farmers and landowners.
Other offices: Clacton on Sea
Staff Figures
Number of UK partners : 12 Number of other UK fee-earners : 29
Languages
English Romanian Hindi Nepalese
Memberships
LawNet Eurojuris
Diversity/Community
EQUALITY AND DIVERSITY AND THE AVOIDANCE OF DISCRIMINATION
Thompson Smith and Puxon is committed to avoiding discrimination and promoting equality of opportunity and diversity. It is a requirement that all members of the firm comply with the firm's Policy on Avoidance of Discrimination and Promotion of Equality and Diversity. The Policy applies to all of the firm's professional dealings, both internal and external. The firm recognises that all of its employees have a duty to embrace, support and uphold the principles contained in its Policy and that we must all continue to challenge behaviour and attitudes that prevent us from achieving this.
In addition to observing all legislative requirements in this area, the firm must also achieve the Outcomes required by Chapter 2 of the SRA Code of Conduct, which are as follows:
We must not discriminate unlawfully, or victimise or harass anyone in the course of our professional dealings
We must provide services to clients in a way that respects diversity
We must make reasonable adjustments to ensure that disabled clients, employees or managers are not placed at a substantial disadvantage compared to those who are not disabled, and we do not pass on the costs of those adjustments to those disabled clients, employees or managers
Our approach to recruitment and employment must encourage equality of opportunity and respect for diversity
We must deal with complaints of discrimination promptly, fairly, openly and effectively
These Outcomes apply to all of our professional dealings with each other, with clients and with third parties.
The firm aims to create a working environment in which all individuals are able to make best use of their skills, free from discrimination or harassment, and in which all decisions are based on merit.
The firm does not discriminate against any person on the basis of age, disability, gender reassignment, marital or civil partner status, pregnancy or maternity or paternity, race, colour, nationality, ethnic or national origin, religion or belief, sex or sexual orientation (protected characteristics).
All members of the firm have a duty to act in accordance with the firm's Policy and to treat colleagues with dignity at all times, and not to discriminate against or harass any other person, regardless of their status.
CORPORATE SOCIAL RESPONSIBILITY
The Directors and Staff of Thompson Smith and Puxon are very proud of their fundraising activities and involvement in the local community. Many staff members undertake sponsored events and different activities throughout the year in support of different charities that are "close to their hearts".
As well as supporting its staff with a donation for their fundraising activity the firm also sponsors events in the local community such as the Clacton Rotary Club Christmas dinner. The firm is a member of Dementia Action Alliance and is committed to raising awareness of dementia and promoting easy access for individuals living with dementia. The firm also took part in Dying Matters Week (2019), encouraging the wider public to talk about the taboo subject of end of life / dying.
For a number of years now, the Directors of TSP have, in lieu of sending Christmas cards, donated to a number of local charities. At Christmas 2018 the firm supported a client with his support of Team Angus, raising money for a local lad with cerebral palsy, and in 2017 donated to the Colchester Samaritans. In 2016 the firm was pleased to support Age UK Essex and in 2015 and 2014 the firm donated to CoHoC – the Colchester Hospitals Charity. In previous years the firm has donated to the Colchester Night Shelter and Headway.
The firm jointly sponsors a charity quiz every year and in 2019 over £2,500 was raised for Team Angus. The firm is also involved in sponsoring other community events, such as the Brantham Church Teddy Bear Parachute Jump, the annual Rotary Club's School Choir competition in Colchester and has also sponsored, for another year, the Clacton Rotary Airshow car park, which raises many thousands of pounds for charity.
Testimonial
CLIENT: Alex Wright (FIMI)
COMPANY/FIRM: Shoreham Vehicle Auctions
TESTIMONIAL: Mary Anne Fedeyko provides a fast response when appropriate, and a measured response when appropriate, recognising if more information or research is required. She and her team communicate in plain English, and are not caught up in legal jargon. She clearly explains areas of risk, as well as the options available to address risks. Legal costs are communicated fully and up-front. TSP is a legal firm which has my back in business, allowing me to focus to on commercial issues to drive the business forward.
---
CLIENT: Andrew Hebard, President and CEO
COMPANY/FIRM: Technology Crops International
TESTIMONIAL: Over the past year we have used TSP for a couple of international transactions and the team have been very thorough, responsive and creative to help us work through complex and broad ranging situations to achieve the desired outcome.
---
CLIENT: George Rix, Director
COMPANY/FIRM: Stourgarden Ltd
TESTIMONIAL: Nick and in fact everyone at TSP are always great to work with. Always at the end of the phone, and quick to response to any requests no matter how trivial. A very reliable and professional outfit backed up with vast and up to date subject knowledge.
---
CLIENT: Heather Legerton, Director
COMPANY/FIRM: Legerton Contractors Ltd
TESTIMONIAL: Thank you so much for your professional expertise in bringing to a successful conclusion the sale of our business. We found your services excellent, professional yet friendly, very prompt and supportive. The legal process was explained in a manner easily understood by us and your (Nick Mayles) were extremely thorough and personable throughout the process. We would have no hesitation whatsoever in recommending you to others and should we require advice from a solicitor in the future we will certainly employ the services of Thompson Smith and Puxon. You are by far the best solicitors we have dealt with. It was a pleasure working with you.
---
CLIENT: Mark Hughes, Owner
COMPANY/FIRM: Elan Civil Engineering Ltd
TESTIMONIAL: What a great team! TSP have acted on my behalf numerous times in the last 20 years, on each occasion they have carefully advised me on the best course of action.
Their Individual experts have drafted Share holder agreements, Articles, Directors and staff contracts, checked legal agreements and most recently overseen the selling of one of my Limited companies. Advice is always easy to understand and well explained. I highly recommend TSP.
---
CLIENT: Neil Smith, Owner
COMPANY/FIRM: Haven Veterinary
TESTIMONIAL: I have been a client of TSP for fifteen years. During this period I have needed their professional services on numerous occasions for my personal and business affairs. I have always been impressed with their helpfulness and courteous manner on the telephone, along with their attentiveness in responding to my enquiries immediately. In particular I would like to single out Mrs Fedeyko for her professionalism, technical expertise and business acumen in providing me with a top-level service.
---
CLIENT: Peter Benton, Director
COMPANY/FIRM: Technotrans Graphics
TESTIMONIAL: Technotrans have used the services provided by TSP for over 25 years. Over the last 12 months their team has supported us with HR topics, renewal of our property lease, and contracts for sale of goods. On each occasion, across each dept, we have received the same high quality advice and timely response. This has enabled us to handle each topic efficiently through to completion. All of the teams are friendly and effective in all communications. Often we are asked to "switch", however, when it comes to legal support, this is not something we would consider.
---
CLIENT: Shahram Bagherzadeh, Director
COMPANY/FIRM: Loop Voice and Data
TESTIMONIAL: I first engaged TSP on a reasonably straight-forward employment matter which Richard Porter handled well. I then needed advice on a more complicated commercial matter and found the team to be very easy to approach and talk to. She was quick and thorough, keeping me informed throughout and always followed-up promptly. The firm have lovely surroundings and I would highly recommend the team to any business needing legal advice.
---
CLIENT: Mark Cooper
COMPANY/FIRM: Cooper Bros (Great Oakley Ltd)
TESTIMONIAL: My family farming business has been dealing with TSP for well over 50 years. My recent dealings with Stephen Firmin, Robert Ashworth, Kerry Addison and Sharon Auton on various business and personal matters have been exemplary. I've been more than happy with the service which I have received: professionalism combined with the personal touch makes me feel I'm in the best of hands.
---
CLIENT: Richard and Hilary Carr
COMPANY/FIRM: Private Client
TESTIMONIAL: As a landowner entrusting the sale of family land assets to a housebuilder and property developer it is important to trust the lawyers who protect us and ensure that the sale contract is absolutely watertight. In selling land for a 1,000 home development we were confident that the lawyers acting for us at TSP had the skill and professionalism to secure the deal, despite its complexity. We were also thankful for the courtesy and understanding shown at all times by our solicitors, Kerry Addison and Stephen Firmin.
---
CLIENT: Pat Prager
COMPANY/FIRM: Private Client
TESTIMONIAL: "Aileen Hirst has been my solicitor for over five years; I am deeply impressed by her professionalism, especially her knowledge, attention to detail and the alacrity with which she deals with the task in hand. Equally important for me is her friendliness, understanding and empathy. I value her very highly indeed".
---
CLIENT: Philip Langley
COMPANY/FIRM: Private Client
TESTIMONIAL: I recently instructed TSP to handle my mother's estate when she sadly died. They were very professional, diligent and I have every respect for their work in all departments. I would have no hesitation in recommending them!
---
CLIENT: Stephen Marks
COMPANY/FIRM: Private Client
TESTIMONIAL: I have used Thompson Smith and Puxon for my legal work over many, many years and have always found them to be professional, efficient and friendly. I would recommend them wholeheartedly.
---
CLIENT: Liz Bessant
COMPANY/FIRM: Private Client
TESTIMONIAL: I have always found Fiona Ashworth to be highly professional and attentive to any concerns I might raise. Her compassionate manner together with incisiveness of mind and comprehensive knowledge enable considered decision making in the sometimes difficult and stressful area of Wills and Probate. I would not hesitate to recommend her.
---
CLIENT: Mark Dixon
COMPANY/FIRM: Private Client
TESTIMONIAL: A great service as ever and most appreciated. TSP have been our families solicitor for 60 years to my knowledge and possibly longer and never as yet provided anything other professional and timely advice.
---
CLIENT: Michael Coe and Deborah Spurgeon
COMPANY/FIRM: Private Client
TESTIMONIAL: Robert Ashworth is a true professional – he went out of his way to accommodate our needs and answer our questions. He is very personable and certainly knows his stuff. He was especially helpful when dealing with our elderly Uncle – ensuring everything was explained thoroughly and demonstrated great patience and respect. He even dropped some documents off to us on his way home from work to save us a journey. We would certainly – without hesitation – recommend others to use Robert.
---
CLIENT: Alessandra Scherillo
COMPANY/FIRM: Private Client
TESTIMONIAL: We instructed Sharon Auton on a Rights of Way Dispute. We were exceptionally impressed with her grasp of the situation and her thoroughness in assembling the required documents, not to mention her refreshingly direct action of picking up the phone. We would not hesitate to recommend her.
---