Firm Profile > Thompson Smith and Puxon > Colchester, England
Thompson Smith and Puxon
Offices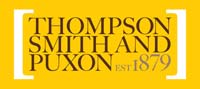 Thompson Smith and Puxon
STABLE 6, STABLE ROAD
COLCHESTER
CO2 7GL
England
Thompson Smith and Puxon > The Legal 500
Rankings
Thompson Smith and Puxon >
Firm Profile
The firm: Thompson Smith and Puxon can trace its roots back to 1879 and has since grown to be one of the leading law firms in Essex, with 13 partners, some 70 employees, and offices in Colchester and Clacton. It offers a range of legal advice to businesses and individual clients. Its specialist practice areas, with accredited lawyers and attentive support staff, ensure clients receive the most professional and practical advice available.
Types of work undertaken
Private client: whether planning for the future and needing wills and estates advice, buying or selling property, or needing advice on contentious issues such as personal disputes, personal injury, clinical negligence, employment or family matters, TSP provides practical advice to guide clients through the various processes and procedures.
Wills, trusts and estates: the team provides advice and assistance based on understanding clients objectives. It advises on wills, inheritance tax, powers of attorney and Court of Protection, estate planning, the administration of estates, trusts, and elderly and vulnerable client matters.
Family and divorce law: the team advises clients on all aspects of family law, from cohabitation agreements and civil partnerships to divorce, dissolution of civil partnerships, financial and property issues, and arrangements for children.
Clinical negligence (claimant): the team handles many different types of claim, but, in particular, specialises in catastrophic injuries involving children, such as birth injuries and cerebral palsy, and also cases involving missed diagnosis and treatment delay.
Personal injury (claimant): the specialist personal injury team has many years of experience helping accident victims with their claims and has recovered many millions in compensation. The personal injury team can help clients claim compensation for any injuries or losses suffered, which, as a direct result of the accident, affected the quality of life.
Residential property: the team will guide you through each step of the buying and selling process as well as providing the practical and professional advice you need in order to ensure your transaction goes through smoothly and quickly.
Business services team: TSP looks after the business issues that matter to its clients whether they are large or small. The corporate and commercial team includes a number of lawyers with City law background and experience. Clients of TSP are regional, national and international, and include single-owner start-ups, high-net-worth individuals, SMEs and multinationals.
Sectors include: manufacturing, construction, care homes, hotels, energy (including solar and windfarms), professional services, agricultural businesses and dentistry.
Corporate/commercial: providing commercially driven advice, and transactional and advisory work (domestic and cross-border) in mergers and acquisitions, private equity, corporate finance, refinancing, reorganisations and de-mergers, shareholder arrangements and joint ventures, share options, partnerships (including corporates), insolvency, agency and distribution, and supply and maintenance agreements across a broad range of industries.
Employment: delivering solutions-based advice and supporting clients in the day-to-day management of their people, legal issues and risk. The team works on a strategic and operational level on both contentious and non-contentious matters across the private and public sectors including contracts of employment, restrictive covenants, employment policies and procedures, share option schemes, dismissals and redundancy, employment disputes (including tribunal representation), settlement agreements, business sales and reorganisations.
Dispute resolution: providing alternative dispute resolution (by mediation and negotiation), and advising on civil and commercial disputes including contentious probate, breach of contract and negligence, insolvency (corporate and individual), injunctions, commercial and residential landlord and tenant and boundary disputes, and consumer rights.
Real estate and property: delivering high-quality commercial and innovative advice on property matters to its clients, including property ownership (for dwelling, trading and investment purposes), management, development, acquisitions and disposals, options, joint ventures and property financing.
Agriculture and estates: TSP has long-standing and strong relationships with the rural community in Essex, Suffolk and the surrounding counties. Headed by Stephen Firmin, a Fellow of the Agricultural Law Association, the team is familiar with the specific issues and problems that the sector has and can advise on all matters that concern farmers and landowners.
Other offices: Clacton on Sea
Lawyer Profiles
| Photo | Name | Position | Profile |
| --- | --- | --- | --- |
| | Mrs Jane Adams | Based in our Colchester office, Jane is a Graduate of the Chartered… | View Profile |
| | Mrs Laura-Pauline Adcock-Jones | Laura-Pauline Adcock-Jones, who qualified as a Solicitor in 2018, joined the TSP… | View Profile |
| | Mrs Kerry Addison | Kerry is an experienced commercial and rural property solicitor. She specialises in… | View Profile |
| | Miss Stacey Anderson | Stacey Anderson, a Fellow of the Chartered Institute of Legal Executives (FCILEx),… | View Profile |
| | Mrs Fiona Ashworth | Fiona, who qualified as a solicitor in 1999, joined the TSP Wills… | View Profile |
| | Mr Robert Ashworth | Robert, who qualified as a solicitor in 2007, joined the TSP Wills… | View Profile |
| | Mrs Sharon Auton | Sharon, a Chartered Legal Executive, is a director of Sharon Auton Limited, a partner in… | View Profile |
| | Mr Jolyon Berry | Jolyon Berry is the director of Jolyon Berry Limited, a partner in… | View Profile |
| | Georgia Bolton | Georgia qualified as a solicitor in 2019 and joined the TSP Wills… | View Profile |
| | Ms Mary Anne Fedeyko | Mary Anne, who originally qualified in Canada, has practised at both a… | View Profile |
| | Mr Stephen Firmin | Stephen is a director of Stephen Firmin Ltd, a partner in TSP.… | View Profile |
| | Fiona Galloway | Fiona, who was admitted as a solicitor in January 2000, joined the… | View Profile |
| | Juliet Gordon | Juliet, who qualified as a solicitor in 2018, joined the TSP Family… | View Profile |
| | Mrs Aileen Hirst | Aileen, who qualified as a solicitor in 2011, joined the TSP Wills… | View Profile |
| | Mr Nick Mayles | Nick is the director of Nick Mayles Limited, a partner in the… | View Profile |
| | Simona Morina | Simona, who qualified as a Solicitor in June 2020 joined the TSP… | View Profile |
| | Mrs Claire Powell | Claire is the director of Claire Powell Limited, a partner in the… | View Profile |
| | Mrs Nicola Rout | Nicola Rout, who qualified as a Solicitor in 2002, joined the TSP… | View Profile |
| | Mr Mark Rowlands | Mark, who was admitted as a solicitor in November 2006, joined the… | View Profile |
| | Ms Kriti Sherchan | Kriti, who was admitted as a solicitor in May 2017, joined the… | View Profile |
| | Mr Steve Webb | Steven is the director of Steven J Webb Limited, a partner in… | View Profile |
| | Mr Sam Welham | Sam, who was admitted as a solicitor in 2005, joined TSP in… | View Profile |
Staff Figures
Number of UK partners : 13 Number of other UK fee-earners : 30
Languages
English Romanian Hindi Nepalese French Spanish
Memberships
LawNet Eurojuris
Diversity/Community
EQUALITY AND DIVERSITY AND THE AVOIDANCE OF DISCRIMINATION
Thompson Smith and Puxon is committed to avoiding discrimination and promoting equality of opportunity and diversity. It is a requirement that all members of the firm comply with the firm's Policy on Avoidance of Discrimination and Promotion of Equality and Diversity. The Policy applies to all of the firm's professional dealings, both internal and external. The firm recognises that all of its employees have a duty to embrace, support and uphold the principles contained in its Policy and that we must all continue to challenge behaviour and attitudes that prevent us from achieving this.
We are committed to observing all legislative requirements in this area and will act as follows:
· We will not discriminate unlawfully, or victimise or harass anyone in the course of our professional dealings
· We will provide services to clients in a way that respects diversity
· We will make reasonable adjustments to ensure that disabled clients, employees or managers are not placed at a substantial disadvantage compared to those who are not disabled, and we do not pass on the costs of those adjustments to those disabled clients, employees or managers
· Our approach to recruitment and employment will encourage equality of opportunity and respect for diversity
· We will deal with complaints of discrimination promptly, fairly, openly and effectively
These apply to all of our professional dealings with each other, with clients and with third parties.
The firm aims to create a working environment in which all individuals are able to make best use of their skills, free from discrimination or harassment, and in which all decisions are based on merit.
The firm does not discriminate against any person on the basis of age, disability, gender reassignment, marital or civil partner status, pregnancy or maternity or paternity, race, colour, nationality, ethnic or national origin, religion or belief, sex or sexual orientation (protected characteristics).
All members of the firm have a duty to act in accordance with the firm's Policy and to treat colleagues with dignity at all times, and not to discriminate against or harass any other person, regardless of their status.
CORPORATE SOCIAL RESPONSIBILITY
The Directors and Staff of Thompson Smith and Puxon are very proud of their fundraising activities and involvement in the local community. Many staff members undertake sponsored events and different activities throughout the year in support of different charities that are "close to their hearts".
As well as supporting its staff with a donation for their fundraising activity the firm also sponsors events in the local community such as the Clacton Rotary Club Christmas dinner. The firm is a member of Dementia Action Alliance and is committed to raising awareness of dementia and promoting easy access for individuals living with dementia. The firm also took part in Dying Matters Week (2020), encouraging the wider public to talk about the taboo subject of end of life / dying.
For a number of years now, the Directors of TSP have, in lieu of sending Christmas cards, donated to a number of local charities, including Open Road, Colchester Samaritans, Age UK Essex, CoHoC – the Colchester Hospitals Charity, Colchester Night Shelter and Headway, and supported a client raising money for Just4Children.
Testimonials
CLIENT: Craig Sennett
COMPANY/FIRM: PC Futures Ltd
TESTIMONIAL: This is a letter of thank you from myself at PC Futures Ltd for your diligent help in representing a client of ours during a lengthy 3-year legal process. As you know I became more involved in this case as it progressed and your legal advice, when called upon, has been excellent. It genuinely helped to set us on the right path until trial. At trial, the judge awarded in our favour a six-figure amount for my client which was fantastic. Your help with the forms, timelines and information required by the courts was excellent. I found your litigation knowledge very extensive but also your ability to explain this in layman's terms was first class. Therefore I thank you on behalf of my client and myself as you and your business are a credit to the legal profession and everything it should be.
---
CLIENT: Sue Gull
COMPANY/FIRM: Scrutton Bland LLP
TESTIMONIAL: Sharon Auton and her team have been our first port of call on debt recovery matters for many years. Recently the team responded extremely quickly on a case requiring tact and confidentiality, with excellent advice which helped resolve the case within two weeks.
---
CLIENT: Sammy Lee
COMPANY/FIRM: Keejays Ltd
TESTIMONIAL: Over 30 years I have developed my business from a tiny two man band to a multimillion pound company, during my endeavours in growing my business I have always been able to rely on the folks at TSP to look after all my legal growing demands, past, present and the future. An eternal thank you to all the good folks at Thompson, Smith and Puxon.
---
CLIENT: John Best
COMPANY/FIRM: Private Client
TESTIMONIAL: We instructed Sharon Auton in a boundary dispute. We are most impressed with her instant grasp of the complex issues involved. Sharon is very friendly and personable, which is hugely important to people like us who are not familiar with legal proceedings. Her wise advice – especially when gently moderating our tendency to be somewhat 'heated' about the dispute at times – is reassuring. It is particularly gratifying that she responds remarkably quickly to our questions and concerns, and we would recommend her without reservation.
---
CLIENT: Andrea Apps
COMPANY/FIRM: Private Client
TESTIMONIAL: Sharon Auton of Thompson Smith and Puxon has carried out work for us, as a family, around a dispute over a relative's will. She dealt with helping us to obtain Probate, after another family member put a caveat on us doing so, which caused a lot of stress and worry. It enabled us to carry out our deceased relative's last wishes as quickly as possible. We were very grateful for her work and professionalism during what was a very difficult time.
---
CLIENT: Daphne Goslings
COMPANY/FIRM: Private Client
TESTIMONIAL: If only we had had Sharon Auton as our lawyer from the start of our boundary/land dispute. We switched to her after a recommendation from the solicitor advising a neighbour equally affected by this dispute. I had increasingly become concerned by the lack of guidance and interest from our previous solicitor, at a time when we were finding ourselves thrown to the lions in the totally unfamiliar arena of an increasingly menacing dispute. What a difference Sharon has made. She has been reassuring all along. She immediately understood the complexity of the situation involving several properties and the 'game' that was being played. We have, at all times felt supported and well looked after, even when facing repetitive threats. She has kept us 'on track' when our emotions have been running high and guided us in the right direction. She has always been quick in responding to any of our concerns. We have felt that we could weather it all. What a difference a great lawyer makes.
---
CLIENT: Ian Barbour
COMPANY/FIRM: Capital Access Group
TESTIMONIAL: Jolyon Berry is the first port of call for our company when we need good value advice on employment matters. He responds in a timely manner and my fellow directors and I have always been able to rely on him and his advice, which is delivered in a way that is easy to understand and implement, to resolve our issues. Having Jolyon by our side is hugely reassuring when faced with a difficult employment problem.
---
CLIENT: Angelique Ryan
COMPANY/FIRM: Colchester Borough Homes
TESTIMONIAL: I have worked with Jolyon Berry over many years, knowing that I can call and speak to him directly means that I get consistent and reliable legal advice when I need it. In addition to support with complex employment matters, Jolyon has also delivered excellent employment law training for my HR Team.
---
CLIENT: Patricia Page
COMPANY/FIRM: Precon Products
TESTIMONIAL: I would happily recommend Jolyon Berry to any business regarding an employment issue. Jolyon is very professional and does understand the commercial and operational implications to the business. He confidently explores and explains the options available, without using too much legal jargon, whilst advising on any potential risks.
---
CLIENT: George Rix
COMPANY/FIRM: Stourgarden
TESTIMONIAL: After having worked with Richard Porter for many years Jolyon Berry provided a seamless continuity as soon as he arrived at TSP. Jolyon took the time to get to know our business and ethos which was important to us as a family company. The whole team at TSP is easily available to answer any queries and provide good balanced advice, weighing up all options.
---
CLIENT: Jo Bethwaite
COMPANY/FIRM: Cobb Europe
TESTIMONIAL: I attended the TSP HR Academy which Jolyon Berry implemented and led. Jolyon demonstrated his extensive experience in Employment Law and clearly has a real passion for the practice. The sessions were delivered with enthusiasm and clarity which ensured that my own knowledge was developed.
---
CLIENT: Emily Bray
COMPANY/FIRM: Private Client/Agriculture
TESTIMONIAL: I have been extremely happy with the legal service provided by Thompson Smith and Puxon. In particular Stephen Firmin, whose attention to detail and knowledge is meticulous in carefully and diplomatically handling our family's transactions.
---
CLIENT: Steve Harmer
COMPANY/FIRM: Private Client
TESTIMONIAL: We are very pleased with the services provided by the TSP Commercial Team. They are responsive, knowledgeable and polite to deal with. In addition, the name TSP is well respected. This gives us, as a business, credibility when negotiating commercial transactions.
---
CLIENT: Jane Pearl
COMPANY/FIRM: Private Client
TESTIMONIAL: TSP has been extremely helpful to me over the past 18 months, guiding me through a complicated property sale. Always patient and long suffering with my ignorance and happy to guide me, I shall not hesitate to enlist their assistance in the future.
---
CLIENT: Tony Suckling
COMPANY/FIRM: Private Client/Agriculture
TESTIMONIAL: TSP always provides an excellent service; they are professional yet approachable, attentive to detail and knowledgeable regarding agricultural and family matters. Stephen Firmin has always been reliable and diligent, individualizing advice rather than giving generalized statements.
---
CLIENT: Michael Watson
COMPANY/FIRM: Private Client/Agriculture
TESTIMONIAL: Stephen Firmin has looked after my legal affairs, both private and business, for over ten years. I have always found him to be approachable and proactive. His advice is always carefully thought out and most welcome. I have absolutely no hesitation in recommending him wholeheartedly.
---
CLIENT: Mr and Mrs James Strathern
COMPANY/FIRM: Private Client/Agriculture
TESTIMONIAL: Regarding the services provided by Thompson, Smith and Puxon and particularly Stephen Firmin and Kerry Addison, we have dealt with both of them for many years and found them both knowledgeable and able to give us a prompt and excellent service.
---
CLIENT: Richard and Hilary Carr
COMPANY/FIRM: Private Client/Agriculture
TESTIMONIAL: As a landowner entrusting the sale of family land assets to a housebuilder and property developer it is important to trust the lawyers who protect us and ensure that the sale contract is absolutely watertight. In selling land for a 1,000 home development we were confident that the lawyers acting for us at TSP had the skill and professionalism to secure the deal, despite its complexity. We were also thankful for the courtesy and understanding shown at all times by our solicitors, Kerry Addison and Stephen Firmin.
---
CLIENT: John Foster
COMPANY/FIRM: Private Client/Agriculture
TESTIMONIAL: Kerry Addison has demonstrated a keen eye for detail combined with an outstanding appreciation of the 'bigger picture'. While acting for us in a land promotion agreement, no effort has been spared in resolutely protecting our interests. I have experience of many legal firms and her clarity, pragmatism and professionalism is reassuring while we are involved in complex and challenging negotiations. I would have no hesitation in recommending her to anyone looking for legal support in her field.
---
CLIENT: Noel Kearney
COMPANY/FIRM: Private Client/Agriculture
TESTIMONIAL: I have been under a lot of stress from my latest venture but I have always found Kerry Addison and her staff at TSP to be straight talking and very honest and very helpful. I am extremely happy with the end result every time.
---
CLIENT: Chris Harrington
COMPANY/FIRM: Private Client/Agriculture
TESTIMONIAL: I have used several firms of solicitors for over 40 years in Colchester. I required legal representation for a complicated land deal involving several land owners and after much deliberation chose Thompson Smith & Puxon. From conception through 4 years to completion, Kerry Addison and her team at TSP were, quite simply, exceptional in every way. I have no hesitation in recommending this team as the very best.
---
CLIENT: Angela Morton
COMPANY/FIRM: Private Client
TESTIMONIAL: I have used the services of several solicitors at Thompson Smith and Puxon over recent years and have consistently received sensible, honest and practical advice as to the best approach in dealing with various matters.
---
CLIENT: John Pease
COMPANY/FIRM: Private Client
TESTIMONIAL: Excellent approach of Thompson Smith & Puxon staff. The legal staff are most punctilious in their professional approach to legal matters. I am most impressed with the company as a whole.
---
CLIENT: Stephen Penrose
COMPANY/FIRM: Private Client/Agriculture
TESTIMONIAL: Kerry Addison has acted as my lawyer in a number of transactions concerning commercial and residential properties over the past 4 years. I have found her advice to be very insightful and practical. She has a good depth and breadth of experience which she brings to bear on the matter in hand. In particular I have appreciated her guidance on ensuring that possible future events are thought about and her sensible approach in drawing up the documentation. Kerry is good at making herself available to discuss any questions that I have had and has always produced any written work in a timely and professional matter. I have recommended her services to a number of associates and will continue to do so.
---
CLIENT: Owen Wilson F.Inst.L.M. F.B.I.I.
COMPANY/FIRM: Private Client
TESTIMONIAL: The last year has been a difficult one in relation to the legal affairs of my centenarian aunt, for whom Fiona Ashworth and I have Powers of Attorney. There have been complex negotiations with financial institutions, local authorities, public utilities and a care home regarding my aunt disposing of her property, moving into a care home and recently needing Council financial assistance. Fiona's breadth of professional experience, tenacity in achieving successful results in challenging circumstances and deep concern for the wellbeing of her client cannot be too highly praised.
---
CLIENT: Jane Leech
COMPANY/FIRM: Private Client
TESTIMONIAL: Fiona Ashworth came to me highly recommended by a former colleague. I in turn have recommended Fiona to a number of friends who have had less than straightforward Estates and Lasting Powers of Attorney to contend with. Without exception, they found Fiona to be sensitive to their needs, taking the worry and concern out of their respective circumstances. Fiona has the perfect balance of calm and able professionalism. Having recently instructed Fiona on a matter, I whole heartedly share my friends' observations. I would have no hesitation in recommending Fiona to others.
---
CLIENT: Jessica Westrop
COMPANY/FIRM: Private Client
TESTIMONIAL: I recently instructed Fiona Ashworth to advise on probate for my husband, a farmer. She was knowledgeable, helpful and came highly recommended. She and her team were efficient and kept me well informed on progress which was reassuring at a difficult time. I would not hesitate to use her and TSP services again in the future.
---
CLIENT: Barbara Huntley
COMPANY/FIRM: Private Client
TESTIMONIAL: I have been a client of Mrs Fiona Ashworth for approximately twenty years. She has always offered a highly professional and at the same time friendly service in sometimes stressful circumstances. I would not hesitate to recommend her to anyone.
---
CLIENT: Charles Canham
COMPANY/FIRM: Private Client
TESTIMONIAL: Thompson, Smith and Puxton were very helpful and efficient and dealt with everything in a timely manner. I was also kept informed at all times of the requirements and processes.
---
CLIENT: Christine Boalch
COMPANY/FIRM: Private Client
TESTIMONIAL: I had previously used the firm Thompson Smith and Puxon over 5 years ago for dealing with my father's estate and found that the standard of service I received in 2019 for dealing with my husband's estate was just as high. My solicitor, Aileen Hirst, was friendly and professional and dealt with my husband's estate in a prompt timely manner with excellent communication and transparency of fees at every stage. I also found it particularly notable that it was easy to negotiate which parts of the estate I felt able and wanted to deal with myself rather than feeling pressured to pay for services which I did not need. I would not hesitate to recommend the firm and in fact will be approaching them again soon to deal with a property transfer.
---
CLIENT: Amanda Morrison
COMPANY/FIRM: Private Client
TESTIMONIAL: I chose TSP and Sarah White for our will service as she was so helpful when handling the will and estate of my late father William Stewart. I found the explanation and service I got excellent. In what was a difficult time Sarah was most helpful in researching the estate of my father and the process was made much easier by having a very approachable person to deal with. That was why we had no hesitation in returning to Sarah and TSP for our own wills.
---
CLIENT: Melvyn Pudney
COMPANY/FIRM: Private Client
TESTIMONIAL: It is with great pleasure that I send this recommendation for Sarah White who has dealt with the estate of my friend for whom I was executor. Sarah has been both pleasant and very professional during all of my dealings with her – solving many problems for me which I would otherwise have had to travel to Clacton to deal with, and has kept me well informed at every stage of the proceedings. I am so impressed that I have now asked Sarah if she would be kind enough to deal with my personal legal affairs.
---
CLIENT: Richard Boddy
COMPANY/FIRM: Private Client
TESTIMONIAL: Sarah White has been handling the affairs of my late Mother's estate since we lost her in May 2017. This has included dealing with the sale of properties (Assisted by Carly Callaghan in your conveyancing department), collation of all appropriate papers and dealing with all matters relating to the estate on behalf of the family, in all their numerous complexities. Sarah has dealt with each matter in such an even minded and professional manner, happy to answer any query we raised, and keeping us up to date with all matters as they progressed. It has been reassuring to know that Sarah has taken that burden of responsibility from our shoulders. At time of writing we have completed on the sale of all properties and await the final outcome which will effectively put our Mother's estate to rest, and I know I speak for my Brother and Sister in saying how very grateful we all are.
---
CLIENT: Robert Gillespie
COMPANY/FIRM: Private Client
TESTIMONIAL: Since Sarah White joined TSP I am aware she was looking after the affairs of an elderly former secretary of mine. The reason I know this is that this lady had kept in regular contact with me and, indeed, had become a family friend. I am therefore aware that my friend received an excellent service from Sarah and that Sarah was happy to be contacted at home and out of hours. When my friend was very close to death, in October 2019, Sarah sat with her for several hours even though it was a Saturday. This was certainly a service beyond the call of duty.
---
CLIENT: Steve Huckett
COMPANY/FIRM: Private Client
TESTIMONIAL: I have been very pleased with the way in which Sarah White has conducted matters relating to managing the estate of my late mother. She has provided expert advice, communicated well with me throughout, ensuring there were no surprises and handled things extremely sensitively through what would otherwise have been a difficult process. I would commend her professional approach to anyone else needing to manage the estate of departed loved one.
---
CLIENT: Wendy Johnson
COMPANY/FIRM: Private Client
TESTIMONIAL: Sarah White was very helpful when my husband died, sorted his estate out and everything went smoothly and efficiently. Since then I regard her as a "legal friend "helping me with any questions that arise with my own situation recently up- dating my POA and checking all is up to date with my Will.
---
CLIENT: Richard Farrow
COMPANY/FIRM: Private Client
TESTIMONIAL: I act as Executor to my mother-in-law Mrs Eileen Feaver. Immediately after Eileen's death on 7th June 2019, Sarah White met with my brother-in-law (Gerald Feaver) and I detailing a comprehensive outline of the procedures required and which she would conduct on our behalf. As Executors we both felt this immediately lifted the responsibility we had hitherto expected. Sarah warned us not to be impatient! Over the past few months Sarah has shown great diligence, professionalism in not only carrying out the necessary transactions but keeping us fully informed throughout. I have been extremely grateful for Sarah's support and advice and would have no hesitation in recommending to future clients.
---
CLIENT: Lesley Adams
COMPANY/FIRM: Private Client
TESTIMONIAL: In my opinion I could have not asked for a more thoughtful, caring, professional team led by Steve Webb for my difficult case and I would recommend Thompson Smith and Puxon to anyone who needs their expert help.
---
CLIENT: Robert Loaring-Adams
COMPANY/FIRM: Private Client
TESTIMONIAL: During the two years in which TSP represented me, I could not have asked for better service. In particular, Clare and Steve Webb dealt with my personal injury claim with the utmost professionalism and discretion. There was no doubt in my mind that they were acting with integrity and with my best interest in mind at all times. I was therefore confident to trust their guidance and legal expertise, which ultimately led to them achieving a most positive outcome for me. I am very grateful to them.
---
CLIENT: Alexander Wright
COMPANY/FIRM: Shoreham Vehicle Auctions
TESTIMONIAL: Mary Anne Fedeyko and her team are completely reliable and always provide value for money, practical and achievable advice, with prompt replies and accurate estimates on time scales and costs. Mary Anne is always accessible and responds by end of play if urgent.
---
CLIENT: Alastair Watson
COMPANY/FIRM: Private Client
TESTIMONIAL: Mary Anne Fedeyko was always accessible and her advice, and our dealings, were very professional – even in difficult situations. She works hard to bring issues to a conclusion and is proactive in suggesting alternative solutions.
---
CLIENT: Chris Brown
COMPANY/FIRM: SGA Technologies
TESTIMONIAL: I have been using Nick Mayles for contractual, shareholder and purchase of businesses legal requirements for over 10 years. He has always given comprehensive professional advice working around our ability to change the goal posts in a friendly and timely manner. The great thing is, he always takes time to explain things in a way to ensure we understand. I would have no problems with recommending him.
---
CLIENT: Johannes Mateboer
COMPANY/FIRM: Private Client
TESTIMONIAL: Through Nick Mayles of the TSP Company I got to know the world of lawyers and their legal stuff. This being an inevitable and intricate obligation, certainly for a foreigner like myself, it was good to meet and work with someone like Nick Mayles who has helped and led me through the legal requirements, when selling my business, in a very professional, knowledgeable and friendly way. Very thorough and personable to both Alex and myself. Thank You Nick.
---
CLIENT: John Dow
COMPANY/FIRM: Private Client
TESTIMONIAL: Having been recommended by our business coach we found working with TSP on the legal aspects of selling our business was a pleasure. They knew exactly what they were doing giving us full confidence and comfort that the process would be handled professionally and in our best interests. The Corporate & Commercial team, led by Nick Mayles kept us informed, updated and ensured we understood the implications and connotations of some of the less obvious legal terminology. They were good at listening, explaining the legal terms and possible pitfalls, briefing us on the implications of the buyers requests in the drafting of the documents and understood our negotiating position and ultimate goal. My business partner and I would have no hesitation in recommending Nick and the team to anyone when selling their business.
---
CLIENT: Mike Baker
COMPANY/FIRM: Private Client
TESTIMONIAL: Our Charity had two occasions to call upon the services of Thompson Smith and Puxon during 2019. On a matter of employment law and one on corporate registration. On both occasions we found the firm to be prompt in response, completely knowledgeable in the fields covered and highly professional whilst at the same time being approachable, supportive and friendly. We were delighted with their service and advice and would gladly recommend them to others.
---
CLIENT: Richard Sunderland
COMPANY/FIRM: Private Client
TESTIMONIAL: Mary Anne Fedeyko and Nick Mayles and their team at TSP team are extremely responsive, good communicators and committed to getting the deal over the line.