Mohsin Tayebaly & Co > Karachi, Pakistan > Firm Profile
Mohsin Tayebaly & Co
Offices

Mohsin Tayebaly & Co
1ST FLOOR DIME CENTRE
BC-4 BLOCK 9 KEHKASHAN, CLIFTON
KARACHI 75600
Pakistan
Mohsin Tayebaly & Co > The Legal 500
Rankings
Mohsin Tayebaly & Co
has a significant number of banks and financial institutions that are retainer clients. The firm advises on the full array of financial transactions and has recently been involved in a number of important rescheduling and restructuring transactions. With
Irfan Tayebaly
 at the helm, the versatile team is also recommended for its work on a wide range of regulatory matters.
Mehreen Manto
 is highly sought after for her work on a range of financing deals such as acquisition and asset financings.
Vaseeq Khalid
is another seasoned practitioner. Work with financial institutions participating in the Naya Pakistan Housing Initiative - a government housebuilding initative - have been a recent bright spot for the practice.
Other key lawyers:
Testimonials
'Extremely responsive with practical answers to legal questions'.
'Irfan Tayebaly and Vasiq Khalid – both provide quick to the point responses and solutions to all corporate transactional queries'.
Key clients
MCB Bank Limited
Meezan Bank Limited
Habib Bank Limited
National Bank of Pakistan
Dubai Islamic Bank Limited
BankIslami Pakistan Limited
United Bank Limited
Standard Chartered Bank (Pakistan) Limited
Askari Bank Limited
Bank Al Habib Limited
Mohsin Tayebaly & Co
advises both issuers and trustees on various corporate debt instruments, including sukuk. Head of department
Irfan Tayebaly
 is highly regarded. Other key members of the team are
Vaseeq Khalid
 and
Mehreen Manto
 both of whom have an excellent reputation for their work on international and local debt and equity financings.
Other key lawyers:
Key clients
MCB Bank Limited
Meezan Bank Limited
Habib Bank Limited
National Bank of Pakistan
Dubai Islamic Bank Limited
BankIslami Pakistan Limited
United Bank Limited
Standard Chartered Bank (Pakistan) Limited
Askari Bank Limited
Bank Al Habib Limited
Bank Alfalah Limited
Habib Metropolitan Bank Limited
Faysal Bank Limited
K-Electric Limited
NRSP Microfinance Bank Limited
Power Holding (Power) Limited
The Hub Power Company (Private) Limited
Arif Habib Limited
TPL Trakker Limited
Sadaqat Limited
TPL Corp Private Limited
Mohsin Tayebaly & Co
is one of the leading firms in the country for corporate and commercial transactions, with a particular emphasis on M&A, IPOs and private equity deals. In addition the firm has significant experience in advising on the incorporation and setting up of businesses in Pakistan.
Irfan Tayebaly
 leads the team that includes the other key partners
Vaseeq Khalid
and
Mikael Rahim
. The group receives a lot of plaudits from clients for '
its approach to problem solving and its pro-active approach, for its critical thinking, unique problem solving skills, out of box thinking and round the clock availability
'.
Mehreen Manto
 is another well-established member of the group.
Other key lawyers:
Testimonials
'MTC's intellectual capital provides in our opinion the best commercial understanding of business, hence the law firm is able to provide top-notch deal-making solutions and smooth transaction closings. Clients & Financial Advisors often confront a risk of deals falling apart once the legal side steps in, this is many times overlooked but comes with experience, with MTC one is at peace that because the firm has tremendous experience of local & cross-border matters, all aspects will be handled with care, are result/performance oriented and cautious to put the client's interest before the firms and not to just originate another transaction for themselves'.
'MTC is in our opinion one of the best law firms, if not the best law firm in Pakistan. The fact they have a full service corporate and litigation team gives us/our clients the comfort that they are equipped to deal with all kinds of matters, hence MTC definitely has an edge over most of peer group firms who only have a niche expertise in particular areas of either corporate practice or litigation, but not a combined 'one-stop service shop'. MTC has been involved in numerous cross-border transactions that we are aware of including many transactions in which we ourselves have been engaged as financial advisors'.
'Irfan Tayebaly is a long time and very dynamic industry leader, corporate lawyer and can always be counted on to provide incisive and commercially viable advice for deal-making. Vaseeq Khalid (Partner) is also a very renowned lawyer in the mergers & acquisitions and capital markets (debt and equity) space and is committed to providing exceptional results with remarkable turnaround times. Most of the associates and senior associates at the firm are excellent and provide timely support to the teams and clients'.
'Mikael Rahim is also worth mentioning given his increased involvement and solution-oriented approach on complex assignments. When it comes to boosting their credentials and the accomplishments of the Senior Partners / Partners like Irfan Tayebaly, Vaseeq Khalid to name a few, their subtle yet expert presence in almost every major transaction speaks for itself. All team members, especially the partners are very hands on and plugged in to every assignment'.
'The team has exceptional commercial awareness, the ability to translate commercial/business acumen into client solutions is the art imbedded in MTC's DNA – the firm ensures that our objectives are achieved with the best possible legal structuring and professionally drafted and negotiated documents. This is MTC's reputation of "transaction/service excellence'. In our opinion a key strength of MTC remains competitive pricing, and in my view that is also one of the reasons that the firm has such a large transaction volume and involvement'.
'We work closely with multiple law firms; however, the services provided by Mohsin Tayebaly & Co. clearly stands out from the rest. MTC has a highly experienced and dedicated team that is always available at short notice to provide legal advice and assistance. The turn-around time and quality of work is also impeccable as a result of which we can focus on our main work, knowing that the legal aspects of our work is properly covered by MTC. MTC also has a diverse team with expertise over every legal requirement that we have come across'.
'However, despite being the best law firm we have worked with, when it comes to their fees, we have always been provided with flexibility; moreover, their fees are reasonable, which makes them the law firm of choice for all tasks no matter their complexity. Overall, MTC is our preferred legal firm. Their quality of service is unmatched in Pakistan and first on our mind when we have to recommend a legal firm to others'.
'We primarily work with Irfan Tayebaly and Vaseeq Khalid and are extremely satisfied with the quality of their service and their dedication. Words may not be adequate to describe our appreciation for the efforts put in by  Irfan and Vaseeq who are always available and are the to-go people for legal advice. They are very well versed and provide comprehensive advice no matter the complexity of the case and have at times, gone beyond their scope of services in order to protect our interests'.
Key clients
Habib Bank Limited
Saudi Bugshan Group
Karandaaz Pakistan
Vitol Group
The Searle Company Limited
Pakistan Stock Exchange Limited
Meezan Bank Limited
Lucky Group
Artistic Group
Engro Group
Mohsin Tayebaly & Co
fields an experienced team that advises on all aspects of Islamic financing transactions including ijara, diminishing musharaka, murabaha and sukuk structures. Its expertise extends to advising on Sharia compliant acquisition and real estate financing transactions. Head of department,
Irfan Tayebaly
is recommended along with the other key practitioners
Mehreen Manto
 and
Vaseeq Khalid
.
Other key lawyers:
Key clients
MCB Bank Limited
Meezan Bank Limited
Habib Bank Limited
National Bank of Pakistan
Dubai Islamic Bank Limited
BankIslami Pakistan Limited
United Bank Limited
Standard Chartered Bank (Pakistan) Limited
Askari Bank Limited
Bank Al Habib Limited
Mohsin Tayebaly & Co
garners praise for its project financing work on power generation and road infrastructure projects as well as its strength in public private partnerships. It has a solid track record of working on major cross-border project financings and has a particularly strong working relationship with law firms that are based in the People's Republic of China.
Irfan Tayebaly
heads the team, which is well-equipped to advise on the entire life cycle of projects from the financing arrangements through to refinancing and concession agreements.
Vaseeq Khalid
and
Salman Rahim
 are also recommended.
Other key lawyers:
Key clients
China Development Bank
Industrial and Commercial Bank of China, Karachi Branch
Habib Bank Limited
National Bank of Pakistan
Bank of Punjab
Bank of Shanghai
China Construction Bank Limited
K-Electric Limited
Meezan Bank Limited
Askari Bank Limited
The dispute resolution practice at
Mohsin Tayebaly & Co
 is supervised by
Arshad Tayebaly
 who specialises in a variety of sectors including banking and finance litigation and company jurisdictional matters. The department has a diverse portfolio of cases. It advises on a broad spectrum of matters relating to tax and customs as well as other issues such as intellectual property and regulatory matters. The team represents a sizeable number of banks and several major corporations. It has developed considerable expertise in competition litigation and frequently represents clients in local and foreign arbitrations.
Practice head(s):
Testimonials
'Absolute commitment to client service (to high end Western standards), highly commercial advice and simply a pleasure to work with'.
'Arshad Tayebaly is excellent in every way. Hugely well connected, superb lawyer, immense integrity and tremendous commitment to getting the very best for his client'.
'Reliable team of lawyers. Arshad A Tayebaly is a reliable and effective attorney'.
'Extremely good reputation before the benches of courts and professional ethics. Out of box thinking and calculated strategy formulation for court cases'.
Key clients
Nestle Pakistan (subsidiary of Nestle S.A)
K-Electric Limited
Gul Ahmed Energy Limited & group companies
Royal Group Pharmaceutical
Amreli Steels Limited
Standard Chartered Bank (Pakistan) Limited
EY (Ernst & Young)
Ford Rhodes – Pakistan
Engro Corporation Limited
Byco Petroleum Pakistan Limited
Pakistan International Container Terminal Limited
Mohsin Tayebaly & Co >
Firm Profile
The firm: MTC has been providing high-quality legal services in Pakistan for over 50 years and specialises in advising domestic and international financial institutions, companies, and state and regulatory bodies on their most complex and challenging legal issues.
Given the evolving legal environment in which it operates, the firm applies a multi-disciplinary approach to analyse and address all aspects of client needs. It is the combination of departmental depth and practice breadth that sets the firm apart from its peers and allows it to provide clients with strategic counsel to meet their commercial needs. The firm's lawyers have a thorough understanding of the commercial environment in which its clients operate and a substantive insight into their business needs, enabling them to provide practical and meaningful solutions to meet varied client requirements.
The firm has extensive experience in advising on and dealing with all areas of corporate, financial, commercial and civil law and practice, including, but not limited to, projects, infrastructure and energy matters, banking and finance transactions and specifically transactions based on Islamic modes of finance, mergers and acquisitions, IPOs, private equity, privatisations, company formation and corporate matters, property matters, labour and industrial relations matter, as well as all types of civil litigation before all legal forums in Pakistan.
The firm's extensive client base includes international and domestic financial institutions, banks, leasing companies, investment finance companies, modarabas, corporate stock brokerage houses, multinational companies and various other commercial and industrial concerns.
Areas of practice: MTC is one of the leading law firms in Pakistan for banking and finance matters and provides specialist advice in relation to the full spectrum of financial transactions, including syndicate financing, leveraged and acquisition finance, bond/TFC issues, derivative products, project finance and restructuring.
MTC enjoys the privileged position of being one of the most experienced firms in Pakistan as far as structuring of Islamic/Shariah-compliant financing transactions are concerned and has regularly undertaken ijara, istisna'a, murabaha, musharaka and diminishing musharaka transactions and sukuk issues backed by underlying Shariah-compliant transactions. The firm's expertise also extends to Shariah-compliant acquisition and real estate financing transactions, which often involves merging conventional and Shariah-compliant financing modes.
The firm has extensive experience in capital market transactions, with an emphasis on domestic and international equity and debt placements, as well as the structuring of financial investment packages.
The firm regularly represents local and foreign lenders and companies in respect of project financing transactions including power, steel, cement, and oil and gas related projects. The team drafts, negotiates and reviews all project-related and financing documents and advises on the laws governing such projects in Pakistan, at every stage.
The firm also has the capability to provide complete services in respect of transactions relating to mergers and acquisitions and has advised leading international and local banks, companies and financial institutions on some of the most challenging, high-profile and significant transactions in Pakistan.
The firm provides extensive litigation services, with a specialization in banking and finance, property and contractual dispute matters.  The firm's lawyers have rights of audience from the Subordinate Courts all the way to the Supreme Court of Pakistan. The firm also has extensive experience in both local and international arbitration and has represented clients in several arbitration proceedings under Pakistani law and at different international arbitration forums including ICC Arbitration as per the ICC Rules of Arbitration in London, Dubai and Singapore.
Lawyer Profiles
| Photo | Name | Position | Profile |
| --- | --- | --- | --- |
| | Mr Vaseeq Khalid | Partner – Banking and Finance, Islamic Finance, Bond Issues, Corporate Advisory, Mergers… | View Profile |
| | Mr Arshad Tayebaly | Senior Partner – Litigation, Arbitration, Mergers and Acquisitions, Property, Intellectual Property, Insurance,… | View Profile |
Staff Figures
Number of Partners : 10 Number of lawyers : 50
Languages
English Urdu
Other
Contacts: : Irfan M. Tayebaly (Senior Partner) Contacts : Arshad M. Tayebaly (Senior Partner) Contacts: : Vaseeq Khalid (Partner)
Interviews
Irfan Mohsin Tayebaly, Managing Partner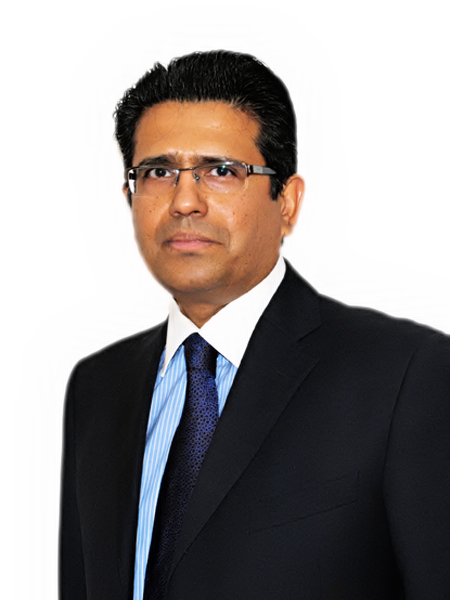 The Legal 500 Hall of Fame highlights individuals who have received constant praise by their clients for continued excellence.Mohsin Tayebaly & Co. and managing partner Irfan Mohsin Tayebaly talks about her successful work as a lawyer and predicts the biggest challenge for clients over the next year.
What has been your greatest achievement, in a professional and personal capability?
In a career spanning over 39 years I have achieved many professional and personal milestones but my greatest achievement perhaps is having been able to develop and create a top-tier law firm which is considered by my peers as one of the leaders in the legal community as also having trained and developed the next generation of lawyers with impeccable legal skills and a result orientated business-minded approach.
What do you do differently from your peers in the industry?
In-depth knowledge of the law and understanding every aspect of our clients' business needs, situation and legal requirements. Advice to clients is solution oriented and rendered on the basis of practical implication and implementation of the legal requisites and stipulations along with the commercial environment. Additionally, being part of a full-service law firm enables us to provide comprehensive and complete advice to our clients. My approach is to find effective and easy-to-implement out-of-the-box structuring solutions which require least involvement of discretionary approvals of regulators and keeping timelines in control of the client.
What advice would you give to your younger self?
To always put yourself in the shoes of the client for understanding the requirement of the client, understanding the business and facts of the client and to try and find solutions with the legal knowledge and experience, which best suits the client. The first job is to ask the correct questions to streamline instructions, which is half the solution going forward.
Can you give me a practical example of how you helped a client add value to the business?
Taking advantage of having an MBA degree and experience as an international corporate and banking legal advisor has allowed me to structure commercially viable transactions for clients to ensure not just absolute legal compliance but also commercially feasible and sustainable arrangements, ventures and projects. While my clients would be best placed to comment on the value addition, my firm's advice and structuring of mergers and schemes of arrangement
through Court to achieve results where contractual negotiations have failed can be an important value addition element.
Within your sector, what do you think will be the biggest challenge for clients over the next 12 months?
Given the current situation being faced the world over as a result of the Covid-19 virus the next 12 months are going to exceedingly challenging for both our banking and commercial clients, varying from regulatory compliance to recoveries to reorganisations and restructurings. While the State Bank of Pakistan (the central bank) and the Securities and Exchange Commission of Pakistan (regulatory authority for companies and company related matters) are already taking steps in order to attempt to curtail the fallout from the impending recession, further concessions in the form of additional regulatory initiatives will be needed during this period to assist in the recovery of the economy. Our firm expects to be actively involved in advising and assisting our clients in mitigating their losses and facilitating the rehabilitation of their businesses.