Firm Profile > Mohsin Tayebaly & Co > Karachi, Pakistan
Mohsin Tayebaly & Co
Offices

Mohsin Tayebaly & Co
1ST FLOOR DIME CENTRE
BC-4 BLOCK 9 KEHKASHAN, CLIFTON
KARACHI 75600
Pakistan
Mohsin Tayebaly & Co > The Legal 500
Rankings
Mohsin Tayebaly & Co >
Firm Profile
The firm: MTC has been providing high-quality legal services in Pakistan for over 50 years and specialises in advising domestic and international financial institutions, companies, and state and regulatory bodies on their most complex and challenging legal issues.
Given the evolving legal environment in which it operates, the firm applies a multi-disciplinary approach to analyse and address all aspects of client needs. It is the combination of departmental depth and practice breadth that sets the firm apart from its peers and allows it to provide clients with strategic counsel to meet their commercial needs. The firm's lawyers have a thorough understanding of the commercial environment in which its clients operate and a substantive insight into their business needs, enabling them to provide practical and meaningful solutions to meet varied client requirements.
The firm has extensive experience in advising on and dealing with all areas of corporate, financial, commercial and civil law and practice, including, but not limited to, projects, infrastructure and energy matters, banking and finance transactions and specifically transactions based on Islamic modes of finance, mergers and acquisitions, IPOs, private equity, privatisations, company formation and corporate matters, property matters, labour and industrial relations matter, as well as all types of civil litigation before all legal forums in Pakistan.
The firm's extensive client base includes international and domestic financial institutions, banks, leasing companies, investment finance companies, modarabas, corporate stock brokerage houses, multinational companies and various other commercial and industrial concerns.
Areas of practice: MTC is one of the leading law firms in Pakistan for banking and finance matters and provides specialist advice in relation to the full spectrum of financial transactions, including syndicate financing, leveraged and acquisition finance, bond/TFC issues, derivative products, project finance and restructuring.
MTC enjoys the privileged position of being one of the most experienced firms in Pakistan as far as structuring of Islamic/Shariah-compliant financing transactions are concerned and has regularly undertaken ijara, istisna'a, murabaha, musharaka and diminishing musharaka transactions and sukuk issues backed by underlying Shariah-compliant transactions. The firm's expertise also extends to Shariah-compliant acquisition and real estate financing transactions, which often involves merging conventional and Shariah-compliant financing modes.
The firm has extensive experience in capital market transactions, with an emphasis on domestic and international equity and debt placements, as well as the structuring of financial investment packages.
The firm regularly represents local and foreign lenders and companies in respect of project financing transactions including power, steel, cement, and oil & gas related projects. The team drafts, negotiates and reviews all project-related and financing documents and advises on the laws governing such projects in Pakistan, at every stage.
The firm also has the capability to provide complete services in respect of transactions relating to mergers and acquisitions and has advised leading international and local banks, companies and financial institutions on some of the most challenging, high-profile and significant transactions in Pakistan.
The firm provides extensive litigation services, with a specialization in banking and finance, property and contractual dispute matters.  The firm's lawyers have rights of audience from the Subordinate Courts all the way to the Supreme Court of Pakistan. The firm also has extensive experience in both local and international arbitration and has represented clients in several arbitration proceedings under Pakistani Law and at different international arbitration forums including ICC Arbitration as per the ICC Rules of Arbitration in London, Dubai and Singapore.
Lawyer Profiles
| Photo | Name | Position | Profile |
| --- | --- | --- | --- |
| | Mr Vaseeq Khalid | Partner – Banking and Finance, Islamic Finance, Bond Issues, Corporate Advisory, Mergers… | View Profile |
| | Mr Arshad Tayebaly | Senior Partner – Litigation, Arbitration, Mergers and Acquisitions, Property, Intellectual Property, Insurance,… | View Profile |
Staff Figures
Number of Partners : 10 Number of lawyers : 50
Languages
English Urdu
Other
Contacts: : Irfan M. Tayebaly (Senior Partner) Contacts : Arshad M. Tayebaly (Senior Partner) Contacts: : Vaseeq Khalid (Partner)
Interviews
Irfan Mohsin Tayebaly, Managing Partner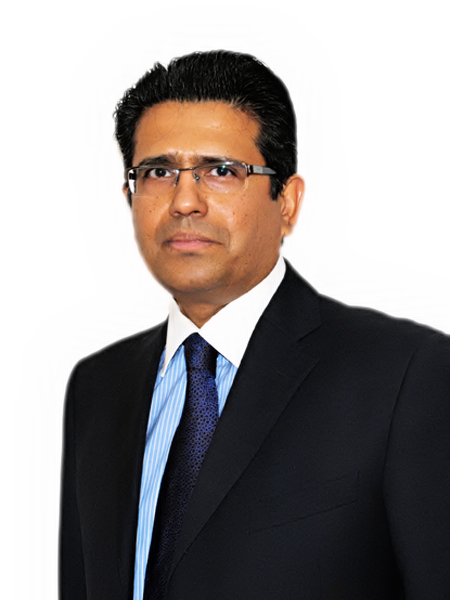 The Legal 500 Hall of Fame highlights individuals who have received constant praise by their clients for continued excellence. Mohsin Tayebaly & Co. and managing partner Irfan Mohsin Tayebaly talks about her successful work as a lawyer and predicts the biggest challenge for clients over the next year.
What has been your greatest achievement, in a professional and personal capability?
In a career spanning over 39 years I have achieved many professional and personal milestones but my greatest achievement perhaps is having been able to develop and create a top-tier law firm which is considered by my peers as one of the leaders in the legal community as also having trained and developed the next generation of lawyers with impeccable legal skills and a result orientated business-minded approach.
What do you do differently from your peers in the industry?
In-depth knowledge of the law and understanding every aspect of our clients' business needs, situation and legal requirements. Advice to clients is solution oriented and rendered on the basis of practical implication and implementation of the legal requisites and stipulations along with the commercial environment. Additionally, being part of a full-service law firm enables us to provide comprehensive and complete advice to our clients. My approach is to find effective and easy-to-implement out-of-the-box structuring solutions which require least involvement of discretionary approvals of regulators and keeping timelines in control of the client.
What advice would you give to your younger self?
To always put yourself in the shoes of the client for understanding the requirement of the client, understanding the business and facts of the client and to try and find solutions with the legal knowledge and experience, which best suits the client. The first job is to ask the correct questions to streamline instructions, which is half the solution going forward.
Can you give me a practical example of how you helped a client add value to the business?
Taking advantage of having an MBA degree and experience as an international corporate and banking legal advisor has allowed me to structure commercially viable transactions for clients to ensure not just absolute legal compliance but also commercially feasible and sustainable arrangements, ventures and projects. While my clients would be best placed to comment on the value addition, my firm's advice and structuring of mergers and schemes of arrangement
through Court to achieve results where contractual negotiations have failed can be an important value addition element.
Within your sector, what do you think will be the biggest challenge for clients over the next 12 months?
Given the current situation being faced the world over as a result of the Covid-19 virus the next 12 months are going to exceedingly challenging for both our banking and commercial clients, varying from regulatory compliance to recoveries to reorganisations and restructurings. While the State Bank of Pakistan (the central bank) and the Securities and Exchange Commission of Pakistan (regulatory authority for companies and company related matters) are already taking steps in order to attempt to curtail the fallout from the impending recession, further concessions in the form of additional regulatory initiatives will be needed during this period to assist in the recovery of the economy. Our firm expects to be actively involved in advising and assisting our clients in mitigating their losses and facilitating the rehabilitation of their businesses.
Top Tier Firm Rankings
Firm Rankings