Firm Profile > Argus Partners > Mumbai, India
Argus Partners
Offices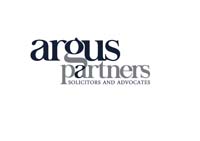 Argus Partners
11, 1st Floor
Free Press House, 215, Nariman Point
Mumbai 400021
India
Argus Partners >
Firm Profile
Argus Partners is an Indian law firm with offices in Mumbai, Delhi, Bengaluru, Kolkata and Ahmedabad.
The professionals of the firm are business lawyers who understand businesses and the financial issues associated with it which in turn help in identifying real risks and provide practical legal solutions to drive the growth of our clients' business.
Each of the lawyers are trained to have a multi-disciplinary and holistic approach while addressing any issue and to offer the most efficacious legal solutions to our clients' business needs. The firm's approach is to treat each client as the only client. The firm strives to understand their business, aspirations, concerns and constraints in order to structure transactions in a manner that enables clients to efficiently overcome business challenges and effectively achieve their goals.
The firm has built a formidable reputation for its consistent high performance. The partners and associates of the firm have a rich domestic and international experience and have been recognised and awarded by several publications. The presence across India also gives the firm a distinct advantage in serving its clientele that includes industry and business leaders from all segments of the market.
Notable work:
Advising and handling various matters for Ex. Partners of Price Waterhouse in the Satyam Scam before various fora like SEBI, SAT, High Courts, Supreme Court, ICAI, etc.
Advised Gruh Finance Limited (a subsidiary of HDFC Ltd) in the merger with Bandhan Bank Limited. We were the lead lawyers advising HDFC/Gruh Finance on the transaction. This is probably the largest deal in the financial services space with a combined market cap of approximately USD 12 billion on the date of announcement of the deal.
Advised HDFC Limited on its acquisition of a stake in Yes Bank. The investment by HDFC Limited into Yes Bank along with other investors was made pursuant to Scheme of Reconstruction of Yes Bank notified by the central government under section 45(4) and section 45(7) of the Banking Regulation Act, 1949. Deteriorating financial health of Yes Bank relating to liquidity, capital and other critical parameters and the absence of credible plan for infusion of capital led Reserve Bank of India to take immediate steps in public interest. For the survival of Yes Bank, capital infusion into Yes Bank became imperative and hence, HDFC Limited along with other entities came together to rescue Yes Bank by infusing funds into Yes Bank.
Advised the Committee of Creditors of Binani Cement Limited, which has been one of the most contentious matters under the IBC. The acquisition of Binani Cement under the aegis of the Insolvency and Bankruptcy Code, 2016 involved several challenges and nuanced points of law. Ultimately, some of the issues raised in this matter were decided by the judiciary in a landmark decision.
Advised Tata Steel Limited on its acquisition of the steel division of Usha Martin. This deal was one of the larger deals in the distressed M&A space outside the Insolvency and Bankruptcy Code, 2016.
Representing the Pension Fund Regulatory and Development Authority before the Supreme Court in the matter involving mandatory linking of Aadhaar in order to avail various benefits under Government Schemes.
Regularly advise Skoda Auto Volkswagen India Pvt. Ltd. on various competition issues.
Advising and representing His Holiness Syedna Mufaddal Saifuddin in the Bombay High Court against Taher Fakhruddin who has filed a suit claiming to be the rightfully appointed religious and spiritual leader of the Dawoodi Bohra community.
Preparation of the pleadings on behalf of Anjuman Shiate Ali, extensive research on the questions of law framed, interaction between client and Senior Counsels given the complex nature of the "Sabrimala" matter. Sabrimala Matter – This has been one of the most significant constitutional cases in India deciding on the equal rights of women.
Advising the liquidator of Concast Steel & Power Limited. This is one of the largest liquidation cases under IBC with a total creditor claim in excess of Rs 10,000 crore. This is also one of the first of the cases where the 'sale as a going concern of a unit of a company under liquidation' was ordered by the NCLT.
Advised the Resolution Professional (who was assisted by Grant Thornton) on the acquisition of Monnet Ispat by the consortium of JSW Steel and AION Capital.
Advised Mukand Limited on its joint venture with Sumitomo Corporation, Japan for setting up of a special steel plant.
Advised HDFC Limited on its acquisition of 25.01% stake in Good Host Spaces Private Limited.
Main Contacts
| Department | Name | Email | Telephone |
| --- | --- | --- | --- |
| Corporate and M&A | | | |
| Banking & Finance | | | |
| Restructuring & Insolvency | | | |
| Private Equity & Venture Capital | | | |
| Disputes | | | |
| Real Estate & Real Estate Financing | | | |
| Labour & Employment | | | |
| Competition | | | |
| Indirect Tax | | | |
| Technology & Data Privacy | | | |
Staff Figures
Number of Partners : 17 Number of Lawyers : 75
Languages
English regional Indian languages
Legal Developments
2nd October 2020
Introduction
Signing of confidentiality agreements to protect confidential information is common practice. However, what happens when there is no such confidentiality agreement? Is confidentiality of confidential information required to be maintained even if there is no express contract, or is a written contract necessary to protect confidentiality? This is the question that is explored in this paper.
28th April 2020
While the world is grappling with the outbreak of the novel coronavirus (Covid-19), the lockdowns and restrictions that have been imposed to contain this pandemic, have brought businesses to a grinding halt. In such unprecedented times, when the wheels of global and regional supply chains are clogged, it becomes imperative to have a relook at all existing contractual arrangements, so that bullets of breaches and damages may be dodged in time.
28th April 2020
These are extraordinary times. People are unsure as to when pandemic created by the novel coronavirus (Covid-19) would cease and the normalcy would return. With the vast majority of the labour force having returned to their homes, most factories across the country have either suspended operations or operating significantly below their stated capacity. The economic burden will be staggering and establishments shall have to take a relook at their wage cost. The present FAQs is an attempt to explain the extant labour specific laws in a simple manner to the countless employers, who are searching for solutions for various issues.
3rd March 2020
The Securities and Exchange Board of India ("
SEBI
") issued circular no. SEBI/HO/IMD/DF6/CIR/P/2020/24 dated February 5, 2020 ("
Circular
") that introduces standard templates for alternative investment funds' ("
AIF
") private placement memorandums ("
PPM
"), annual audits of compliance with the terms of the PPM and mandatory performance benchmarking for AIFs with provisions for additional customised performance reporting. An overview of the key changes introduced by the Circular can be found
here
. This note discusses a few issues arising out of the Circular.
24th February 2020
Section 230 of the Companies Act, 2013 ("
Companies Act
") sets out the process for a scheme of arrangement between a company and its creditors and shareholders ("Scheme"). Such Schemes have to be approved by the National Company Law Tribunal ("
NCLT
").
10th February 2020
The mining industry has historically been one of the more heavily regulated industries in India, with a strong legal and regulatory structure governing the same. With a view to leverage this market and to ensure continuity in mining operations, the Mineral Laws (Amendment) Ordinance, 2020 (the "
Ordinance
") was promulgated on January 10, 2020.
10th February 2020
On February 5, 2020, the Securities and Exchange Board of India ("
SEBI
") issued a circular ("
Circular
") introducing significant changes to the existing legal regime concerning alternative investment funds ("
AIFs
"). AIFs are privately-pooled investment funds which collect funds from investors, whether Indian or foreign, for investing in accordance with a defined investment policy for the benefit of the investors. AIFs are governed by the SEBI (Alternate Investment Fund) Regulations, 2012 ("
AIF Regulations
").
28th January 2020
Imagine for a moment that traffic rules required every motorist and pedestrian to self-report any violation of traffic rules. If you violate any traffic rule, you have to inform the traffic police by filing an online report within 12 (twelve) hours of the violation. After you report, you will receive a suitable punishment, which could be a fine or imprisonment or both. The traffic police department may also publicise your violation, at its discretion, either by posting details of your violation on the traffic police department's website or by ordering you to stick a notice containing details of your violation on an outer wall of your dwelling or both. In case you fail to report and your violation is detected through any other means, be it a security camera or on account of any other motorist or pedestrian reporting an incident, you shall also, in addition to the penalty for your violation, be penalised for the failure to report.
20th January 2020
A blockchain, as its name suggests, is a virtual chain made of blocks, where each block contains information.
Top Tier Firm Rankings
Firm Rankings