Johnson Winter Slattery > Melbourne, Australia > Firm Profile
Johnson Winter Slattery
Offices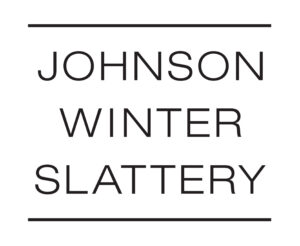 Johnson Winter Slattery
LEVEL 34
55 COLLINS STREET
MELBOURNE VIC 3000
Australia
Johnson Winter Slattery > The Legal 500
Rankings
Work for litigation funders is a core specialism for the class action team at
Johnson Winter Slattery
, which also acts for both plaintiffs and defendants in a broad range of class actions concerning matters from retail investment to privacy.
Robert Johnston
moved into the role of team lead and also acts as chair of the International Bar Association's global Class Action Committee, while his predecessor
Paul Reidy
remains an active key contact for matters relating to investment and employment.
Frances Dreyer
is another recommended lawyer, and
Andreas Piesiewicz
has significant experience in defendant-side work. All named lawyers are based out of the firm's Sydney office.
Now led by seasoned Sydney-based litigator
Robert Johnston
,
Johnson Winter Slattery
's dispute resolution team acts on both sides of major disputes, with clients including regulatory bodies and class action plaintiffs alongside major corporates. Former team lead
Paul Reidy
remains at the firm, and is especially active in the class action space, where his expertise includes investor, shareholder, and employment claims.
Frances Dreyer
and
Andreas Piesiewicz
are two more key contacts for their expertise in both core litigation and class actions, while
Tom Jarvis
in the Melbourne office often acts as a trusted advisor to bodies such as the Australia Securities and Investments Commission (ASIC) and the Australia Competition and Consumer Commission (ACCC). A wave of promotions in July 2022 saw
Antoinette Migliorino
and
Felicity Karageorge
join the partner ranks; Migliorino, in particular, is especially well regarded for her work in major construction and infrastructure project disputes.
Praised for their '
no nonsense...good service
',
Johnson Winter Slattery
's energy and resources team handles high-profile transactions and projects across the APAC region. In particular, the team regularly advises on onshore and offshore oil and gas project development work, as well as power station and gas pipeline developments. As national head of the energy and natural resources practice group,
Bruce Adkins
is regularly sought out for his expertise in energy M&A and project development, negotiating the sale and purchase of major mining, transport, energy, and industrial assets.
Peter Rose

advises on a wide range of commercial transactions, including joint ventures, commodity processing, sales, and asset acquisitions.
The team at
Johnson Winter Slattery
count a number of  major domestic publishers, market-leading media conglomerates, and blue-chip tech companies among its stellar client base. Lauded as '
a leader in the media and entertainment field',
Sydney-based practice head
Kevin Lynch
'provides excellent, commercially astute advice
' across the gamut of sector-specific work, particularly with regard to defamation law matters – including reform initiatives. Other key names to note include the Adelaide-based
Eve Thomson
, a highly experienced disputes practitioner, who was promoted to partner in July 2022.
Johnson Winter Slattery
's national practice is especially noted for its niche expertise in areas such as debt finance and dispute resolution. Latterly, the group has developed a niche in building construction collapses, working with clients on a series of high-profile administrations. Sydney-based practice head
Joseph Scarcella
's recent engagements have seen him has advising market-leading administrators and working on high profile liquidations. In Brisbane, reputed commercial litigator
Peter Smith
is well regarded for his '
very strong knowledge of the insolvency profession.
'
Drawing on a sizeable bench spanning multiple national offices, the tax team at
Johnson Winter Slattery
advises household-name multinationals involved in major infrastructure projects and high-stakes tax litigation. Led by Melbourne-base
Stewart Grieve
, an authority in tax audits and disputes, the group's active client base spans the manufacturing, transport, food and beverages, mining and agri-business sectors. The team is supported in Sydney by M&A and infrastructure expert
Matthew Shanahan
, who arrived from Deloitte in February 2022;
Annemarie Wilmore
, a tax and revenue disputes specialist who arrived from KPMG Law in January 2022; and
Prashanth Kainthaje
, who brings experience in international tax (inbound and outbound) and private equity. Other key figures include
Andy Milidoni
, a specialist in the structuring of managed funds and financial products, and consultant
Richard Gelski

, who provides expertise in corporate structuring and cross-border investment. At senior associate level,
Jess Tsai
, who joined from Deloitte in February 2022, is particularly recommended. In Melbourne,
Kathryn Bertram
is recommended for her expertise in income tax, land tax, payroll tax, and stamp duty.
Johnson Winter Slattery
 features strong finance capabilities with a strong reputation for working with sponsors and borrowers, particularly within the US and European debt markets. Brisbane-based team leader
David Beckett
is frequently used by private equity houses to structure and negotiate leveraged finance transactions, in addition to his general corporate finance work. In Melbourne,
Nicholas Grambas
works on the financial aspects of major infrastructure projects, particularly within the energy and resources sectors.
Craig Wappett
is a specialist in securities law, as well as financial product regulation and insolvency.
Powered by the bench strength of offices in Sydney, Melbourne, Brisbane, Perth, Adelaide and Canberra, the equity capital markets team at
Johnson Winter Slattery
advises underwriters and national and multinational corporates across the entertainment, biotech, retail, and medical device sectors. Led by
Paul Vinci
 in Perth, the team assists clients with matters ranging from high-value IPOs and institutional placements to private share placements and security purchase plans. The group is supported in Adelaide by
John Keeves
, who brings over 30 years' experience to equity market transactions, corporates M&A specialist
James Rozsa
, and multi-jurisdictional raising expert
Clare Brown
, the latter of whom is based in Sydney.
Retained by a number of multinational corporates and large public and private bodies,
Johnson Winter Slattery
regularly acts in business-critical cartel cases, access to infrastructure cases, merger clearance issues, and a variety of other enforcement matters – both for and against the ACCC. Practice head
Sar Katdare
's wide focus encompasses major merger matters, criminal and civil cartels and ACCC investigations, both domestically and internationally. 
Aldo Nicotra
helms high-profile ACCC investigations and prosecutions, and also providing corporates with competition advice and acting on merger filings. 
Michele Laidlaw
, who re-joined the team Qantas in 2021, specialises in merger reviews, federal court litigation, and consumer protection law.
A recent change in leadership at
Johnson Winter Slattery
has seen Perth-based
Paul Vinci
taking the reins from
Jeremy Davis
, who continues to be a key presence in the Sydney office. The firm is sought after by leading multinationals – including the likes of Microsoft – and key domestic players – with Macquarie serving as just one key example – to assist with a varied range of M&A mandates. The group is also highly regarded for its private equity and venture capital capabilities; Sydney-based
James Rosza
has extensive experience of handling the most complex matters in this space.
Johnson Winter Slattery
's offering runs the gamut of front-end and contentious regulatory mandates, with the team advising on issues ranging from AFS licensing applications and financial product disclosure obligation, to disputes and investigations arising from breaches. Recent highlights for the '
thoughtful and considered
'
Austin Bell,
who heads up the practice from the Sydney office, include co-chairing the FSC working group on the foreign financial service provider licensing reforms. The Melbourne office fields infrastructure and logistics expert
Simon Haddy
and disputes specialist
Tom Jarvis
.
Johnson Winter Slattery
covers complex and high-profile transactions within the infrastructure and construction sectors. In particular, the team is experienced in advising on complex PPP projects, negotiation and documentation of major projects, large-scale litigations, and security of payment legislation matters.
Will Coulthard
, who leads the team, regularly advises principals and contractors on energy and resources projects.
Avendra Singh
is skilled in a wide range of multi-jurisdictional matters, including PPPs, urban renewal projects, and public utility-related matters.
Paul Turner
is another figure within the practice, specialising in energy regulation, property, and public sector advice.
The labour and employment group at
Johnson Winter Slattery
utilises its significant national bench strength to advise household-name multinational corporates on class action suits, remuneration and benefits issues, restructuring strategies, and discrimination allegations, among others. The team is jointly headed up by
Jan Dransfield
, experienced in proceedings before state and federal courts, discrimination tribunals, and the Fair Work Commission;
Ruveni Kelleher
, an expert in executive, termination and restraint cases (both of whom are based in Sydney), and Melbourne-based industrial strategist
Lucienne Mummé
. Other key names to note in Melbourne include
Louise Russell
and special counsel
Evan Mentiplay
, while associates
Norah Chafardet
and
Jade Tyrrell
are additional recommended figures in the Sydney office. Sydney-based
Naomi Cooper
was promoted to senior associate in March 2022.
Johnson Winter Slattery
acts for mineral producers and explorers on a range of projects, including capital raising, acquisitions, farm-ins, joint ventures, and commodity sales. Beyond this, the team is heavily involved in a number of upstream oil and gas projects, as well as power station and gas pipeline developments.
Bruce Adkins
is the national practice head, known for his broad expertise in M&A and project development in the energy and natural gas sectors.
Jee-Seon Lee
has over 20 years of experience in mining construction and procurement, while
Andrew Wilton
is adept at handling procurement contracts, native title matters, and due diligence.
Johnson Winter Slattery
has a strong track record for advising on technical areas such as environmental crime, biodiversity, native title, and environmental compliance. The team also works on a number of valuable renewable energy projects, and ESG-related issues. Team leader
Samatha Daly
specialises in major projects and resources issues in the property, infrastructure, and energy industries.
William Oxby
joined the team this year, bringing with him a wealth of experience in contentious and non-contentious native title issues.
Johnson Winter Slattery
's growing team advises on the full gamut of IT and telecommunications matters, often advising UK, US, and European TMT companies looking to enter the Australian market. Sydney-based practice head 
Ravi De Fonseka
is praised by clients for possessing a '
high level of technical expertise and understanding of IT processes.
' De Fonseka is well supported by
Helen Clarke
, a Brisbane-based partner who joined the team from
Corrs Chambers Westgarth
in January 2022. The Sydney-based
Daniel Thompson
is also recommended.
Led by the '
outstanding
' Sydney-based
Robert Wyld
, the white-collar crime team at
Johnson Winter Slattery
regularly assists clients in advisory and litigious matters brought both in Australia and internationally. The practice was strengthened by the November 2021 hire of former prosecutor
Kirsten Scott
, who joined the Perth office as special counsel after ten years at
Clifford Chance
.
A varied mix of REITs, real estate holding companies, sovereign wealth and pension funds, and other fund managers regularly turn to the group at
Johnson Winter Slattery
. The team is jointly chaired by the versatile real estate lawyer
Peter Trevaskis
 alongside
Carrie Follas
, who often advises on acquisition and disposal work. All named lawyers are based in Sydney.
Johnson Winter Slattery >
Firm Profile
About us: We are an Australian corporate law firm like no other.
We take care of the law so you can focus on turning your vision into your reality. We will be by your side, guiding you through the challenges and helping you take hold of opportunities.
Major international and Australian leading businesses, investment funds and government agencies already rely on us for their most important transactions and disputes, so you're in good company.
Our lawyers are recognised across all areas of corporate law. We are known for our commerciality, providing practical legal advice that is always focused on outcomes. But most importantly, we pride ourselves on being, quite simply, better to work with.
A different approach: We were started by three lawyers with a vision. They wanted a firm where lawyers could focus on the law – not their billing – and people look out for each other. Our senior lawyers spend more time on the tools, giving you better commercial outcomes, faster, and with more value.
Better to work with: Our people are down to earth, approachable and always there when you need them. We work with you as one seamless team. We will get to know your business so well that you may forget that you need an outside line to call us.
Staff Figures
Partners : 81 Practitioners : 205 Support : 133
Languages
Afrikaans Arabic Creole Croatian Dutch French German Greek Gujarati Hindi Indonesian Italian Japanese Khmer Korean Chinese (Mandarin) Chinese (including Cantonese and Shanghainese dialects) Spanish Swedish Thai
Memberships
ABA (American Bar Association) AMPLA Limited – the Resources and Energy Law Association Association of International Petroleum Negotiators Banking and Financial Services Law Association (BFSLA) British Institute of International and Comparative Law (BIICL) Financial Services Institute of Australasia INSOL International Intellectual Property Society of Australia and New Zealand International Bar Association New York State Bar Association Society of Trust & Estate Practitioners (STEP) Turnaround Management Association
Client testimonials
CLIENT: Daniel Grollo, CEO at Grocon Group
COMPANY/FIRM: Johnson Winter & Slattery
TESTIMONIAL: "I have been working with Joseph Scarcella for more than two years now. The issues that I and my business have confronted are extremely challenging and the most complexed in my 35 years of corporate life, truely unprecedented times. Joseph's ability to get across the complexity, advise and assist in the situation has been invaluable. He is a trusted personal advisor."
---
CLIENT: Andrew McConville, Chief Executive at The Australian Petroleum Production & Exploration Association (APPEA)
COMPANY/FIRM: Johnson Winter & Slattery
TESTIMONIAL: The Australian Petroleum Production & Exploration Association (APPEA) is the peak industry body for the oil and gas industry in Australia.  Our members contribute more than 95% of all oil and gas produced.
APPEA has for the last 15 months engaged JWS to provide advice, counsel, tactical and technical support to assist APPEA with the development of a Voluntary Code of Conduct for the Negotiation and Development of Gas Supply Agreements between Gas Suppliers and Gas Customers in Australia. This has been an enormous task with significant commercial and political scrutiny and risk.  There has also been very strong interest shown in the Code by the competition regulator, the ACCC. Similar codes have taken up to three years to develop. The partnership between APPEA and JWS has seen this Code delivered in just 12 months, which is an outstanding achievement.
The relationship and trust between APPEA, its members and JWS has been crucial in delivering the Code. For more than 12 months JWS has been an integral team member and never has it been considered to operate as "the lawyer and the client". It has simply been, the team. The project has involved more than 40 taskforce meetings, more than 30 meetings with an APPEA Board Sub Committee, some 25 updates to the ACCC, 4 full redrafts of the Code and 10 workshops with the gas customers, along with countless side meetings, correspondence and briefings.
JWS has played a crucial role in challenging the thinking of the gas suppliers, presenting alternatives, posing solutions and ultimately had carriage of drafting the Code in its various iterations. JWS has also been a staunch ally and partner of APPEA in its negotiations with gas customers ensuring that certain threshold issues were not at risk, while delivering genuine progress in other areas to address commercial and political imperatives. At all times the JWS team has had the complete trust of APPEA and its stakeholders.
APPEA would quite simply not have been able to deliver what has been asked of it by the Federal Government without the incredible support of JWS.
---
CLIENT: Dominic O'Brien, General Manager at New Hope Group
COMPANY/FIRM: Johnson Winter & Slattery
TESTIMONIAL: JWS has strong depth of experience and capability across the firm. Whatever the matter, the JWS lawyers bring an approach which is always knowledgeable, pragmatic and commercial and they work very efficiently and cohesively as a team.
---
CLIENT: Said Jahani, National Managing Partner – Financial Advisory at Grant Thornton
COMPANY/FIRM: Johnson Winter & Slattery
TESTIMONIAL: I have used JWS for a number of years and in particular Joseph Scarcella.  I am immensely impressed with his commercial acumen, responsiveness (day or night) and outcome focused approach to solving any legal problem or challenge, no matter the complexity. I would not hesitate in recommending JWS to my own clients and in fact have done so on a number of occasions and received similar positive feedback from my clients to my own experience.  This consistency of service delivery and feeling that you are treated as their most important client combined with the strength of the personal relationship built over many years is want keeps me coming back time after time.
---
CLIENT: Ben Thompson, CEO / Founder at Employment Hero
COMPANY/FIRM: Johnson Winter & Slattery
TESTIMONIAL: Johnson Winter & Slattery have been an exceptional partner to Employment Hero during a time of exponential growth and activity across the business, including multiple capital raisings and M&A activities. Marko Komadina, Scott Cummins, David Li and Christine Ecob have always been responsive, focused and commercial. I have no hesitation in recommending JWS and their team to other high growth tech businesses that need the support of true professionals.
Press Releases
28th March 2023
Leading independent law firm Johnson Winter Slattery has successfully advised Cuscal Limited (Cuscal) on its strategic investment in Basiq Pty Ltd (Basiq), a leading data and open banking API platform. As part of the transaction, Cuscal has entered into a binding agreement to acquire a material controlling interest in Braavos Corporation Pty Ltd, the parent company of Basiq.Cuscal is one of Australia's largest independent providers of payments, banking and regulated data services. The acquisition represents a significant and strategic investment by Cuscal in the open data economy, bringing together two of the industry's leading Consumer Data Right (CDR) and payment systems to accelerate the development of new services and customer experiences. Basiq will continue to operate as a stand-alone business within the Cuscal Group.A team of specialists across JWS' M&A, regulatory, employment and intellectual property and technology practice areas worked collaboratively on the transaction including corporate partner, Marko Komadina and special counsel, Kate Gardner; regulatory partner, Jennifer Dean; employment partner, Jan Dransfield; and IP and technology partner, Ravi de Fonseka.JWS corporate partner, Marko Komadina, led the transaction and said "The open banking and CDR industry is a complex and rapidly evolving space and we are delighted to have assisted Cuscal on all aspects of getting this strategic acquisition over the line. It is particularly pleasing to have worked with Cuscal to strengthen its position as a leading provider of payments and regulated data services in Australia and we look forward to seeing what further developments the business can introduce with Basiq as part of the group."The transaction is subject to customary conditions.
About Cuscal Limited (Cuscal)
For more than 50 years, Cuscal has championed competition in banking and payments in Australia. More recently, Cuscal has moved beyond banking and payments into the broader data economy. Drawing upon extensive experience managing payments data that is digital, regulated, must always be secure, and flows seamlessly between consumers and enterprise. As an accredited data recipient (ADRBNK2019) and the provider of compliant data holder solutions, Cuscal provides data holders and data recipients access to a suite of secure and robust capabilities for the collection, sharing, management and storage of data subject to CDR legislation.
About Basiq
Basiq's vision is to make finance easy. Basiq sees a world where consumers are empowered to make smarter financial decisions and can engage with their finances in new and unique ways. Basiq enables this by providing an Open Finance API platform for businesses to build innovative financial solutions. The platform facilitates the relationship between fintechs and consumers by enabling access to consented financial data and executing smart data-driven payments.
About Johnson Winter Slattery
Johnson Winter Slattery is an independent Australian law firm with over 80 partners and 6 offices across Australia. We advise major corporates, funds and governments on their most challenging transactions and disputes.
Media contact: 
Camille Leist, Communications ManagerE: 
Camille.Leist@jws.com.au
28th March 2023
Leading independent law firm Johnson Winter Slattery has appointed projects and construction specialist Michael Hogan as a new partner in its Brisbane office.
30th January 2023
Leading independent law firm Johnson Winter & Slattery has advised Moderna, a pioneer in mRNA vaccines, on its 10-year strategic deal with the Commonwealth Government to produce mRNA vaccines in Australia. 
30th January 2023
Leading independent law firm Johnson Winter & Slattery (JWS) announced it will open a Canberra office spearheaded by two new partners, David Moore and Mellissa Lai (joining from MinterEllison), and the firm's highly regarded foreign investment/M&A partner, Marcus Clark.
30th January 2023
Johnson Winter Slattery has advised Magnetic Rail Group Pty Ltd (MRG) on the acquisition of One Rail Australia's East Coast Rail (ECR) business from Aurizon.
21st January 2022
Johnson Winter & Slattery has won Best Law & Related Services Firm ($50-$200m revenue) in Beaton's 2021 Client Choice Awards.
21st January 2022
William Oxby joined Johnson Winter & Slattery as a new partner in its Brisbane office on 27 April 2021. William's appointment will bolster the firm's expertise in environment and planning, with a special focus on native title to meet growing demands in this area.
21st January 2022
Competition and Antitrust lawyer Michele Laidlaw returned to Johnson Winter & Slattery as a Partner in Sydney on 6 September 2021. 
21st January 2022
Leading independent law firm Johnson Winter & Slattery has enhanced its white-collar crime offering with Kirsten Scott joining as a Special Counsel in the firm's Perth office in November 2021.
Legal Developments
28th March 2023
The Australian Securities and Investments Commission (ASIC) has sent a strong message to companies and their officers that it is starting to enforce whistleblower protections in its first case under the amended whistleblower protections in the Corporations Act. The commencement of these proceedings was immediately followed by ASIC's Report 758 Good practices for handling whistleblower disclosures (Report 758) providing guidance on the establishment of strong programs following its review of seven firms.
28th March 2023
Yesterday, the ACCC announced its compliance and enforcement priorities for 2023.
28th March 2023
On 16 February 2023, the Attorney-General's Department released its much-anticipated Final Report (Report) on the Review of the Privacy Act 1988 (Cth) (Privacy Act). The Report is the culmination of two years of consultation and review, which began following a recommendation made by the ACCC in its 2019 Digital Platforms Inquiry.
28th March 2023
The High Court of Australia is currently considering whether Victorian legislation imposing a fee on the use of zero or low-emission vehicles is contrary to s 90 of the Commonwealth Constitution in Vanderstock v Victoria (HCA Case M61/2021, Vanderstock). The basis of the challenge is that the fee imposed is an excise and a tax, as it is charged at the point of consumption.
28th March 2023
On 9 December 2022, the long-running prosecution of Grafil Pty Limited (Grafil) and its director Mr Mackenzie by the NSW Environment Protection Authority (EPA) came to an end with a unanimous judgment of the Court of Criminal Appeal (CCA) on an EPA sentence appeal.
28th March 2023
Following the implementation of the recommendations in the Respect@Work: Sexual Harassment National Inquiry Report (2020) to amend work health and safety (WHS) obligations, WHS regulators are now using their enforcement powers to ensure employers are complying with their positive duty to take reasonably practicable steps to eliminate or minimise health and safety risks, including unlawful sex discrimination (refer to our previous newsletter on the new positive duty under anti-discrimination laws).
28th March 2023
On Monday 30 January 2023, the Commonwealth government unveiled its plans for the 'Revive' National Cultural Policy.  As a part of the policy's fifth pillar, 'Engaging the Audience', new requirements will be proposed for streaming platforms to ensure Australian content is available as usage of streaming services continues to increase.
28th March 2023
The abolition of the peak indebtedness rule will likely reduce the quantum of unfair preference claims where there is a running account and render some claims unviable for further pursuit.
28th March 2023
The Commissioner of Taxation (Commissioner) has been actively pursuing the application of the anti-avoidance provisions to trust structures and trust distributions. In the most recent decision, the Full Federal Court has found that the Commissioner's secondary argument (Part IVA) was partially successful - Part IVA only applied to the distributions made in the second year (2013). Part IVA did not apply to the 2012 year. In addition, the Commissioner's primary appeal in relation to the application of s 100A failed.
28th March 2023
A class action has been filed in the Federal Court in respect of the Medibank data breach, funded by large domestic litigation funder Omni Bridgeway. The claim reportedly includes causes of action based on breaches of contract, Australian Consumer Law and equitable obligations of confidence. The claim has been filed in the context of a separate class action style claim being commenced via the Office of the Australian Information Commissioner (which is being pursued collectively by three other law firms).
28th March 2023
The ATO has issued its decision impact statement (DIS) about a year after the Full Federal Court decision in Shell Energy Holdings Australia v Commissioner of Taxation [2022] FCAFC 2 (Shell Energy). The Full Federal Court decision is important for those making deductions under s40-80 and s40-25 of the Income Tax Assessment Act 1997 (Cth) (ITAA 1997). It will be of interest to those who are also grappling with the complexities of statutory interpretation in taxation law.
31st January 2023
On 12 December 2022, the Anti-Discrimination and Human Rights Legislation Amendment (Respect at Work) Act 2022 received royal assent. The Act implements the remaining seven recommendations for legislative reform to address sexual harassment in the workplace made by the Sex Discrimination Commissioner, Kate Jenkins, in the Respect@Work Report published in 2020. This follows the six recommendations that were implemented by the Sex Discrimination and Fair Work (Respect at Work) Amendment Act 2021, as set out in our previous newsletter.
31st January 2023
In April 2022 the ACCC commenced proceedings against Uber B.V. (Uber) for misleading and deceptive conduct and false and misleading claims in relation to Uber displaying:
31st January 2023
On 22 December 2022, the Full Federal Court of Australia unanimously decided for the taxpayer in Commissioner of Taxation v Landcom [2022] FCAFC 204. The decision is a useful reminder of key principles in statutory interpretation:
21st January 2022
Australian regulators have a range of compulsory information gathering powers. If your organisation is under surveillance or facing an investigation relating to a suspected breach of the law, you may be required to submit documentation and information, attend questioning and provide reasonable assistance.
21st January 2022
The government has delivered the next step in the ongoing Privacy Act Review by releasing the exposure draft of the Privacy Legislation Amendment (Enhancing Online Privacy and Other Measures) Bill 2021 and Privacy Review Discussion Paper.
21st January 2022
On 3 December 2021, the Full Bench[1] of the Fair Work Commission handed down its long-awaited decision[2]  about whether BHP's Site Access Requirement, as implemented by a member of the BHP Group, Mt Arthur Coal Pty Ltd (Mt Arthur), was a lawful and reasonable direction. While the Full Bench noted that the vaccination mandate could have been a lawful and reasonable direction, it was ultimately not a reasonable direction for the primary reason that Mt Arthur had not complied with its work health and safety (WHS) consultation obligations.
21st January 2022
There is no doubt that the international competition law landscape is changing. While calls for increased regulation of 'big tech' frequently make headlines, there is a broader shift in competition regulation occurring, which will affect companies across all industries. Regulators worldwide have intensified scrutiny of proposed mergers and acquisitions, and Australian businesses are unlikely to be an exception to this. It is increasingly important that businesses are aware of changes to the global, and local competition law landscape, and how these may affect global and local acquisitions.
21st January 2022
On 20 December 2021, the Department of the Treasury of the Australian Government (Treasury) released the Treasury Laws Amendment (Measures for Consultation) Bill 2021: Licensing exemptions for foreign financial service providers exposure draft legislation (Amendment Bill) on the new proposed exemptions for foreign financial service providers (FFSPs). The exemptions contained in the Amendment Bill are designed to encourage broader investment opportunities for Australian investors and to generate greater liquidity in Australian markets.