Johnson Winter Slattery > Adelaide, Australia > Firm Profile
Johnson Winter Slattery
Offices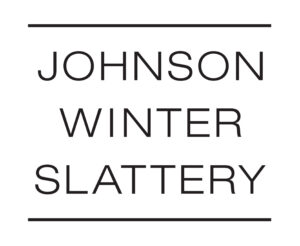 Johnson Winter Slattery
LEVEL 9
211 VICTORIA SQUARE
ADELAIDE, SA 5000
Australia
Johnson Winter Slattery > The Legal 500
Rankings
The class actions team at
Johnson Winter Slattery
acts for both defendants and plaintiffs, with particular expertise in advising litigation funders.
Paul Buitendag
 and
Paul Reidy
co-lead the team from Melbourne and Sydney, respectively. Reidy acts for large corporates and board members, having recently acted for Allianz in a class action case, and 
Robert Johnston
 is adept at handling litigation in the Supreme and Federal Courts. 
Frances Dreyer
 and
Andreas Piesiewicz
 are also key contacts. All named lawyers are based in Sydney unless noted otherwise.
Paul Buitendag
 in Melbourne and
Paul Reidy
 in Sydney co-head the dispute resolution practice at
Johnson Winter Slattery
. The team acts for both defendants and plaintiffs in corporate and commercial disputes, class actions, regulatory prosecutions and competition cases. Areas of expertise includes the construction, infrastructure, energy and resources,  technology and logistics sectors. Sydney-based
Robert Johnston
is active in handling cases in the Supreme and Federal courts, as well as high-value class actions, whilst
Tom Jarvis
in Melbourne acts for large corporations, government bodies and regulators.
In 2020,
Johnson Winter Slattery
hired
Nicholas Grambas
(Melbourne) and
Richard Graham
 (Sydney) from
Sidley Austin
and
Clifford Chance
, adding significant experience to the team in the respective areas of project finance and M&A. It is best known in the market for its focus on upstream oil and gas development work, downstream projects, acquisitions and divestments in the energy and natural resources sector and the regulatory framework governing activity in the industry. Brisbane partner
Bruce Adkins
leads the practice.
The media group at
Johnson Winter Slattery
employs its experience and advanced AI tools to provide solutions for a roster of major multimedia clients, including commercial television broadcasters, newspapers, magazines, tech multinationals, and motion picture companies. Led from the Sydney office by media law specialist
Kevin Lynch
the team advises such household names as Microsoft, Verizon, and the Seven Network, across the tech, entertainment, education, and health care sectors. The group's full range of services covers defamation, pre-publication matters, and media venture capital matters. The team is backed by pre-publication expert
Sam Johnson
in Sydney and dispute negotiation specialist
Eve Thomson
in Adelaide. The team has also been boosted since senior associate
Jennifer Dean
joined from
Corrs Chambers Westgarth
.
Johnson Winter Slattery
combines active transactional and commercial tax advice with a strong record in tax disputes and controversies, working with listed companies and multinationals, alongside regularly collaborating with leading UK and US tax practices on cross-border issues. The practice was bolstered by the arrival of corporate tax specialist
Alison Haines
to the Melbourne office from an in-house position in early 2021. Melbourne-based practice head
Stewart Grieve
 is focused on tax disputes and audits, with a number of multinational clients, while Sydney's
Prashanth Kainthaje
advises on corporate and financing transactions, with expertise in state and federal taxation. Also in Sydney,
Andy Milidoni
advises on transfer pricing, superannuation and trust mandates, while the vastly experienced
Richard Gelski

continues as a consultant, advising on corporate structures and cross-border investments. Melbourne's
Kathryn Bertram
 handling stamp duty, land tax and the associated disputes.
Lawyers at
Johnson Winter Slattery
assist major national and international banks, non-bank lenders and multinational corporates involved in high-value transactions, on a broad range of issues; these range from acquisition and leveraged finance, syndicated financing arrangements and financial products through to project finance, debt restructurings, and insolvency matters. Spearheaded by veteran leveraged finance practitioner
David Beckett
in Brisbane, the group's portfolio features Eagers Automotive and CleanTech Asia and covers the automotive, tech, energy and resources, construction, logistics and infrastructure sectors.
Craig Wappett
supports the team in Melbourne, particularly in relation to securities-related mandates.
The equity capital markets team at
Johnson Winter Slattery
advises national and multinational corporations across a broad range of industries, including the life sciences, energy and resources, and infrastructure sectors. Led by corporate M&A specialist
James Rozsa
in Sydney and ECM expert
John Keeves
in Adelaide, the group's client base features Anheuser-Busch InBev and Seven West Media. The team's full service offering extends to IPOs, subscription agreements, non-renounceable entitlement offers and private placements. The group is assisted in Sydney by multi-jurisdictional fundraising adviser
Clare Brown
.
Johnson Winter Slattery
fields an independent, bespoke transactional team, with strong domestic and international involvement across public M&A, private equity and venture capital deals. The firm enjoys productive relationships with a number of major funds, and has also advised corporate clients on high-profile deals and innovative structures. The team is led by
Jeremy Davis
, who heads up the corporate M&A offering and advises on a number of cross-border deals, and
James Rozsa
, who specialises in private equity and venture capital investments.
Damian Reichel
is an experienced practitioner with expertise across public and private M&A and corporate governance work, and regularly handles complex deal structures.
Richard Graham
has broad sector expertise, working in key areas such as the IT, telecoms and resources industries. All lawyers mentioned are in Sydney.
Johnson Winter Slattery
's employment practice is strong in handling complex contentious matters, including unfair dismissal issues, discrimination claims and class actions. Its sector strength spans the media, transport, education, energy and resource, technology, retail, financial services, health care and aged care arenas. The team is co-lead by
Ruveni Kelleher
, who established the practice and is skilled in acting for private equity and venture capital clients;
Jan Dransfield
, who has extensive expertise in the federal courts, tribunals and before the Fair Work Commission; and
Lucienne Mummé
, who has substantial experience in industrial relation matters.
Johnson Winter Slattery
's team is highly active in the mining sector, advising minerals producers and explorers on project development, capital raising, acquisitions and divestments, joint ventures and various related matters.
Jee-Seon Lee
 has over 20 years of experience in the field, focusing on mining construction and procurement matters, which she handles alongside various upstream and downstream oil and gas projects.
Bruce Adkins
 in Brisbane is often instructed to advise clients on negotiating and documenting new resources and infrastructure joint ventures; he is also well-versed to act on the sale and purchase of mining and energy assets.
Stuart Clague
 (Perth) and
Andrew Wilton
 (Adelaide) are also core members of the firm's mining and projects group.
Johnson Winter Slattery
advises on insolvencies across Australia, with teams in NSW, Victoria and Queensland, and also handles high-level litigation and restructurings, with a strong focus on acting for debtor clients. The firm mainly advises ASX-listed companies, and utilises its integrated expertise in debt financing and dispute resolution to handle a diverse range of cases. Practice head
Joseph Scarcella
is an experienced figure in insolvency litigation, who represents clients in contentious, business-critical cases, while
David Proudman
has a strong track record in non-contentious insolvency and business reconstruction mandates.
The financial services regulation group at
Johnson Winter Slattery
provides tailored advice for major national and international banks, investment funds and managers, and government regulators, such as the Australian Securities & Investments Commission (ASIC) and Australian Competition and Consumer Commission (ACCC), across a wide array of regulatory issues. Such matters include financial product Design and Distribution Obligations (DDO), derivative transaction reporting requirements, breach reporting obligations, and regulatory investigations and enforcement. Headed by financial services authority
Austin Bell
, the team is supported by infrastructure and utilities expert
Simon Haddy
and disputes specialist
Tom Jarvis
 in Melbourne.
Alongside the core IT and telecoms offering, the team at
Johnson Winter Slattery
benefits from the firm's strong relationship with law firms in the US and Europe, which means it is able to provide advice to telecoms and technology companies seeking to enter the Australian market. In addition, the team advises major clients such as Microsoft and Origin Energy on Australia-based telecoms and technology mandates.
Christine Ecob
 and 
Ravi de Fonseka
jointly lead the team; Ecob has expertise in technology contracting and advisory work, whilst de Fonseka advises on a wide variety of telecoms and IP-related matters for local and cross-border clients. Both lawyers are based in Sydney.
The corporate crime group at 
Johnson Winter Slattery
advises major domestic and international corporations and individuals involved in multi-jurisdictional regulatory investigations and criminal prosecutions. Led by anti-bribery and corruption expert
Robert Wyld
, the team's clients include the OECD and the International Bar Association with additional names across the aviation, construction, energy and defence sectors. The group regularly handles trade sanctions issues, money laundering and bribery work, tax fraud mandates, due diligence, modern slavery matters, internal investigations and risk assessments.
With its headquarters in Perth,
Johnson Winter Slattery
focuses predominantly on upstream oil and gas, electricity and mining projects; however, it is also well-respected for its role in public sector-led transport and infrastructure projects.
Will Coulthard
, based in Perth, specialises in energy and natural resources mandates, in which he tends to advise clients on contract drafting and negotiation, tenders and litigation arising during developments. In Adelaide,
Paul Turner
is a standout partner, known for handling structured property transactions and project outsourcing arrangements. In Sydney,
Avendra Singh
, who joined the practice from
Squire Patton Boggs
 in June 2020, undertakes a diverse range of contentious and non-contentious instructions, spanning every major sector.
Headquartered in Sydney,
Johnson Winter Slattery
 advises a wide range of clients, including real estate holding companies, investors and developers, in relation to the full spectrum of commercial and corporate matters, with a particular focus on agribusiness and forestry developments.
Peter Trevaskis
 (Sydney) co-leads the practice alongside
Carrie Follas
 (Sydney), who is known for her expertise in investment, supply and management matters in the agribusiness sector.
David Colenso
(Brisbane) has particular strength in property investments and joint ventures.
Johnson Winter Slattery >
Firm Profile
About us: We are an Australian corporate law firm like no other.
We take care of the law so you can focus on turning your vision into your reality. We will be by your side, guiding you through the challenges and helping you take hold of opportunities.
Major international and Australian leading businesses, investment funds and government agencies already rely on us for their most important transactions and disputes, so you're in good company.
Our lawyers are recognised across all areas of corporate law. We are known for our commerciality, providing practical legal advice that is always focused on outcomes. But most importantly, we pride ourselves on being, quite simply, better to work with.
A different approach: We were started by three lawyers with a vision. They wanted a firm where lawyers could focus on the law – not their billing – and people look out for each other. Our senior lawyers spend more time on the tools, giving you better commercial outcomes, faster, and with more value.
Better to work with: Our people are down to earth, approachable and always there when you need them. We work with you as one seamless team. We will get to know your business so well that you may forget that you need an outside line to call us.
Staff Figures
Partners : 71 Practitioners : 186 Support : 131
Languages
Afrikaans Arabic Creole Croatian Dutch French German Greek Gujarati Hindi Indonesian Italian Japanese Khmer Korean Chinese (Mandarin) Chinese (including Cantonese and Shanghainese dialects) Spanish Swedish Thai
Memberships
ABA (American Bar Association) AMPLA Limited – the Resources and Energy Law Association Association of International Petroleum Negotiators Banking and Financial Services Law Association (BFSLA) British Institute of International and Comparative Law (BIICL) Financial Services Institute of Australasia INSOL International Intellectual Property Society of Australia and New Zealand International Bar Association New York State Bar Association Society of Trust & Estate Practitioners (STEP) Turnaround Management Association
Client testimonials
CLIENT: Daniel Grollo, CEO at Grocon Group
COMPANY/FIRM: Johnson Winter & Slattery
TESTIMONIAL: "I have been working with Joseph Scarcella for more than two years now. The issues that I and my business have confronted are extremely challenging and the most complexed in my 35 years of corporate life, truely unprecedented times. Joseph's ability to get across the complexity, advise and assist in the situation has been invaluable. He is a trusted personal advisor."
---
CLIENT: Andrew McConville, Chief Executive at The Australian Petroleum Production & Exploration Association (APPEA)
COMPANY/FIRM: Johnson Winter & Slattery
TESTIMONIAL: The Australian Petroleum Production & Exploration Association (APPEA) is the peak industry body for the oil and gas industry in Australia.  Our members contribute more than 95% of all oil and gas produced.
APPEA has for the last 15 months engaged JWS to provide advice, counsel, tactical and technical support to assist APPEA with the development of a Voluntary Code of Conduct for the Negotiation and Development of Gas Supply Agreements between Gas Suppliers and Gas Customers in Australia. This has been an enormous task with significant commercial and political scrutiny and risk.  There has also been very strong interest shown in the Code by the competition regulator, the ACCC. Similar codes have taken up to three years to develop. The partnership between APPEA and JWS has seen this Code delivered in just 12 months, which is an outstanding achievement.
The relationship and trust between APPEA, its members and JWS has been crucial in delivering the Code. For more than 12 months JWS has been an integral team member and never has it been considered to operate as "the lawyer and the client". It has simply been, the team. The project has involved more than 40 taskforce meetings, more than 30 meetings with an APPEA Board Sub Committee, some 25 updates to the ACCC, 4 full redrafts of the Code and 10 workshops with the gas customers, along with countless side meetings, correspondence and briefings.
JWS has played a crucial role in challenging the thinking of the gas suppliers, presenting alternatives, posing solutions and ultimately had carriage of drafting the Code in its various iterations. JWS has also been a staunch ally and partner of APPEA in its negotiations with gas customers ensuring that certain threshold issues were not at risk, while delivering genuine progress in other areas to address commercial and political imperatives. At all times the JWS team has had the complete trust of APPEA and its stakeholders.
APPEA would quite simply not have been able to deliver what has been asked of it by the Federal Government without the incredible support of JWS.
---
CLIENT: Dominic O'Brien, General Manager at New Hope Group
COMPANY/FIRM: Johnson Winter & Slattery
TESTIMONIAL: JWS has strong depth of experience and capability across the firm. Whatever the matter, the JWS lawyers bring an approach which is always knowledgeable, pragmatic and commercial and they work very efficiently and cohesively as a team.
---
CLIENT: Said Jahani, National Managing Partner – Financial Advisory at Grant Thornton
COMPANY/FIRM: Johnson Winter & Slattery
TESTIMONIAL: I have used JWS for a number of years and in particular Joseph Scarcella.  I am immensely impressed with his commercial acumen, responsiveness (day or night) and outcome focused approach to solving any legal problem or challenge, no matter the complexity. I would not hesitate in recommending JWS to my own clients and in fact have done so on a number of occasions and received similar positive feedback from my clients to my own experience.  This consistency of service delivery and feeling that you are treated as their most important client combined with the strength of the personal relationship built over many years is want keeps me coming back time after time.
---
CLIENT: Ben Thompson, CEO / Founder at Employment Hero
COMPANY/FIRM: Johnson Winter & Slattery
TESTIMONIAL: Johnson Winter & Slattery have been an exceptional partner to Employment Hero during a time of exponential growth and activity across the business, including multiple capital raisings and M&A activities. Marko Komadina, Scott Cummins, David Li and Christine Ecob have always been responsive, focused and commercial. I have no hesitation in recommending JWS and their team to other high growth tech businesses that need the support of true professionals.
Press Releases
21st January 2022
Johnson Winter & Slattery has won Best Law & Related Services Firm ($50-$200m revenue) in Beaton's 2021 Client Choice Awards.
21st January 2022
William Oxby joined Johnson Winter & Slattery as a new partner in its Brisbane office on 27 April 2021. William's appointment will bolster the firm's expertise in environment and planning, with a special focus on native title to meet growing demands in this area.
21st January 2022
Competition and Antitrust lawyer Michele Laidlaw returned to Johnson Winter & Slattery as a Partner in Sydney on 6 September 2021. 
21st January 2022
Leading independent law firm Johnson Winter & Slattery has enhanced its white-collar crime offering with Kirsten Scott joining as a Special Counsel in the firm's Perth office in November 2021.
Legal Developments
21st January 2022
Australian regulators have a range of compulsory information gathering powers. If your organisation is under surveillance or facing an investigation relating to a suspected breach of the law, you may be required to submit documentation and information, attend questioning and provide reasonable assistance.
21st January 2022
The government has delivered the next step in the ongoing Privacy Act Review by releasing the exposure draft of the Privacy Legislation Amendment (Enhancing Online Privacy and Other Measures) Bill 2021 and Privacy Review Discussion Paper.
21st January 2022
On 3 December 2021, the Full Bench[1] of the Fair Work Commission handed down its long-awaited decision[2]  about whether BHP's Site Access Requirement, as implemented by a member of the BHP Group, Mt Arthur Coal Pty Ltd (Mt Arthur), was a lawful and reasonable direction. While the Full Bench noted that the vaccination mandate could have been a lawful and reasonable direction, it was ultimately not a reasonable direction for the primary reason that Mt Arthur had not complied with its work health and safety (WHS) consultation obligations.
21st January 2022
There is no doubt that the international competition law landscape is changing. While calls for increased regulation of 'big tech' frequently make headlines, there is a broader shift in competition regulation occurring, which will affect companies across all industries. Regulators worldwide have intensified scrutiny of proposed mergers and acquisitions, and Australian businesses are unlikely to be an exception to this. It is increasingly important that businesses are aware of changes to the global, and local competition law landscape, and how these may affect global and local acquisitions.
21st January 2022
On 20 December 2021, the Department of the Treasury of the Australian Government (Treasury) released the Treasury Laws Amendment (Measures for Consultation) Bill 2021: Licensing exemptions for foreign financial service providers exposure draft legislation (Amendment Bill) on the new proposed exemptions for foreign financial service providers (FFSPs). The exemptions contained in the Amendment Bill are designed to encourage broader investment opportunities for Australian investors and to generate greater liquidity in Australian markets.