Firm Profile > Doulah & Doulah > Dhaka, Bangladesh
Doulah & Doulah
Offices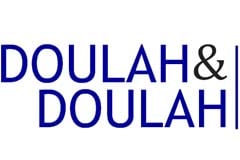 Doulah & Doulah
DOULAH HOUSE, PLOT 153/2, ROAD 2/2, BLOCK A, SEC 12
MIRPUR
DHAKA 1216
Bangladesh
Doulah & Doulah > The Legal 500
Rankings
Doulah & Doulah
's first-rate reputation is underpinned by strengths in finance transactions related to infrastructure and PPP, M&A, project finance, and power and energy. Led by 
A.B.M. Nasirud Doulah
, the team also advises major banks on local corporate governance issues and sits as consultants to global financial institutions including the World Bank. 
Amina Khatoon 
 is another key individual in the group, which attracts a steady stream of cross-border work across Southeast Asia and Europe.
Testimonials
'Nasir Doulah is one of our go to local partners in Bangladesh. He can be relied upon for well-priced advice and knows the local legal landscape well.'
'Very well-qualified in all legal areas relevant for advising on and issuing legal opinions for loans of foreign credit institutions to Bangladeshi banks and corporates. Fast performance and easily available. Adequate fees.'
Key clients
China Export & Import Bank
China Development Bank
General Electric
Walmart
Mashreq Bank
JC Penney
Islamic Trade & Finance Corporation
Export Development Canada
PepsiCo
Agricultural Bank of China
Doulah & Doulah
's tax team, which sits within the firm's finance group, advises multinational clients on the tax structuring aspects of corporate and finance transactions, as well as tax management and compliance matters. Practice head 
Amina Khatoon
 is supported by 
Ariful Islam
 on corporate tax matters.
Other key lawyers:
Key clients
Walmart
JC Penney
General Electric
Hyatt Hitels
Miravet
Scatek Solar
Powerchina
CMEC
PepsiCo
Jafpa Comfeed
Doulah & Doulah
 is active in key infrastructure and PPP projects across Bangladesh, and it is frequently instructed to handle related project finance transactions. Led by 
Amina Khatoon
, the team also advises multinational companies on M&A and restructurings. It is notably active in sectors such as renewable energy, power and pharmaceuticals. 
A.B.M. Nasirud Doulah
 is another key individual in the group.
Other key lawyers:
Testimonials
'Nasir Doulah is one of our go to local partners in Bangladesh. He knows the local landscape well and provides well-priced advice to us and our clients.'
'Mr. Nasir Doulah has been sound in his advice and prompt with all his responses. He has served as a good local counsel on a cross border transaction we are working on.'
'Very responsive and pragmatic advice.'
'Very good communication. Pragmatic and sensible solutions.'
Key clients
Walmart
JC Penney
General Electric
Hyatt Hitels
Miravet
Scatek Solar
Powerchina
CMEC
PepsiCo
Jafpa Comfeed
Doulah & Doulah
's dispute resolution team is adept at handling contentious investment, banking and construction matters for clients. Also notable is that it has an excellent reputation in the enforcement of foreign judgments and awards in Bangladesh. The practice is led by 
A.B.M. Shamsud Doulah
, who has experience of appearing in ICC, LCIA and UNCITRAL arbitration proceedings for clients. Elsewhere in the team, of counsel 
Mucktadir Rahman
 (who splits his time between London and Dhaka) focuses on judicial reviews and administrative law matters.
Amina Khatoon
 is another key individual.
Other key lawyers:
Testimonials
'Doulah & Doulah possesses vital local knowledge and understanding of local sensitivities, cultures and idiosyncrasies, which are needed to enable the law firm to provide actionable visibility to our operations.'
Key clients
China Harbour Engineering Company
Edinburgh Wollen Mills
UM International
IDP Education
Walt Disney
Industrial & Commercial Bank of China
Bank of Nova Scotia
Avia Solutions
Aercap
Oberthur
Doulah & Doulah >
Firm Profile
The firm: D&D is a leading law firm in Bangladesh under registration number 27074. Established in 1965 the firm stands as one of the biggest and most experienced law firms in Bangladesh representing the world's largest business houses and working with the biggest international law firms. The firm possesses top-ranked transactional capabilities complemented by a strong litigation practice with a large client-base.
Areas of practice
Admiralty and shipping: D&D offers one of the strongest shipping practices assisting in both wet and dry contentious and non-contentious matters. The practice advises owners, agents, P&I clubs, financiers, charterers and their insurers. In 2018-19 the firm acted in nine admiralty lawsuits and four shipping finance transactions.
Aviation: D&D represents major aircraft leasing companies including both ILFC and General Electric Capital Aviation. The firm acts in both wet and dry leasing transactions. Recent transactions include acting for GE Capital and EDC in lease / asset finance in Biman and US Bangla respectively. The firm represents major airlines including, among others, Eithad, Gulf, Air Arabaia, Singapore, Malaysia and Korean airlines. D&D has been appointed as honorary adviser to Aviation Working Group.
Banking: The firm offers true banking expertise both on regulatory and transactional aspects. The Bangladesh modern banking legal platform was finalised by D&D partners under World Bank's Financial Sector Reform Programme in 1996. D&D has been working on two FX arrangement transactions for Deutsche Bank and JP Morgan following similar projects for Merrill Lynch and Bank of New York. It also completed a banking project for Calyon Bank on money market products followed by a similar project for JP Morgan. Following the deregularisation of commodity derivative products, it worked for CommerzeBank in a number of such transactions.
Capital markets: D&D is one of the few local firms that possesses capital market expertise. It represents major institutional investors including Morgan Stanley, CitiGroup, CLSA, Credit Suisse and ABN Amro. Currently, the firm is working on the pledging of a big Bangladeshi listed security portfolio for LGT Bank. It worked on the first PIPE transactions in Bangladesh for Global Emerging Markets (GEM). The firm is also working on a Malaysian Sukuk bond matter.
Corporate, M&A and FDI: D&D offers market leading corporate and M&A practice. It works for a number of multinationals in corporate structure and restructure matters including Nokia, LG, GE etc. D&D has completed over eighteen M&A transactions in 2018-19 acting for clients like Shenzhen/Shanghai Stock exchange in acquiring Dhaka Stock Exchange, Lafarge and Holcim merger, Ophir Energy acquisition of Santos exploration assets and merger with Medco etc. D&D partners drafted the Bankruptcy Act, hence the firm specialises in claw back and insolvency reorganisations.
Finance and securitization: This is a stressed area of D&D practice with extensive experience in financing, security, mortgages, pledge and collateral documentation. The firm is advising China Exim Bank in two large scale financings in different power projects and China Development Bank in one toll road project. IsDB is a regular client. Also appointed by SAARC SDF for the operationalizing of two IDA credit windows for Bangladesh infrastructure projects. Other cross border complex financing clients include IFC, OPIC, ICICI, KFW, AB Svensk Exportcredit etc.
Infrastructure, PPP and construction: Extensive experience in all kinds of infrastructures is D&D's specialty. The firm was appointed by both of the construction and dredging contract awardees for the Jamuna Multipurpose Bridge followed by appointment for Padma Bridge. Currently, the firm is working on Dhaka Water Sector Development Project for European Investment Bank and Dhaka Airport Third Terminal Project for Samsung. The firm has also acted for IFC in project development and financing of the first floating LNG terminal in Bangladesh.
Intellectual property: D&D's IP practice is regarded as one of the strongest, offering both protection and enforcement services for trademarks, patents, designs and copyrights. D&D has implemented the concept of a well known mark, for Nokia, in Bangladesh for the first time. It also has big scale enforcement capabilities which were established when it worked for Sony against over two hundred counterfeiters in Bangladesh.
Litigation and dispute resolution: Complemented by a strong litigation practice, D&D offers effective dispute resolution capabilities. The firm is active at all levels of judiciary platforms. Currently, the firm is working in two large volume litigations for Cargill and Intelsat. The firm is also conducting an ICC arbitration for Gulf Air and another for Microsoft. The firm acted in two of the largest anti-dumping suits in US courts.
Natural resources: D&D is one of the leading firms to advise on both up-stream and down-stream aspects of the energy sector especially in the exploration of oil, gas and coal. The firm represented Zhenhua Oil is its successful bid to acquire three gas fields from Chevron and Ophir acquisition of Santos assets. It has been advising US based Quanta in gas transmission construction project following participation on similar projects for Saipem and Drilltech. D&D is working for Tecnosteam Energy for erection of three ADB funded gas compression station. D&D has also finalised the production sharing contracts for ONGC, OIL, POSCO, Daewoo, among others, for the exploration of hydrocarbon in the Bay of Bengal.
Power and energy: D&D possesses unparalleled expertise in the power sector. So far it has been involved in structuring one hundred and twenty power projects in Bangladesh. It is now working on structuring the 1250MW LNG fueled power plant for GE under partnership with BPDB. Also acted for Excelerate Energy in developing the Mahesjkhali FSRU (LNG Terminal). The firm acts as local counsel to a large number of power producers including General Electric, Blackstone, AES, El Paso and CMEC. Other power project financier clients include OPIC, IDB and ICICI. It has extensive experience in the M&A of power plants, with AES and ElPaso as clients.
Regulatory and probono: D&D recognises its responsibilities towards the society and allocates a specific number of hours for CSR and pro-bono projects. It worked in the FSRP project to reform the financial sector of the country. After extensive research the Corporate Government Assessment Report was published in collaboration with World Bank. The firm regularly participates in the finalisation of other laws and has drafted laws like the Bankruptcy Act. The firm is working for ADB on modernising municipal laws, and in the UN's MHealth project. D&D has also acted as legal advisors in establishing USAID's Tropical Forest Conservation Fund.
Taxation and employment: These are integral parts of D&D's corporate practice with the contentious and advisory practice representing clients from tribunal to appellate division in Supreme Court. The firm is currently working in a constitutional writ for MAS in a very large VAT and for UPS in direct tax disputes. The firm successfully represented El Paso for a tax exemption. With an in-depth employment practice, the firm has just completed a pension fund creation for Children's Place. It also advises clients like BAT, GE and Intertek on long term incentive options with regular employment clients like GAP, Puma, EWM, VF and HP.
Telecommunication and fintech: The telecommunication and fintech practice at D&D is one of the finest. It advised Societe Generale in its financing in the first satellite for Bangladesh. It is also worked with NERA on the auction of 3G licenses. Current major projects include the establishment of a global roaming hub for a leading global operator, a global mobile banking platform for Belgacom, and a dedicated access point for Akamai. M&A clients include Huawei and Vimpelcom. Other corporate projects include AT&T, WorldCom, ZTE, Nokia, Grameenphone, among others. The firm represents a large number of clients in fintech matters such as Microsoft, Ant Financial and Google.
Main Contacts
| Department | Name | Email | Telephone |
| --- | --- | --- | --- |
| Admiralty and shipping | Badrud Doulah (bdoulah@doulah.com) | | |
| Arbitration | Shamsud Doulah (sdoulah@doulah.com) | | |
| Aviation | Nasirud Doulah (ndoulah@doulah.com) | | |
| Banking and finance | Nasirud Doulah (ndoulah@doulah.com) | | |
| Capital markets | Nasirud Doulah (ndoulah@doulah.com) | | |
| Commercial and antitrust | Shamsud Doulah (sdoulah@doulah.com) | | |
| Corporate and M&A | Nasirud Doulah (ndoulah@doulah.com) | | |
| Corporate and M&A | Amina Khatoon (akhatoon@doulah.com) | | |
| Employment and labour | Amina Khatoon (akhatoon@doulah.com) | | |
| Energy and power | Nasirud Doulah (ndoulah@doulah.com) | | |
| Infrastructure and construction | Nasirud Doulah (ndoulah@doulah.com) | | |
| Intellectual property | Sohailud Doulah (sodoulah@doulah.com) | | |
| Litigation | Shamsud Doulah (sdoulah@doulah.com) | | |
| Taxation | Amina Khatoon (akhatoon@doulah.com) | | |
| Telecommunication | Nasirud Doulah (ndoulah@doulah.com) | | |
Staff Figures
Number of lawyers : 29 at this office : 26
Languages
Bengali English
Notable Cases
Doulah & Doulah  top ranked transactional capabilities supported by strong litigation team.  With market leading practice in M&A, finance, corporate, tax, employment and IP matters in industries such as infrastructure, power, energy, banking, finance. manufacturing, FDI, telecom, commercial and so on it represents world's largest businesses and works with the biggest international law firms in most of the major transactions in Bangladesh. Recent representative transactions include:
M&A
Successfully represented Capital Alliance Limited in acquiring a merchant bank
Successfully represented China Shandong Hispeed & Sinohyrdo in acquiring 49% stake in First Dhaka Elevated Expressway
Represented Zhenhua Oil in its successful bid of three gas fields in Bangladesh worth USD2billion
Successfully represented Shenzhen and Shanghai Stock Exchange in a sizeable 25% stake acquisition in Dhaka Stock Exchange for USD119m
Represented Ophir Energy in its successful bid to acquire Santos Exploration assets followed by its merger with Medco
Represented Cementos Molins, the common shareholder, in the Lafarge and Holcim merger in Bangladesh
Finance:
Successfully represented China Exim Bank in its project financing in  USD2.4billion Patuakhali 2×662 MW thermal plant
Successfully represented Export Development Canada in financing US Bangla acquisition of two new ATR aircrafts
Acted for ICD of Islamic Development Bank in its USD30m Islamic line to a bank in 2021
Have been acting for China Development Bank as lender's counsel in its financing of a toll road project in Bangladesh
Acted for European Investment Bank in its financing of Dhaka Water Supply Development Project
Power & Energy
Successfully acted as International Finance Corporation (IFC) & Excelerate Energy local counsel for project development and financing of Maheshkhali LNG Terminal
Represented Zhenhua Oil in its successful bid to acquire three gas fields in Bangladesh worth USD2billion
Have been acting for General Electric in developing a 1250MW LNG fuelled Power Plant in collaboration to Bangladesh Power Development Board
Acting for Tecnosteam Energy in its development of three gas compression station under finance from Asian Development Bank
Acting for Scatec Solar in its development of a 50MW solar power plant under negotiation for IFC financing
Acted for all of the latest gas exploration PSC contract awardees including ONGC, OIL, POSCO and Daewoo
Acted for China National Petroleum Corporation for the deep-sea single-point mooring with double pipe line for the state-run Eastern Refineries Ltd
Acted for Sinosure in legal due diligence and risk assessment of most of the coal based thermal plants in Bangladesh
Other Infrastructure
Acted in preliminary feasibility study of Chinese Economic Zone at Anwara in collaboration to PricewaterhouseCoopers (PWC)
Acted in preliminary due diligence for a prospective lender for financing China-Bangladesh Iron & Steel Production Zone
Have been advising Samsung in Dhaka Airport Third Terminal Construction Project
Acted for Jan De Nul in its development of Paira Port Project Dredging on PPP basis under collaboration with Paira Port Authority
Have been advising China State Construction & Engineering Corporation in its participation in a PPP toll road project
Acted for IHI Corporation in construction of second Kanchpur / Meghna / Gumti Bridges
Acted for Kerryong in its construction of South Asia Subregional Economic Cooperation Road being financed by ADB
Diversity
Aligned with UN's Sustainable Development Goals the firm offers an equal opportunity work environment and ecosystem and ensures appreciation and respect of differences in race and ethnicity irrespective of gender and sexual orientation, religious affiliation, age and physical capabilities.
The firm, in addition to providing legal services to various national and international corporate clients, actively encourages and supports its members in providing pro-bono advice and representation in public interest and human rights cases.