Firm Profile > Duane Morris & Selvam LLP > Singapore, Singapore
Duane Morris & Selvam LLP
Offices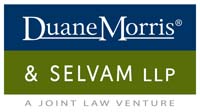 Duane Morris & Selvam LLP
16 COLLYER QUAY #17-00
SINGAPORE 049318
Singapore
Duane Morris & Selvam LLP > The Legal 500
Rankings
Duane Morris & Selvam LLP
is rated for Southeast Asia projects, most notably Myanmar engagements. Much of the practice centres on oil and gas, LNG, and power projects with special counsel
Priyank Srivastava
 splitting his time between Singapore and Yangon, Myanmar.
Practice head(s):
Leon Yee; Krishna Ramachandra
Key clients
AG Resources Myanmar Co. Ltd
Icerberg Holdings Pte Ltd
Ponna International Pte Ltd
Young Investment Group
OIL India Limited
Ayeyar Hinthar Holdings
ONGC Videsh Limited
Sembcorp Utilities Pte Ltd
According to one client, Duane Morris & Selvam LLP is a 'top-notch legal firm with great depth of understanding of the underlying business of the clients'. Led by Krishna Ramachandra, who is 'among the leading experts in both blockchain and TMT', the practice has a strong focus on fintech and blockchain technology, while also handling acquisitions, media regulations, licensing and data protection.  
Testimonials
'Duane Morris & Selvam is a top-notch legal firm with great depth of understanding of the underlying business of the clients. Using this domain expertise coupled with a very analytical and judicious approach to provide the legal advice stands the firm head and shoulders above the other firms in Singapore.'
'The team at Duane Morris & Selvam comprises of individuals with a clear vision to provide out-of-the-box advice and tailor-made client solutions.  Krishna Ramachandra and his team are amazing in their ability to deeply grasp the issues and provide advice on the legal approach.'
'Krishna Ramachandra is among the leading experts worldwide in both Blockchain and TMT. Additionally, he has successfully built Duane Morris Selvam's franchise throughout ASEAN region with key local operations and partners in each key market, including newly open markets such as Myanmar and Cambodia.'
Key clients
Digital Alpha Group Pte Ltd
Circles Asia Pte Ltd
Nogle Limited
Vigilant Assets
Mindtree Limited
Nanolumi Pte Ltd
Happy Ribbon Limited
Duane Morris & Selvam LLP is primarily recognised for its record in India IPOs, qualified institutional placements (QIPs) and debt offerings. The firm is also noted for Indonesia debt issuances and has a growing record in Myanmar listings. It has extensive connections to investment banks, particularly those that are part of the India capital markets segment. Jamie Benson heads the firm's US securities and India practices. Gerard Hekker is key for Indonesia capital markets transactions.
Practice head(s):
Jamie Benson; Gerard Hekker
Key clients
The President of India
Edelweiss Financial Services
Kotak Mahindra Capital
Citigroup Global Markets India
ICICI Securities
SBI Capital Markets
Duane Morris & Selvam LLP has a strong presence in Southeast Asia and has a sizeable corporate team in Singapore. The firm has a solid record in technology, telecoms, energy, oil and gas, among other key sectors. It is also making a further impression in private equity transactions. Krishna Ramachandra heads the corporate, fintech and TMT practice groups. Leon Yee, Ramiro Rodriguez, Mark Wong and Gerard Hekker are also key names.
Testimonials
'The firm is very commercial minded, delivers excellent response times and client handling skills, and is able to understand and spot issues well.'
'Mark Wong is excellent in what he does and has greatly helped us in our transactions.'
Key clients
Dymon Asia
Red Dot Energy
PetroChina International
Oil India
Korea Development Bank
Platinum Equity Advisors International
Duane Morris & Selvam LLP has a strong regional profile with expertise in a wide range of cross-border transactions, along with Singapore public M&A and takeovers, and a growing number of private equity deals. The team has an impressive mix of those with Singapore law and other international law backgrounds. It has weighty experience in energy and infrastructure deals and a growing number of technology and fintech engagements. Krishna Ramachandra heads the team and Leon Yee leads the China practice group that has developed numerous Chinese clients. Mark Wong is also noted for China investments into Southeast Asia.
Key clients
Dymon Asia
Pacific Star Development
Red Dot Energy
PetroChina International
Oil India
Platinum Equity Advisors International
Duane Morris & Selvam LLP handles a range of M&A transactions, namely inbound investment, and provides advice across the full array of capital markets matters, including qualified institutional placements (QIPs) and Rule 144A/Regulation S equity offerings. The practice also offers representation in relation to international and local disputes, demonstrating experience acting for parties in arbitration proceeding involving Indian entities. Jointly leading the group are Singapore-based Jamie Benson, whose areas of expertise include international equity and debt offerings, and Priyank Srivastava, who splits his time between Singapore and Yangon, and focuses on the power sector and oil and gas/LNG matters.
Practice head(s):
Jamie Benson; Priyank Srivastava
Key clients
The President of India
JM Financial Limited (formerly JM Financial Institutional Securities Limited)
Edelweiss Financial Services Limited
Goldman Sachs (India) Private Limited
Kotak Mahindra Capital Company Limited
Citigroup Global Markets India Private Limited
ICICI Securities Limited
HDFC Bank
SBI Capital Markets Limited
Centrum Capital Limited
Bajaj Finance Limited
IIFL Holdings Limited
Axis Capital Limited
Nomura Capital (India) Pte Ltd
Duane Morris & Selvam LLP >
Firm Profile
The Firm: Duane Morris & Selvam LLP is a Singapore-based strategic joint venture law firm, consisting of Philadelphia-based Duane Morris LLP and Singapore-based Selvam LLC. The firm serves clients throughout Asia and foreign companies conducting business in Asia and beyond. In Asia, the firm has offices in Singapore, Shanghai, Vietnam, Myanmar and Taiwan, as well as country-specific practice groups for China, India, Japan, Korea, Indonesia and Sri Lanka. Together, the firm has over 800 lawyers in 29 offices across the United States, Europe, the Middle East and Asia.
Main Areas of Practice
Corporate/M&A: Corporate lawyers advise early-stage and mature companies on a wide variety of corporate and commercial matters from planning and structuring to negotiating, documenting and implementing the transaction. They are involved in large and high-profile M&A transactions in Singapore and throughout the region.
Banking and Finance: The firm offers experienced and comprehensive business and legal guidance for clients and support them with complex transactions and financings such as cross-border syndicated lending, leveraged and acquisition finance,  debt restructuring, real estate financing, project financing, mezzanine financing, divestments, hive-offs and spin-offs.
Capital Markets: Lawyers provide a comprehensive range of services to assist clients in listings and issues, from the initial restructuring of companies to seeking relevant approvals from the Singapore Stock Exchange and the Monetary Authority of Singapore. They have handled a range of complex transactions and have significant experience representing issuers, underwriters, placement agents, investment banks and investors in public and private offerings.
International Arbitration/Dispute Resolution/Mediation: The Singapore law entity, Selvam LLC, handles all Singapore Law dispute matters including corporate, banking and commercial disputes, insolvency, construction disputes, defamation suits, employment disputes, and some criminal and family law matters.
Selvam LLC's disputes practice also offers clients a broad range of assistance in mediation and both domestic and international arbitration matters. Its experienced arbitration team handles arbitration matters at SIAC, ICC, LCIA and UNCITRAL.
TMT: The TMT practice comprises a team of dedicated tech-savvy lawyers who act on international matters throughout South and Southeast Asia. Armed with vast industry-specific practice knowledge, they are well equipped to address the intricacies involved in navigating the challenging TMT landscape in an integrated, strategic and efficient manner. The team is experienced in complementary legal disciplines including corporate organisation, funding and financial transactions, data protection, IP, employment, international trade as well as administration and regulatory advice.
Projects, Energy & Infrastructure: The firm has advised multinational corporations, national energy regulators and government-owned utilities across Asia on a broad range of energy and infrastructure projects. Having worked on many significant and major international energy and infrastructure projects, the firm has considerable experience in providing legal support and advice to clients from the pre-feasibility and planning stages, through public tender, licensing, start-up and implementation, as well as the operational stages.
Staff Figures
Number of lawyers in Singapore : 35 Number of lawyers in global network : 800+
Languages
Bahasa Indonesia Burmese English German Gujarati Hindi Japanese Korean Malay Mandarin Portuguese Punjabi Spanish Vietnamese
Memberships
Multilaw British Chamber of Commerce SICC Singapore International Chamber of Commerce
Client Testimonials

COMPANY/FIRM: Exponential Hub Co., Ltd.
TESTIMONIAL: For Priyank Srivastava and Duane Morris & Selvam LLP, Corporate and Regulatory
On behalf of Exponential Hub Co., Ltd, I've had the pleasure of having Priyank Srivastava, represent and advise us on various commercial issues with active participation in the discussions about contractual documentation in connection with our venture with an international technology company. We can recommend Duane Morris & Selvam without reservation. Duane Morris & Selvam provided us with an amazing, valuable resource and experience. I have nothing but good things to say about our experience with the firm.
---
CLIENT: Bernard Tan
COMPANY/FIRM: AG Myanmar Water Company Limited (A JV involving stakeholders from Malaysia/Hong Kong and Myanmar)
TESTIMONIAL: For Priyank Srivastava and Duane Morris & Selvam LLP, Projects
We engaged Priyank since the beginning of this year. His level of professionalism, agility, all rounding commercial wisdom guided us to be able to simplify and focus on the core issues in each phase of development in our projects amidst the complexity of today's business environment. With Priyank / Duane Morris & Selvam's backing, we have strong confidence to outperform in our trade.
---
COMPANY/FIRM: ONGC Videsh Ltd Delhi
TESTIMONIAL: For Priyank Srivastava and Duane Morris & Selvam LLP
We have known Priyank for almost a decade now. We have seen him handle Energy, Oil & Gas matters and a large variety of corporate matters with the highest degree of professionalism.  Priyank is an excellent lawyer and carries a wide scope of commercial sense, wisdom and experience. Lawyers working in the oil & gas sector require both legal regulatory as well as industry experience, and Priyank is one of the rare professional lawyers, having the combination of both. Duane Morris & Selvam has great resources and we highly recommend them.
---
CLIENT: Sim Eng Tong, Chief Executive Officer
COMPANY/FIRM: Biomax Holdings Pte Ltd
TESTIMONIAL: Mr Sarbjit Singh Chopra
I was recommended to Mr Sarbjit Singh of Selvam LLC after using two other law firms. I am very satisfied with his and his team's services. He is understanding and caring and I am very thankful for the emotional support he showed me when I was under tremendous stress. He took care of my worries as if they were his own. I am very grateful for his assistance.
For Ms Ho May Kim
 I strongly recommend Ms Ho May Kim to others. She advised me on various legal suits in the High Court and Court of Appeal of Singapore over the past few years relating to commercial disputes. She is tenacious with a lot of attention to detail, fair minded and gives her honest and balanced opinion to clients. When the need arises, she is highly effective in securing a settlement for the parties.
---
CLIENT: Jasbir Dhillon QC
COMPANY/FIRM: Brick Court Chambers, London, England
TESTIMONIAL: For Ho May Kim and Selvam LLC Dispute Resolution Team
May Kim instructed me to appear in a 5 day complex international arbitration hearing conducted in Singapore under SIAC Rules. I was very impressed with Ms. Ho's ability to swiftly and efficiently get to the heart of this complex case. Her drafting of the relevant correspondence, management of the logistics of the hearing, and advice and guidance with respect to the issues of Singapore law and the international arbitrators were outstanding. I have no hesitation in recommending the retention of Ms. Ho and Selvam for any international arbitration based in Singapore or governed by Singapore law.
---
CLIENT: Ung Tze Yang, Chief Legal Counsel
COMPANY/FIRM: PetroChina International (Singapore)
TESTIMONIAL: For Mark Wong
My team and I have had the great pleasure of working with Mark. He is a top tier lawyer; being extremely professional and competent with many years of excellent experience in M&A deals. He provided us with superb and practical advice on our energy downstream transactions. Mark has also demonstrated a great understanding of the demands of clients and has proven to be flexible yet effective in delivering commercially oriented solutions where required. I fully recommend Mark for his outstanding specialist skills in M&A energy work.
---
CLIENT: Joshua Teh, Head of Legal & Compliance (Global)
COMPANY/FIRM: SciGen Pte. Ltd. (formerly known as SciGen Ltd)
TESTIMONIAL: For Mark Wong
Mark advises and handles most of the complex legal commercial transactions for my current and previous companies. He is intelligent, responsible, and resourceful. He understands the client's requirements very thoroughly and has consistently executed his role with efficiency and excellence, even in difficult situations. He displays strong understanding of the law and industry in jurisdictions which he is assigned. Mark exudes outstanding confidence and a sense of calm that helps those around him keep their cool even under great pressure. He can be trusted to be highly pro-active in any situation, ensuring that all stakeholders' interests are protected. Mark has always been able to turn around work even under tight deadlines, whilst displaying great skill and ability. It has been a great privilege to work with Mark. Thus far, the best attorney I've ever had.
---
CLIENT: Garry Taylor, Managing Director
COMPANY/FIRM: Paramindo Singapore Ltd
TESTIMONIAL: For Ho May Kim and Selvam Team, Arbitration
I recently instructed Ho May Kim regarding a substantial contractual dispute. May Kim's ability to identify the key issues at stake focused the evidence, research and submissions, while her experience and attention to detail resulted in a very solid defence and rebuttal. Further, May Kim's clear and measured cross-examination drew out important facts. I have no hesitation in recommending May Kim.
---
TESTIMONIAL: For Sarbjit Singh and Selvam Team, Dispute Resolution
I recently instructed Sarbjit Singh regarding a substantial contractual dispute. Sarbjit brought extensive experience to bear throughout the entire arbitral process which helped clarify several complex issues. Sarbjit's extremely detailed preparation for the hearings was highly impressive as was the Selvam teamwork and coordination demonstrated during Sarbjit's cross-examinations. I have no hesitation in recommending Sarbjit.
Diversity/Community
Diversity & Inclusion
Duane Morris & Selvam is committed to being a law firm that includes people of diverse backgrounds and fully utilizes their talents to provide legal services of the highest quality. The firm will employ effective methods of recruitment of diverse persons, and we will support the success and advancement of members of diverse groups within the firm.
We are committed to fostering understanding, communication and respect among all people in the firm, including people of different races, religions, ages, genders, ethnic and cultural backgrounds, national origins, sexual preferences or orientations, medical conditions or disabilities, and marital, veteran or family statuses. The firm believes it should capitalize on the strength emanating from these differences. Drawing on the talents of all of the firm's personnel helps to create an optimum workplace, one which can attract and retain diverse personnel and clients, allowing it to enter and serve varying markets and approach services to its clients more creatively. Duane Morris & Selvam has the ability to meet these challenges and recognizes the beneficial impact a successful diversity program will have on firm morale, productivity, strategies and success.
Pro Bono
Duane Morris & Selvam believes in equal justice for all. Through our pro bono program, our firm attorneys and non-attorney personnel make use of their knowledge and expertise to assist individuals, non-profit legal service providers, community economic development organizations and all other charitable organizations that work to address unmet legal, civil, economic, health, shelter and societal needs. We aim to bring about positive change for people who are disadvantaged.
One such initiative is for the All Saints Home, a group of elderly care centers across Singapore, which provide support to underprivileged senior citizens. Our attorneys assisted elderly residents to execute a lasting power of attorney so that those close to them may make crucial decisions on their behalf in the event that they are incapacitated. The firm is also involved in a program committed to support underprivileged families by making a real difference to the babies' start in life by providing infant formula and diapers to ensure they get the nutrition and hygiene needed for them to thrive.
Top Tier Firm Rankings
Top Tier Firm Rankings
Firm Rankings
Firm Rankings