Firm Profile > Charles Russell Speechlys LLP > London, England
Charles Russell Speechlys LLP
Offices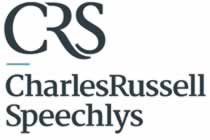 Charles Russell Speechlys LLP
5 FLEET PLACE
LONDON
EC4M 7RD
England
Charles Russell Speechlys LLP > The Legal 500
Rankings
Charles Russell Speechlys LLP >
Firm Profile
Charles Russell Speechlys is known as a leading adviser within the world of dynamic, privately owned businesses and among the world's leading creators and owners of private wealth and their families. Major corporates and institutions find the firm's more considered and personal approach a refreshing alternative to larger, conventional business law firms.
Charles Russell Speechlys is a law firm headquartered in London with offices in the UK, Europe, the Middle East and Hong Kong.
The firm: The firm is focused on securing the growth of its clients. With an unusually broad range of skills and experience across the full spectrum of business and personal needs, the firm has a wide perspective, clear insight and a strongly commercial long-term view.
Types of work undertaken
Banking and finance: focusing on borrower work in all sectors, particularly real estate finance and projects, bank lender work in the Middle East and elsewhere, and non-bank lender work, including mezzanine finance, corporate finance support, and structured finance.
Commercial: focusing on complex work from corporate organisations requiring regular commercial contracting support, including compliance and corporate risk, EU, competition and trade, IP transactions, and licensing and outsourcing.
Commercial dispute resolution: undertaking all types of litigation, arbitration and mediation both in the UK and internationally, and has particular expertise in commercial disputes, corporate recovery and insolvency, judicial review and fraud.
Construction, engineering and projects: focusing on commercial clients across a wide range of business sectors, but with a particular emphasis on real estate developers, property investment companies, contractors, and major engineering consultancies. The firm also advises high-net-worth individuals when undertaking high-value residential construction projects.
Corporate: advising on a wide range of issues, including flotations, mergers and acquisitions, joint ventures, private equity and venture capital financings. Specialist teams provide advice on all types of commercial contracts and outsourcing arrangements and have particular expertise in data protection issues, competition matters and tax.
Corporate recovery and insolvency: undertaking both contentious and transactional work for insolvency practitioners, often with an international component.
Employment, pensions and immigration: providing corporate clients with strategic insights and practical solutions for all their employment, pensions and immigration issues as well as advising senior individuals on a personal basis.
Family: advising individuals and intermediaries on matters concerning family breakdown, children and relationship agreements.
Financial services and tax: assisting clients with their everyday regulatory and legal issues, as well as focusing on advising on transactional and strategic matters.
Healthcare: providing a comprehensive range of transactional, regulatory and advisory expertise to deliver an integrated service to clients in the social care, primary care, dental and veterinary sectors.
Intellectual property: advising on all types of contentious and non-contentious work, including copyright, patents, trade marks, registered designs, database rights, passing off and confidential information.
Private property: working with international banks, private investment companies, and private individuals from the UK and overseas, advising on UK and international investment property transactions.
Property litigation: advising major institutional land and estate-owning clients, in particular in London, the South East, and the South West and for property insolvency-related work.
Real estate: advising on every aspect of commercial property, including the structuring and financing of property transactions, planning a development, advising on landlord/tenant issues or managing a property portfolio.
Tax, trusts and succession: advising individuals, trustees, beneficiaries, entrepreneurs and landowners on the establishment and management of trusts and on the tax implications associated with the establishment and running of the structure.
Other offices: Doha, Dubai, Geneva, Hong Kong, Luxembourg, Manama, Paris, Zurich.
Main Contacts
| Department | Name | Email | Telephone |
| --- | --- | --- | --- |
| Senior Partner | Christopher Page | | |
| Managing Partner | Simon Ridpath | | |
| Charities and not-for-profit | Sarah Rowley | | |
| Construction and infrastructure | David Savage | | |
| Financial services | Jon Bond | | |
| Healthcare | Michael Lingens | | |
| Healthcare | Noel Wardle | | |
| Private wealth | Piers Master | | |
| Real Estate | Simon Ewing | | |
| Retail and leisure | Edward Craig | | |
| Sport | Jason Saiban | | |
| TMT | Mark Bailey | | |
| TMT | Mark Howard | | |
| Commercial dispute resolution | Stewart Hey | | |
| Corporate | Malcolm MacDougall | | |
| Corporate restructuring and insolvency | James Hyne | | |
| Employment, pensions and immigration | Nick Hurley | | |
| Family | Sarah Higgins | | |
| Intellectual property | Mary Bagnall | | |
| Cheltenham | Richard Norton | | |
| Doha | Simon Green | | |
| Dubai | Simon Green | | |
| Geneva | Michael Wells-Greco | | |
| Guildford | Duncan Elson | | |
| Hong Kong | Tom Shaw | | |
| Luxembourg | David Louis | | |
| Manama | Patrick Gearon | | |
| Paris | Frederic Jeannin | | |
| Zurich | Mark Summers | | |
Staff Figures
Number of UK partners : 145 Total UK fee earners : 510
Client Testimonials
CLIENT: Geoff Carton-Kelly, Partner
COMPANY/FIRM: FRP Advisory
TESTIMONIAL: "A brilliant legal team with an unshakeable focus and total command of the complex subject matter. They are willing to make personal sacrifices and remain good-humoured, even under huge pressure during the trial, where their clear strategy, adaptability and impressive co-ordination delivered a masterclass."
---
CLIENT: Alan Shearer CBE
TESTIMONIAL: "The team at Charles Russell Speechlys provided me with outstanding legal advice and have shown real professionalism and integrity throughout the dealings I have had with them."
---
CLIENT: Richard Cherry, Group Deputy Chairman
COMPANY/FIRM: Countryside Properties
TESTIMONIAL: "Our relationship with Charles Russell Speechlys goes back many years, spanning each of the defining steps in our corporate history. The team is able to deploy experts across the full range of disciplines required for the deal. Their commercially based advice, strong sense of commitment to us and to the achievement of the transaction made them once again much valued members of our team."
---
CLIENT: Mahesh Patel, CEO
COMPANY/FIRM: Minster Care Group
TESTIMONIAL: "Having advised the family for nearly 30 years on business and personal matters, the team at Charles Russell Speechlys was perfectly placed to support us in this innovative transaction which allowed some family members to exit, and others to remain involved, in the business which will now be backed by a publicly-traded real estate investor".
---
CLIENT: Kelly Fairweather, Chief Operating Officer
COMPANY/FIRM: International Tennis Federation
TESTIMONIAL: "We were delighted to have the Charles Russell Speechlys team on side, whose sport sector expertise, multi-disciplinary service, global footprint and combined unique regulatory and commercial insight were vital to completing the deal."
---
Diversity
At Charles Russell Speechlys, we believe in creating equal opportunities for everyone. Not only do we want to attract and keep the best talent, we want to create a culture and workplace that allows individuals to thrive irrespective of gender, sexual orientation, gender identity, marital or civil partnership status, nationality, colour, race, ethnic or national origin, religion or belief, age, disability, or background. By working with people from different backgrounds or with different experiences, we get a different perspective and that helps us to think more broadly, question more and share our skills, knowledge, and experience as part of a collective intelligence.
We believe that creating a diverse and inclusive workplace allows our people to be the best they can be, and do the best for our clients who can expect a firm that understands their needs and delivers advice that considers their commercial and personal needs.
Firm networks
Our Diversity Partner Emma Bartlett is supported by a full time Diversity & Inclusion Manager and four active employee networks. The networks focus on events and initiatives to promote and raise awareness relating to their specific area but also in collaboration across the networks. The networks are also involved in firm projects and assist with reviewing policies and procedures to ensure they are inclusive.
Our networks are:
· CAPability (Collaborating And Promoting ability)
· Gender
· LGBTQ+
· Religion, Belief and Ethnicity
Within the CAPability network, there is a Carers Group and a strong focus on mental health. Age-related initiatives fall within the remit of all networks.
The network initiatives vary from year to year, but achievements and milestones so far include an increase of 98 places on the Stonewall Equality Index, training of over 60+ mental health champions and 10 mental health first aiders, launch of a #ThisIsMe video with seven representatives at the firm talking about their experience of mental health issues, formal multi-faith rooms introduced, employability events, launch of a transgender policy and gender neutral toilets available in all UK offices, and the launch of a new mentoring scheme.
Diversity & Inclusion programmes
We are committed to further developing our Diversity & Inclusion Strategy and identify key, longer term, programmes to help us achieve that. For example, our Achieving Balance initiative aims improve the gender balance at Partnership level and in leadership roles across the firm, while our social mobility programme aims to extend and develop our engagement with individuals from disadvantaged backgrounds to increase their employability and to further improve the diversity of our employees.
For more information regarding our initiatives, or vacancies, please check our website, www.charlesrussellspeechlys.com
The Lex 100 Verdict
A 'prestigious firm with a human side', Charles Russell Speechlys offers a 'unique mix of private client and commercial work'. The London-headquartered firm also has offices in Cheltenham and Guildford and is a 'market leader in sports, media and technology law'. Trainees are 'really valued' and 'encouraged to take on responsibility' by 'partners who do what they can to help you get the most out of your training contract'. Indeed, colleagues will 'usually find time to go through work you've done and advise how you can improve'. There is a 'good work/life balance in most departments' thanks to a 'positive approach to a life outside of work'. All this without compromising at all on high-quality work, 'often with an international element'. Client secondments are also on offer; one trainee particularly enjoyed their time at ITV, where they were 'exposed to interesting work across a variety of disciplines' and even 'managed to spot a few celebs'. Some respondents reported 'a bit of a divide between the regional offices and London'. Others pointed to the fact that there are 'limited training seats in some of the areas which are strongly marketed by the firm'. 'Working long hours on a deal which then fell through' was lamented, whilst 'signing the wrong part of a document and the client having to come back in to re-sign' was embarrassing. Proud moments included 'realising I was the team's go-to on a specific technical area of law which I had researched' and 'meeting counsel on my own and attending a hearing'. For a friendly firm with a 'breadth of practice areas' where everyone 'wants you to succeed', consider Charles Russell Speechlys.
Top Tier Firm Rankings
Firm Rankings