Charles Russell Speechlys LLP > Cheltenham, England > Firm Profile
Charles Russell Speechlys LLP
Offices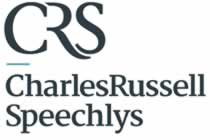 Charles Russell Speechlys LLP
COMPASS HOUSE
LYPIATT ROAD
CHELTENHAM
GL50 2QJ
England
Charles Russell Speechlys LLP > The Legal 500
Rankings
Charles Russell Speechlys LLP's Cheltenham offices house 'collaborative, commercial and responsive' lawyers with substantial expertise in capital markets transactions, as well as high-value M&A. The team advises an impressive UK and multinational client base on deals locally and abroad. The department is led by Richard Norton, who has a strong track record in listings and take-overs, as well as leading on matters involving the Middle East. Adrian Mayer is an M&A specialist, frequently instructed to advise private equity funds that focus on Africa; he is often supported by legal director Edward Robinson. Jonathan Morley is another accomplished corporate transactional lawyer, whom clients rate as 'outstanding'.
Charles Russell Speechlys LLP's 'excellent ' litigation practice offers 'a first-class service' to its roster of national and international clients. In addition to a range of corporate and commercial disputes, it is particularly well-known for handling contentious insurance matters, product liability and recall disputes and financial services litigation. 'Top litigator' Manoj Vaghela leads the team and counts insurance sector litigation and shareholder disputes, with a focus on unfair prejudice petitions and derivative actions, among his areas of specialism. Legal director Claudine Morgan 'works absolutely tirelessly for her clients' with experience across a range of disputes including contractual, breach of warranty, professional negligence, shareholder and civil fraud issues.
With well-established connections in the South West backed up by the wider firm's network of national and international offices, Charles Russell Speechlys LLP advises clients ranging from large scale multinational employers to regional SMEs. The Cheltenham team has strong links in the retail, leisure, charities and rural business sectors, providing HR support, restructuring and TUPE transfer advice to an increasingly international client base. It also has a noteworthy contentious practice, representing employers and individuals in tribunal and High Court cases. Sara Wilson leads the team from Cheltenham, with significant experience advising corporate and healthcare employers. Syma Spanjers is also highly regarded for her experience with tribunal claims and negotiating exits for senior executives.
With a highly respected team spread across Cheltenham, London and Guildford, Charles Russell Speechlys LLP expertly handles tax, property, estate planning and agricultural law for high-value clients. Henry Fea leads the landed estates and heritage property practice, while the tenured Christopher Page head up its succession team. Tristram van Lawick offers expertise in agricultural law and advises his clients on a variety of estate management and transactional matters. Recently promoted legal director Alexander Caton is also regarded for his experience advising investors in landed estates, tax planning, and estate strategy.
Acting on behalf of a wide range of both regional and international clients, Charles Russell Speechlys LLP offers 'market-leading' experience across the full range of private wealth, trust and probate matters, with 'the depth of knowledge and skill to manage difficult situations'. Julia Cox focuses on estate and succession planning, with an emphasis on entrepreneurs, high net worth individuals, and non-UK domiciled individuals. Henry Fea, also active in the firm's agricultural department, has strong experience with trustees, private companies and foreign banks. The firm has also recently added two senior associates to bolster its probate team. The 'astute' and highly experienced Christopher Page heads up the Cheltenham-based practice. He is often supported by legal director Alexander Caton, who works with rural businesses and landed estates.
Charles Russell Speechlys LLP is considered to be an 'excellent practice with a broad range of commercial and residential property experience.' The team covers the full range of real estate matters, with special expertise in strategic land and development, specialist supported living, and property investment and management matters. The client portfolio includes corporates, individuals and investors. Ian Brothwood, who leads the group, has know-how in residential schemes. Naomi Nettleton is also well versed in the hotel sector. Nigel Morton and senior associate Julie Sharpe are also prominent practitioners.
Charles Russell Speechlys LLP
is a key firm for a number of clients active in the technology, healthcare and financial services sectors, which are seeking assistance with a range of domestic and cross-border corporate transactions. The team's international focus and multilingual capabilities have been bolstered in recent months by the arrivals of
Helen Wong
 and
James Broadhurst
; Wong leads the China team, most notably advising on healthcare M&A and inbound Chinese investment activity, while Broadhurst concentrates on ultra-high-net-worth family matters in Europe and Latin America. Practice head
David Coates
focuses on private M&A, while 
Mark Howard
handles multiple corporate transactions for TMT clients.
Acting primarily for banks and large institutions,
Charles Russell Speechlys LLP
 is regarded as a '
market-leading practice, with deep experience of dealing with litigation and investigations arising from complex fraud
'. The firm provides international presence and expertise, with a focus on investigations, asset recovery and portfolio management. As well as being known for private wealth expertise, its '
distinctive characteristic is that the team is highly collaborative and creative
'. Practice head
Stewart Hey
advises on high-value, cross-border fraud disputes and investigations across the key sectors of financial services, banking, government and energy. He can call on the talents of
Charlotte Pender
, who handles a range of complex, multijurisdictional fraud and banking matters; and
Caroline Greenwell
, who was promoted to partner in 2021 and has '
all of the skills to become one of the best client lawyers of her generation'.
Charles Russell Speechlys LLP has a first-class and 'very client-orientated' team that covers the full range of contentious and non-contentious matters from the purchase, sale and financing of art through to advising on the restitution of art work that has been looted. It is also adept at advising on issues such as the donation of art in lieu of inheritance/estate taxes and is also recommended for its work on import and export licences. Other areas of expertise include advising street artists on the protection of their artworks in addition to advising on disputes about authenticity, provenance and title matters. The team, under the joint leadership of Rudy Capildeo and Tim Maxwell, regularly advises museums and art galleries in addition to foundations, charities, philanthropists, insurance brokers and collectors and is recognised for its work with national institutions on projects of major cultural importance. Suzanne Marriott is highly regarded for her work with estates that hold significant art collections.
Charles Russell Speechlys LLP continues to lead on some of the largest and most high-profile cases domestically and offshore and routinely handles a myriad of high-value and complex disputes that often span multiple jurisdictions. Recent highlights have included successfully advising on an application (and subsequent appeal) to the High Court on novel points of law. It also frequently works on some of the largest international divorce cases where trusts are involved and on asset tracing and fraud matters. Graeme Kleiner  ('a real star') advises trustees, executors and beneficiaries on a broad range of disputes. In addition Kleiner has a growing practice in IFA disputes and handles fraud and professional negligence cases relating to trust, tax and succession matters. Duncan Elson concentrates on large and complex trusts and estate disputes. Tamasin Perkins is experienced in advising on multi-jurisdictional injunctions and claims for the recovery of assets. This is a  'team that has excellent depth and breadth from the top down'.
Charles Russell Speechlys LLP frequently acts in cases of the highest value and complexity. It has a significant international reach and head of department James Freeman ('tenacious and clever') is particularly well-known for his experience in Anglo-French cases. Miranda Fisher is recognised for her work on Anglo-Russian cases. The team also boasts particular expertise in cases involving onshore and offshore trust structures. Clients include successful business owners with substantial private businesses and family business structures. William Longrigg who 'brings gravitas and charm to any case' specialises in international divorce, financial relief matters (both pre- and post-nuptial agreements) as well as private law children cases. A number of his clients are ultra-high-net-worth individuals and members of high-profile aristocratic and international families. Sarah Anticoni is one of the leading mediators in London. Sarah Higgins is also well-regarded and has a particular focus on complex financial applications as well as complex private children applications. In addition the practice has carved out considerable expertise in surrogacy, adoption, cross-border contact arrangements for children as well as advising on the rights of trans-gender parents.
Charles Russell Speechlys LLP fields a large global private wealth team that provides an integrated service to HNW/UHNW individuals and their families, family offices, landed estates and private banks. Other key clients include trustees and wealth managers.  A significant proportion of its work is cross-border and it is noted for its expertise in dealing with the key international markets in the Middle East, the Far East, the USA and Russia. The London office in conjunction with its Guildford office advises on niche areas such as art, intellectual property, real estate and corporate. Bart Peerless, William Begley and Robert Blower are leading practitioners in this field who advise on the full array of complex lifetime tax and planning issues, offshore assets and trusts and other issues affecting landed estates. Peerless acts for some of the world's wealthiest families and advises many UK and international business people and substantial landowners. The group was pleased to be joined by Simon Weil from BDB Pitmans, who brings a wealth of experience in philanthropy.
Charles Russell Speechlys LLP is home to 'strength in depth which permits it to cover a number of different areas'. The practice runs a far-reaching caseload in terms of industries, matter types and jurisdictions, though counts sporting-related integrity, rights and marketing among its foremost fields of focus, and also fields a dedicates SportsTech practice, fronted by Jody MacDonald. Jason Saiban is a specialist in sponsorship, merchandising, advertising and market mandates, notably serving as relationship partner to Nike, and co-heads the department alongside Nic Couchman, a lawyer who has recently deployed his formidable commercial rights expertise on behalf of Manchester United footballer Marcus Rashford; their team includes corporate sports law practitioner, Satish Khandke, as well as Edward Craig who hones his focus on the contentious field with niche expertise in equine matters. Beyond partner level, senior associate Danielle Sharkey 'goes the extra mile' when advising governing bodies on litigious, regulatory and integrity matters.
Charles Russell Speechlys LLP's corporate and commercial team has expertise acting for clients in the technology, healthcare, education, sport, charity and not for profit sectors. The team combines a strong regional presence with roles on an increasing number of cross-border transactions. Helen Wong has particular expertise in supporting investment transactions from China and Hong Kong. Team head Tim Jenkins - 'an outstanding lawyer within the retail pharmacy space' - leads the firm's retail healthcare transactions team. Rebecca Burford has particular expertise in private equity transactions, fundraisings and M&A transactions in the gaming industry.
Charles Russell Speechlys LLP
's Guildford commercial dispute resolution team is led by
Stephen Burns
and
Jamie Cartwright
. The team has particular expertise in corporate disputes and commercial produce and supply disputes, with an increasing focus on professional negligence claims. It is also increasingly advising healthcare clients on warranty and indemnity claims. 
Katie Bewick
often handles work in the food and beverage, retail, financial services and healthcare sectors.
Charlotte Healy
has extensive knowledge regarding prosecutions and investigations brought by regulators and
Tom Plowman
focuses on the sports and automotive sectors.
Charles Russell Speechlys LLP's Guildford employment team has specialisms in the technology, gaming, financial services, sports, healthcare and retail sectors. The team's clients are often household names, with work spanning national and international instructions. Nick Hurley is praised as 'commercial and pragmatic' and leads the team with expertise in contentious and non-contentious employment work including handling discrimination, whistleblowing and TUPE mandates for financial services and technology clients. Ben Smith frequently acts for charities and also sits in the firm's global markets group. Andy Williams has particular expertise in advising companies on large-scale workforce matters, including reorganisations.
Charles Russell Speechlys LLP's first-rate team, which is led by James Hyne , demonstrates expertise in fraud cases and high-value insolvency litigation, transactions related to company restructurings (such as pre-pack administrations and CVAs) and advice to directors and creditors prior to formal insolvencies, among other areas. Roger Elford specialises in property insolvency matters, while senior associate Melania Constable is recommended for advice on sales and acquisitions of insolvent businesses. In addition to being a major player in the domestic market, the firm is also a first port of call in cross-border insolvencies and restructurings. Its work spans a number of industries, including retail, real estate and sport. Recent highlights included acting for an investor on the collapse of the Carlauren group of companies.
The private wealth team Charles Russell Speechlys LLP provides expert advice on contentious trusts and estates, and works alongside strong landed estates and dispute resolution teams to provide full coverage for high-net-worth individuals. Having developed strong links with offshore trust jurisdictions, practice leader Duncan Elson is widely known for his work on  complex litigation. He is supported by senior associate Samantha Ewing, who advises on complex trusts, wills, and 1975 Act claims. Additionally, senior associate Rebecca Piper covers a range of matters, including will challenges, proprietary estoppel claims, and applications to remove executors, and Edward Birrell is another key contact.
The 'stellar' Guildford-based family law department at Charles Russell Speechlys LLP is praised for 'smashing the ball out of the park' on difficult family cases, working with clients both nationally and internationally. The team has expertise in advising high-net-worth clients on complex financial cases involving assets held in trusts and pension assets, and handling work involving international child relocation and child protection issues. The team has strong capabilities in all forms of dispute resolution, and can also utilise the strengths of the firm's corporate, banking and tax teams for business-owner clients. Shona Alexander - who 'has seen and done it all before on the largest stage' and Karen Wilsher - 'the leading choice for matrimonial solicitors in Guildford' - co-head the department, and William Rollin has extensive experience in advising on financial remedies in divorce and dissolution of civil partnerships.
The Guildford-based private client team at Charles Russell Speechlys LLP is headed up by 'excellent leader' Sally Ashford, who has significant experience of Court of Protection matters. The team offers a full range of core private-client services, including tax, trust, succession planning, and additionally it advises clients nationally and globally on estate management and family office structuring. The Guildford office also houses the legacy administration team which handles contentious and non-contentious work for charities. Richard Honey has expertise in complex estate administration matters.
Charles Russell Speechlys LLP handles complex transactions within sectors including retail, leisure and hospitality, healthcare; the practice's regeneration team has recently undergone significant growth. The group, which 'comprises a superb range of highly competent individuals operating as an efficient, client focused team' advises a range of UK, international and high-net-worth individuals, as well as major corporates and charities. Ingrid Saffin leads the Guildford-based team with particular expertise in the healthcare, retail, hospitality and industrial sectors, whilst Claire Timmings has experience in advising on strategic property issues. Charlotte Major is also a strong member of the team.
The Guildford construction practice at Charles Russell Speechlys LLP  takes on instructions from a diverse range of clients, including domestic and international public sector bodies, non-profits, housebuilders, and high-net-worth individuals. In recent months, the team has advised on major international regenerations, luxury property contracts, and procurement strategies - led by practice head David Savage, a dual-qualified solicitor and barrister who specialises in Middle Eastern projects. Andrew Keeley handles construction and engineering contracts for commercial and residential developers, as well as a number of adjudications around payment disputes and contract terminations.  Chi Mount  is noted for her data centre development focus, and for her work alongside the firm's real estate and banking teams on the construction aspects of various transactions and financings.
Charles Russell Speechlys LLP
's practice is jointly led by nationally-renowned property insolvency specialist
Peter Levaggi
and
David Haines
. It has a first-rate reputation handling high-value and high-profile disputes for numerous blue-chip corporate and leading regional entities. The team's varied portfolio of work includes tenant default matters, dilapidation claims and insolvency matters. In addition, it is increasingly active in property finance disputes, with Levaggi undertaking work in this space. Senior associate
Joe Edwards
 focuses on a range of contentious property securities and tax matters. In addition to his CPO work, Haines manages a litany of instructions related to commercial landlord and tenant relations, as well as leasehold enfranchisement. Senior associates
Richard Flenley 
and
Natalie Deuchar
are also names to note. All named lawyers are based in Guildford.
Charles Russell Speechlys LLP provides a 'mixture of reliability, depth of support and willingness to take commercial and practical decisions at the right times.'  The team advises banks, private equity funds and hedge funds on a variety of transactions, and also assists its clients in regulatory obligations and investigations. Practice head Richard Norton focuses on loan facilities and security.
The Cheltenham-based team at Charles Russell Speechlys LLP leverages the firm's market-leading experience across the private client spectrum to benefit its wide range of charities clients. It has particular expertise working with educational, military and religious charities, advising them on property, employment, tax, banking and other matters. The team also has a notable focus on establishing corporate charitable foundations. This area is led by Christopher Page, who co-leads the team alongside Ian Brothwood, Julia Cox and Mike Scott. Penelope Byatt is also notable for her governance expertise.
Charles Russell Speechlys LLP's team of specialist commercial contract practitioners has notable expertise in the sport, retail and TMT sectors, acting for a client base which encompasses start-ups and major corporates; key examples include Nike, Caffe Nero and Wagamama. The group also leverages its global network to assist clients with cross-border mandates; Mark Hill operates from the firm's Dubai office. Key individuals in the practice include Jason Saiban, who leads the sport, retail and tech group; commercial group head Mark Bailey, and Megan Paul, who specialises in outsourcing transactions.
Charles Russell Speechlys LLP's 'top-class dispute resolution practice' specialises in complex cross-border and high-value corporate and commercial disputes. The team acts for a wide range of high-profile clients, including private banks, major corporates and foreign governments. Its recent cases included disputes in the technology, telecoms, sport, financial services, mining, energy, aviation and retail industries. Stewart Hey heads up the highly regarded commercial dispute resolution group, which also includes seasoned litigator Edward Craig; the latter practitioner undertakes a wide range of commercial disputes, including matters involving allegations of professional negligence. Rhys Novak's experience includes cases related to fraud, anti-bribery and financial services claims. Also key to the practice are Charlotte Pender and legal director Max Davis, as well as senior associates Lucy Wicksteed, Katy Ackroyd and Stephanie Bonnello. In May 2021, Caroline Greenwell made partner.
Charles Russell Speechlys LLP's immigration team works with a number of well-known corporates, while also advising international clients from as far afield as Russia, China and the Middle East, drawing on the firm's significant international footprint. The team is part of the wider employment, pensions and immigration group, and also regularly collaborates with the firm's corporate team, advising on the immigration aspects of M&A deals. Practice head Rose Carey 'always thinks from the client's point of view'; she works alongside fellow partner Kelvin Tanner, who joined from specialist immigration firm Fragomen in mid-2019.
Bart Peerless and Henry Fea co-head the department at Charles Russell Speechlys LLP that primarily focuses on estate strategy, specialist tax and trust matters and is adept at handling intergenerational succession issues in addition to land sales and trasnfers. Through its offices in London, Cheltenham and Guildford the department is well-equipped to deal extensively with UNHW families and their businesses. The group advises on a myriad of issues from the protection of intellectual property matters through to issues surrounding art collections and heritage property as well as supporting clients when there are legal disputes. The team is well-regarded too for its work with international investors when they acquire estates and on their ongoing management. Robert Blower is recognised for his work with many well-known estate owning families  and routinely advises on estate, tax and succession issues. 
The 'extremely knowledgeable' Sarah Rowley heads the group at Charles Russell Speechlys LLP that continues to represent high-profile national and international charities as well as historic educational institutions, ecclesiastical bodies and military charities. Its advice covers a wide spectrum of matters from the regulatory aspects of charity law and dealing with the Charity Commission through to advising on fundraising, data protection, mergers and acquisitions as well as other issues such as real estate and employment matters. The skilled team is adept too at helping its high-net-worth, family office and corporate clients in the establishment of corporate charitable foundations. Through its Guildford office it routinely helps charities with legacy management issues on both contentious and non-contentious probate matters. The team was bolstered by the addition of Simon Weil from BDB Pitmans.
Charles Russell Speechlys LLP has a full service Court of Protection team that covers a wide geographical area and is an integral part of its wider private wealth offering. It is a large practice that handles multi-jurisdictional disputes. Work undertaken includes advising on issues of fraud and restitution through to managing large estates with global asset portfolios.  Suzanne Marriott is a member of the Solicitors for the Elderly and also the STEP special interest group on mental capacity (as is Sally Ashford ). Marriott regularly acts as the independent deputy for property and affairs and health and welfare.
Sarah Anticoni at Charles Russell Speechlys LLP has a first-rate mediation practice. She has a particular emphasis on mediating on complex financial claims in the aftermath of divorce together with helping with the future arrangements for children. Clients are predominantly wealthy. As an IAFL fellow she also specialises in cases dealing with the recognition and dissolution of religious marriages. She is a trained collaborative lawyer too. Sarah Higgins is well-regarded also.
The multi-disciplinary healthcare team at Charles Russell Speechlys LLP advises on a range of regulatory and transactional matters for healthcare operators and professionals as well as investors.  Its experience ranges from M&A, real estate to corporate healthcare reorganisations, spanning areas including retirement homes and healthtech.  The practice is led by  Michael Lingens , while Tim Jenkins is particularly experienced advising on corporate and commercial matters for family-owned businesses and pharmacies. In May 2020 the team brought in Helen Wong from Clifford Chance LLP; in September 2021, healthcare regulatory team head Noel Wardle left to join Temple Bright LLP in Bristol.
Charles Russell Speechlys LLP's 'very strong and able' team covers the gamut of residential and commercial property litigation, including leasehold enfranchisement, with its expertise in the residential space strengthened by close cooperation with the private client department. Landlord and tenant disputes, alongside contentious matters arising from developments and property portfolios, including rent arrears, service charge disputes and dilapidations matters, are regular drivers of activity. 'Star' Emma Humphreys is a key contact for these segments and also handles Electronic Telecommunications Code issues for landowners and infrastructure providers. David Haines leads the team; other core members include the 'vastly experienced' Robert Highmore, whose real estate litigation expertise extends to property-related professional negligence cases. This broad offering attracts an equally broad client base, including institutional investors, developers, commercial occupiers and ultra-high-net-worth individuals. The firm partnered with the Carbon Trust to independently verify its carbon emissions, waste and water usage, as part of its mission to achieve net zero carbon emissions.
Charles Russell Speechlys LLP's ability to tap into its international network of offices, and its team's experience of acting for non-UK domiciled clients, enables it to attract a strong flow of work from inbound investors. In addition, the firm also generates mandates from financiers, developers, property agents, land agents and trustees. Led by practice head William Marriot, the group stands out for its involvement in transactions in prime property markets in London, the home counties of the South of England, and large country estates and farms. Rural properties are a core area of expertise for Tristram van Lawick, who leads the landed estate management team, and is ably supported by Christian Massey. Thomas Moran has a first-rate reputation in the prime central London market.
Charles Russell Speechlys LLP's team excels in terms of advising clients on all aspects of data centre projects. It is also well-regarded for its role in IT outsourcing and M&A transactions, in addition to its wealth of experience in the fintech sector, where it assists clients with the development of new payments technology and e-commerce platforms. 'Able negotiator' Mark Bailey specialises in IT contracting, data centre operation and cloud computing. Megan Paul, who co-heads the practice alongside Mark, handles commercial agreements and corporate transactions in the technology sector. Senior associate Caroline Young is noted for her role in major digital transformation projects, where she assists clients with technology and procurement arrangements. Associate Chris Ingram is another standout practitioner, with a particular focus on drafting commercial contracts for TMT companies.
Charles Russell Speechlys LLP's 'proactive and creative' media and entertainment group has particular expertise in the film and TV, advertising and marketing, and gaming and interactive content industries. The practice is led by commercial contracts specialist Jason Saiban, who is experienced in handling advertising and marketing matters, particularly for sports, retail and leisure sector brands. The practice leverages its international reach to handle cross-border matters, particularly in the Middle East. Also notable is that it benefits from the experience of the firm's competition, corporate, data privacy, regulatory and litigation practice groups. Jaclyn Wilkins left to join Comcast.
Charles Russell Speechlys LLP focuses primarily on pursuing debt recovery claims on behalf of commercial parties, financial institutions and real estate companies. Jamie Cartwright has a wealth of experience in commercial litigation across numerous areas, including the retail and automotive industries. Associate Tom Plowman is also recommended for his diverse portfolio of commercial litigation, which includes debt recovery work for clients across various sectors.
Charles Russell Speechlys LLP
's
 'personable and practical'
group provides clients with a full-service offering in relation to health and safety investigations, prosecutions and general regulatory matters.
Rachel Warren
is well regarded for her regulatory crime practice, which includes advising companies on health and safety issues in the construction industry.
With particular expertise in the IT, telecoms and media sectors, Charles Russell Speechlys LLP specialises in advising domestic and international companies in relation to the pensions aspects of scheme closures, TUPE transfers, restructuring arrangements and various other matters. Nick Hurley handles contentious and non-contentious work in the field, which includes advising clients on contractual pension issues and business transfers. Esther White is another standout practitioner, with over 15 years of experience assisting companies and trustees with pensions law requirements.
Charles Russell Speechlys LLP has a highly regarded landed estates and heritage property team spread across London, Cheltenham and Guildford. The team in Guildford is led by hugely experienced office head Duncan Elson, who specialises in dispute resolution, with a focus on contentious trusts and estates matters. The office has seen a notable increase in landed estates work in recent years, providing a multi-disciplinary service to prestigious clients, working in tandem with their tax, trusts, private wealth and property colleagues across the wider firm.
Charles Russell Speechlys LLP's team is active in residential, commercial and agricultural disputes, and is 'always willing to go the extra mile.' It portfolio includes estate clients, retailers, property management companies and charities as well as HNW individuals. Emma Humphreys' broad practice encompasses break rights and insolvency matters, among others. She leads the group jointly with Guildford-based David Haines.
Acting primarily for financial services partnerships, Charles Russell Speechlys LLP advises on LLP agreements, profit-sharing negotiations and transactional matters. David Hicks leads the practice, with numerous corporate partners, including James Carter, and private client and tax partner Sophie Dworetzsky also acting on key mandates.
Charles Russell Speechlys LLP
is active in handling private equity transactions across a range of sectors. In addition to acting for PE houses and management teams in acquisitions and disposals, the practice is noteworthy for its work with private clients, advising them on investments. The team also stands out for its work in the African market. The team is jointly led by
Andrew Clarke
and
David Coates
in London, and
Adrian Mayer
in Cheltenham.
Charles Russell Speechlys LLP
advises on HMRC enquiries, investigations and tax litigation, with particular expertise advising on private client tax litigation. The team is led by recently promoted partner
Hugh Gunson
, who advises on direct and indirect taxes and covers income tax, CGT, inheritance tax, SDLT, corporation tax and VAT. According to a client, Gunson is a '
rising star
'.
Charles Russell Speechlys LLP's pension team is considered a go-to for charity and not-for-profit pensions advice. Michael Jones leads the practice, which offers expertise in funding, risk reduction, M&A, and restructurings. The team offer a personal approach, also advising on TPR clearance and PPF 'pre-pack' arrangements. Esther White is a key member of the team and a specialist in acquisitions and auto-enrolement.
Charles Russell Speechlys LLP works with a wide range of hospitality and leisure clients, including many household names. Recent work has focused on advising clients on the implications of the pandemic, as well as real estate, finance and employment matters. The lead UK partners are corporate employment lawyer Michael Powner and real estate head Lee Medlock. Jason Saiban works with some of the team's best-known clients on commercial matters, while senior associate Caroline Swain leads the firm's food and beverage team; she is also a commercial contracts specialist. Sarah Morley, who co-heads the office occupiers group, is another key name. The team caters to international clients by working in tandem with real estate specialist Simon Green in Hong Kong; he heads up the hotels and hospitality practice across Asia and the Middle East.
The planning team at Charles Russell Speechlys LLP acts across all areas of planning and public law, covering contentious and non-contentious planning issues. It specialises in regeneration projects, major urban extensions and new settlements. Practice head Claire Fallows focuses on strategic land projects and tall buildings; an area in which the team was recently instructed by Greenwich Millenium Village, winning an appeal to grant consent for a controversial new residential tower building.
Charles Russell Speechlys LLP's data protection practice sits within the firm's wider commercial department, and has broad expertise across international compliance issues, data transfers and data breaches. The practice draws on strength from its colleagues in the employment, litigation and pensions teams, among others. Jonathan McDonald heads up the team.
With a strong technology infrastructure and IP practice, Charles Russell Speechlys LLP is well placed to handle fintech matters and is particularly active in the commercial and regulatory aspects of the sector. The practice has particular expertise in cryptocurrency, blockchain, regtech and payments technology. Co-head of team Mark Bailey specialises in regulated IT sector contracting, with a focus on the financial services sector. William Garner, who jointly heads the team, handles regulatory matters.
Charles Russell Speechlys LLP's recent work spanned the mining, technology, telecoms, financial services and energy sectors. The practice is led by Andrew Collins, who has a strong track record in handling the listing of foreign companies in London. The team also includes Paul Arathoon, who recently led advice to Tamesis Partners LLP, Ashanti Capital Pty Ltd and Shard Capital Partners LLP as joint brokers to Trident Royalties plc on a £20.2m placing and subscription for new ordinary shares. Senior associate Tom Smitham is another notable individual.
Charles Russell Speechlys LLP
's '
excellent
' team advises across the spectrum of healthcare and sports regulatory matters. The healthcare team is best known for its regulatory assistance with NHS legislation and remuneration, Fitness to Practise proceedings, representation at NHS tribunal hearings, judicial reviews, and health sector crime; and on the sports side, the practice focuses on assisting organisations with regulatory, governance and integrity compliance.
Edward Craig
is a horseracing and polo specialist; legal director
Rachel Warren
is '
tactically very good'
; and senior associate
Danielle Sharkey
 is '
highly experienced in equine-related regulatory matters
'.
The Charles Russell Speechlys LLP group is headed up by Trevor Bettany who has an established reputation in acting for senior executives, and LLP members, particularly those in the financial services sectors including hedge funds and PE houses. The team has a focus on negotiating entries or exits involving complex remuneration packages, often as a result of major reorganisations. Clients also come from the NHS and academia. The team's client services includes a bespoke early document review platform (Discovery on Demand).  Other noted practitioners include Nick Hurley (he handles both both contentious and non-contentious matters and has experience of Employment Tribunal and court cases concerning discrimination, and whistleblowing claims). Michael Powner advises on negotiating senior executive exits arising from restructurings.
Charles Russell Speechlys LLP has decades of experience in Africa, and it has also represented a number of the island governments in the Caribbean as well as handling deals in the Middle East. The practice also has a dedicated India group comprising English and Indian-qualified lawyers in London and Dubai. Team head Adrian Mayer advises on investments and corporate finance work, primarily in Africa, while John Sykes handles cross-border commercial litigation, mediation and arbitration proceedings. In 2020, James Broadhurst, who advises companies, private investors and family offices on transactions in Latin America, joined from Hierons LLP, and in 2021, Robert Reymond joined from Stikeman Elliott (London) LLP to lead the Latin America practice.
Charles Russell Speechlys LLP's retail offering distinguishes itself through its longstanding track record in commercial, IP and technology-related matters. It regularly receives instructions concerning commercial contracts, advertising and marketing work, e-commerce-related issues, and trade mark advice and infringement. Leading the wider sports, retail and tech group that includes the retail practice, Jason Saiban frequently advises high-profile clients on high-end commercial contracts, which is also a strong suit of Megan Paul's. Edward Craig stands out for his knowledge of luxury retail brands, Michael Powner primarily advises food and beverage clients and Mary Bagnall specialises in IP issues.
Charles Russell Speechlys LLP advises institutional and boutique fund managers on fund structuring and launches, equity raisings and regulatory issues. Its team in London regularly works with its Luxembourg and Swiss offices on international mandates. The team also has a notable broker-side practice, advising on placement agreements and platform issues. The practice is jointly led by David Hicks and Victoria Younghusband, who regularly advises on complex regulatory issues, and has expertise in open and closed-ended funds investing in a variety of asset classes.
Acclaimed for their 'technical, practical and commercial' service, the team at Charles Russell Speechlys LLP cater to a client roster of developers, investors, property companies and urban estates in addition to corporate occupiers. Practice head Lee Medlock also represents private equity-backed businesses, namely in respect of leisure and hospitality transactions; his team includes Robin Grove, a mixed-use and regeneration development specialist who leverages the firm's joint venture and partnership proficiency, as well as Sarah Morley who fronts the office occupier group, undertaking office acquisition, headquarter relocation and rationalisation of space matters. The firm's international presence across EMEA and Hong Kong makes it a go-to option for international investors and owing to its dedicated sector expertise, it is also a popular choice among sporting, retail, food and beverage, charity, private wealth, logistics and life sciences clients.
Acclaimed for their 'technical, practical and commercial' service, the team at Charles Russell Speechlys LLP cater to a client roster of developers, investors, property companies and urban estates in addition to corporate occupiers. Practice head Lee Medlock also represents private equity-backed businesses, namely in respect of leisure and hospitality transactions; his team includes Robin Grove, a mixed-use and regeneration development specialist who leverages the firm's joint venture and partnership proficiency, as well as Sarah Morley who fronts the office occupier group, undertaking office acquisition, headquarter relocation and rationalisation of space matters. The firm's international presence across EMEA and Hong Kong makes it a go-to option for international investors and owing to its dedicated sector expertise, it is also a popular choice among sporting, retail, food and beverage, charity, private wealth, logistics and life sciences clients.
Acclaimed for their 'technical, practical and commercial' service, the team at Charles Russell Speechlys LLP cater to a client roster of developers, investors, property companies and urban estates in addition to corporate occupiers. Practice head Lee Medlock also represents private equity-backed businesses, namely in respect of leisure and hospitality transactions; his team includes Robin Grove, a mixed-use and regeneration development specialist who leverages the firm's joint venture and partnership proficiency, as well as Sarah Morley who fronts the office occupier group, undertaking office acquisition, headquarter relocation and rationalisation of space matters. The firm's international presence across EMEA and Hong Kong makes it a go-to option for international investors and owing to its dedicated sector expertise, it is also a popular choice among sporting, retail, food and beverage, charity, private wealth, logistics and life sciences clients.
Charles Russell Speechlys LLP's team is known for its 'good communication, clear advice and no-nonsense approach' to its contentious construction work. It has experience acting on behalf of employers, contractors, specialists and consultants, and offers business services for its construction clients. Steven Carey leads the team, advising his clients on the full range of contentious construction matters. James Worthington offers expertise in acting for housebuilders working on regeneration projects, and Rupa Lakha has the full range of dispute resolution experience. Michael O'Connor is also recommended for work related to the new Fire Safety Act.
Already experienced in advising employers, contractors, subcontractors and suppliers, the team at Charles Russell Speechlys LLP has expanded its focus and, as part of its joined-up contentious and non-contentious approach, it has created a hub focused on fire safety regulation for construction professionals. It also has strong international connections, in particular with Africa and the Middle East. Steven Carey leads the practice and is supported by Fiona Edmond and James Worthington; Edmond advises central London developers, and Worthington acts on regeneration and renewable energy projects.
Highly rated IP litigator
Mary Bagnall
 helms the practice at
Charles Russell Speechlys LLP
. The team's expertise includes design infringement litigation, damages cases and breach of contract disputes pertaining to copyright. The firm houses a dedicated art law team which also takes on copyright litigation. For non-contentious matters,
Nick White
applies his knowledge of the sports, retail and food and beverage sectors to commercialisation and licensing mandates, including image rights exploitation. Senior associate
Caroline Young
also handles commercial IP instructions.
The reputation management and privacy team at Charles Russell Speechlys LLP  has considerable experience in both claimant and defendant work. Led by Duncan Lamont, the practice acts for a diverse client base that includes international corporations and high net-worth individuals. It is also noted for having strong links to the commercial TV sector, acting for major clients like ITV News and Channel 4 News. In December 2020, senior associate Claire Greaney left the firm to join Schillings.
Charles Russell Speechlys LLP is highly experienced advising both individuals and companies acting as claimants against professionals including accountants, architects, and construction specialists such as surveyors, contractors, and engineers. The team, which is co-led by Stephen Burns, David Savage, and Duncan Elson, frequently advises on high-value claims in the financial services, construction and legal sectors. Andrew Keeley is particularly experienced in bringing claims against construction professionals.
The financial services regulation team at
Charles Russell Speechlys LLP
draws from the firm's strong private banking and wealth management platforms, advising clients on issues including the structuring, establishment and distribution of their financial products and on private banking matters. Lawyers also have expertise in regulation applying to broking, trading and markets and a growing specialism in crypto-assets, areas of specialism for practice head
William Garner
.
Jonathan Bayliss
is the name to note for private banking and wealth management regulation. Senior associate
Jessica Arrol Caws
is building a solid reputation for advising investment firms entering the UK market.
Charles Russell Speechlys LLP provides a 'commercial and solution-oriented' service to a balanced mix of investor and investee clients on deals throughout the investment lifecycle. The team is particularly well equipped to handle mandates in the TMT, healthcare and fintech sectors. The firm's private wealth expertise has led to a significant amount of work for family offices, a growing class of investor in the venture capital ecosystem. Chris Putt co-heads the team alongside Rossana Conti  and is noted for his corporate venture debt expertise, as well as his work for entrepreneurs and family offices.
Charles Russell Speechlys LLP's employment team emphasises non-contentious mandates, deploying particular strength in the professional services, financial services and retail and leisure sectors. It is led by Trevor Bettany, who concentrates on collective redundancies, TUPE and large-scale variation exercises. Another key name is 'exceptional lawyer' Michael Powner, whose workload extends from LLP disputes to the employment aspects of high-profile internal reorganisations. Other areas of strength include senior executive issues, post-termination restrictions, and disciplinary and termination matters. Emma Bartlett departed in January 2021 to join CM Murray LLP.
Charles Russell Speechlys LLP acts for banks, alternative lenders and borrowers, and is particularly strong in handling structured private wealth transactions. Paul Kay heads the 'extremely commercial' team, and is skilled in debt and equity financing, structured finance and asset-based lending, with experience in cross-border mandates. The 'always available' Jon Bond advises both lenders and borrowers on syndicated lending, acquisition and development finance, mezzanine finance and Sharia-compliant finance.
Jointly led by Paul Stone and Paul Henty, Charles Russell Speechlys LLP 's competition practice provides strategic and behavioural advice to a range of clients, and in 2020 frequently advised on the potential impact of Brexit and the global pandemic. The telecoms and media sectors are areas of particular focus, and the firm is a longstanding adviser to high profile companies such as ITV, which it advises on a range of competition issues, including commercial arrangements and joint ventures.
Charles Russell Speechlys LLP offers clients the benefits of its team's expertise in the licensing and collaboration of vaccine patents, and it secured mandates relating to international Covid-19-related R&D and collaboration agreements. Key names at the firm include practice head Mary Bagnall and senior associate Caroline Young, with corporate partners also providing assistance. Recent contentious work pertained to patent infringements in the mining sector.
Charles Russell Speechlys LLP's 'knowledgeable and responsive' four-partner team provides 'user-friendly' advice to debtors and creditors across a range of formal insolvency and restructuring work, in both a corporate and personal insolvency setting. Benefiting from a high degree of flexibility on fees, which includes acting on a contingency basis as well as through third-party funding, the firm is perhaps best-known for its contentious insolvency expertise, including as it relates to cross-border fraud and asset tracing. Guldford-based James Hyne  heads the team, which also includes recently promoted partner Jason Freedman , who 'goes above and beyond what is normally expected of a solicitor and is able to provide technical legal advice along with practical and commercial solutions to problems'.
Charles Russell Speechlys LLP >
Firm Profile
The firm: Charles Russell Speechlys provides clients with personalised and considered advice across the full spectrum of business and personal needs. This wider perspective, clear insight and a strongly commercial long-term view helps us to secure the growth of our clients as they move confidently into the future.
We are a leader in the world of dynamic growth and family businesses, and among the world's leading creators and owners of private wealth and their families. Major corporates and institutions find our more considered and personal approach a refreshing alternative to conventional business law firms.
The firm is built on trusted, personal relationships with clients, guiding them through their most pressing challenges and rewarding opportunities. We do this by getting to the heart of a clients' needs to bring them best-fit solutions – based on years of experience, collective legal expertise and global reach.
We are a law firm headquartered in London with a network of UK and international offices and associations that provide the global breadth to match our clients' needs.
Types of work undertaken
Banking and finance: focusing on borrower work in all sectors, particularly real estate finance and projects, bank lender work in the Middle East and elsewhere, and non-bank lender work, including mezzanine finance, corporate finance support, and structured finance.
Commercial: focusing on complex work from corporate organisations requiring regular commercial contracting support, including compliance and corporate risk, EU, competition and trade, IP transactions, and licensing and outsourcing.
Commercial dispute resolution: undertaking all types of litigation, arbitration and mediation both in the UK and internationally, and has particular expertise in commercial disputes, corporate recovery and insolvency, judicial review and fraud.
Construction, engineering and projects: focusing on commercial clients across a wide range of business sectors, but with a particular emphasis on real estate developers, property investment companies, contractors, and major engineering consultancies. The firm also advises high-net-worth individuals when undertaking high-value residential construction projects.
Corporate: advising on a wide range of issues, including flotations, mergers and acquisitions, joint ventures, private equity and venture capital financings. Specialist teams provide advice on all types of commercial contracts and outsourcing arrangements and have particular expertise in data protection issues, competition matters and tax.
Corporate recovery and insolvency: undertaking both contentious and transactional work for insolvency practitioners, often with an international component.
Employment, pensions and immigration: providing corporate clients with strategic insights and practical solutions for all their employment, pensions and immigration issues as well as advising senior individuals on a personal basis.
Family: advising individuals and intermediaries on matters concerning family breakdown, children and relationship agreements.
Financial services and tax: assisting clients with their everyday regulatory and legal issues, as well as focusing on advising on transactional and strategic matters.
Healthcare: providing a comprehensive range of transactional, regulatory and advisory expertise to deliver an integrated service to clients in the social care, primary care, dental and veterinary sectors.
Intellectual property: advising on all types of contentious and non-contentious work, including copyright, patents, trade marks, registered designs, database rights, passing off and confidential information.
Private property: working with international banks, private investment companies, and private individuals from the UK and overseas, advising on UK and international investment property transactions.
Property litigation: advising major institutional land and estate-owning clients, in particular in London, the South East, and the South West and for property insolvency-related work.
Real estate: advising on every aspect of commercial property, including the structuring and financing of property transactions, planning a development, advising on landlord/tenant issues or managing a property portfolio.
Tax, trusts and succession: advising individuals, trustees, beneficiaries, entrepreneurs and landowners on the establishment and management of trusts and on the tax implications associated with the establishment and running of the structure.
Other offices: Doha, Dubai, Geneva, Hong Kong, Luxembourg, Manama, Paris, Zurich.
Main Contacts
| Department | Name | Email | Telephone |
| --- | --- | --- | --- |
| Senior Partner | Bart Peerless | | |
| Managing Partner | Simon Ridpath | | |
| Charities and not-for-profit | Sarah Rowley | | |
| Construction and infrastructure | David Savage | | |
| Financial services | Jon Bond | | |
| Healthcare | Michael Lingens | | |
| Healthcare | Noel Wardle | | |
| Private wealth | Piers Master | | |
| Real Estate | Fiona Edmond | | |
| Retail and leisure | Edward Craig | | |
| Sport | Jason Saiban | | |
| TMT | Mark Bailey | | |
| TMT | Mark Howard | | |
| Banking & Finance | Paul Kay | | |
| Commercial | Mark Bailey | | |
| Commercial dispute resolution | Charlotte Pender | | |
| Construction, Engineering & Projects | Steven Carey | | |
| Corporate | David Coates | | |
| Corporate restructuring and insolvency | James Hyne | | |
| Corporate Tax | James Carter | | |
| Employment, pensions and immigration | Trevor Bettany | | |
| Family | James Freeman | | |
| Financial Service Regulation & Funds | William Garner | | |
| Immigration | Rose Carey | | |
| Intellectual property | Mary Bagnall | | |
| Private Client | Robert Blower | | |
| Private Property | William Marriott | | |
| Private Wealth Disputes | Graeme Kleiner | | |
| Real Estate | Lee Medlock | | |
| Real Estate Disputes | David Haines | | |
| Cheltenham | Ian Brothwood | | |
| Doha | Simon Green | | |
| Dubai | Patrick Gearon | | |
| Geneva | Michael Wells-Greco | | |
| Guildford | Duncan Elson | | |
| Hong Kong | Simon Green | | |
| Luxembourg | Jean-Baptiste Beauvoir-Planson | | |
| Manama | Patrick Gearon | | |
| Paris | Frederic Jeannin | | |
| Zurich | Mark Summers | | |
Staff Figures
Number of UK partners : 145 Total UK fee earners : 445
Diversity
Our Social Impact
Overview
We believe that, to be successful, our business must have a positive social impact. We are an integral part of the communities – global and local – in which we operate and believe that supporting these communities is part of our responsibility as a business. In particular, we believe that it is our duty – as leading international law firm – to help level the playing field by improving access to justice, access to education and access to professional opportunities for disadvantaged groups. We also believe that a strong community programme reflects our values: a commitment to valuing difference, to building human connections, to treating others as we would wish to be treated and to developing long-term partnerships.
We do this through our Social Impact Programme. Led by our Senior Partner, Bart Peerless and our dedicated Social Impact Team, it comprises a strong Pro Bono practice and a high impact Community Investment programme of fundraising and volunteering activities.
Our connection with our community is all the more important in times of crisis and we are proud to have strengthened our Social Impact Programme in response to COVID-19 by:
Increasing our volunteering allowance from 14 to 21 hours for staff to lend their time and skills to support the NHS or COVID-19 related causes.
Launching Project Companion – an emergency package of fundraising and pro bono support to assist Emmaus, a national charity providing homes and livelihoods for the homeless.
Converting all our pro bono community legal advice clinics to webcam format so that people unable to afford a lawyer can get access to legal support during the lockdown period and sharing best practice with other commercial firms to help them do them same.
Providing full-service pro bono legal support to Food4Heroes, a new non-profit organisation that is mobilising chefs and catering businesses nationwide to feed NHS workers on the frontline of the crisis.
Pro Bono
Pro Bono is part of our core practice as a firm. We treat our pro bono clients as we do our paying clients and support all our lawyers to get involved – at all levels of seniority and whatever their area of expertise. We provide free legal advice to help disadvantaged groups get access to justice and to support charities and social enterprises providing vital services.
Impact highlights
We train and deploy our lawyers for 2-week secondments to the Greek islands of Lesvos and Samos to help asylum-seekers navigate the asylum process.
We were the first commercial law firm in the UK to launch a pro bono legal clinic by webcam to reach people outside London where pro bono help is scarce. The webcam project – Highly Commended at the LawWorks Awards 2019 – has provided the basis for us and other firms to run pro bono advice clinics during the COVID-19 shutdown.
A partner-led team from across our UK offices represents disabled people at the First-Tier Tribunal to appeal the withdrawal of disability benefits.
We are proud partners of Social Business Trust, providing pro bono legal support to help its small charity investees increase their reach and social impact.
We provide free commercial legal advice on an ongoing basis to a wide range of charities and innovative social enterprises.
Community Investment
Community Investment
We have a long history of involvement with the communities in which we live and work. Our focus is on social mobility and supporting the most isolated and vulnerable in society through our charity partners and other local initiatives.
Impact highlights
Our staff support children in local primary schools through our In-school Reading Scheme and Work Week Programme designed to develop awareness of the world of work and challenge misconceptions about career prospects linked to gender and/or ethnicity.
Through our 5-year Talent Pipeline Programme (Career Start) , we open up careers in law for state school students from under represented backgrounds by providing high quality work experience and mentoring programmes. Through our collaboration with the Social Mobility Business Partnership (SMBP) we also work with commercial organisations enabling our students to gain further exposure to the legal world through a further week of work experience and skills based activities.
We value the longstanding relationships we have with our local charitable organisations. Our staff volunteers support.

The Positive Ageing Group and The Crusoe Club, a club for the blind and visually impaired, at The Blackfriars Settlement with initiatives including an annual Halloween quiz night for the Positive ageing Group, a "Crusoe" Christmas lunch at our London office, supporting the Crusoe members on day trips out and staff volunteering to cook and prepare Christmas lunches at the Settlement. Staff also volunteer via the charity's telephone befriending service.
The Churn's Good Neighbour Project is a community-based project seeking to combat social isolation and improve wellbeing in Cirencester and neighbouring villages. Volunteers from our Cheltenham office provide support via a telephone befriending service and host an annual Afternoon Tea for elderly members in the community.

The Charles Russell Speechlys Foundation ("Foundation") launched in the summer of 2020, with its focus on advancing justice – supporting a stronger, fairer society for all. Alongside funding from the Foundation, the Firm looks to offer support by providing pro bono legal assistance and the professional skills of our staff to help charity partners tackle major social issues. Working alongside the Foundation, the Firm will enhance its focus, coordination and impact of its charitable giving and fundraising initiatives firm-wide, adding as much value to the charitable partnerships as possible.
DIVERSITY
We believe in creating equal opportunities for everyone. Not only do we want to attract, develop and retain the best talent, we are committed to providing a work environment and culture that supports individuals to thrive irrespective of race, colour, nationality, ethnic or national origin, gender, gender reassignment, sexual orientation, age, religion or belief, marital or civil partnership status, pregnancy, maternity status, disability or socio-economic background.
By working with people from different backgrounds or with different experiences, we get a different perspective and that helps us to think more broadly, question more and share our skills, knowledge, and experience as part of a collective intelligence.
We believe that creating a diverse and inclusive workplace allows our people to be the best they can be, and do the best for our clients, who can expect a firm that understands their objectives and delivers advice that considers their commercial and personal needs.
Our commitment to diversity and inclusion (D&I) is led from the top. Partner action groups are in place to drive and support the Achieving Balance and Race Action programmes referenced below and D&I Partners champion and lead on each of the D&I Committees.
D&I Committees
The D&I Team work closely with five active employeeD&I Committees, each led by a designated D&I Partner. The Committees focus on events and initiatives to promote and raise awareness relating to their specific area, and also in collaboration with each other to focus on different areas of intersectionality. The Committees play a valuable role in firm projects and assisting with policy review to ensure they are inclusive.
Our five core D&I committees include:
CAPability (Collaborating And Promoting ability)
Gender
LGBTQ+
Religion, Belief and Ethnicity
Social Mobility
Age-related initiatives fall within the remit of all networks.
In addition, we also have a Family Friendly and a Carers Network that meet to share experiences, provide support to each other and host topical speakers.
Our Committee initiatives vary from year to year, but some of our recent achievements include ranking in the Top 25 of the Legal Sector in the Stonewall Equality Index ranking 72 in the Social Mobility Employer Index and being awarded the Bronze Award from the Employers Network of Equality and Inclusion.
Diversity & Inclusion programmes
We are committed to further developing our D&I Strategy and identifying key, longer term, programmes to help us achieve that. These include:
Achieving Balance, this programme aims to improve the gender balance at Partnership level and in leadership roles across the firm.
Our Career Start talent pipeline programme, is our flagship social mobility initiative which extends and develops our engagement with individuals from low socio economic backgrounds. It is a five year commitment to increase employability and to further improve the diversity of our employees.
Race Equality Action-, this programme of action supports our commitment to improve the ethnic diversity across the Firm and identify ways that we can collaborate with others to increase the representation in the profession and how we can work with others business communities and education to support and drive more ethnic representation in professional services roles. .
For more information regarding our initiatives, or vacancies, please check our website, www.charlesrussellspeechlys.com
The Lex 100 Verdict
Charles Russell Speechlys' 'strong private client outfit' continues to be a draw for lawyers to be. The firm's 'outstanding family team', 'private wealth disputes work' and 'specialisms in sports regulatory and intellectual property' were also big enticements. That CRS is 'focused on still being approachable and friendly' did not go unnoticed by trainees, who appreciate working with colleagues who 'stem from a variety of backgrounds and experiences but are united in delivering the best service to clients and providing the best support for each other'. What's more, 'having a good work/life balance is actively encouraged by partners and other fee earners'. Little wonder CRS has amassed seven Lex 100 Winner awards this year, with job satisfaction and supervisor approachability among them. On the flip side, despite acknowledging the inevitability of having to work from home due to the COVID-19 pandemic, trainees felt that they 'could have been better supported through the move to remote working'. The 'lack of parking' at the Guildford office, especially given the distance to the main train station, is also an annoyance. It helps that the quality of work is extremely high, with recruits enjoying 'advising pro bono clients on setting up charities' and 'assisting with the negotiating and drafting of a partnership agreement between a premier league player and a global clothing brand'! Not all the work is fun though; 'working for 36 hours straight' and 'starting a new seat and being thrown in at the deep end without instructions or much supervision' were more stressful. To be 'fully included in both the work and social aspects of a firm and feel that your input in both respects is valued and encouraged', research Charles Russell Speechlys.
Press Releases
18th January 2022
Charles Russell Speechlys is delighted to welcome a new Family team in Hong Kong, including the hire of Lisa Wong as Partner, as it continues to strengthen its offering in the region.
Legal Briefings
Class dismissed: the future of group litigation in the UAE

Once the preserve and a staple of US litigation, in recent years class action claims have gained traction in the English courts across a wide variety of sectors. Recent disputes have involved securities and shareholder litigation against financial institutions like RBS and Lloyds/HBOS, claims against large companies such as Tesco, actions arising out of breaches …