Simpson Millar LLP
Offices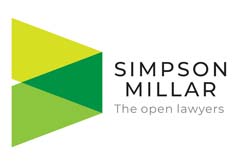 Simpson Millar LLP
Broad Quay House
Broad Quay
BRISTOL
BS1 4DJ
England
Simpson Millar LLP > The Legal 500
Rankings
Simpson Millar LLP >
Firm Profile
Simpson Millar is a national law firm, with offices in Bristol, Cardiff, Lancaster, Leeds, Liverpool, London, Manchester and Southport. The firm employs more than 500 people and offers legal advice and support across many areas of law.
Simpson Millar want to open up the law. What that means is giving people access to straightforward and easy to understand advice whilst delivering on its commitment to providing a clear and transparent service. The positive Trustpilot reviews from clients demonstrate that commitment.
The company also pledges to offer a bespoke service to suit each client's specific needs and circumstances, and wants to be there at "moments of truth" – when someone most needs legal services.
Simpson Millar was the first law firm to receive the Law Society's award for excellence in Practice Management (Lexcel) and has held this accreditation since 1998. It also has Law Society accreditations in various areas of law, which demonstrates its expertise and the very high standards of legal services it offers.
Main areas of work
Personal injury: Simpson Millar has a large, national team of personal injury experts, with a strong track record of helping clients get the compensation, care, rehabilitation and support they need.
The firm's personal injury experts, who won the Claimant Team of the Year Award at the Personal Injury Awards 2018, deal with a wide range of injury cases, including severe brain injuries, spinal cord injuries, industrial disease (including asbestos related illnesses) and road traffic accidents. Simpson Millar also has personal injury specialists for people who have become ill or been injured on holiday, suffered accidents at work or in public places, or been victims of abuse.
We have a team of specialists who deal with more serious and catastrophic injuries who've recovered many millions of pounds in compensation, helping clients and their families following a personal injury.
Simpson Millar is proud to work closely with various charities including Headway, the Child Brain Injury Trust (CBIT), Action against Medical Accidents (AVMA) and the British Lung Foundation.
Medical negligence: The firm's medical negligence solicitors are committed to working with, rather than against, NHS Resolution to achieve the best outcomes for clients, favouring non-confrontational approaches such as mediation to settle a claim.
Simpson Millar's medical negligence team deals with a wide variety of claims, including surgical errors, birth injuries, amputations, delayed diagnoses of cancer, eye injuries, hospital negligence and sepsis claims.
The team has recovered significant amounts of compensation for people who have suffered medical negligence, allowing them to get specialist care, treatment and rehabilitation.
Divorce, family and children: Simpson Millar's family team offer a full range of services to support people who are divorcing or separating, and is experienced in using mediation to avoid unnecessary cost and conflict.
Family law issues such as divorce, separation and child custody disputes can be extremely sensitive, but while the team aim to minimise animosity and stress in every case, it will take firm legal action when needed.
Our family and divorce lawyers are members of Resolution, an organisation that advocates for a more collaborative approach to divorce and separation.
Conveyancing: Simpson Millar's national team of experienced conveyancers and conveyancing solicitors offer clear and practical advice on all legal aspects of buying or selling a house, a flat or land, leasehold or freehold. The firm offers an 'online' conveyancing calculator, which lets users get a quotes straight away.
Wills, trusts and probate: Simpson Millar's specialist wills, trusts and probate team are experts who can help with wills, tax planning and inheritance advice. They can set up will trusts, personal injury trusts and act as trustees where necessary. The team can manage the probate process, offering a full administration of the estate service or a Grant of Probate application only service.
The firm has a range of fixed fee will writing services, so clients know exactly how much it costs to make a will. It also offers an online will writing service for basic wills.
Education law: Simpson Millar has the largest team of education law specialists in the UK, with many years' of experience helping clients find the right solutions for their child.
The firm's education and SEND Lawyers can advise on issues including Education, Health and Care Plans for pupils with special educational needs and disabilities, school admissions and exclusions, disputes with independent or private schools, residential placements, judicial reviews, linked family proceedings, non-attendance prosecutions and home-to-school transport.
Court of Protection: Simpson Millar's Court of Protection solicitors can provide expert legal advice, assistance and representation to anyone who is involved in a dispute over whether a person has capacity or not. The question of capacity is fundamental to whether someone can legally make decisions for themselves or not, including where they live, who they see and the care or treatment they get.
The Court of Protection team at Simpson Millar has some of the best lawyers in the country, who have been involved in many high profile case in the Court of Protection. They can also help to act as Professional Deputy for people who have lost capacity.
Dispute resolution: The specialist dispute resolution department deals with a wide range of cases, such as professional negligence, contentious probate and will challenges, along with consumer and contract disputes.
The firm has also been a prominent campaigner for people who have received poor advice when buying leasehold properties, which results in doubling ground rent clauses.
The team also have specialist cyber security lawyers who deal with data breaches. Assisting those who have had their personal and sensitive information breached by organisations.
Community care: Simpson Millar can offer support where there are issues accessing local authority or NHS services. The team is experienced at handling complex cases of this nature and making sure people's social care needs and primary health needs are met.
Care home fees: Simpson Millar has a team of care home solicitors who can help with the recovery of care home fees when they've not been assessed for continuing health care costs or wrongly turned down for support. They can claim for a refund of fees they've already paid. These fees can be recovered even after the person in care has died.
Employment law: Simpson Millar's team of employment law solicitors have been independently recognised as experts in this area of law, and were named in The Sunday Times as one of the Best Law Firms for Employment Law in 2019.
The team is highly experienced in handling a wide range of cases, such as breach of contract, discrimination at work, settlement agreements, equal pay, protective awards, whistleblowing, restrictive covenants and sexual harassment.
Lawyer Profiles
| Photo | Name | Position | Profile |
| --- | --- | --- | --- |
| | Samantha Hale | Partner, Education & Community Care Solicitor | View Profile |
| | Greg Moss | Partner, Care Proceedings Solicitor | View Profile |
| | Amanda Sawyer | Care Proceedings Solicitor | View Profile |
Staff Figures
Fee earners : 128 :
Languages
English Polish
Client Testimonials
CLIENT: Sheila
COMPANY/FIRM: Simpson Millar
TESTIMONIAL: Really pleased with the service I received from Nathalie Swanwick, she goes beyond and above whats expected to keep you informed of the progress of your case and to fight for the best outcome. Keeps in regular contact and does not charge for every minute she talks to you like some greedy unscrupulous solicitors that are only in it for the money. Knows the law well and has a no nonsense approach would definitely use again.
---
CLIENT: Beverley Sanderson
COMPANY/FIRM: Simpson Millar
TESTIMONIAL: Medical Negligence Claim I would like to extend my sincere thanks and gratitude on behalf of my family and I to David Thomas and Chantelle Copper; who took on my case which started in 2006. Over the years David and Chantelle have shown perseverance and worked extremely hard to bring my daughter's case to court. They are both professional in their manner but also; naturally compassionate and understanding. During the court case both were extremely helpful; always explained the steps they'd be taking, time frames and consistently updating me on what stage we were at. They remained supportive throughout and guided me through the procedures. Although we did not have a successful result, I believe having David and Chantelle on our side helped to make this disheartening time more manageable. I will always value the words of encouragement which has made a positive impact at the end of many extremely stressful years. Once again; thank you both for your hard work, understanding and kindness towards us as a family. Chantelle I wish you all the best with completing your training; you're going to make an amazing Solicitor. Beverley Sanderson & family
---
CLIENT: Natalie Lightfoot
COMPANY/FIRM: Simpson Millar
TESTIMONIAL: I cannot recommend Simpson Millar highly enough. Both before & during the lockdown, my solicitor Hayley & her assistant Jamie never stopped working, were always efficient, professional & patient. Every piece of correspondence I had with them was courteous & informative & they both worked so so hard on our behalf when buying our new house. If you are looking for someone to act on your behalf when purchasing a property, then the only option has to be Hayley & Jamie at Simpson Millar! Thank you both so very much.
---
CLIENT: Victoria
COMPANY/FIRM: Simpson Millar
TESTIMONIAL: Great firm Best team An unexpected court case was thrown at me and I had just over 24 hours to mobilise and find defence. I have spoken to 5 law firms and faith started to slip away, because everyone wanted to charge an exceptionally high rate for urgency and in the end just turned me down- because of the lack of time to prepare… When I lost all hope, a friend advised to get in touch with Simpson Millar, and I am so glad I did. I got through to Caroline and she had listened and understood exactly what I was going through and offered her help. I am incredibly grateful that she helped me to summarise my court statement and coordinate with the barrister as well as came down to London to represent me the following morning, all in such short space of time. This was my first, and hopefully last, appearance in court and it made a world of difference to have been represented by such kind and sophisticated team, all thanks to Caroline Hurst from Simpson Millar. Highly recommended Victoria
---
CLIENT: No name given
COMPANY/FIRM: Simpson Millar
TESTIMONIAL: John Lambe dealt with my inheritance claim. I found him excellent. Very professional and also made me feel confident. Would definitely recommend him to others.
---
CLIENT: Jarde Bacha
COMPANY/FIRM: Simpson Millar
TESTIMONIAL: They worked perfectly helped me through my case and advised me and kept me calm throughout I wouldn't go to another solicitors ever again the professionalism here is wonderful and they know what they're doing lovely people
---
CLIENT: Monika Hosker
COMPANY/FIRM: Simpson Millar
TESTIMONIAL: Dan Rosenberg was both professional and helpful from the initial contact. He responded to any questions I had with quick efficiency, which I found reassuring. Throughout the whole process Dan was very approachable, available and very supportive. I felt I could trust his opinion from the start. Overall excellent and compassionate service by Dan. I would highly recommend his legal services to anyone who needs a solicitor in this area.
---
CLIENT: Darren Perry
COMPANY/FIRM: Simpson Millar
TESTIMONIAL: Could not be happier, the team heading up my situation were both helpful and on point in regards to updates and in general. I had regular contact either through emails or phone calls, and when I did have questions , they were dealt with normally within the hr. I could not have asked for a better service and would recommend this firm to ABSOLUTELY everyone.
---
CLIENT: Craig Chapman
COMPANY/FIRM: Simpson Millar
TESTIMONIAL: Highly Recommended. Fantastic, Professional Service. Communication was excellent. I never felt that I didn't know what stage of the process we were at. Contactability (if that's a word) is also great. If I couldn't get through to David he called me back within an acceptable timescale, you really do feel that as a client your business is valued. No matter what the fee is. I would also like to personally point out David Hession. From what should have been a simple agreement facilitation turned out to be an unnecessarily long winded negotiation. (Through the fault of the 3rd party and not Simpson Millar) But throughout it all, David was professional, offered sound advice and constantly followed up, which in turn got the desired result. I would have no problem recommending David and Simpson Millar.
---
CLIENT: Caroline Moss
COMPANY/FIRM: Simpson Millar
TESTIMONIAL: "I approached Simpson Millar at a really scary time. My ex had taken our child without my consent and was refusing to return her. I didn't know what to do and I was worried that I might never get her back. David and his team acted quickly, and in less than a week we were in Court and I got my little girl back. Simpson Millar secured the outcome I wanted. Everything was done by phone and email, with no hassle. They also charge fixed fees, so I knew what I was going to be paying and what to budget for and didn't need to worry about hidden costs. I can't thank them enough and would recommend them to anyone needing family law advice."
---
CLIENT: Mr Lovesy
COMPANY/FIRM: Simpson Millar
TESTIMONIAL: I would like to thank Antony Waddington and his team for the way they handled my case they kept me informed from start to finish. Nothing was to much trouble for them.any one with a asbestos related disease should contact them they are the best
---
CLIENT: Anne Nelson
COMPANY/FIRM: Simpson Millar
TESTIMONIAL: Excellent service!!! I have been really happy with the treatment I got from Simpson Millar… from the 1st phone call until my case was finished with, they have been informative, helpful & really good in understanding my health issues. I do feel they have Gone above & beyond my expectations.. I can never thank them enough!!!
---
CLIENT: Linda Freestone
COMPANY/FIRM: Simpson Millar
TESTIMONIAL: I chose this company /even though I live in the Midlands, from views on the internet, I am so glad i did. We went to a country where i picked something not very nice up! I spoke to Mr. James Blower, the man was a gentleman, treated me with kid gloves in respect of looking after me, I felt safe and sound throughout, if a question popped into my head, I would have no qualms about phoning him. Excellent ! I could not have been in better hands the condition was salmonella, so talking about it and describing things i thought may be embarrassing, but I think he had heard so many horror stories, that never once did I feel uncomfortable. Well done Mr. James Blower !
---
CLIENT: Mary & Malcolm
COMPANY/FIRM: Simpson Millar TESTIMONIAL: Considering there is a pandemic on, our case was dealt with very quickly and efficiently by Mubin, he was very compassionate, helpful, patient and understanding of our needs. We have no hesitation in recommending this firm
Top Tier Firm Rankings
Firm Rankings