Angara Abello Concepcion Regala & Cruz Law Offices (ACCRALaw) > Manila, Philippines > Firm Profile
Angara Abello Concepcion Regala & Cruz Law Offices (ACCRALaw)
Offices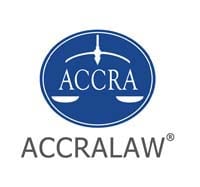 Angara Abello Concepcion Regala & Cruz Law Offices (ACCRALaw)
22/F-26/F ACCRALAW TOWER, 2ND AVENUE, CORNER 30TH STREET
CRESCENT PARK WEST, BONIFACIO GLOBAL CITY
1635 TAGUIG, METRO MANILA
Philippines
Angara Abello Concepcion Regala & Cruz Law Offices (ACCRALaw) > The Legal 500
Rankings
Angara Abello Concepcion Regala & Cruz Law Offices (ACCRALaw)
's team advises banking industry clients on regulatory requirements and compliance. In addition, its expertise extends to the preparation of loan agreements, the issuance of notes and other debt instruments, as well as security agreements on either the borrower/lender side.
Judy Hao
leads the practice while
Andre Navato
 is another important contact.
At
Angara Abello Concepcion Regala & Cruz Law Offices (ACCRALaw)
, the corporate and special projects group, which is overseen by the vastly experienced
Judy Hao
, regularly represents issuers and underwriters on equity and debt capital raising transactions, including initial public offerings, bond offerings, stock rights offering, backdoor listings, private placements. In addition, the department also excels in securities-related matters concerning Real Estate Investment Trusts and dollar-denominated deals. Also highly adept in securities and capital markets mandates are former president of the Philippine Stock Exchange
Francisco Ed Lim
and
Everlene Lee
.
The corporate and M&A team of
Angara Abello Concepcion Regala & Cruz Law Offices (ACCRALaw)
offers a comprehensive range of services to well-known, global clients. It advises on acquisitions and the set up of business ventures and corporate vehicles to facilitate foreign investments.
Judy Hao
heads the team and specialises in the establishment of branch offices and regional operating headquarters of foreign enterprises.
Andre Navato
is a key team member together with
Joselito M Bautista
 (regulatory issues related to business process outsourcing entities and
Everlene Lee
(corporate, securities and capital markets).  
The sizable and experienced team of
Angara Abello Concepcion Regala & Cruz Law Offices (ACCRALaw)
has been providing expert advice on litigation and dispute resolution for almost five decades. The firm covers a wide range of commercial, competition, criminal, family, and environmental issues and often represents its clients before the Court of Appeals and the Supreme Court.
Leland R. Villadolid, Jr.
specialises in dispute resolution in the telecommunication and technology sectors and co-heads the team with
Jose Martin R Tensuan
, who handles infrastructure sector disputes before the Construction Industry Arbitration Commission.
Patricia-Ann T. Prodigalidad
has extensive expertise in commercial litigation and arbitration.
Oliver L. Pantaleon
and
Arnold M Corporal
are also recommended.
Angara Abello Concepcion Regala & Cruz Law Offices (ACCRALaw)
offers expertise in handling diverse and multifaceted issues concerning immigration and citizenship. The firm's clients include government institutions, local conglomerates, international banks, and multinational companies operating in the Philippines. The immigration practice has a strong reputation for facilitating successful petitions for administrative and judicial naturalization, recognition, and dual citizenship, among others, alongside handling the swift processing of immigrant and non-immigrant visas, work permits and other various reportorial requirements.
Maria Khristina Garcia-Angel
 is the head of the practice group.
The team at
Angara Abello Concepcion Regala & Cruz Law Offices (ACCRALaw)
advises a substantive number of leading corporations on labour and employment issues. Covering industries such as manufacturing, bottling, power generation and pharmaceuticals, it has specific expertise in inspection proceedings before the regional director and litigation before the Court of Appeals. Additional specialisms include advice on union interactions, redundancies, restructurings and compliance on Filipino contract law. Led by
Clarence Darrow C Valdecantos
,
Neptali B Salvanera
, and
Emerico O De Guzman
, it also fields of counsel
Joy Leong-Pambid
and senior associate
Franchesca Abigail Gesmundo
, noted for her work on advisory and contentious employment issues.
Angara Abello Concepcion Regala & Cruz Law Offices (ACCRALaw)
's tax department enjoys a stellar reputation in the domestic market for its track record in administrative and judicial cases, most notably in handling the issuances of both local and national tax authorities. The team places an emphasis on representing various banks and professional associations in challenging issuances of the Bureau of Internal Revenue before the courts. Headed up by
Ruby Rose J Yusi
,
Eric R Recalde
and
Oliver L Pantaleon
, the group also advises local conglomerates, multinationals, listed companies and high net-worth individuals on tax advisory and planning issues, running the full gamut of national, local, and customs taxes and duties. Advising on the tax implications of corporate transactions is another mainstay of the group.
Angara Abello Concepcion Regala & Cruz Law Offices (ACCRALaw)
has a particular focus on trademarks, having advised a number of large Philippine conglomerates on trademark applications and intellectual property rights enforcement proceedings. The firm successfully represented Orafol in opposing the applications for registration of a trademark that was deemed by the Intellectual Property Office of the Philippines to be confusingly similar to Orafol. Leading the practice are
Alex Ferdinand S. Fider
and
Richmond K Lee
. 
Victor De Leon
is another name to note; he represented a major US fast food restaurant chain in successfully prosecuting an infringement and unfair competition case against a local company before the Supreme Court.
Angara Abello Concepcion Regala & Cruz Law Offices (ACCRALaw) >
Firm Profile
The firm: Founded in 1972 by Senator Edgardo J Angara, Attys. Manuel G Abello, Teodoro D Regala, Jose C Concepcion and Avelino V Cruz, ACCRALAW is a cohesive multi-disciplinary team of legal professionals with in-depth knowledge of specialized legal fields.  Backed by almost fifty (50) years of experience in Philippine law, the firm has grown to a prestigious service organization of 170 lawyers and 178 non-legal personnel.
A top-tier institutional firm, ACCRALAW is based at the ACCRALAW Tower in the Bonifacio Global City, Metro Manila, and has full-service branches in Cebu City and Davao City – thriving commercial and business centers in the southern islands of the Philippines. The firm is linked to a global network of correspondent lawyers, law firms and Bar associations.
To enhance the delivery of services to clients, the firm has computerized its operations since the early 1980s. It was the first law firm in the Philippines to utilize a widely used, comprehensive and integrated computer system for law offices.
Areas of practice: The firm has a track record in handling diverse, significant and complex business projects and joint ventures involving multinational clients, and has handled a great number of landmark litigation cases.
ACCRALAW's clientele represents the full spectrum of business and industry, as well as professional organizations and individuals. Serving the firm's clients are seven practice departments and its two branches that offer timely, creative and strategic legal solutions alongside cost-effective administration and expert handling of clients' requirements.
The retainer department provides legal services required by the firm's general retainer clients in the ordinary course of business, such as consultation and advice on simple operational issues, preparation of ordinary contracts and legal documents and their rendition of ordinary legal opinions.
The intellectual property department represents clients in all aspects of IP protection, including registration and post-registration, enforcement of IP rights and in prosecuting or defending any litigation matter involving IP issues.
The corporate and special projects department performs legal services in connection with the establishment of business enterprises, mergers and acquisitions, banking and finance (including project finance), securities issues, public/private partnership projects, and energy/utilities projects, among others.
The labour and employment department renders assistance in the formulation of employment policies, and in the handling of administrative cases including employees, the litigation of cases involving their dismissal and suspension, money claims and damages arising from employer-employee relations, petitions for certification elections, intra- and inter-union disputes, negotiations for collective bargaining agreements, unfair labour practice, preventive mediation/conciliation of labour disputes, strikes and walkouts, grievance handling and labour arbitration, labour-related cases and other related matters.
The litigation and dispute resolution department supervises and monitors all litigation matters before regular courts of law, administrative agencies, quasi-judicial tribunals and arbitral bodies (both international and domestic).
The tax department offers services covering the entire field of national and local taxation, customs and anti-dumping laws.
The immigration department represents clients before government agencies involved in defining the terms and conditions of a non-resident's authorized stay in the Philippines.
The firm's managing partner is Emerico O De Guzman, and the co-managing partner is Salvador L. Peña.
Lawyer Profiles
| Photo | Name | Position | Profile |
| --- | --- | --- | --- |
| | Ms Ana Lourdes Teresa Arnaldo-Oracion | Senior Partner Admiralty & Maritime | Anti-Bribery, Corruption and Anti- Money Laundering… | View Profile |
| | Ms Creselda G. Baldonado | Partner Criminal Law | Environment and Natural Resources | Family and Matrimonial… | View Profile |
| | Ms Josephine Alessandra G. Cochico | Senior Partner Contracts | Corporate | Insurance | Investment, Mergers and Acquisitions… | View Profile |
| | Mr Reynaldo J. Concepcion | Partner Environment and Natural Resources | Investment, Mergers and Acquisitions | Real… | View Profile |
| | Mr Arnold M. Corporal | Partner Advertising and Mass Media | Antitrust & Trade Regulation | Arbitration… | View Profile |
| | Mr Avelino V. Cruz | Founding Partner Administrative Law and Regulatory Practice | Appellate Practice | Corporate… | View Profile |
| | Mr Emerico O. De Guzman | Senior Partner Appellate Practice | Business Process Outsourcing | Labor and Employment… | View Profile |
| | Mr Alex Ferdinand S. Fider | Senior Partner Copyright and Related Rights | Internet, Technology and Science |… | View Profile |
| | Mr Gilberto D. Gallos | Senior Partner Arbitration and Mediation | Bankruptcy, Insolvency and Corporate Rehabilitation |… | View Profile |
| | Ms Rowena L. Garcia-Flores | Senior Partner Anti-Bribery, Corruption and Anti- Money Laundering | Contracts | Criminal… | View Profile |
| | Ms Judy Hao | Senior Partner Banking and Finance | Construction | Investment, Mergers and Acquisitions… | View Profile |
| | Mr Francisco Ed. Lim | Senior Partner Antitrust & Trade Regulation | Bankruptcy, Insolvency and Corporate Rehabilitation… | View Profile |
| | Mr Andre B. Navato, Jr. | Partner Banking and Finance | Energy | Investment, Mergers and Acquisitions |… | View Profile |
| | Mr Oliver L. Pantaleon | Senior Partner Contracts | Energy | Environment and Natural Resources | Litigation… | View Profile |
| | Mr Salvador L. Peña | Senior Partner Appellate Practice | Arbitration and Mediation | Construction | Litigation… | View Profile |
| | Ms Patricia-Ann T. Prodigalidad | Senior Partner Antitrust & Trade Regulation | Arbitration and Mediation | Bankruptcy,… | View Profile |
| | Mr Teodoro L. Regala, Jr. | Senior Partner Agricultural Law and Agrarian Reform | Arbitration and Mediation |… | View Profile |
| | Ms Elaine Patricia S. Reyes-Rodolfo | Partner | View Profile |
| | Mr Eduardo V. Soleng, Jr. | Partner | View Profile |
| | Ms Melissa Angela G. Velarde | Partner | View Profile |
| | Mr Leland R. Villadolid, Jr. | Senior Partner Arbitration and Mediation | Environment and Natural Resources | Internet,… | View Profile |
| | Ms Ruby Rose J. Yusi | Senior Partner Investment, Mergers and Acquisitions | Public Bidding and Procurement |… | View Profile |
Staff Figures
Number of lawyers at this office : 175
Languages
English Pilipino
Memberships
Inter-Pacific Bar Association International Bar Association International Trademark Association Asian Patent Attorneys Association Meritas Law Firms Worldwide TerraLex