Allen & Gledhill LLP > Singapore, Singapore > Firm Profile
Allen & Gledhill LLP
Offices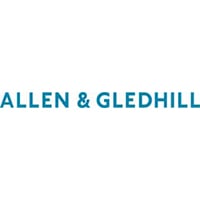 Allen & Gledhill LLP
ONE MARINA BOULEVARD
#28-00
SINGAPORE 018989
Singapore
Allen & Gledhill LLP > The Legal 500
Rankings
Allen & Gledhill LLP
has an excellent record in merger control matters, including cross-border and global transactions; this includes providing Singapore counsel to the London Stock Exchange on its $30bn acquisition of Refinitiv Holdings. Of late, the firm advised on a majority of all merger notifications to the Competition and Consumer Commission of Singapore. It also has a significant market share of engagements in respect of advising on anti-competitive agreements including cartel allegations. Department head
Daren Shiau
and highly-rated chief economist
Elsa Chen
are established figures in the market.
Scott Clements
is another top practitioner, particularly noted for contentious matters.
Allen & Gledhill LLP
's team is considered by clients to be '
at the forefront of the changes in the market
', advising an impressive array of financial institutions, corporates, private equity houses and sovereign wealth funds on the spectrum of their banking and finance transactions in Singapore and across the region. The group is particularly noted for project and real estate finance, as well as leveraged, acquisition, asset and structured financing deals. It also has a strong Islamic finance practice. Co-leading the department,
Mark Hudspeth
and
Kok Chee Wai
 both have significant experience in cross-border finance.
Jafe Ng
is a specialist in asset and project financing, additionally handling debt capital markets fundraising.
Lim Wei Ting
 ('
a strong addition to any deal team
') and
Julie Sim
are also lawyers of note.
Allen & Gledhill LLP
is able to advise on the spectrum of capital markets transactions, utilising specialist teams dedicated to equity and debt capital markets and real estate investment trusts. The ECM group, led by
Tze Gay Tan
is known for first-of-kind IPOs, which often involve multiple jurisdictions and stock exchanges. On the debt side, the group, chaired by
Margaret Chin
, has experience across bond issuances and restructurings. Managing partner
Jerry Koh
 leads the REITs team, which includes
Bor Jern Chua
and is prolific in the Singapore real estate market.
Wico Yeo
is noted for his expertise in infrastructure business trusts.
Leonard Ching
supports the team in relation to regulatory and compliance issues and
Alvin Zhuang
is also a key member of the team.
Allen & Gledhill LLP
is most known for its over the counter and exchange-traded derivatives work, bringing together solid expertise in capital markets, regulatory compliance, tax and insolvency. The firm is also appointed by the International Swaps and Derivatives Association and the Securities Industry and Financial Markets Association as a Singapore opinion counsel.
Margaret Chin
, head of the debt capital markets team, is an expert in asset securitisations; co-head of the financial services and financial regulatory compliance practices
Francis Mok
is another core team member with experience across securities and derivatives;
Yeo Wico
also regularly handles securitisations.
Magdalene Leong
's practice focuses on the intersection between Islamic finance and securitisations. In July 2020,
Evan Lam
departed for
Ashurst LLP
.
Allen & Gledhill LLP
 has a large dedicated team covering contentious and transactional construction matters with a strong focus on Singapore and the broader Southeast Asia region. The team is noted for its work on headline matters including infrastructure and power projects, along with big-ticket cross-border disputes. 
Ho Chien Mien
 and
Sathiaseelan Jagateesan
co-head the construction and engineering practice. Deputy head of the group 
Lim Dao Kai
 is also highly rated by clients for his understanding of complicated claims. 
Chong Yee Leong
is a prominent name in major construction arbitrations and deputy head of the construction and
Kelvin Kek
 is an emerging talent in the disputes field including India and Malaysia cases, as is
Charmelia Sugianto
 in project documentation and construction contracts.
A firm '
heavily involved in Singapore's most prominent deals'
,
Allen & Gledhill LLP
  is home to a sizeable corporate and M&A team of approximately 70 lawyers.
Lim Mei
is an M&A, equity capital markets and derivatives expertise who is extensively experienced in cross-border transactions; she fronts the practice together with
Christian Chin
who, in addition to venture capital, corporate restructuring and joint venture transactions, is also an expert in employment law and general commercial contracts. Elsewhere,
Andrew Lim
is a go-to for corporate governance, regulatory and compliance affairs and
Christopher Koh
focuses on public takeovers and privatisations.
Prawiro Widjaja
 has a particularly deep knowledge of the Indonesian market and the group's capacity for multi-jurisdictional transactions is bolstered by its integration with its Vietnam and Myanmar offices, as well as its associations in Malaysia and Indonesia.
Allen & Gledhill LLP
's reputable dispute resolution team
'excels in a broad understanding of the commercial realities of litigation'
with a range of highly specialised sub-groups. Co-head
William Ong
comes
'highly recommended'
 by clients for his work in financial and securities-related disputes where
Vincent Leow
is also an expert. The group frequently engages in high-stakes cases including disputes pertaining to corporate and shareholders, M&A, and employment.
Yong Seng Tay
and
Stanley Lai
are commended for their '
comprehensive understanding of the nuances in complex commercial disputes
' whilst
Jason Chan
's expertise lies within litigation and white-collar crimes.
Tan Kai Liang
 and
Ramesh Kumar
 focus on matters related to commercial litigation and arbitration whilst
Xeauwei Tan
covers corporate litigation and arbitration. The team is highly sought after internationally thanks to its extensive network which covers Malaysia, Myanmar, Indonesia, and Vietnam.
Andrew Yeo
leads the team alongside Ong.
According to one client,
Allen & Gledhill LLP
has '
the best financial services and regulatory team in Singapore
', with a team comprising non-contentious regulatory lawyers and disputes experts. On the advisory front, the group is regularly instructed on licensing and conduct of business issues, in addition to assisting financial institutions with corporate transactions. The contentious team handles regulatory investigations, enforcement matters, as well as defending clients in anti-money laundering and fraud cases. The department is co-led by
Francis Mok
 and
Karen Tiah
.
Adrian Ang
 is a key name for fintech regulation and he also takes the lead in matters involving ESG.
Allen & Gledhill LLP
has one of the largest teams in the market, fielding a range of specialists across all aspects of intellectual property. It leads the market in core areas such as patent prosecution and protection thanks to extensive experience in major industry sectors, including chemistry, biotechnology, computer science, and mechanical and electrical engineering.
Stanley Lai, SC
leads the intellectual property practice and is at the forefront of IP litigation and IT disputes.
Low Pei Lin
is an experienced figure in IP protection, portfolio and rights management, and heads up a team of patent prosecution specialists. Counsel
Gloria Goh
is another key department member, leading teams on a number of headline cases.
Allen & Gledhill LLP
is at the forefront of private funds and retail funds, despite the recent retirement of
Tan Sai Hong
and the departure of
Danny Tan
.
Shieh Lin Lai
and
Sarah Teo
have stepped up to lead the retail funds side of the practice while managing partner
Jerry Koh
and
Jonathan Lee
are the senior names on the private funds front. Given the firm's wide-ranging corporate relationships, it has landed a series of major engagements in the Variable Capital Company (VCC) segment, along with additional growth in technology, real estate, sustainability and debt funds. In the retail space, the team is increasingly active in ESG-driven funds, while the wider group is also building its experience in blockchain and tokenisation; it advised Elite Partners Capital on the establishment of Elite Logistics Fund with units in the fund being tokenised and issued through iSTOX, the digital securities platform.
Allen & Gledhill LLP
has one of the largest teams in Singapore, spanning both contentious and non-contentious matters. The group has experienced growth in health and safety matters, including those linked to the Covid-19 crisis. It has also maintained its eminent standing in restraint of trade, employee poaching and non-compete injunction cases.
Kelvin Wong
and
Sanjiv Rajan
co-head the practice, with the latter known for employment disputes, including white-collar crime and investigations-related matters.
Tay Yong Seng
is a highly rated employment litigator, notably non-compete injunction and senior executive remuneration disputes. 
Christine Tee
is an emerging talent.
Allen & Gledhill LLP
's multi-disciplinary offering is well placed to provide advice throughout the entire life cycle of a project, be it in the oil, gas, energy, utilities, telecoms or transportation sector. On the development side, the key contacts are group lead
Kelvin Wong
 and
Boon Kiat Yeo
; both have considerable experience assisting with project structuring, establishment and conduct of operations, and industry-specific regulatory and compliance matters. On the financing side, regional practice co-head
Chee Wai Kok
and
Aloysius Ng
are the names to note.
Wee Meng Tan
, who oversees the firm's work in the telecoms area, is also recommended.
Allen & Gledhill LLP
handled an additional range of real estate transactions during the Covid-19 period. It advised on a series of acquisitions and disposals, including advising OUE Commercial REIT Management on the S$1.27bn divestment of 50% of OUE Bayfront, OUE Tower and OUE Link. The real estate team has landed a number of major engagements in residential, data centres and other technology assets.
Ho Kin San
and
Eudora Tan
are now the firm's most active partners in big-ticket real estate transactions with
Penny Goh
having moved into a strategic role for the firm.
Allen & Gledhill LLP
routinely lands the big-ticket restructurings in the market, often representing the creditors. It represented the major bank and non-bank creditors in the $3.85bn restructuring of Hin Leong Trading, Ocean Tankers and Xihe Holdings and advised the informal steering committee of lenders on the $3.74bn restructuring of Pacific International Lines. The firm's banking heritage, shipping expertise and regulatory acumen makes it particularly well equipped for large recent engagements in the market.
Chong Yee Leong
 leads the restructuring and insolvency team, coming from a construction and international arbitration background.
Edward Tiong
 is deputy head of the group, while
Andrew Chan
 is a recognised market leader and
Kenneth Lim
 is another seasoned restructuring and insolvency expert.
Allen & Gledhill LLP
has a large and dedicated practice focused on the shipping sector, particularly in the financing and transactional arena, along with a further significant emphasis on contentious maritime work. In recent times, the firm has been especially active in big-ticket restructurings and financial distress, along with fraud and wrongdoing matters in the shipping sector.
Gina Lee-Wan
specialises in shipping and offshore financings, leasing and equity transactions.
Kenny Yap
is prominent in international trade and shipping, and
Yap Yin Soon
is noted for maritime and offshore disputes.
Corina Song
is another senior name in contentious shipping, trade and admiralty matters. 
Vivian Ang
is a leading figure in wet and dry shipping disputes.
Allen & Gledhill LLP
has a fully rounded tax practice, covering the full spectrum of transactional, advisory and contentious matters. Senior team members have extensive experience in tax advisory and dispute resolution work, frequently working alongside colleagues in the firm's real estate, capital markets, corporate and other departments. Amongst an array of top quality engagements, the firm continues to impress in highly structured capital markets offerings and big-ticket M&A transactions.
Sunit Chhabra
is at the forefront of income tax, stamp duty and goods and services tax (GST) matters.
Lim Pek Bur
specialises in tax and wealth planning for ultra-high net worth clients.
Allen & Gledhill LLP
's highly regarded offering comprises dedicated experts, who come together to assist with the full gamut of TMT issues, including advising on acquisition and financing of technology companies and their intellectual property, cloud deployment and strategy, assisting with regional and global data protection compliance and handling large-scale outsourcing projects.
Tham Kok Leong
, who heads up the the technology and corporate intellectual property practice, has substantial experience negotiating and drafting a wide range of commercial agreements with a nexus to TMT.
Tan Wee Meng
oversees the specialised telecoms group.
Stanley Lai
and
Eugene Ho
jointly lead the cybersecurity and data protection department.
Alexander Yap
 is the key contact for fintech related work, while counsel
Gloria Goh
 is the name to note for technology disputes.
Allen & Gledhill LLP
has a longstanding white-collar crime practice, with the team advising local and international financial institutions, public listed companies and corporate clients, as well as representing private individuals prosecuted for white-collar crimes. The practice is jointly headed by
Jason Chan, SC
, who advises on regulatory and white-collar criminal cases, such as market misconduct, regulatory breaches, corporate fraud and corruption, and
Aaron Lee
, who has an active practice in matters involving fraud, insider trading, money-laundering, corruption, sanctions, securities, market misconduct, import/export and mutual legal assistance matters.
Allen & Gledhill LLP
's '
very strong
' international arbitration team is known for representing clients from South East Asia, China, Japan, Korea and India in high-value disputes relating to infrastructure, energy, construction and engineering projects. Energy, oil and gas, power and infrastructure project disputes expert
Chong Yee Leong
jointly leads the team alongside
Dinesh Dhillon
, whose broad experience includes representing multinational corporations and sovereign states in arbitration. Other names to note include the '
very commercially savvy
'
Ramesh Selvaraj
, who has a focus on disputes relating to Indonesia, Thailand and India, and
Chua Kee Loon
and
Chong Boon Leong
who are noted for project and investment disputes in the Southeast Asia region. For India-related disputes,
Vivekananda Neelakantan
is another key contact while
William Ong
 regularly acts in arbitrations involving Chinese parties.
Allen & Gledhill LLP
 draws on its extensive funds, transactional and dispute resolution expertise to provide a rounded offering to the private wealth sector. The firm's exceptional corporate and financial institutions client base provides it with a wealth of contacts that deliver a stream of high-quality engagements. It receives instructions from clients around Asia Pacific, with a notable increase in matters coming from China, India and Myanmar. Contentious probate work is another area of expertise.
Lim Pek Bur
 leads the team and has a strong background in tax structuring.
Allen & Gledhill LLP
advises clients on market entry strategies, structuring or restructuring, acquisitions, divestments and early-stage investments in Indonesia.
Oene Marseille
 has extensive experience advising international corporates and private investors on corporate and M&A transactions in the region. Clients praise Marseille for being '
knowledgeable, amiable and very responsive
'.
Prawiro Widjaja
advises corporate clients and private equity funds on big-ticket M&A transactions.
Allen & Gledhill LLP >
Firm Profile
Allen & Gledhill is an award-winning full-service South-east Asian law firm which provides legal services to a wide range of clients. Established in 1902, the Firm is consistently ranked as a market leader in Singapore for every major practice area, having been involved in numerous challenging, complex, cutting-edge and significant deals. The Firm's Partners are specialists in their areas of practice and many are widely recognised as leading legal experts by clients and peers.
Allen & Gledhill is renowned for delivering exceptional legal services in Singapore and South-east Asia. Its reputation for high-quality advice is regularly affirmed by its strong rankings in leading publications, and by the various awards and accolades it has received from independent commentators and clients. The Firm is consistently ranked tier one in the highest number of practice areas, and is one of the firms with the highest number of lawyers recognised as leading individuals. Over the years, it has also been named 'Regional Firm of the Year' and 'Singapore Firm of the Year' by many prominent legal awards.
Currently one of the largest law firms in Singapore and South-east Asia, comprising over 650 lawyers in the region, Allen & Gledhill, with its offices in Singapore and Myanmar, its associate firm in Malaysia and network firm in Indonesia, is well-placed to advise clients on their business interests in Singapore and beyond, particularly on matters involving South-east Asia and the Asian region.
Its associate firm in Malaysia, Rahmat Lim & Partners, located in Kuala Lumpur, is a full-service corporate and commercial law firm. Rahmat Lim & Partners is one of the fastest growing law firms in Malaysia. Its team of approximately 90 local lawyers is well-positioned to provide an invaluable combination of Malaysian law and practice, local insight of the Malaysian environment and context, as well as international best practices.
The firm's Myanmar office is based in Yangon. It is a fully licensed law firm which provides Myanmar legal advice, and issues Myanmar legal opinions. Both Myanmar and foreign qualified lawyers are familiar with the business environment, laws, regulations and practices of Myanmar to provide value-added advice and service to clients across key industry sectors.
Its network firm in Indonesia, Soemadipradja & Taher, based in Jakarta, is one of Indonesia's largest independent full service law firms. Established in 1991, the firm is consistently ranked in the top tiers of legal publications and directories.
Furthermore, Allen & Gledhill has strong working relationships with leading law firms worldwide, and serves both local and international clients on multi-jurisdictional transactions in South-east Asia, China, India, the Middle East, the United Kingdom, continental Europe and the United States of America. This experience allows the Firm to take on an effective lead counsel or project manager role in cross-border transactions.
Apart from providing legal services, the Firm is committed to acting as a responsible corporate citizen and to do good to effect positive changes in the ASEAN community. A principal focus is working in partnership with, or supporting, community and charitable organisations by providing them with expertise and skills, which brings an added dimension to its practice of the law. In addition to helping charities, it helps individuals through existing pro bono initiatives, where its lawyers volunteer at the Law Society of Singapore's community legal clinics or take on criminal cases through the Law Society's Criminal Legal Aid Scheme.
Allen & Gledhill collaborates closely with its clients, employees and the wider community in its CSR activities and initiatives. The Firm is driven by its belief that sustainable practices and meaningful community engagement benefit all stakeholders and help create a stronger community.
Main contacts:
Christina Ong (Chairman and Senior Partner)
Jerry Koh (Managing Partner)
Staff Figures
Number of lawyers in Singapore : 450+ Number of lawyers in regional network : 650+
Languages
English Chinese (Mandarin) Bahasa (Malay and Indonesia) Myanmar Tamil
Diversity/Community
One of South-East Asia's leading and largest law firms, Allen & Gledhill seeks to be a responsible corporate citizen and do good to effect positive changes in the ASEAN community. The firm collaborates closely with its clients, employees and the wider community in its CSR activities and initiatives. As part of its commitment to continue using its resources and capabilities to benefit the wider community, the firm and the National University of Singapore Faculty of Law jointly established the A&G-NUS Criminal Legal Aid Scheme (CLAS) Pro Bono Internship Programme in 2016. The programme is the first formal partnership between a law firm and the NUS Law Faculty focusing on pro bono work.