Powell Gilbert LLP > London, England > Firm Profile
Powell Gilbert LLP
Offices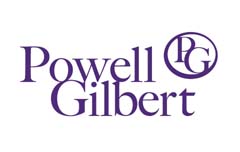 Powell Gilbert LLP
85 FLEET STREET
LONDON
EC4Y 1AE
England
Powell Gilbert LLP > The Legal 500
Rankings
Indicative of the cutting-edge patent litigation handled at boutique firm Powell Gilbert LLP, Simon Ayrton, Zoë Butler and recently made-up partner Tom Oliver are currently leading a global dispute in the field of automated warehouse technology on behalf of FTSE 100 company Ocado Group. The team has considerable experience in the life sciences sector: practice head Penny Gilbert capably conducts pan-European litigation for biosimilar companies; Siddharth Kusumakar uniquely acts for both pharmaceutical innovators and generics companies; and Bethan Hopewell acts on significant disputes concerning medical devices. In other headline-grabbing litigation, Alex Wilson, Peter Damerell and Tim Whitfield lead a team defending Philip Morris International in a global patent infringement action against its smoke-free tobacco products. A number of team members field expertise in FRAND litigation, including Ayrton, Butler and Ari Laakkonen. Senior associate Tess Waldron also impresses in hi-tech patent litigation.
Powell Gilbert LLP is recommended for IP litigation and advisory work in the life sciences sector, with areas of work including patents, trade marks, design rights, copyright and confidential information. The team has extensive experience in developing multi-jurisdictional litigation and regulatory strategies. The practice stands out for its technical excellence, with experience in issues including small molecule drugs, monoclonal antibodies and biologics, agrochemicals, RNA and surgical robotics. Team lead Penny Gilbert regularly develops and coordinates European litigation strategy for pharmaceutical and biotech clients. Tim Powell is noted for patent litigation, with recent cases relating to medical devices, gene sequencing methods and pre-natal diagnostic testing.
Powell Gilbert LLP's soft IP practice handles a wide variety of matters concerning counterfeit products, parallel trading and lookalike goods. Practice head Simon Ayrton represents high-profile FMCG clients including Procter & Gamble, as well as a range of furniture, retail and food and drink companies. Tom Oliver and Peter Damerell are noted for their 'in-depth knowledge of IP law and large experience in IP litigation'.
Powell Gilbert LLP >
Firm Profile
Powell Gilbert LLP is a specialist London-based IP law firm dedicated to serving clients across the full spectrum of knowledge-driven industries, from cutting-edge tech and life sciences companies to creative and brand-driven businesses. The firm is one of the largest, most innovative and most highly regarded IP teams in the UK, with unrivalled patent litigation experience and a blue-chip brands practice.
The firm advises clients across all technologies and all IP rights, including advising on IP licence disputes and providing freedom-to-operate assessments.
Powell Gilbert's IP litigation team includes 13 partners, 19 associates and a highly experienced litigation support team.
The firm includes some of Europe's leading patent litigators and the technical expertise at Powell Gilbert is second to none. Almost all lawyers have technical backgrounds, including many with PhDs or master's degrees in relevant scientific disciplines.
The team appears regularly in cases before the UK patents courts at all levels, including representing clients on appeal before the UK Supreme Court, where it has appeared in a number of precedent-setting cases in recent years.
With a wealth of experience gained from acting in multi-national disputes, Powell Gilbert is frequently involved in devising European patent litigation strategies, acting as co-ordinating counsel and working with local teams to  put strategies into effect and to ensure consistency of approach.
Practice areas
The firm advises across the full spectrum of IP rights, including patents, brands, design rights, copyright, passing off, confidential information and plant variety rights. Its experience in patent litigation ranges across all technical fields, from acting in the earliest biotechnology patent cases to involvement in the smartphone wars and leading cases on FRAND licensing disputes. It has appeared in many of the most technically complex and legally challenging cases in the UK patent courts and has also represented clients in referrals to the European Court of Justice and the European Free Trade Area Court in relation the requirements for the grant of SPCs. The firm also represents clients in smaller claims before the UK IP Enterprise Court.
Although focused on litigation, the firm is also experienced in alternative dispute resolution, including mediation and arbitration, particularly in relation to patent and technology licences.
International experience
A distinguishing feature of Powell Gilbert is the expertise and experience of its lawyers in coordinating complex cases and successfully guiding clients through multinational patent litigation, devising and coordinating pan-European strategies.
The firm has played a central role in cases before many overseas courts, including in continental Europe, Scandinavia, the United States (district court and International Trade Commission proceedings), Australia, China, Korea and Japan.
The firm also frequently represents clients in European Patent Office opposition proceedings and in other registry proceedings, including representing clients before the UK IPO.
With an eye to co-ordination strategies, Powell Gilbert's lawyers are familiar with the opportunities, and the potential threats for the unwary, that litigation in the Unified Patents Court (UPC) may offer, should it come into effect. Members of the firm were actively involved in commenting on the rules of procedure of the UPC and have contributed to training materials for UPC judges, including participation in mock trials.
Languages: Chinese (Mandarin and Cantonese), English, Finnish, French, German and Punjabi
Lawyer Profiles
| Photo | Name | Position | Profile |
| --- | --- | --- | --- |
| | Simon Ayrton | Partner specialising in intellectual property litigation. Work covers advising on full range… | View Profile |
| | Zoë Butler | Specialises in contentious intellectual property matters; practice covers full range of IP… | View Profile |
| | Zoë Butler | Specialises in contentious intellectual property matters; practice covers full range of IP… | View Profile |
| | Joel Coles | Partner specialising in intellectual property litigation. He is an experienced patent litigator… | View Profile |
| | Peter Damerell | Partner specialising in advising clients in complex patent disputes and co-ordinating parallel… | View Profile |
| | Penny Gilbert | Partner specialising in advising on IP rights including patent litigation, licence disputes… | View Profile |
| | Bethan Hopewell | Partner specialising in contentious intellectual property matters; practice covers full range of… | View Profile |
| | Siddharth Kusumakar | Partner specialising in patent litigation in the pharmaceutical, biotechnology and medical devices… | View Profile |
| | Ari Laakkonen | Specialises in electronics patent litigation and IT disputes, as well as advising… | View Profile |
| | Tom Oliver | Specialises in intellectual property litigation.  Advising across the range of intellectual properties… | View Profile |
| | Tim Powell | Partner and solicitor advocate specialising in intellectual property litigation and healthcare regulatory… | View Profile |
| | Tess Waldron | Partner specialising in intellectual property litigation. She has also represented life sciences… | View Profile |
| | Tim Whitfield | Partner advising on contentious IP matters, with a focus on patent litigation… | View Profile |
| | Alex Wilson | Partner specialised in intellectual property; extensive experience of developing strategies for, and… | View Profile |
Staff Figures
Number of UK partners : 13 Number of other UK fee-earners : 27
Languages
Chinese (Mandarin and Cantonese) English Finnish French German Punjabi
Memberships
AIPLA AIPPI CIPA EPLAW INTA LES MARQUES PTMG ChIPs IPLA LSLA Support IP Inclusive
Diversity
Diversity
Our people are our most significant strength and we firmly believe that fostering an inclusive work environment, with equal opportunity, is key to our ongoing success. We aim to maximise the potential of every member of the team, promoting mutual respect and ensuring that they are seen as an individual first and foremost. They are supported and empowered to achieve, regardless of gender, ethnic origin, nationality, marital or civil partner status, sexual orientation, religion or belief, age, disability or socio-economic background.
The gender ratio across the firm as a whole and our Associates is approximately equal.. The Partnership is also diverse, in terms of gender, sexual orientation and ethnicity. Our staff are invited to participate in a Diversity Survey on an anonymous and voluntary basis. The data, based only on those individuals who completed the survey, can be found here.
We are proud to support IP Inclusive, which is dedicated to improving diversity in the IP professions. We also support ChIPs, a non-profit organisation that advances and connects women in technology, law and policy, with partners and associates being members of the ChIPs London Chapter Committee.
This commitment to diversity and equality is central to our recruitment process: we recruit on merit.
CSR
The firm takes Corporate Social Responsibility seriously, working in partnership with Queens Park Community School and Careers Academies UK to provide mentoring to students aged 16 to 19 years. The firm provides pro bono legal advice to DEBRA (a national charity that supports individuals and families affected by Epidermoylsis Bullosa (EB)) and to DACs (the Design and Artists Copyright Society – a leading UK copyright and collecting society for artists and visual creators). We work with the society by providing pro bono legal services to artists caught up in copyright and licensing disputes.
Charities
Whether it's dressing up, baking cakes, virtual raffle, quizzing or putting our running shoes on, we're always keen to get involved and raise money for charity. This year the members of the firm have been supporting "Together for Short Lives" as its chosen charity.
Client Testimonials
CLIENT:
COMPANY/FIRM:
TESTIMONIAL: extensive advice in all IP-related matters – a wide cooperation network in Europe and worldwide – outstanding expertise – outstanding partner availability.
---
CLIENT:
COMPANY/FIRM:
TESTIMONIAL: The Powell Gilbert team have become our in-house IP litigation team. They are trusted advisors who accept the commercial realities of any situation and understand that risk mitigation and preparedness are of paramount importance to industry. They combine this with a wealth of legal knowledge, humour and availability! I could not do my job without them.
---
CLIENT:
COMPANY/FIRM:
TESTIMONIAL: Powell Gilbert LLP is noted for its top-class IP offering, where it handles high-value and complex litigation relating to patents.
---
CLIENT:
COMPANY/FIRM:
TESTIMONIAL: outstanding experience in the coordination and planning of complex international patent litigation.
---
CLIENT:
COMPANY/FIRM:
TESTIMONIAL: absolutely superb in every way
---
CLIENT:
COMPANY/FIRM:
TESTIMONIAL: Powell Gilbert LLP fields a 'high-end team': 'superb', 'outstanding' and 'for patent work, there is no firm better'.
---
CLIENT:
COMPANY/FIRM:
TESTIMONIAL: Powell Gilbert is ahead simply because every single person there is excellent.