Firm Profile > Powell Gilbert LLP > London, England
Powell Gilbert LLP
Offices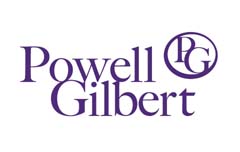 Powell Gilbert LLP
85 FLEET STREET
LONDON
EC4Y 1AE
England
Powell Gilbert LLP > The Legal 500
Rankings
Buoyed by its reputation as a market-leading IP boutique, Powell Gilbert LLP is regularly involved in high-profile patent disputes before all levels of the UK courts. Indicative of the firm's litigation strength, Simon Ayrton, Zoë Butler, Peter Damerell and senior associate Tess Waldron are representing global telecoms companies in law-defining FRAND litigation. Name partners Tim Powell and the 'highly knowledgeable and widely respected' Penny Gilbert (who acts as practice head) are frequently engaged by leading names in the life sciences sector to handle high-value litigation involving biosimilar drug products. Further novel disputes saw Powell, Siddharth Kusumakar (who recently made partner) and Bethan Hopewell handle patent infringement proceedings concerning next-gen heart valve technology and non-invasive prenatal testing technology. Expertise in the electronics, FMCG and media sectors is also cited. The team often develops multijurisdictional litigation strategy for clients, which involves opposition proceedings in the EU and US courts.
Practice head(s):
Other key lawyers:
Testimonials
'Powell Gilbert has an industry-leading profile in UK TMT patent litigation. It is involved in pretty much all of the leading cases in this area, regularly acting for very large multinationals. Its involvement in the groundbreaking Unwired Planet v Huawei litigation is a good example of this.'
'Penny Gilbert is highly knowledgeable and widely respected- a great, and astute, co-ordinator of litigation.'
'Tim Powell is a tenacious and highly effective litigator who you do not want on the other side of a case.'
'Bethan Hopewell is resolute and determined.'
'Simon Ayrton combines excellent legal intelligence and insight with commercial strengths in planning and executing strategies in multijurisdictional disputes. I have worked with him for many years on dozens of cases and have seen first hand how much clients value his ability to see and plan all the many different facets of a dispute.'
'Zoë Butler is superb at leading and co-ordinating teams on the largest of cases. She is absolutely unflappable even in the most difficult situations, and brings integrity and honesty which clients really value.'
'Peter Damerell is probably the most analytically able lawyer I have worked with. On a very large FRAND case he produced a databook document for the court the like of which I have not seen before and which was incredibly impressive. He is also a determined litigator.'
'Tess Waldron is an extremely talented associate. She has an exceptional intellectual grasp of a case and produces excellent documents time and again. I have also seen her co-ordinate a very difficult matter to a successful conclusion in a manner that was very impressive indeed.'
Key clients
Lenovo
Huawei Technologies Co., Ltd
HEVC Advance LLC
Biogen Inc
Edwards Lifesciences
Illumina, Inc
Kymab
GlaxoSmithKline
Royalty Pharma Collection Trust
Coloplast A/S
Xiaomi
Led by the highly respected Penny Gilbert, Powell Gilbert LLP is noted for its top-class IP offering, where it handles high-value and complex litigation relating to patents. The team's patents expertise spans the pharma, biotech, biosimilars and medical devices arenas. A number of its cases reach the Supreme Court and often involve cutting-edge scientific issues, such as gene sequencing, genetic engineering methods and surgical robotics. Zoë Butler is highly experienced in dealing with cross-border disputes, particularly those relating to biologics and biosimilars. Tim Powell is well known for his handling of complex patent disputes that often reach the Court of Appeal or the European Court of Justice and involve the regulatory regime applicable to the authorisation of pharmaceutical products. Bethan Hopewell is also recommended for her patents expertise. 
Practice head(s):
Other key lawyers:
Testimonials
'The fact that the firm is essentially exclusively focused on IP (and so smaller than its competitors) means that it can deliver a top-drawer service while having a close-knit, almost family atmosphere.'
'Penny Gilbert: highly knowledgeable and widely respected – a great, and astute, co-ordinator of litigation'.
'Penny Gilbert is a leading individual in the pharma litigation market.'
'Tim Powell: a tenacious and highly effective litigator who you do not want on the other side of a case'.
'Tim Powell is a fantastic litigator. Smart, pragmatic, has the ability to explain complex matters in an incredibly simple way. A man to have next to you in the trenches.'
'Bethan Hopewell: resolute and determined. Powell Gilbert are a sector-leading IP litigation firm.  Their team includes a number of medically-qualified lawyers with a deep understanding of the life sciences and healthcare sector.'
'Tim Whitfield has an excellent understanding of the pharmaceuticals sector and has delivered excellent results for his clients in a series of cases in which I have been involved.  He has a good instinct for when to fight and when to talk.'
'Callum Beamish has an extremely good understanding of the UK regulatory schemes for pharmaceuticals and medical practice. A big team could handle huge litigation – extensive advice in all IP-related matters – a wide cooperation network in Europe and worldwide – outstanding expertise – outstanding partner availability.'
Key clients
Biogen Inc
Edwards Lifesciences
Illumina, Inc
Kymab
GlaxoSmithKline
Coloplast A/S
Royalty Pharma Collection Trust
Vivagro
Garmin
Genevant Sciences
Patent litigation powerhouse Powell Gilbert LLP also provides robust copyright, design rights and copyright enforcement and protection services led by Simon Ayrton, Ari Laakkonen and Alex Wilson. Ayrton's design rights enforcement in the retro furniture space is particularly noteworthy. Clients from the FMCG, media, electronics, fashion and retail sectors engage the team on infringement and invalidity actions, passing-off litigation, royalties disputes and copyright disputes involving competitor's advertising. Recent work has also included opposition proceedings before the UKIPO.
Practice head(s):
Other key lawyers:
Testimonials
'The Powell Gilbert team have become our in-house IP litigation team. They are trusted advisors who accept the commercial realities of any situation and understand that risk mitigation and preparedness are of paramount importance to industry. They combine this with a wealth of legal knowledge, humour and availability! I could not do my job without them.'
'Simon Ayrton is clear, concise and focused and always gives advice speedily and specific to the commercial realities of the situation.'
'Tom Oliver is technically perceptive and quickly grasps any complicated or involved situation and provides detailed and focused advice.'
Key clients
The Procter & Gamble Company
Gillette Company LLC
Ocado
Edwards Lifesciences
Omega Engineering Inc and Omega Engineering Limited
Illumina Inc.
Tensixtwo Limited
Vitra, Casina and Fritz Hansen
Simon Gudgeon Sculpture Limited
Garmin
Prada
Spectris
Fratelli Campagnolo
Powell Gilbert LLP >
Firm Profile
Powell Gilbert LLP is a specialist IP law firm dedicated to serving clients across the full spectrum of knowledge-driven industries, from cutting-edge high technologies through to creative and brands-driven businesses. Created in 2007, the firm quickly established itself as one of the largest, most innovative and most highly regarded IP teams in the United Kingdom, with unrivalled patent litigation experience and a blue-chip brands practice.
The firm: Powell Gilbert's lawyers include some of the leading practitioners in the field. The firm provides comprehensive expertise in litigation and strategic counselling work across all IP fields, including patent advice spanning all areas of technology, as well as insightful advice on all aspects of trade marks, copyright, design rights, passing off, confidential information and related areas. Its lawyers combine extensive legal experience with commercial insight and practical know-how to provide client-focused and cost-effective business solutions. Technical expertise at Powell Gilbert is second to none; almost all of its lawyers have technical backgrounds, many having PhDs in relevant scientific disciplines. Seven of the partners are solicitor advocates and one is a qualified mediator.
Types of work undertaken:  Powell Gilbert's lawyers have experience across the full spectrum of patent litigation, gained from acting in cases across a wide range of technologies and industries. This experience ranges from acting in some of the leading biotechnology patent cases to involvement in smartphone wars and FRAND disputes.
The firm has appeared in many of the most technically complex and legally challenging cases in the UK Patents Courts, including in the High Court, the Court of Appeal and the House of Lords/Supreme Court. Powell Gilbert was involved in the first patent case in the Supreme Court and in references to the Court of Justice of the European Union (CJEU) and the EFTA court, on the supplementary protection certificate regulation. It also represents clients in smaller claims before the UK's IP Enterprise Court.
The firm's flourishing brands practice acts for some of the world's most sophisticated businesses, and has a track record of devising and delivering creative solutions to meet clients' commercial objectives, often without the need to serve legal proceedings.
The firm is also experienced in alternative dispute resolution, including mediation and arbitration, particularly in relation to patent and technology licences. If litigation is unavoidable, the firm can offer solicitor advocacy services, as appropriate to the case.
A distinguishing feature of Powell Gilbert is the expertise and experience of its lawyers in co-ordinating complex cases and successfully guiding clients through multinational patent litigation. Its lawyers have assisted in cases before many overseas courts, including in continental Europe, Scandinavia, the United States (District Court and ITC proceedings), Australia, China, Korea and Japan. It also represents clients in European Patent Office (EPO) opposition proceedings and other registry proceedings.
With a wealth of experience of devising, and co-ordinating, pan-European litigation strategy, the firm is well placed to assist in all matters relating to European patent litigation, including involvement in the training of potential UPC judges and being part of the UK Intellectual Property Office's advisory group on implementation of the UPC.
As one of Europe's leading patent litigation firms, its deep expertise, broad procedural experience, technical strengths and the ability to communicate arguments clearly and concisely gives the firm a tactical advantage for representing clients in the UPC.
Languages: Cantonese, English, Finnish, French, German and Mandarin
Lawyer Profiles
| Photo | Name | Position | Profile |
| --- | --- | --- | --- |
| | Simon Ayrton | Partner specialising in intellectual property litigation. Work covers advising on full range… | View Profile |
| | Zoë Butler | Specialises in contentious intellectual property matters; practice covers full range of IP… | View Profile |
| | Peter Damerell | Partner specialising in contentious IP matters; practice covers full range of IP… | View Profile |
| | Dr Penny Gilbert | Partner specialising in advising on IP rights including patent litigation, licence disputes… | View Profile |
| | Dr Bethan Hopewell | Partner specialising in contentious intellectual property matters; practice covers full range of… | View Profile |
| | Mr Siddharth Kusumakar | Partner specialising in patent litigation in the pharmaceutical, biotechnology and medical devices… | View Profile |
| | Ari Laakkonen | Specialises in electronics patent litigation and IT disputes, as well as advising… | View Profile |
| | Mr Tom Oliver | Specialises in intellectual property litigation. Advising across the range of intellectual properties… | View Profile |
| | Tim Powell | Partner specialising in intellectual property litigation and healthcare regulatory advice; solicitor advocate.… | View Profile |
| | Tim Whitfield | Partner advising on contentious IP matters, with a focus on patent litigation… | View Profile |
| | Alex Wilson | Partner specialised in intellectual property; extensive experience of multi-jurisdictional patent disputes in… | View Profile |
Staff Figures
Number of UK partners : 11 Number of other UK fee-earners : 28
Languages
Chinese (Mandarin and Cantonese) English Finnish French German
Memberships
AIPLA AIPPI CIPA EPLAW INTA LES MARQUES PTMG
Diversity
Diversity
We have great pride in our team and are committed to providing an open, honest and approachable atmosphere. Our people are our strength and fostering an inclusive work environment with equal opportunities is key to our ongoing success.
We aim to maximise the potential of all employees. In doing this we promote mutual respect and all of our people are seen as individuals, each supported and encouraged to achieve regardless of their gender, ethnic origin, nationality, marital or civil partner status, sexual orientation, religion or belief, age, disability or socio-economic background.
This commitment to diversity and equality is central to our recruitment process: we recruit on merit.
Corporate Social Responsibility
Mentoring programme – We provide mentoring to students aged 16-19 years in partnership with Queens Park Community School and Careers Academies UK. Our volunteers work with students over an 18-month period, providing personal and professional support to help the students achieve their academic and career aspirations.
The support includes mock interviews, CV and application form development and one-to-one tailored mentoring sessions. Originally started in 2011 by the partners, this has evolved to a self-sustaining initiative by the associates and support team with the majority of employees now involved.
Pro bono legal advice to a national charity – DEBRA is a national charity that supports individuals and families affected by Epidermoylsis Bullosa (EB). EB is a group of genetic skin conditions that causes exceptionally fragile skin to blister and tear at the slightest touch, for which there is currently no known cure. DEBRA focuses on funding research to change this, while supporting those living with EB to enhance their quality of life.
Pro bono legal advice to the Design and Artists Copyright Society – DACS is the UK's leading copyright and collecting society for artists and visual creators. We work with the society by providing pro bono legal services to artists caught up in copyright and licensing disputes.
Charities – We have a very keen Charity Committee which regularly encourages participation in a broad range of events. Whether we are dressing up, baking cakes or putting on our running shoes, we're always keen to get involved and we support some extraordinary charities. In recent years these have included DEBRA, Together for Short Lives, Jeans for Genes Day, the London Legal Walk and the Legal Bake Off, the Crisis Square Mile Run and Movember.
Everyone in the firm is encouraged to undertake their own charitable activities and initiatives. In addition, every year we make significant donations to our Christmas card charities. These are chosen by members of the firm and usually have special personal significance. Last year, we supported four charities: Woodland Trust, The Book Trust, Grit and Together for Short Lives.
Top Tier Firm Rankings
Firm Rankings