Anhad Law > New Delhi, India > Firm Profile
Anhad Law
Offices
Anhad Law
VATIKA, THAPAR HOUSE, GATE NO. 1
EASTERN AND CENTRAL WING, 3RD FLOOR
124 JANPATH LANE
110001
India
Anhad Law > The Legal 500
Rankings
Interviews
Manishi Pathak, Founding Partner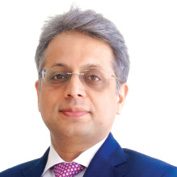 MANISHI PATHAK,  FOUNDING PARTNER OF ANHAD LAW EXPLAINS ON VARIOUS ASPECTS OF HOW ANHAD LAW IS KEEN AND/OR CONTINUES TO MAKE A CHANGE AS AN EXTERNAL COUNSEL TO THE LEGAL AND BUSINESS NEEDS OF A CORPORATION.
What do you see as the main points that differentiate [Anhad Law] from your competitors?
First and foremost, it is our keenness to get to know, in depth, the legal and/or business challanegs of a client and then work on providing well researched, legally sound and business friendly solutions. We focus on providing legal guidance and solutions which not only address the issue at hand, but also endure to prove relevant and effective in future.
Anhad Law has been founded on the principles of being proactive, progressive, profound and pragmatic which it reflects in each assignment it undertakes for a client. Another important aspect is transparency that we maintain in every aspect of our relationship from work to legal fee.
Another most important aspect is building client relationship, attributing importance to the same and keep investing in the relationship. We believe that a relationship requires commitment, transparency and honesty and all members of Anhad Law inter-alia focus on these aspects.
Which practices do you see growing in the next 12 months? What are the drivers behind that?
We have seen continuous growth in several practice areas including disputes resolution, real estate, labour and employment, Intellectual property, etc., and anticipate witnessing growth in these practice areas over the next 12 months also. There are some less evolved practice areas in the country and we continue to focus on ensuring that our clients benefits from our experience and work in these practice areas, which will be relevant for time to come. As for the drivers behind the growing practice in these areas, we are of the opinion that some are being driven due to investors' trust in India and economic growth in such areas while for certain other areas, restructuring of operations due to changing business needs is leading to several business issues besides changing regulatory landscape.
What's the main change you've made in the firm that will benefit clients?
Anhad Law is a young firm but its management and its key members of the firm are very seasoned legal practioners and have vast experience, ranging from about one and a half decade's experience to over three decades experience possessed by some of the senior members of the firm. The senior counsels of the firm are also very seasoned and have rich experience ranging from three and a half decades to above four decades.
The firm commenced its operations with significant individual and collective experience of its members and Anhad Law and its members would do anything that is required to ensure client satisfaction, with ultimate objective of making a significant and constructive difference for our clients through our work.
Is technology changing the way you interact with your clients, and the services you can provide them?
Anhad Law certainly believes that in the fast pace life these days, technology is going to be a key driver to facilitate a nice experience for the clients. We see the possibility of implementing a system which would allow a client to seamlessly communicate with the firm and/or its members with less complications and limited intervention / involvement of third party vendors. We are working on providing a solution from work product to legal updates, matter updates to invoicing and /or payments.
Can you give us a practical example of how you have helped a client to add value to their business?
Anhad Law has in several cases advised clients by giving several value propositions starting from legal strategy to possible outcomes of several legal options provided. Besides above, members of Anhad Law give paramount importance to ensuring client satisfaction at all times and are always ready to travel an extra mile to ensure client satisfaction by advising and/or assisting clients to understand and implementing a the most pragmatic legal solution(s)/option(s) by ignoring traditional ways and opting for other legal alternatives, as available. There have been several instances wherein our practical consderations have assisted clients in attaning outcomes that are satisfactory while remaining legally compliant.
Are clients looking for stability and strategic direction from their law firms – where do you see the firm in three years' time?
Anhad Law feels that now a days clients expect their external counsel to provide a business friendly and strategic direction and not merely a response to the questions asked. Therefore, as stated above, Anhad Law lays a specific emphasis on providing a legal support which is business friendly, practical and gives a strategic support to clients, from a legal as well as business standpoint.
Stability is a key factor for any client to choose and continue working with a preferred law firm. Experience of people in an organization, varied nature of work done by them and results achieved over the period of association are some of the key factors to showcase the statibility of an organization. Anhad Law demonstrates a high leval of stability due to all these factors.
Anhad Law is determined to ensure that we work with several clients who value a seasoned approach and practical legal advice and are keen to partner with a law firm which focuses on ensuring a long term value proposition and support to its clients. In the coming years, we would want Anhad Law to be recognized as a pioneer and leading law firm for various emerging practice areas including traditional practice domains, besides being well-known for being a modern and value driven law firm.