Meymand Maczynski Ltd > Mayfair, England > Firm Profile
Meymand Maczynski Ltd
Offices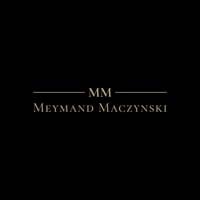 Meymand Maczynski Ltd
8-10 Hill Street
W1J 5NQ
England
Meymand Maczynski Ltd > The Legal 500
Rankings
Sam Meymand
co-founded
Meymand Maczynski Ltd
in 2020 with
Olga Meymand
. Since then, the firm has built a strong reputation for its ability to secure positive decisions for individual clients, with particular expertise in global talent and innovator visas, which it handles on top of sponsor licence management work for corporate clients.
Testimonials
'Meymand Maczynski are consummate professionals who go the extra mile to provide a quality and attentive service. They are a dedicated, detail orientated firm who make their clients feel truly supported and valued.'
'Sam Meymand is a professional, kind and calm solicitor with extensive knowledge of UK immigration law. He has significant expertise in UK Start-up and Innovator visa applications. Nothing is too much trouble for Sam and he approaches complex matters with calm, logic and precision.'
'Very knowledgeable and responsive. Sam and his team are simply a pleasure to work with.'
'Sam Meymand has extensive links to the Iranian community and the Middle East.'
'Meymand Maczynski Ltd has a team of well qualified and professional practitioners. They are very creative in handling issues and are very solution oriented.'
'Sam Meymand is hands-on, very knowledgeable and commercially-minded and price competitive. He takes good care of his clients and is trustworthy.'
'Small elite team has very strong specialist expertise in all forms of private immigration casework, both private client and commercial immigration. Exceptionally strong client engagement ensures that their clients feel fully part of their own legal proceedings with the chance to input and discuss strategy with counsel from the outset.'
'Sam Meymand shows real dedication to client satisfaction and maximising their meeting of goals, nothing is spared as to effort or resources.'
Meymand Maczynski Ltd >
Firm Profile
Meymand Maczynski is a trusted boutique business immigration law firm in Mayfair regulated by the Solicitors Regulation Authority.  The firm has been ranked as a 'firm to watch' by the Legal 500 in its very first year of trading having been established in 2020 by Founding Partners Sam Meymand and Olga Meymand.   Both founding Partners have been ranked as recommended lawyers in the Legal 500 for their work in Business Immigration.
The firm offers clients the professionalism, expertise and trust associated with large law firms, with the advantage of a tailored, open and bespoke approach that a specialised boutique firm can offer.
The firm is recognised for advice catering to high net worth individuals and corporate clients. Over the last 10 years the founders have assisted multiple clients, including royalty, diplomats, investors, entrepreneurs, professional athletes, musicians, actors, private banks and luxury retail clients from all areas of the world. Every client is unique and every client receives a unique service based on their requirements.
Staff Figures
Partners : 2 Non partner fee earners : 1
Languages
English Polish Farsi (Persian) Greek
Interviews
Sam Meymand and Olga Meymand, Partner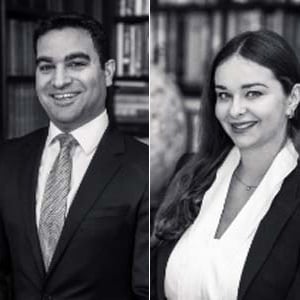 The Founding Partners of the boutique Immigration Law Firm, Meymand Maczynski Ltd explain how their firm has grown from strength to strength since its opening in 2020.
What do you see as the main points that differentiate Meymand Maczynski from your competitors?
Meymand Maczynski was established as a boutique Law firm in a prime London location to cater for the needs of high-net worth individuals and corporate clients who all receive advice specifically tailored to their individual needs. What differentiates the firm is that the Founders have gained their experience at larger multi service practices and offer the same standards of professionalism, expertise and trust associated with larger law firms, with the unique advantage of a tailored, open and bespoke approach that a specialised boutique firm can offer.
The Founders brought their breadth of experience from different legal fields along with their international background to cater for international clients. Our lawyers speak many foreign languages including Farsi, Polish and Greek which is an invaluable asset when communicating with some of the firm's international clients and contacts. The Founders often embark on international business trips and understand business culture in various regions which has been very helpful to growing the firm's name abroad.
Which areas of business immigration do you see growing in the next 12 months? What are the drivers behind that?
The UK has implemented a UK Innovation Strategy that has a clear vision, "for the UK to be a global hub for innovation". In the last couple of years there have been a number of changes in the Immigration Rules that highlight how the Innovation Strategy has an effect on visas as well and how the UK is encouraging visa applications from the most talented and most innovative individuals. The two visa categories that I am most excited in terms of growth in the next 12 months are the Innovator visa and also the Global Talent visa.
One key consideration is that both these visa routes offer the potential of highly attractive pathways to settlement (certain applicants can apply after just 3 years where as ordinarily most visa categories only allow settlement after 5 years). This extra incentive highlights the governments desire to grow these routes and reward those applicants who are highly innovative and talented and who choose to make the UK the home for their business ventures.
The fact that the UK Investor visa has closed and that the Representative of an Overseas Business visa has been transformed to the UK Expansion Worker and no longer offers a clear pathway to settlement means that the Innovator visa and Global Talent visa have become even more attractive. In addition the Home Office have announced that there will be further reforms to the Innovator visa in October 2022 which are expected to also increase the volume of applicants.
How can clients benefit from Meymand Maczynski's wider network?
Over the years, the Founders of Meymand Maczynski have built close relationships with other key leaders in businesses that provide complimentary services for a client immigrating to the UK. We understand that we are often the first professional contact that a person from outside the UK may have in the country and that is why we are always strengthening our network to ensure that clients can be connected with the professionals that would suit their requirements best.
The firm is able to provide introductions for its clients to property and family law solicitors, endorsing bodies, property finders, private banks, wealth and tax advisors, recruitment agencies, accountants, barristers and education consultants, all of whom can play a very helpful role in the immigration process.
Can you give us a practical example of how you have helped a client to add value to their business?
One of the visa categories that our firm specialises in is the Innovator visa which requires an applicant to have a business plan that is (i) Innovative, (ii) Viable and (iii) Scalable. This visa can provide a good example of the value we add as we are so delighted when we hear of the success of our clients on a business venture under the Innovator visa. Although the success of the clients and the businesses that we act for is down to their own brilliance we are so proud to play a role in many cases by helping these clients to secure their visa in the UK that makes all their future growth possible. These clients are contributing through job creation in the UK as well as through significant investment and helping to make the UK an Innovative hub of the world. As our website states, the journey that our clients take to success in the UK "all starts with a visa". Over the years many millions of pounds of foreign direct investment have come into the UK and 100's of jobs have been created by clients who have set up their visas with the help of the Founding Partners and we are extremely proud of this.
Clients are looking for stability and strategic direction from their law firms – where do you see the firm in three year's time?
As Founding Partners of a new law firm we have set our firms growth plans for the next 3 years and beyond to ensure that as we continue to grow our tailor made services for our clients and the quality of service that they receive will never be sacrificed. As our team continues to grow we will therefore continue to make sure that we choose the right hires to join as employees and as consultants of our firm to provide the best quality of service to our clients.
In our first year of trading we had a fantastic start thanks to our wonderful clients and employees as well as the positive results that we achieved for our clients. We were already recognised for this great start by being ranked as a 'Firm To Watch' in the Legal 500 in our first year and the continued pace of growth of our firm has meant that we are very excited for the upcoming three years.
Whilst our firm grows we will always continue to focus on our strengths to meet our growth targets and this includes expanding the firms international presence whilst maintaining central London as our primary location. In addition the firm expects to continue its work with top universities around the UK as Meymand Maczynski Ltd has been invited to speak on numerous occasions at top Universities to advise their graduates/start up entrepreneurs on their visa options. The firm also offers some pro bono support to graduates and certain universities and as the firm continues to grow the plan is to expand this offering. The firm is always conscious of their Corporate Social Responsibility. The firm expects to continue to be recognised in publications like the Legal 500 as a result of the fantastic support and feedback they are receiving for their work in this niche area.