Barratts Solicitors > Nottingham, England > Firm Profile
Barratts Solicitors
Offices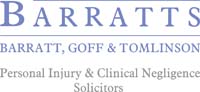 Barratts Solicitors
NO 3 WHEATCROFT BUSINESS PARK
LANDMERE LANE
NOTTINGHAM
NG12 4DG
England
Barratts Solicitors > The Legal 500
Rankings
Edward Myers and David Tomlinson head the personal injury practice at Barratts Solicitors. The team acts in all types of personal injury matters, with particular experience in spinal and brain injury and fatal claims. Additional specialisms include criminal injuries compensation claims and overseas cases as well as cases representing families of mental health patients that committed suicide. The clinical negligence team is headed by Alison Brooks together with Emma Zukowska and Julie Hardy, who 'have first rate skills for handling complex clinical negligence claims of maximum severity and value', such as matters relating to complex birth injuries, spinal injuries and delay of diagnosis.
Practice head(s):
Edward Myers; David Tomlinson; Alison Brooks; Emma Zukowska; Julie Hardy
Testimonials
'Each member of the team I have spoken to has been friendly, demonstrated clear knowledge of my case, and always dealt sensitively with my case. Emma Zukowska has been truly amazing throughout the whole of my case. She has always listened and been a objective voice in what has been a very emotional journey. From my very first call, she offered calm and reassuring advice. Her professionalism, honesty and sensitivity toward both myself and my family has been greatly appreciated. Her thorough preparation, excellent knowledge and determination to obtain a positive outcome for my case has enabled me to trust her implicitly.
'I experienced best in class legal professionals, guided by a top class leadership team. My expectations were set at the start of the process and i was updated in a timely fashion. All process and billing was clearly explained and well managed.'
'Exceptional client-focused firm with partners taking direct responsibility for each client. Very experienced in handling catastrophic injury cases. '
'Emma Zukowska and Julie Hardy are very experienced and have first rate skills for handling complex clinical negligence claims of maximum severity and value. Both go above and beyond to get the best results for their clients.'
'Genuinely niche PI and clinical negligence practice – a "go to" firm. The fee earners are, without exception, excellent and down to earth.'
'I consider Barratts to be the best claimant clinical negligence solicitors in Nottingham. I am always impressed by the quality of their instructions and the settlements ultimately achieved on behalf of their clients. All solicitors are experienced, hard working and dedicated to each and every client. I enjoy working with every solicitor at Barratts.'
'Emma Zukowska is a knowledgeable and thorough solicitor, dedicated to meeting the needs to each client to the best of her ability. She has an excellent grasp of what is necessary to conclude litigation favourably and within the time frame permitted by the requirements of the case. Emma is excellent in my view. Julie Hardy is an outstanding clinical negligence lawyer.'
'I experienced best in class legal professionals, guided by a top class leadership team. My expectations were set at the start of the process and i was updated in a timely fashion. All process and billing was clearly explained and well managed.'
Work highlights
Instructed by the son of a man who died from mesothelioma, secured compensation on behalf of the family against the Quarry Company for whom the deceased had spent many years working and where he had been exposed to asbestos dust. Expert evidence was obtained advising on the level of asbestos dust to which the deceased would have been exposed. The parties were able to reach an amicable settlement.
Secured compensation for client who was hit by a vehicle whilst he was on his bicycle when he was 16. The claim was pursued as an MIB claim due to the perpetrators driving a stolen vehicle and the fact they were never found. The client suffered a brain injury resulting in life changing difficulties.
Pursued a claim against the defendant for failing to diagnose and treat a non-malignant tumour to the leg. Secured significant settlement  before trial for the client, who underwent complex surgery to remove the tumour and reconstruct the leg.
Barratts Solicitors >
Firm Profile
A pre-eminent firm in the field of personal injury and clinical negligence in the Midlands but with clients all over the country and abroad. It handles all types of complex matters with particular expertise in maximum severity cases, including brain and spinal injuries and cerebral palsy.
The firm: Barratts Solicitors was established in 1991 and was ranked by The Legal 500 in the first year. Since then, it has been consistently ranked in tier 1.
Managing partner David Tomlinson has been with the firm since its inception. Ed Myers joined the personal injury department in 1999 and in 2001, Alison Brooks and Emma Zukowska joined the clinical negligence team. This expanded in 2014 with Julie Hardy joining as clinical negligence partner from Freeths. Since 2019, Jay Tomlinson has headed up the Court of Protection deputy service, assisted by Rebecca Tomes.  In 2019 the personal injury team were joined by Lesley Edwards, a former senior associate of Irwin Mitchell Solicitors.
Barratts is small enough to  guarantee all cases are handled personally and sensitively with dedicated one to one advice from qualified, specialist lawyers. The firm only handles injury work, with  related services for Court of Protection. The depth of experience is recognised by independent legal guides; relying almost entirely on personal recommendations is testament to the quality of legal advice within the firm.
The firm often takes on cases and succeeds where other solicitors have failed. The low caseloads ensure the experienced lawyers can devote time to every client. The firm acts against major insurance companies and is known for fighting for clients to get the best results. Only experienced litigation lawyers actively manage cases; they are recognised panel members and experts in their field.
The practice is client led, relying on recommendations from satisfied clients and organisations that support people with serious injuries. Its expertise is acknowledged by Headway (the Brain Injury Association), the Spinal Injuries Association and AvMA (Action against Medical Accidents), on whose panels of expert solicitors the firm is represented.
Developments include a rise in spinal and brain injury referrals, with substantial awards achieved for clients including brain damage at birth as well as spinal injuries as a result of an accident or negligent medical treatment.
Types of work undertaken: The firm acts in all complex personal injury cases, especially those involving brain or spinal injury. Clients need a dedicated and experienced lawyer to handle serious injury cases from start to finish.
The lawyers understand the issues surrounding head injury and the needs of clients with various degrees of paralysis in spinal injury cases. Accommodation needs, therapies and the latest technology are assessed to maximise recovery. Rehabilitation is secured by the team working to get an early admission of liability.
The clinical negligence team has a proven record securing awards for claims involving damage at birth and spinal injuries arising from medical conditions such as Cauda Equina or spinal abscess. Every birth injury case where court proceedings have been issued has resulted in successful awards. The lawyers have over 100 years shared expertise and are all panel members. They have represented clients with missed diagnosis of and treatment of serious conditions, such as failure to treat Cauda Equina syndrome, limb ischaemia resulting in amputation, GP negligence and surgical mismanagement cases.
The Court of Protection department acts as court appointed deputies, helping severely disabled clients during and after litigation concludes. The work is an important continuation of the service provided to clients who lack capacity.
Barratts Solicitors will continue to focus on providing advice of the highest quality in its core areas of expertise, concentrating on complex injury cases handled only by experienced lawyers in a personal, client led service.
Main Contacts
| Department | Name | Email | Telephone |
| --- | --- | --- | --- |
| Managing partner | David Tomlinson | | |
| Personal injury | Edward Myers | | |
| Clinical negligence | Alison Brooks | | |
| Court of Protection | Jay Tomlinson | | |
Staff Figures
Number of UK partners : 5
Diversity
Barratts Solicitors are committed to providing a working environment where all employees are valued, supported and respected. The year 2020 has been a challenging year for all of us. Working from home has become a necessity and we have strived to ensure our staff remain happy, healthy and working as comfortably as they can in the circumstances. The health and safety of our staff and clients has been paramount.
Historically, Barratts have experienced very few changes in staff and fee earners with many members of staff working at Barratts for 15 years plus. This we feel is testament to the working environment and the relationships built between all members of the team.
Barratts have been firm supporters of a number of charities over the years, particularly those providing support to brain and spinal injured. We continue that support within the local community, in particular Headway Nottingham and Footprints Conductive Education.
We provide pro bono legal advice to many, in particular those who have concerns regarding medical treatment. We frequently assist in advising on the complaints process, drafting complaints and reviewing responses. We are conscious of the additional stress and upset that be caused when trying to navigate what may appear to be complex systems at the same time as dealing with injuries or the loss of a loved one. We regularly provide advice to families in connection with Inquests. We are all too aware of the limited public funding available for representation at Inquests and how important it is for the families to have appropriate support.
Client testimonials
CLIENT: Private Client
COMPANY/FIRM: Barratts Solicitors
TESTIMONIAL: Exceptional service from our wonderful Solicitor. Over almost 10 years of litigation we were kept well informed, cared for and well supported. The case has recently settled and we were very pleased with the outcome. Friendly, professional and efficient company. Thank you Barratts.
---
CLIENT: Private Client
COMPANY/FIRM: Barratts Solicitors
TESTIMONIAL: They couldn't have done anymore for me if they had tried. Every person who was involved couldn't praise them enough and their work. They always put me first and everything done for me was impeccable. I couldn't have wished for any more. Caring, compassionate, hardworking people. I am still very thankful for everything they have done and I would highly recommend them. Thanks Barratts.
---
CLIENT: Private Client
COMPANY/FIRM: Barratts Solicitors
TESTIMONIAL: Thank you for everything you have done, you have made a hard process easier due to professionalism and being so friendly and approachable.
---
CLIENT: Private Client
COMPANY/FIRM: Barratts Solicitors
TESTIMONIAL: Friendly, efficient service with excellent communication.
---
CLIENT: Private Client
COMPANY/FIRM: Barratts Solicitors
TESTIMONIAL: Everything was perfect.
---
CLIENT: Private Client
COMPANY/FIRM: Barratts Solicitors
TESTIMONIAL: I also wanted to thank you for everything you have done for me and us as a family. Your understanding of the case and my personal position was very comforting. I was wondering when you are next going to be at the office so I can come and thank you personally but of course at a safe distance!