Firm Profile > Obeid & Medawar Law Firm LLP > Beirut, Lebanon
Obeid & Medawar Law Firm LLP
Offices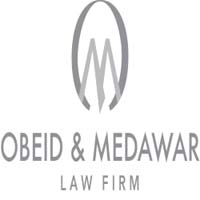 Obeid & Medawar Law Firm LLP
Charles Malek Avenue, Quantum Tower
3rd floor, Ashrafieh,
Beirut
Lebanon
Obeid & Medawar Law Firm LLP > The Legal 500
Rankings
Obeid & Medawar Law Firm LLP fields competitive corporate services ranging from mergers, acquisitions and joint ventures to tenders, stock acquisitions and leveraged buyout transactions. Industry expertise includes telecoms, mining, pharmaceuticals and insurance. In addition to its work for corporate clients, the team around Amer Obeid and Rachad Medawar also assists private family businesses in the region with fund creation and management.
Practice head(s):
Amer Obeid; Rachad Medawar
Testimonials
'Their service as a law firm was better than I could expect. They are attentive to details and they always come up with creative solutions to any legal issue. The team is very supportive and attentive, and follow up with utmost attention. I appreciate their professionalism and expertise as much as their warmth and team camaraderie.'
'The O&M team is professional, reachable, knowledgeable, trustworthy and would not settle for mid solutions, rather they are persistent and conduct full due diligence on cases and would not settle before securing best advice and support to their customers.'
'With sophisticated legal needs, O&M was the firm to go to due to its solid know-how in all legal areas. The professionalism of this law firm and their quality of service and outstanding highly qualified team make the choice very easy on any person seeking legal assistance. The extensive legal knowledge and experience of the firm members.'
'Mr. Amer Obeid is an outstanding attorney at law.'
'I worked directly with Amer Obeid, who is skilled in making legal cases a stress-free matter to clients. His high professional and moral standards are a gift which makes working with him a pleasure and something to look forward to.'
'Amer Obeid is visionary, infinitely ambitious, and was able to align his team of very skilful lawyers under his great leadership. He is both wise and aggressive and balances these traits very carefully. Reachable at any time, professional, likeable, polite and always with a positive attitude and the right advice.'
'Amer Obeid is of an exceptional knowledge and attitude.'
'Amer Obeid is the managing partner he has extraordinary negotiation skills that guarantee the most beneficial outcomes. A talented player in the dispute resolution area, he seizes every opportunity to close victorious deals. He never misses a goal. On the corporate level, he is by far the best closer and deal maker in town.'
' Zeina Azzi is a smart and sharp person with an assertive personality who despite her young age has a remarkable ability to provide reliable advice and on-point consultancies.'
'Amer Obeid and Rachad Medawar are both very smart and knowledgeable. Their high standard of ethics and professionalism make them in my opinion among the best lawyers in the region.'
Key clients
Lavajet Group
Middle East Venture Partners or MEVP
The Middle East Venture Fund L.P or MEVF I
The Impact Fund by MEVP
Batco Group
National Beverage Company SAL – Aujan LTd – Cocacola representative in Lebanon
The Building Block Equity Fund Sicar
AlSharif Group Holding
SGR Group
Hussein Madi Foundation
Global Blue SAL
Virgin – Megastores of Lebanon SAL
Edenred SAL
Gulftainer SAL
Maria Group
MAtic SAL
Total Care Lebanon SAL
Cumberland Insurance and Reinsurance SAL
Clinique du Levant SAL
Inventis Services Offshore SAL
Zaarour Club SAL
National Beverage Company SAL
Obeid & Medawar Law Firm LLP provides experience with local, regional and international litigation in an extensive area of industry sectors. The team also conducts arbitrations and  specialises in the enforcement of arbitral awards. Amer Obeid and Rachad Medawar share the practice lead.
Practice head(s):
Amer Obeid; Rachad Medawar
Testimonials
'In the middle of a complex dispute, when we almost lost hope in taking back our rights, we reached out to Obeid & Medawar Law Firm. The team led by Rachad Medawar managed to find a solution which surpassed our highest expectations.'
'They handled my complicated legal situation with attention, competency, and understanding. When I explained my case to O&M I felt heard and hopeful. I hold this law firm in the highest regard.'
'The firm's strengths are its distinguished consultancy, high responsiveness, and unquestionable dedication. That is what distinguish them from other lawyers.'
'Amer Obeid dealt with our claims at court and was successful in most of the cases. He never asked for additional fees, other than those agreed upon and always dealt with us in full transparency and integrity. Highly reactive.'
'Rachad Medawar is a very professional and skilful lawyer.'
'Zeina Azzi was essential to our case.'
'Amer Obeid, managing partner has an amicable, supportive, and professional attitude which was a big relief to me during this long battle which I settled outside the court thanks to Mr. Obeid and the teams' tremendous efforts, creativity, and proficiency in the legal field.'
'Mr. Obeid has proven to be one of the most qualified attorneys that are passionate about their profession and are willing to pour all their efforts in granting their clients the most successful achievements. I trust and solicit his opinion in all of my legal queries.'
 'Amer Obeid always allows the necessary time to meet with the company, understand the case fully and then follow the case with lucidity. He benefits from a wide range of acquaintances that helps him resolve many of the conflicts without recourse to court. Very polite, efficient.'
Key clients
Africard Co
Batco SAL
Bank Byblos SAL
Bank Al Mawarid SAL
Council for Development and Reconstruction (Government entity)
Adir Insurance and Reinsurance SAL
Lavajet SAL
Assurex insurance and reinsurance
Cumberland Insurance and Reinsurance SAL
SNH engineering and contracting SAL
Ticketing Box Office SAL
Mr. Rachid Rahme
PBM SAL
Zaarour Club SAL
Clinique du Levant SAL
Obeid & Medawar Law Firm LLP >
Firm Profile
Initially founded in 2007 in Beirut City – Lebanon By Amer F. Obeid and Rachad A. Medawar, Obeid & Medawar Law Firm is a dynamic practice with a regional presence.
Obeid & Medawar is an acclaimed law firm with in depth expertise in the various disciplines of the legal profession.
The firm distinguishes itself with its steadfast commitment to excellence and forward thinking, which enabled its successful regional expansion.
Through its pledge to serve its regional and international clientele with the utmost professionalism and high ethics, Obeid & Medawar has become one of the most solicited regional law firms in the many key areas of the law profession.
The firm's growing portfolio of regional and international clientele and the established trust with its clients have supported its regional expansion. Obeid & Medawar is currently present in Beirut, Abu Dhabi, and Dubai.
Languages
Arabic English French
Top Tier Firm Rankings
Firm Rankings