Firm Profile > Gordon S. Blair Law Offices > Monaco, Monaco
Gordon S. Blair Law Offices
Offices

Gordon S. Blair Law Offices
7, RUE DU GABIAN BP 449
MC 98011 MONACO CEDEX
Monaco
Gordon S. Blair Law Offices > The Legal 500
Rankings
Legal advisers
From its bases in Monaco and Geneva, Gordon S. Blair Law Offices provides a full-service offering in private client matters, with specialist expertise in personal taxation, private international law, estate planning and family structures. Its international tax practice is particularly prominent and the firm is consistently engaged by clients from Monaco, Switzerland, France and the UK. Xavier de Sarrau, who splits his time between Monaco and Geneva, is a high-profile name for family governance matters. Alexis Madier is also a key contact in Monaco.
Gordon S. Blair Law Offices >
Firm Profile
Gordon S. Blair is an independent law firm, established in Monaco in 1920. The firm provides comprehensive and tailor-made services to individuals, worldwide families, local companies and international groups, and addresses a large number of cross-border issues.
The team consists of multilingual qualified business lawyers and international tax experts with a strong experience in various challenging environments.
This unique combination of expertise and experience is the key of Gordon S. Blair's success and reputation, especially through its high quality service, its most sophisticated legal techniques and its keen sense of innovation.
Lawyer Profiles
| Photo | Name | Position | Profile |
| --- | --- | --- | --- |
| | Mr Gilbert Delacour | Before joining Gordon S. Blair, Gilbert has been involved in a wide range… | View Profile |
| | Mr Pierre-Jean Faure | Based in Geneva, Pierre-Jean is an attorney in Private Clients. As partner… | View Profile |
| | Mr Alexis Madier | As Partner, Alexis advises Private Clients on their tax & estate planning,… | View Profile |
| | Mr Edouard Mousny | Edouard, Partner at Gordon S. Blair, has extensive international and domestic corporate… | View Profile |
| | Mr David de Pariente | As a Partner, David is a seasoned corporate lawyer with strong expertise… | View Profile |
| | Mr Xavier de Sarrau | Xavier, General Partner at Gordons S. Blair, is recognized as an international… | View Profile |
Staff Figures
Partners : 6 Of Counsels : 6 Senior Associates : 8 Associates : 12 Support : 10
Languages
French English Russian Spanish
Interviews
Xavier de Sarrau, Managing Partner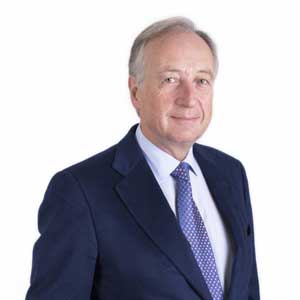 Xavier de Sarrau, Gordon S. Blair Managing Partner for the last 10 years, discusses Gordon S. Blair specificities in the Monegasque context, as well as current and future challenges of the Monegasque legal market in general and for Gordon S. Blair in particular.
What do you see as the main points that differentiate Gordon S. Blair from your competitors?
Gordon S. Blair is one of the few global and multidisciplinary firms in Monaco. Our historical private client focus has led us to develop our presence in two of the main "private client" jurisdictions in Continental Europe, Monaco and Switzerland, which is a unique feature among Monegasque law firms.
Due to this international footprint, and our historical private client DNA, we have developed over our 100 years of existence a unique international tax practice in Monaco, currently representing roughly 30% of our workforce, as opposed to most Monegasque firms which deal mainly with local matters.
As a result of these characteristics, as well as the previous lives of our partners outside of Monaco, our client base also includes a number of international families and family-held groups from many jurisdictions with no or limited links to Monaco or Switzerland.
In short, we are a Monegasco-Swiss one-stop firm with a large international client base, rather than a local firm just offering local services.
Which practices do you see growing in the next 12 months? What are the drivers behind that?
As a firm, our practices have been evolving with the ever-growing complexities resulting from the new regulations applicable to the banking industry and international tax regulations in particular relating to AML and conformity matters. Although this global trend towards more complexity, more declaratory obligations (both for our clients and for Gordon S. Blair as a firm) is not new, it requires a constant adaptating, and the reinforcement of our services offering to banks and private clients in general.
Data protection related matters are following the same trend, both in Monaco and outside. In that regard, European protective regulation, although not directly applicable in Monaco, must be addressed due to our proximity with European Union, and the structure of our clientele.
Also, one of the major trends in the legal industry in the coming years will be the evolution of contract laws and contractual instruments towards dematerialization and digitalization of contracts.
Finally, one of the foreseeable consequences of the current economical situation resulting from the Covid pandemic will certainly be the development of alternative disputes resolution processes, which, in small jurisdictions such as the Principality of Monaco, do not currently have the same success as they do elsewhere.
What's the main change you've made in the firm that will benefit clients?
In recent years, Gordon S. Blair has made particular efforts in organizing its practices around specific departments (Tax – Real Estate – Private Clients – Banking – Corporate and M&A – Yachting), each one of them led and supervised by a partner together with one or various counsels.
Although these various departments work together on a daily basis, allowing Gordon S. Blair to offer a global service to our clients, their members are specialists in their specific field of intervention.
Is technology changing the way you interact with your clients, and the services you can provide them?
Absolutely. We have always considered that offering state of the art technology was a differentiating element towards both our clients and our associates. In that regard, we have implemented the latest communication tools in order to allow constant and smooth communication between our clients and all of Gordon S. Blair's staff.
This policy has proven to be an absolute necessity during the troubled Covid times and has allowed Gordon S. Blair to maintain an important activity and a continuous contact and support with its clients even during lockdown periods,.
In that regard, we feel that there is no way back, and this experience has fostered a preexisting movement towards the dematerialization of our production, but also of the re-defining of the client-legal advisor working relationship. Of course, nothing replaces personal contact, and our business being a "people business" in the 2nd smallest country in the world, we will of course keep on privileging meetings in person with our clients. In fact, we believe that this evolution towards more dematerialization may help to add a new dimension in our day to day communication with our clients, especially for those who are based outside of Monaco.
Can you give us a practical example of how you have helped a client to add value to their business?
The implementation of contractual and validation procedures makes it possible to better supervise the contractual negotiation and its follow-up while increasing legal certainty:
Example 1: in the context of complex multi-year contracts with high value (shipbuilding type), implementation of a contractual policy and procedure with a schedule allowing better monitoring (step by step) and a simplification of the understanding of the contract.
Example 2: in the BtoB "retail" field, implementation of procedures in relation to the acceptance of flexible general conditions adapted and tailored to the commercial relationship at stake, making it possible to validate the acceptance of the terms of the relationship in a less legalized exchange (and therefore more suitable relationship and commercial promotion)
Are clients looking for stability and strategic direction from their law firms – where do you see the firm in three years' time?
As a general comment, we have been advising our main clients for many years and are generally involved both as private client advisers and corporate counsels. We believe that we have gained the trust of our clients by helping them devising and implementing a strategy on the long run.
Put differently, we intend to keep on growing and developing our various practices as we have over the past 5 years, with a particular focus on serving in the best possible manner complex international family organizations.
Spotlights
COMMERCIAL, CORPORATE & M&A
Gordon S. Blair has a wide-ranging experience in representing public and private companies, investment banks, private equity firms, family offices and entrepreneurs in corporate law matters and M&A transactions.
The corporate/M&A practice is chaired by David de Pariente which is a seasoned corporate partner with strong expertise in the representation of investors and companies, with emphasis on complex negotiation processes.
With highly qualified and fluent English-speaking experts, Gordon S. Blair advises its clients both on domestic, French and more international cross-border transactions.
Gordon S. Blair's Corporate/M&A team intervenes on nearly all major strategic M&A transactions governed by Monegasque law. This explains why the firm is the primary contact of the top ranked UK and US law firms which regularly seek its expertise on complex M&A transactions comprising a Monegasque nexus.
In order to develop an efficient technical understanding and to successfully provide to its clients comprehensive legal advice, the Corporate/M&A team is seconded and supported by professionals from other practice groups of the firm such as tax, employment law, real estate, commercial law and IP/IT.
The firm accompanies its clients with an industry-specific, pragmatic approach so that it becomes not only their legal advisor but also their business partner. Hence, Gordon S. Blair's M&A team enhances its services by incorporating into its legal advice strategic and opportunistic guidance in order to help its clients acquire the needed added value to every transaction.
Finally, the firm's Corporate/M&A team has an ever-expanding practice, assisting corporate transactions involving new technologies and especially the emerging technology of blockchain on the financial markets.
Top Tier Firm Rankings
Firm Rankings