Banasik Wozniak i Wspólnicy Kancelaria Radców Prawnych Sp. P > Warsaw, Poland > Firm Profile
Banasik Wozniak i Wspólnicy Kancelaria Radców Prawnych Sp. P
Offices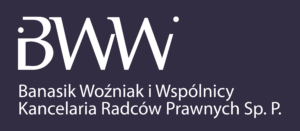 Banasik Wozniak i Wspólnicy Kancelaria Radców Prawnych Sp. P
Siedmiogrodzka 1/336
Warsaw
01-204
Poland
Banasik Wozniak i Wspólnicy Kancelaria Radców Prawnych Sp. P >
Firm Profile
BWW is a Polish law firm with nearly 20 lawyers providing legal advisory services for the main Polish and international firms in such sectors as gas, energy, heat, infrastructure, public procurement, real estate, chemistry, new technologies, civil law, individual and collective labour law and social security law. Thanks to our considerable experience in these sectors it was possible to create a modern law firm which is able to provide legal advisory services of high quality and to satisfy the expectations of all our clients.
Our law firm is divided into two departments, the one dealing with energy law and infrastructure projects and the other one dealing with labour law issues.
Department of energy law: Our team has vast experience in providing legal advisory services for the energy sector. We advise especially on infrastructure investments and regulatory issues. We deal with the natural gas, electricity, combined heat and power generation and renewable energy sources sectors. Furthermore, we provide legal advisory services regarding public procurement law, public-private partnership (PPP), construction law and waste management law.
BWW has taken part in implementing several infrastructure projects of high importance which related to the energy market, such as establishing the unbundled gas transmission system operator in Poland (OU model), transferring of transmission assets from the gas trade company to the transmission company (including DD), establishing the independent gas transmission system operator (in the ISO model) at Yamal pipeline, preparing and negotiating a long-term regasification agreement enabling the investment in LNG terminal in Poland as well as regasification network code, implementing the Third Energy Package by the TSO, introducing virtual point into the Polish gas system, launching the Polish gas exchange, drafting the agreements regarding the gas system interconnections between Poland and Denmark, Lithuania, Czech Republic as well as Germany.
BWW also provides legal services for the operators of energy infrastructure, trading companies and final customers.
It is also worth mentioning that BWW has participated in the construction of several new sources of energy (both conventional and renewable), including an incineration plant.
Department of labour law: We are also noted for having considerable experience both in individual and collective labour law. Our lawyers have taken part in a number of projects involving drafting of the so called internal labour law acts (collective agreements, employment regulations), conducting negotiations with trade unions due to the planned restructuring actions (including the negotiations of collective agreements, internal labour law acts and negotiations regarding collective disputes). Our team has broad experience in creating the employment structure from the base as well as in company restructuring. We conducted procedures of collective redundancies. We carry out legal analysis and give opinions on the employers' activities related to the secondment of Polish employees to work abroad and employment foreigners in Poland. BWW also provides legal services within the scope of the individual labour law, especially regarding the concluding, amending and terminating employment contracts. The lawyers from our labour law department have wide experience in representing employers before labour and civil courts and authorities.
The BWW team is led by two managing partners: Małgorzata Banasik and Aleksandra Woźniak. Małgorzata Banasik is an attorney-at-law with over 15 years' experience in legal services rendered to the largest Polish enterprises carrying out their activity in the energy, heating and gas sector as well as from chemical, new technologies, IT and telecom industry. Aleksandra Woźniak is an attorney-at-law with over 15 years' experience in providing legal advisory services to public and private entities, including the largest Polish enterprises, concerning  individual and collective labour law issues. As an expert in advising economic entities on labour law issues, she has a good understanding of the business needs of her clients.
Małgorzata's and Aleksandra's co-partners are Joanna Bernat and Agnieszka Ferek. Joanna Bernat is an attoney-at-law who leads the team responsible for dealing with legal issues regarding the area of infrastructural and construction investments as well as the real estate and renewable energy sources sectors. Agnieszka Ferek is a Attorney-at-law with many years of experience in the field of legal advice on infrastructure projects in various sectors of the economy, both for public and private entities. For many years she was practicing PPP in an international law firm.Has an extensive experience in providing advisory services to public entities on the development of effectiveness assessments for various PPP projects and preparation of tender documentation, including draft PPP contracts. As part of services, she provides legal support in connection with drawing a loan financing the project and the performance of all project contracts, including EPC "turnkey" contracts and financing contracts.
The BWW's associates are young lawyers having considerable knowledge of energy law, public procurement law, civil law and labour law and constituting an ambitious and professional team combining youth and experience.
BWW is a team of well-integrated and creative lawyers having a great understanding of the needs of their clients. BWW is able to combine the concern for analysing the given issues from the legal point of view with a more complex business approach. Our clients have the highest regard of our involvement and ingenuity.
www.bww-kancelaria.pl
Languages
Polish English German French
Additional Tab
Key clients:  
GAZ-SYSTEM S.A.
ENEA S.A.
Gas Storage Poland sp. z o.o.
Towarowa Giełda Energii S.A.
PGNiG Supply and Trading GmbH Oddział w Polsce sp. z o.o.
Miejskie Przedsiębiorstwo Energetyki Cieplnej Spółka z o.o.
Polska Spółka Gazownictwa sp. z o.o.
Kompania Solarna sp. z o.o.
LOT AIRCRAFT MAINTENANCE SERVICES SP. Z O.O.
POLSKIE LINIE LOTNICZE "LOT" S.A.
G.EN. GAZ ENERGIA SP. Z O.O.
PGNiG TERMIKA S.A.
BILFINGER INDUSTRIAL SERVICES POLSKA SP. Z O.O.
POLSKIE SIECI ELEKTROENERGETYCZNE S.A.
JERONIMO MARTINS POLSKA S.A.
GRUPA AZOTY ZAKŁADY AZOTOWE "PUŁAWY" S.A.
ENERIS SUROWCE SA
VEOLIA ENERGY CONTRACTING POLAND SA
SUEZ WODA SP. Z O.O.
SUEZ INTERNATIONAL
---
TESTIMONIAL: Ms Malgorzata Banasik – very creative person, the fighter, experienced, good lawyer but not limited by legal boundaries, looking for extraordinary solutions, determined to achieve the goal.
---
TESTIMONIAL: Mr Łukasz Batory – working directly with a partner who understands our needs, very creative and devoted.
---
TESTIMONIAL: BWW team is able to provide innovative solutions and best legal advice on energy. All partners are exceptional.
---
TESTIMONIAL: Ms Małgorzata Banasik very practical person with great experience in gas sector, good at negotiating. When she appeared in the team everything accelerated and finally was completed with success.
---
TESTIMONIAL: BWW team is known for its professionalism, reliability and high competence. Very dedicated to the client, have experience and deep knowledge on energy issues, get deeply involved in all legal and financial issues.
---
TESTIMONIAL: Mr Łukasz Batory expert on gas regulatory issues, broad knowledge on gas market, analytical,  understanding clients' needs, always very helpful.